Well,
RC
did it. He switched brands at the start of the season, then came out and won both the AMA Supercross and AMA Motocross titles—heck, he won every single race outdoors! Who would have ever thought that Carmichael could do all that and more…
… on a Honda. See, I may have actually written the above paragraph three years ago at the end of the 2002 season, where RC won both titles after switching from Kawasaki to Honda. He took a virtual ass-whippin' online for doing that, but in the end, it all worked out well, and Carmichael won every championship he entered—three outdoor titles and two SX crowns—with the Red Riders.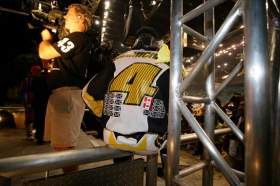 Ricky completed the "RC Slam" in Vegas
Cudby
Then he up and switched again, this time to Suzuki, and again, few people truly thought he would pull off the double again. Only this time, he went even further. He also won the U.S. Open, the Motocross des Nations, and even the World Supercross GP title. It's the greatest season ever, and he truly made it look easy along the way. He showed up in Vegas with "Undisputed" on the back of his trousers, and that was on there was before he probably even knew
Kevin Windham
was coming, let alone that
James Stewart
could get as sick as a dog and end up in the hospital Friday night.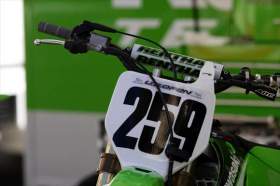 Bubba's season on the brink ended pretty much where it started—in the hospital
Cudby
That's really the big news this week though, isn't it? How could someone go from being happy and confident and ride as well as
Bubba
did at press day last Thursday, to puking his guts out all over his motor home? That's what happened to #259 last Friday, and it set off another round of "What's Eating
Bubba
?" on the internet.
But this time James nipped it in the bud, for the most part, and posted a
public letter
on his website that even brought a grateful tear to the eye of
Bauer
himself. I know that James and his team are doing everything they can to find out the source of his ailments, and a few
Racer X
readers have even written to me with suggestions and virtual diagnoses, which I in turn passed on the Stewarts.
Now it's time to start looking ahead to next year. Here's a note I got today from
Ben Townley
, who is down in Tallahassee getting himself set up close to RC and his new trainer,
Aldon Baker
:
"We moved in to a cool little house right down the road from Aldon, so it's nice and close to get home after those days that he has killed me training! Everything is going sweet, we are all set up in the house and next week I'm coming out to Cali to start riding and testing. My plan is to start riding on an MX track for a few days to get to grips with the new bike. From there I'll be on the SX track for a few days and then its back here to start at boot camp."
Can't wait to see Townley riding that #101 Monster Energy/Pro Circuit Kawasaki. Last time we saw that digit used on an AMA National track,
Ping
was pushing his #101 Chinese factory bike across the infield at
Glen Helen
. No wonder they gave Townley his number!
And check this out—a glimpse of a very cool-looking DVD Ben and friends have coming together:
www.bentownleymx.com/gallery/paced.wmv
.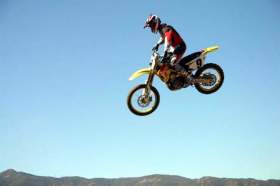 Meanwhile, at the Suzuki track, Ivan breaks out #9
Ping
Ping checked in with the Suzuki team this week.
Ivan Tedesco
and RC were polishing up the 450 a bit. They are still scheduled to test the 250, but they both looked very comfortable on the big thumper. Ping even clicked a few pictures of Ivan, who looks like he's been drinking some protein shakes. The #9 looks good on him, doesn't it?
Speaking of RM riders, has anyone else noticed that Cocoa Puffs commercial with the guy jumping on a 'Zook? I only saw it once and it happened too fast to figure out who was doing the riding, but I plan on spending Saturday morning with Vance in front of Nickelodeon, so maybe I will spot it again and figure it out.
One last 'Zook note: Ebay Sale of the Week:
http://cgi.ebay.com/ws/eBayISAPI.dll?ViewItem&item=4582302624
Over on Mototalk, a reader named
Chris Whiteside
("MXWhiteside") put together his college football-style top 20 poll for 250 Supercross, going into the 2005 season, I guess. I thought I would lift it (sorry, Chris!) and include it here, since this weekend marks the big homecoming game here in Morgantown (WVU vs. Louisville) and I'm trying to finish this in time to take my son to the parade!
MXWhiteside's Top 20
1. Carmichael: The most dominate athlete of any sport, 9 straight titles!
2. Reed: Former supercross champ with heart, could be number one with good season start.
3. Windham: Finished supercross strong, good starts and less mistakes keeps him in the hunt.
4. Tedseco: High-ranking but has Suzuki showing him the way, 2 titles last year.
5. Fonseca: Stepped up last year outdoors, has shown new determination and speed.
6. LaRocco: The Rock is solid, but lack of racing will show.
7. Vuillemin: A natural talent, needs trainer and training partner to run top 3 again.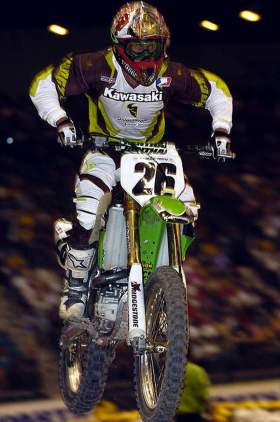 Burner ranks eighth on MXWhiteside's top 20
Carl Stone
8. Byrne: The bike will work for him and is Kawasaki's top pointer.
9. Wey: Was fast last year before injury, strong supercross rider.
10. Stewart: Could be the fastest, but injury, crashes and mental/physical problems are in question.
11. Voss: Solid start just a hair off the pace.
12. McGrath: May get enough points in 6 rounds to rank that high, expect more this year than last year.
13. Preston: Hate to rank him so low, could be top five with starts.
14. Evans: Bangs bars with anyone, but is up and down.
15. K. Johnson: Team and bike switch will make the difference.
16. Gibson: Showed good speed in World Supercross, injury hurt his season.
17. Thain: New attitude, makes him a threat.
18. Clark: Consistent and working hard.
19. Lewis: Could be higher with those starts.
20. Buckelew: Switched to the 250 class midseason and had top 15 places.
Others receiving votes: J. Thomas,
Cole Siebler
.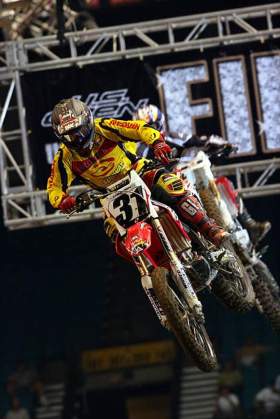 Where's the love for JT? asked JT
Cudby
Of course, not everyone agrees with this list—including perennial privateer standout
Jason Thomas
, another Mototalk member who chimed in with a friendly reminder to the pollster that he thought he might deserve better (which he did). That's the thing about top-20 polls—there's no way to do one and not leave a few people out here and there, or not rank someone too high or low. But they sure are fun!
Personally, I would have ranked Stewart a helluva lot higher.
Did you hear about the new Amp'd Mobile deal to be the title sponsor for the 2006 AMA Supercross Series? The Clear Channel people really pulled in a sponsor that will benefit the fans, because Amp'd will allow us to watch race highlights and clips from Amp'd handsets! In case you missed it,
check it out
.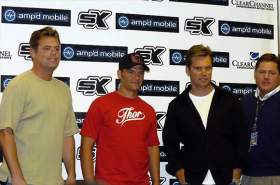 Ken Hudgens, Chad Reed, Peter Adderton and Tim Murray
Carl Stone
In more series news, the dueling arenacross tours are about to kick off. Albany, New York, will host the Toyota Arenacross Series opener the last weekend in October, with the BooKoo Arenacross Series starting up the first weekend of November in Ft. Worth, Texas, home of promoter
Mike Kidd
. Fortunately, there appears to be enough talent to go around!
This from Ping out West: The 24 Hours of
Glen Helen
race is this weekend in San Bernardino. I don't know why racing for 24 straight hours seems fun to so many people, but the teams just keep signing up.
Travis Pastrana
has a team, as our own
Jason Hooper
found out when he
interviewed
him earlier this week, which includes
Brian Deegan, Ryan Morais
and
Greg Godfrey
. Also, Team Honda's
Andrew Short
is riding with
Tim Weigand
,
Terry Fowler
and
Jeff Northrop
. If I had to pick a favorite, it would be an off-road pairing like
Ty Davis
' team. Those guys are used to riding in dust in the middle of the night.
There's also a big minibike race in Austin, Texas, with a $10,000 purse. Who would have thought minibike racing would have bigger purses than most reputable motocross races? I don't know, but I'll be in Texas this Saturday. Check out
www.texasskiranch.com
for the details.
Mike
and
Jeff Alessi
are headed back to Europe this week for a return engagement at the Sheffield Supercross. The brothers have been keeping a low stateside profile lately (with the exception of that little KTM practice-track scrap with
Josh Hansen
). It doesn't appear that Mike's going to protest the AMA's stiff penalties from the
Glen Helen
race. Instead, he's trying to put the ending of 2005 behind him and get ready for supercross.
It's not even close to April 1, but check out the press release that came through our mailbox this morning:
Metal Mulisha Sponsors Mike Alessi in Supercross '06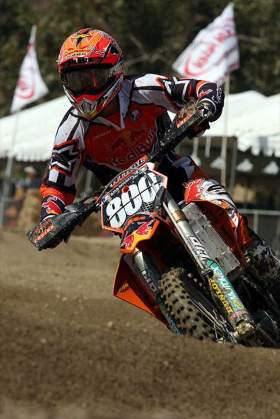 Mike in the Mulisha? Wouldn't that just be the end all…
Matt Ware
After the abrupt termination of Mike Alessi's contract to race AMA Supercross Lites for KTM one month prior to the 2006 season the Alessi's were left scrambling to put together a program for the young rider. A press release from KTM states the contract was terminated due to a consistent escalation of animosity between the Alessi family and KTM management, riders, mechanics, cooks, and the UPS guy.
In an unprecedented move the Alessi's have signed a deal to compete in the 2006 AMA SX Lites series with the Metal Mulisha freestyle team as primary sponsor. Details on the makeup of the team are still being hammered out, but we understand that Jeremy 'Twitch' Stenberg will act as the teams PR consultant and stunt coordinator. Metal Mulisha frontman Brian Deegan said in an interview that, "This is a perfect fit for us and for Mike. I never thought I would say this, but the kid has actually taught me a thing or two about how to offend practically everyone." For Mike's part he states, "I'm really excited to be part of this team. They say black makes you look thinner so I'll be practically invisible, but these spikes on my shoulder pads will take awhile to get used to."
That's pretty funny,
Michael D
., but we're not buying it (though we are sharing it!)
Looking for a cool Christmas present for the rider who has everything?
Check this out.
TFS sent me this
link
- check out the rider profiles on this site.
There's an English version, but I don't think the search engine is hooked up to that yet.
Racer X
subscriber
Jimmy Counce
from Arkansas was looking forward to getting that big free sticker sheet that went to every subscriber, but it never showed up in the mail. Then, while walking in through the backyard of his house one day recently, he spotted a modified "Beware of the Dog" sign. Turns out his wife had passed the sticker kit onto the little grom, and there went the neighborhood! We hooked "Jimmy2Fast" up with a new kit, plus some extras for the young one.
A happy note from
Kristen Oehlhof
: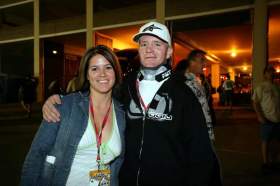 Joe's not running the halo anymore
Simon Cudby
"Well - it's off! As you can imagine,
Joe
is very excited to have the contraption off his head. Things are progressing very quickly now. We met with the doctor yesterday in LA and got another CT Scan. The scan showed that one of the two fractures left is partially healed and the 2nd fracture is on its way to healing. Joe was told by the doctor that in 6 weeks he could start riding but no jumping. In 12 weeks he will be released to ride at the level he was before. I can't even tell you the smile that came across Joe's face when he heard that!
"Joe plans at coming back strong for the outdoor season...the last half of supercross is still up in the air. Joe has done so well throughout this obstacle in his racing career. I know that neither one of us could have dealt with it if it weren't for everyone's support. It means a lot to both us and we can't even explain how it helped us to face this situation. Thanks again for all the cards, emails and packages that Joe received. It definitely helped him to realize that this sport isn't a job, it's an extended family!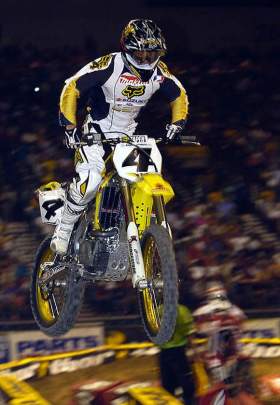 Ricky multitasks at the U.S. Open
Carl Stone
A note from
Racer X
contributor
Carl Stone
: "I was looking through my Vegas pics and thought I would show you one of RC that was kinda interesting. RC is in a fast timing section on the track right before they go in the tunnel and outside, and if you look at his left hand he is adjusting the clutch! What presence of mind. I mean, I know they do it all the time on big jumps, but this was not one of those….
On our latest
Troy Lee Designs Racer X Online Poll
, the question is: Who do you think will be the first "Lites" Champion in AMA Motocross history? Obviously, there's about two dozen guys who deserve a vote, but we could only fit nine on the ballot, so some very deserving guys were left off.
"What about
McFarlane
?" wrote
David Mills
. "I did not see him on that Lites '06 list. Didn't he barely get beat for the MX2 Championship? If that is the case then he should be on that list. Just trying to help the kid out, he's new to America!"
Good point, David, and you're right. While Townley is getting the lion's share of the buzz over here right now, McFarlane also has game and will be formidable. And with his team—Yamaha of Troy—coming off a very satisfying
Brett Metcalfe
win in Las Vegas, McFarlane is joining up at a good time.
Want to learn more about Andrew McFarlane? Check out his site: www.sharkymx.com.
A quick reminder to the motorcycle racing industry: Time is running out for the AMA Pro Racing awards for best ads in the industry. You have until Tuesday to get them in! "Individual ads can be entered into the Best Ad category or a group of ads can be submitted and entered into the Best Campaign category. To be eligible, ads must be received at AMA Pro Racing by Oct. 18. Finalists will be notified by Oct. 25, and winning entries will be announced at the banquet. Complete information including rules and a downloadable entry form are available at
www.amaproracing.com
.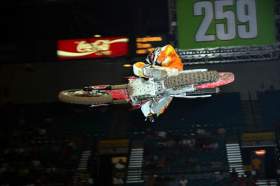 We'll be seeing more of K-Dub on No Fear's new website
Cudby
And here's another new website you might want to check out over the weekend:
www.nofear.com
.
Okay, I've probably got more, but I've got to get downtown and watch marching bands and fire trucks. Enjoy the weekend, thanks for reading, and see you at the races!
Wait, one more thing: