U.S. Bank Stadium
Minneapolis

,

MN
Minneapolis
Monster Energy AMA Supercross Championship
Monster Energy Supercross returned to Minneapolis, Minnesota, on Saturday night for round seven of the championship. Monster Energy Kawasaki's Eli Tomac rebounded from a tough night in Arlington the week prior to capture his third win of the season. Red Bull KTM's Marvin Musquin made a late pass on defending champion Ryan Dungey to finish second. Dungey would finish third for his sixth podium of the season.
All three riders spoke with the media following the race.
Racer X: First off Ryan, this is a very big weekend for you. New stadium. It's your home state. You had a lot of media obligations, but you rode well in the main event. I think you had the save of the year halfway through that main event and I think it put a dent in your charge. Tell us about that.
Ryan Dungey: I definitely had a close call there. That section was tricky all day. I just got to the top and I must have just misread it and it sent me into a dive. I was like, this is going to be close, I don't know if I'm going to go over or not. I saved it and then I was able to jump off the side of the track and kind of recover and it was good. I had a good charge there in the beginning with Eli. Felt really good. Then I got off his wheel and he was able to break away and I just lost him. A coupe mistakes and then there was Marvin. He was riding really good. When he passed me I saw some of his lines. They were actually pretty good so I was losing some time there. But it's good to be back. Home's good. Minneapolis is always great. It's good to be back on the stop. It also comes with a lot of other things, too. It's almost harder being home too, honestly, but at the same time very grateful to be here and to be back in Minneapolis.
Second place, Marvin. Had a little bit of trouble in the heat race. Bounced back and rode really well in the semi. Rode very strong in the main event. You back up your victory with a second place finish and gain a point on your teammate in the championship, so you must be pleased with your ride here tonight.
Marvin Musquin: Yeah, exactly. It started off rough for sure. I went down and Cole Seely hit me from behind. That second right-hander was actually really, really tight off the start. I was trying to go through safe but it didn't work out. Went to the semi and we were able to win and get a decent gate pick. That was the goal. It's actually not that bad going to the semi. Eli or Ryan proved it many times in the past. It doesn't mean much other than that you do more laps. I was able to learn more the track. Main event I was able to make some good passes at the beginning and then I was third. They had a good gap on me and I was trying to put on a charge, and for three laps they were actually a little quicker than me. I was like, actually tonight it's going to be a third place. It's going to be tough to catch those guys. But after that obviously Ryan made a mistake and the lappers… The track was actually pretty short once again, just like last weekend in Dallas, and we had a lot of lappers. The sand section was really difficult but I was able to go through it pretty clean and put on the charge on Ryan. To get a second place tonight is pretty wholesome. I'm really happy.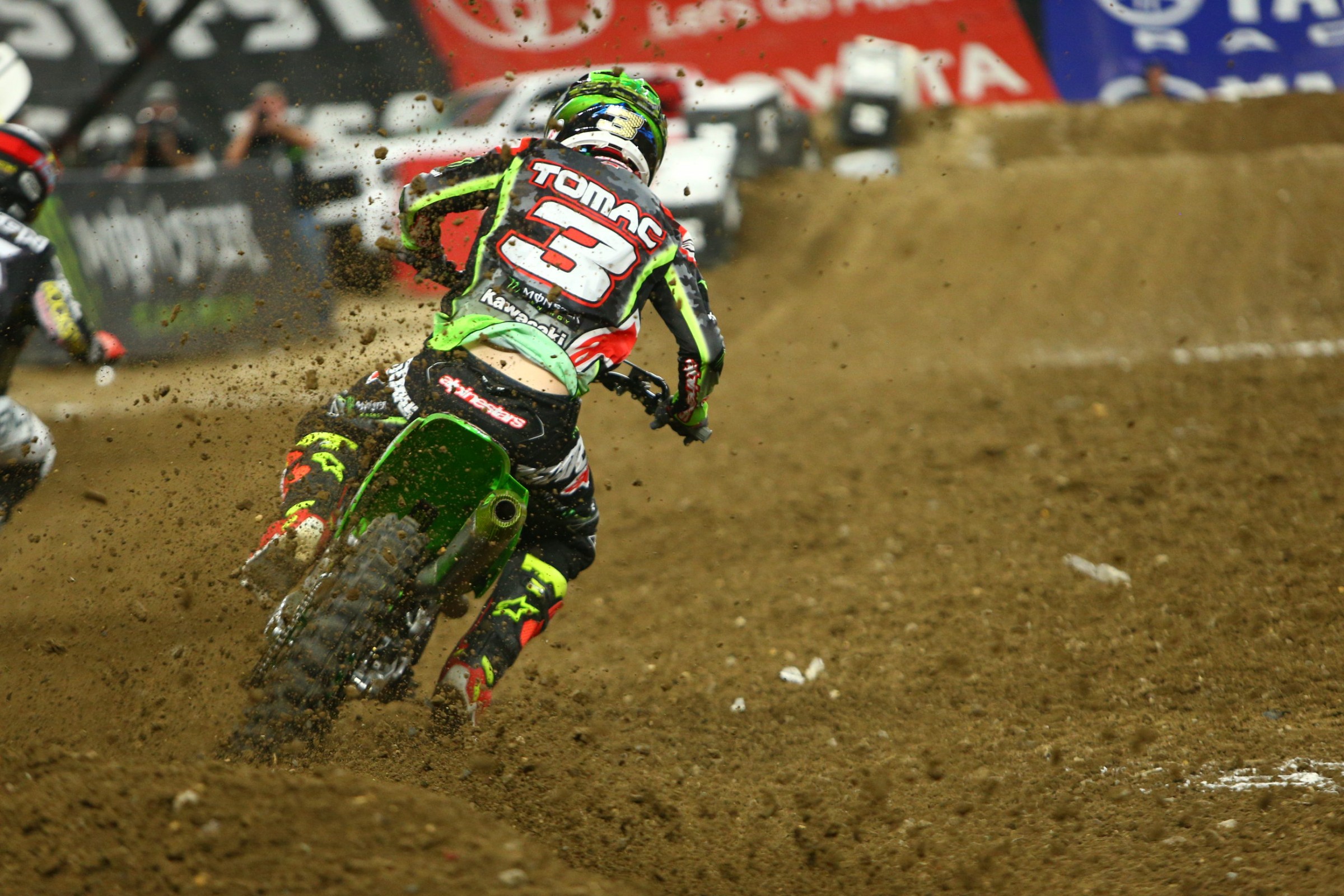 The big winner, Eli Tomac. Three out of four. I want to ask, when you have a big lead, your feet are still coming off the pegs. You're still charging. Do you maintain your focus to keep that pressure on yourself to keep pressing to eliminate mistakes? Why don't you back off when you have a big lead?
Eli Tomac: Well, I can't back off when I have these two guys sitting next to me. This was by far I think on par with Oakland for being one of the tougher tracks of the year, because of the shorter lap times. We did whatever it was, 24, 25 laps. So there was a lot of going around there. Lappers were tough, like those guys said. It was kind of just a night of survival, for sure.
This is a question for all three of you. It looks like a difficult track out there. What was the most difficult part for each one of you?
Eli: For me, my closest call was in the sand section. Then a few of the corners we were getting down to that plywood again. There was more than one spot, for sure.
Ryan: Probably that rhythm, the long rhythm lane, and then the sand sections are always pretty difficult. Then you get those insides that are really tight. The whole track was pretty rough, the rest of the stuff. So that was pretty tricky.
Marvin: I think the sand was definitely tricky. It was really easy to slide and lose the front, and then there was like two lines and the inside was super, super tight. Then like Eli said, we were down to the concrete so it was difficult. And the whoops, too. They were really easy to catch edge and go sideways. But this is supercross and it's good when it's like that, technical. It makes for good racing. But I think the dirt was the most challenging today. Some sections were actually pretty hard and other spots really soft and really tacky. It was really tough.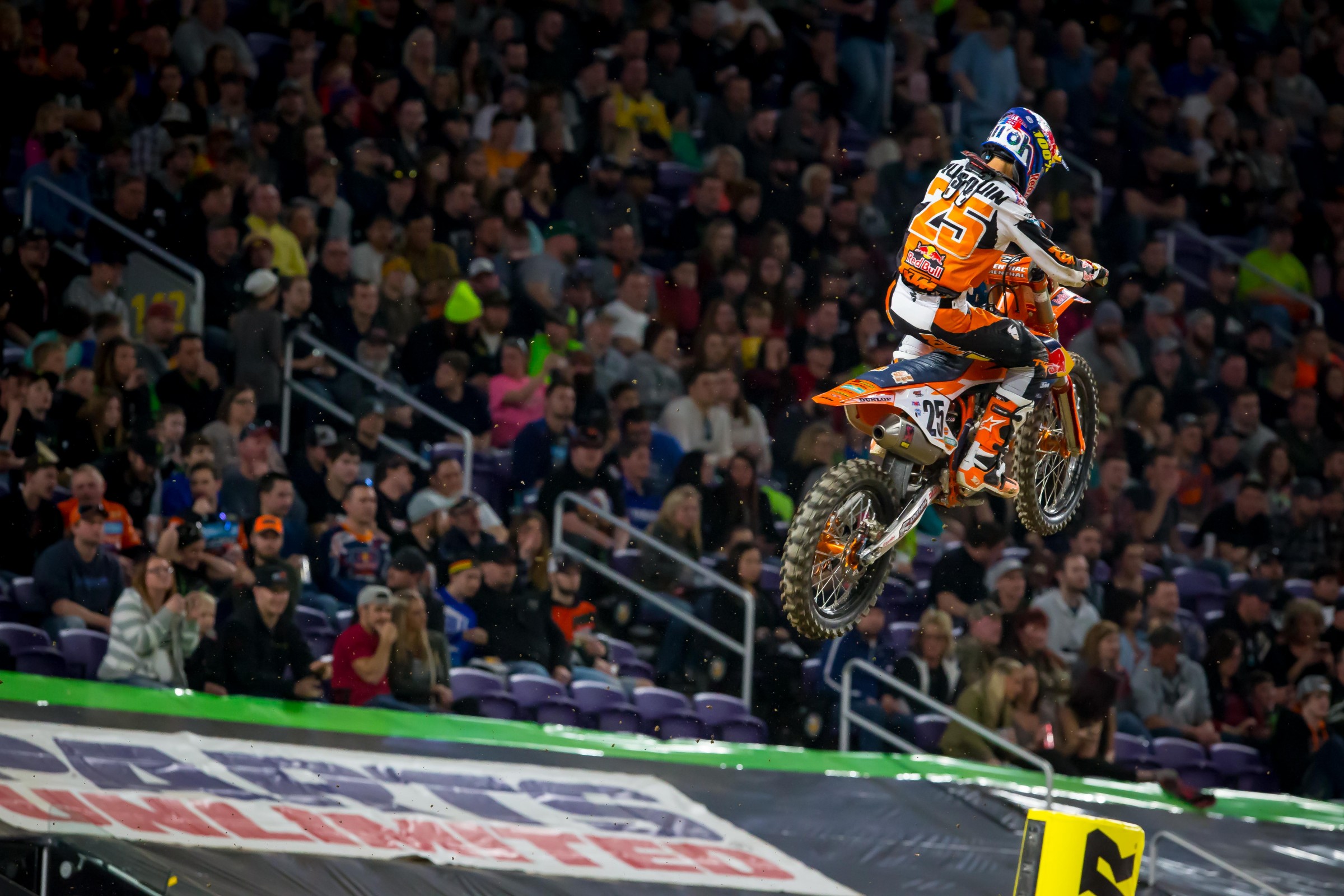 Marvin, you just kind of alluded to this but this goes for all three of you. We've been expecting East Coast tracks to be soft and technical. This is the most hard-pack track we've had this year so far, it seems. Were you surprised at all with your setup? Did you think coming in you needed to set up for an East Coast track and now it's more like a West Coast track?
Ryan: Being here in 2013 I expected it to be even kind of harder, but there was a lot of moisture inside the dirt. The top was hard but you can see every corner… by the end of the main event we were outside of the berm and squaring it up and dropping inside because every line was just deep and rut. I don't know if you guys would agree.
Eli: Yeah, it was just a combo of hard-pack and that soft dirt, so we had both situations.
Eli, when you're leading like you were and you're coming up on lappers and stuff, besides the blue flags can you do anything? Can you rev your engine or can you yell? Is there anything you can do to get the lapped rider out of your way?
Eli: You really can't. You just have to hope he's not sitting right in the main line there or the line that gets you the good triple in a rhythm section or something. But there were a lot of spots tonight where you had to follow. The only thing I had going for me is I went through those guys and the guys behind me had to go through them also. It was pretty tough for sure, getting by those guys.
Ryan, could you please take us through that moment in the long rhythm lane.
Ryan: Yeah, so the first dragon back to dragon back, it's back-to-back so the first one you could do a couple different options, but what I was doing was skimming the deal. We were kind of usually jumping up to the top and then we'd jump off the top one into the bottom pocket of the next dragon back, which we would seat bounce it kind of over the top of that dragon back. So it was kind of a cool rhythm. Probably the first time we've ever had it. I got to the top and I was trying to make up time. I saw Eli was getting away and I was trying to keep the pace. You're skimming and you're barely, barely touching. You're off the gas and the last one hit—the rear hits the top and it just dropped. One time I'd drive off it, the next time it would hit a soft spot, it felt. So it was a little inconsistent. The nose just dropped down a little bit. It came close to going over. I was able to jump over the bales onto the flat and then just recover. Don't like those moments too much.
Ryan, hometown race. Whenever you were making some passes the fans were going insane. What was that like hearing it on the track as you were passing those guys?
Ryan: It was cool. It's cool to have the hometown behind you and stuff and they definitely get excited about it, but whether I'm hometown or wherever the focus ain't on the crowd or to please the crowd. There's still a task at hand and focus on the job and doing that. But on a side, it's definitely cool for the sport. It's definitely cool with the excitement of the crowd. You can feed off of it a little bit. So it was pretty cool. They're into it. I've been doing this a lot of years and I've gotten to know a lot of people. Minnesota's been a great state to grow up. I wasn't supposed to be sitting here. We have six months out of the year winter time, so these people, I think it was good that they got a taste again of the supercross back in town because these winters are long and there's a lot of fans up here and a big moto group of people. So it's nice.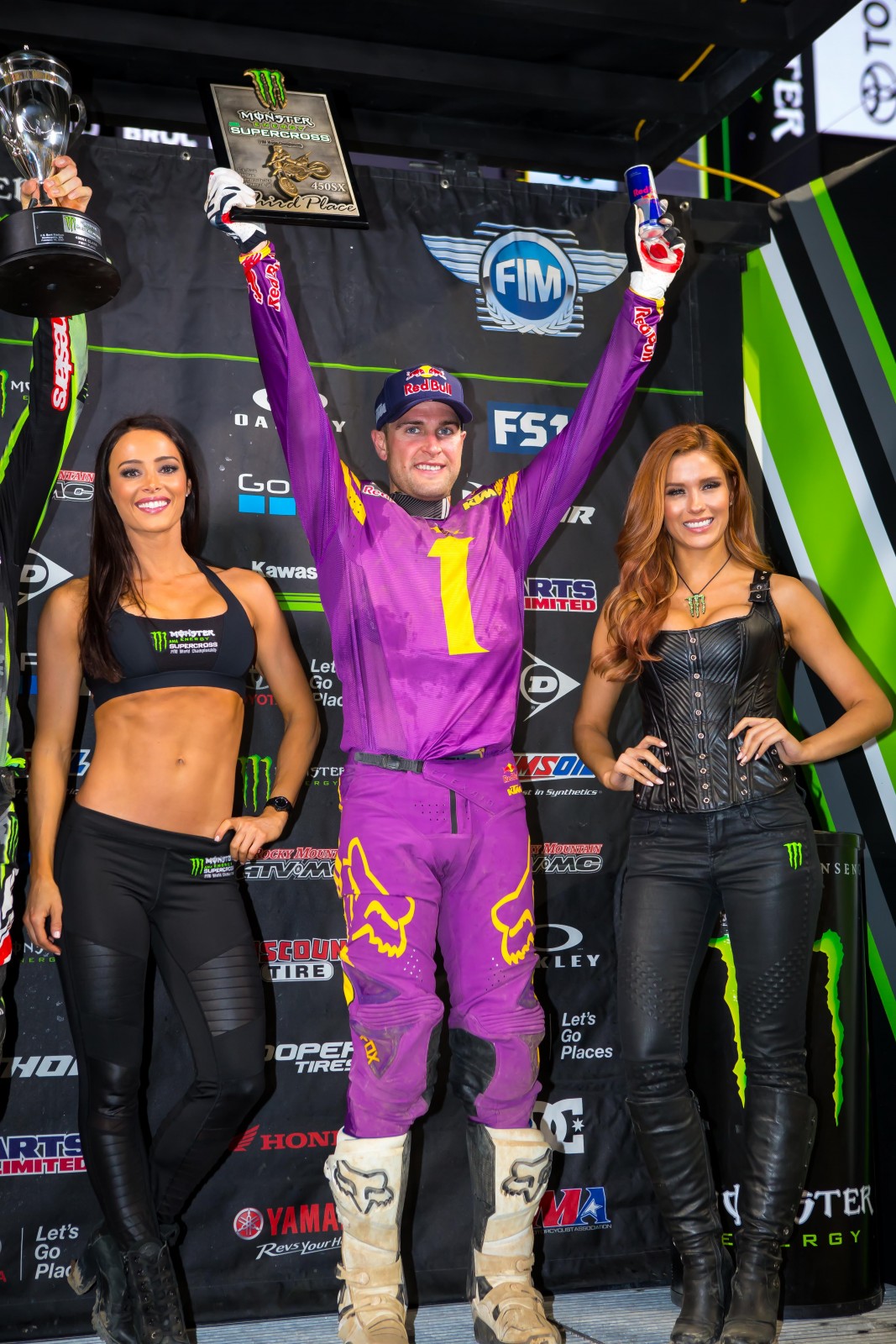 Ryan and Eli, both of you guys had challenging weeks last week in Arlington. How was it to come back and regroup and be on the podium again this week. Do you take that going forward now too?
Eli: Yeah, you hope to get back to this step when you have a bad weekend. All you can do is fight on and do it again the next week. There's seventeen rounds and it's not over until it's over.
Ryan: Yeah, absolutely. A lot of racing left. Last week was the start; just my start was terrible. That was it. The first one was actually good but the red flag and the restart it wasn't. All in all, it was a good day, but it's good to kind of recover and have a better start.
Marvin, once you made your way up on Ryan, where did you think you'd make the pass and where was your level of urgency to make it?
Marvin: Well, I think I had different lines, especially through the sand and maybe in the whoops. I was maybe hoping I was doing better than Ryan, but it was tough. I think maybe the lappers helped me a little bit. Other than that, I saw Ryan going outside before the finish and I tried to jump in the rut in the inside and it worked out. Definitely trying to be clean. We got a little close and I obviously didn't want to hit him but I made it stick. I think it was a good battle. After that I was really hoping to stay in my lines and trying to get around the lappers really clean. It was a little stressful but it was definitely a good race.
Marvin, any different mindset coming into this race, different mentality after winning last week?
Marvin: Yeah, a little bit, but you always used to say that every single races are different. It's a new track, new dirt, a new start. Anything can happen. Obviously last weekend after the red flag it was just a perfect main event for me with the holeshot and leading the whole laps. It was almost easy because nobody was challenging behind. A lot of crashes, a lot of problems behind me. So obviously yeah, I wish it would happen like that every weekend, but it will be too easy and I know it won't happen like that. This weekend I had to fight really hard. I won last week and I really enjoyed it and I was really happy but to be able to come back like I did tonight and get a second place, I'm actually really happy as well. It feels good and hopefully we get better starts like last weekend.