U.S. Bank Stadium
Minneapolis

,

MN
Minneapolis
Monster Energy AMA Supercross Championship
The 250SX East Region kicked off last night in Minneapolis, and Monster Energy/Pro Circuit Kawasaki's Joey Savatgy picked up where his teammate Justin Hill left off in the West Region. Savatgy took over the lead from Jordon Smith after nine laps and won the main event by 1.4 seconds. Smith held off a hard charging Zach Osborne to take second. Osborne finished third after tipping over while in second.
All three riders spoke with the media after the race.
Racer X: Third place, Zach. You had a good day. Fastest in qualifying. You were charging there in the main event and made a mistake. I know you wanted the victory bad, but to get your season started off with a podium finish you have to feel good.
Zach Osborne: Yeah, I feel good about tonight. I felt good all day and just kind of jelled with the track. There wasn't a whole lot of flow but I seemed to find it early and quick. In the main I just made a little bit of a bonehead mistake and somehow got into neutral right there. Our bike's almost impossible to get into neutral even when you're trying, so it's kind of strange that I got into it. But I got into neutral, tipped over and still managed to get third so I'm happy.
Jordon Smith, you got the holeshot. You led it for nine laps. You showed impressive speed at the beginning of the main event. I know you were thinking about victory, but things kind of got wild, but you held your own. New year, new team. You've got to be happy with second place.
Jordon Smith: Yeah, for sure. I struggled all day in practice and stuff. I just didn't have the speed there. I got tangled up with a few people in the heat race and barely made it through in the heat. I knew I just needed to get a good start there. The track was really one-lined so I knew it was going to be tough to pass. I got a really good start from the outside and just tried to hit my lines and try and stay clear of the lappers. It was pretty tough out there with all the ruts and stuff. Overall it was a good first race and I'm just glad to get out of here with a good finish.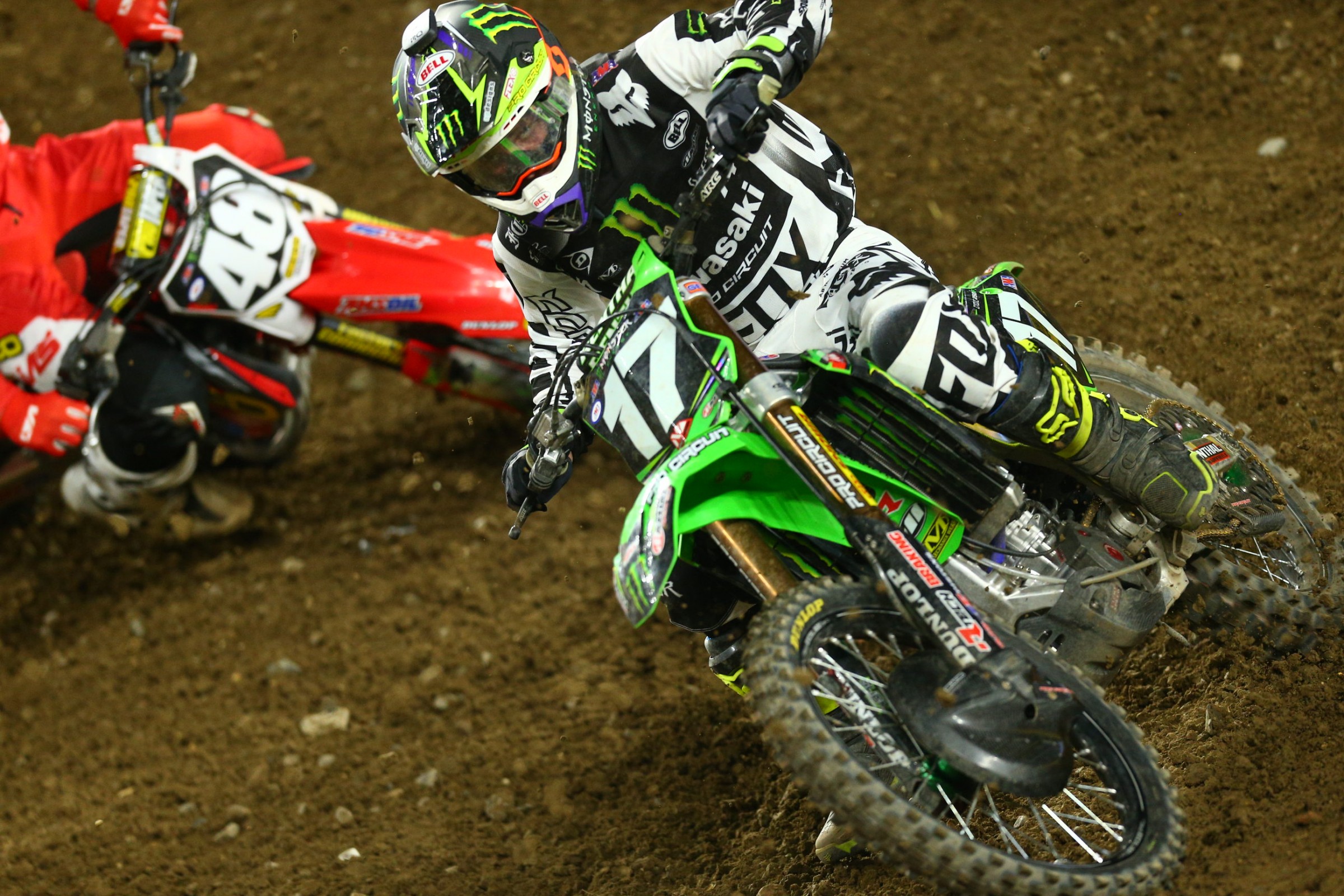 Joey, the big winner. You kind of had to carry the flag for the team. They did really good on the West Coast coming into this. Obviously the bike's working well for you guys. Your stamina looked amazing. You weren't even sweating after the main event. Your confidence has to be super high to start the season with a big victory.
Joey Savatgy: Yeah, like you said, a little bit of added pressure with Justin [Hill] going four in a row, but all in all it's good to get out of here…. It was going to be nice to get out of here with a podium but to get the win is also a little bit sweeter. I didn't really feel awesome all day. I struggled with bike setup. Even in the main event I kind of struggled with getting something together. The track seemed tight in areas so it was hard to get a rhythm going. But all in all, it was a good night. It's hard to complain when you're up here. Just got to try to keep it going.
Jordon, first nine laps you led it. Where was the comfort level for you?
Jordon: I felt pretty good, especially at the first five laps. I don't know what lap it was—maybe six or seven—I got together pretty good with a lapper. That kind of made me get a little tight for a few laps. I knew that I wasn't the fastest guy. Joey was right behind me and Zach was catching us, so I just tried to see their lines and try to pick up on what they were doing and figure out their speed.
Zach, that first lap early into it there was a downed rider. It definitely held you up quite a bit. I was thinking, "Oh man, his night's going to be really ruined," but you really proved you have a lot of stamina and speed coming back from that.
Zach: Yeah, I was actually right there on the start, maybe second or third or fourth, and someone went down in front of me at the end of the rhythm lane before the triple. I kind of had to make some evasive maneuvers to get around it, and then I think I was like fifth or sixth and just started to plug away after a few laps. I kind of let it sort out a little bit and then tried to just dig for a little while. Then I made a mistake and still it was an okay race. I feel like my stamina and my speed are good. I've been training with Aldon Baker this winter and Ryan [Dungey] and Marvin [Musquin] and Jason [Anderson] and they push me every day. It's kind of a standard deal to be in a situation all the time, so for me it was just kind of like being at home.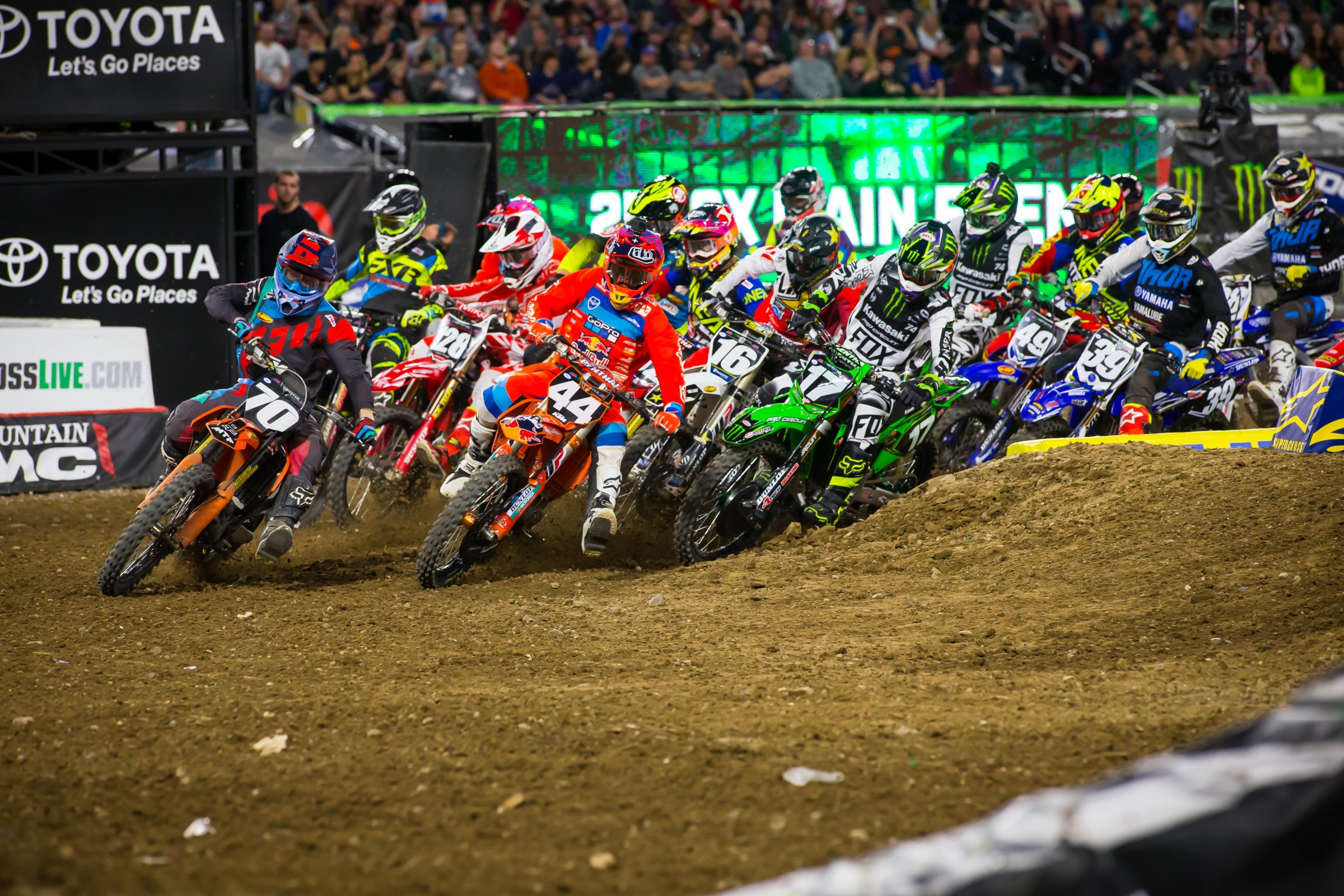 This is for all three of you. It's been a while since you raced—Joey last summer, same for Zach. Jordon, you raced in the fall. Was it hard to find that flow again after so much time off or did it come back pretty quickly?
Joey: No, I think for us this was like A1. So a lot of jitters I don't want to say rust, but a lot of little mistakes that I think as the races go on we'll be able to eliminate. But all in all, I was glad to be back. Watching at home kind of gets boring and gets you itching to go. Like you said, we took that time off and we had that break but all in all, little bit of rust, but little mistakes. As the races go on I think we'll eliminate those and we'll be good.
Jordon: Yeah, like Joey said it's good to be back at the races but it definitely took me a while today to get going. I'd never really rode a supercross track at a race like this so it was tough to get dialed in today for me. I've been riding at MTF and we have a lot of good guys there. We kind of get into a race situation by getting onto a race track in the stadium and stuff. There's nothing really like that, so it's good to get back to the races.
Zach: For me it's good. I got bored after about two weeks of watching West Coast on TV. I was ready to go. I feel like this dirt is strange for them to build with. It's crusty on top and then it's really softer underneath, so I think it's hard for them to do a really good finish job with it. It was kind of almost more like a press day, real square and didn't have a lot of feel. It was a little bit strange for our first race but I felt all in all it was just good to be racing again.
Jordon, you talked about struggling in the morning. What was the turnaround for you?
Jordon: I think it was just getting out to a good start. A lot of the struggles I had in practice and stuff was just that the track was so tight it was hard for guys on their slow lap to get out of the way. I could just never really get a good flow. Then in the heat race I didn't get the best start but I kind of made some good moves in the first couple corners and got into fifth there. Then it was just really tough to get past the two guys that were in front of me—I'm not sure who they were. I just couldn't get around them and then I ended up getting together with one of them and fell back to 10th place I think and went to ninth and then back to 10th and passed for the qualifying position on the last lap. It was just a lot of traffic out there. That main event I got off to a really good start and just kind of rode my own race and picked up on some of the lines. It was pretty good.
Jordon, on that last lap could you feel Zach coming in behind you hot there? If you did, did it affect the way you were riding?
Jordon: Yeah, I could definitely feel him. He was right there and he was still pushing pretty good. I could tell that he was. We got into some lapped riders. The lappers were really tough tonight. I kind of made a stupid mistake there in the last turn. I went wide instead of just going up the inside and he got close right there. Just have to learn from that and not make that mistake again for sure.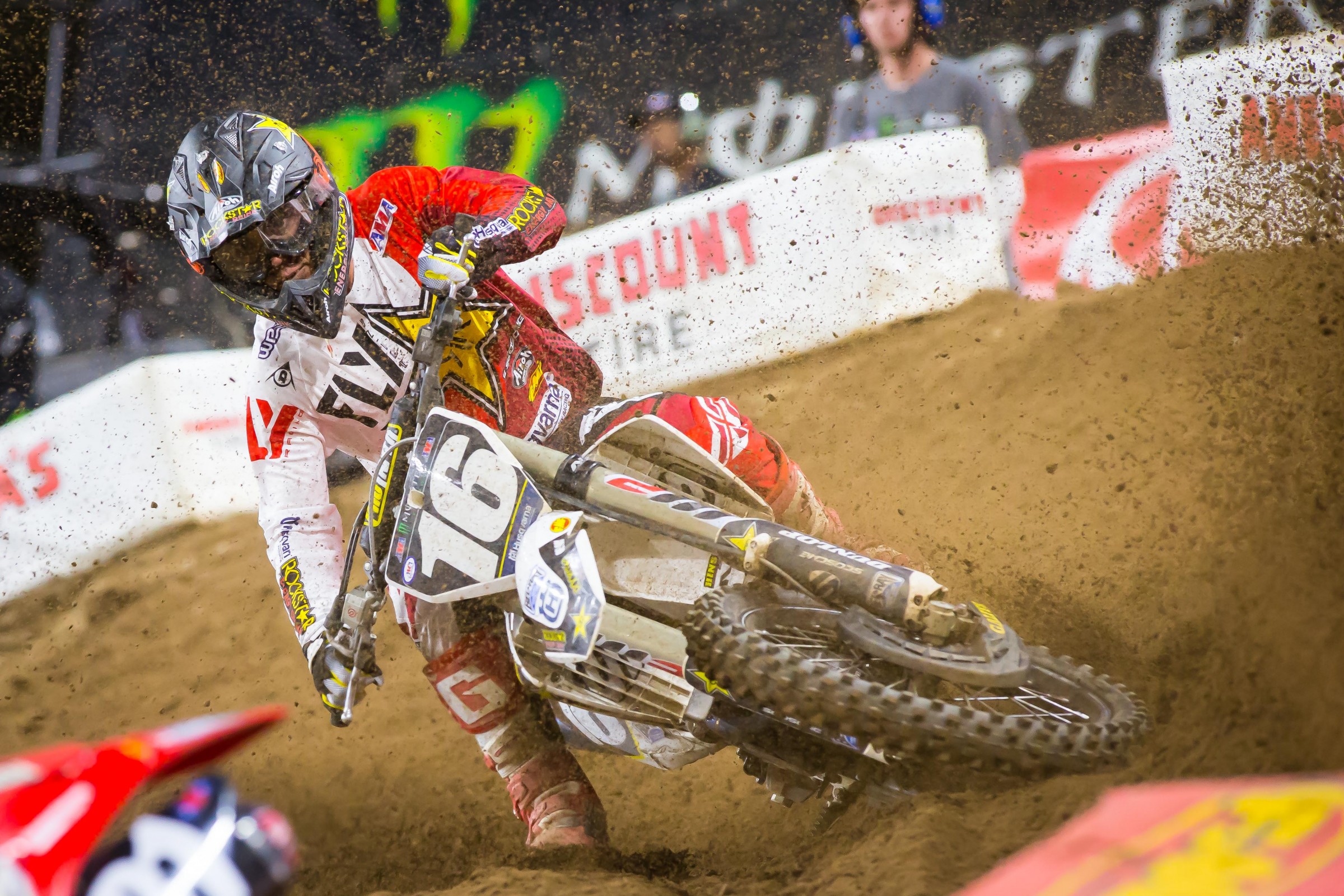 Zach, take us through that double dragon back section. You were doing something completely different than anybody else on the track. How difficult was that?
Zach: For me it was the easiest thing. I did it the way they did it a couple times and I just felt like it was more consistent for me to do the over and then triple out into the corner. It was kind of my go-to, I feel like. The other way, I got it a couple times good and a couple times not that good, so I knew that I could do that for the whole race. I felt like I had it pretty dialed in, so I just kind of elected to go that way. I don't feel like it was any faster or slower either way. Maybe sometimes I gained a little, and sometimes I lost a little. It was just what I felt was more consistent for me.
Zach, you ended up making two passes right before the whoops there. It seemed like a tough track to make passes on. Was pretty much the only scenario to make a pass to sacrifice the next section?
Zach: Maybe not the next section but maybe the guy in front of you. I was pretty aggressive on both passes. That was kind of the only way. I took Jordon and RJ [Hampshire] both across every rut to make it happen, but there wasn't a whole lot of moving going on. With a lot of 90-degree turns it's hard to really set something up. It keeps the speed high. You just have to make it happen when you can.