O.co Coliseum
Oakland

,

CA
Oakland
Monster Energy AMA Supercross Championship
Momentum. It's a term that gets thrown around a lot in this sport, and in the first four races we've seen it shift in multiple directions. But tonight the pendulum maintained the arc it had last week, and the guys who were rolling in Glendale were swinging hard again tonight. First off, Justin Hill, who was simply a level above his 250SX competition tonight. He was fastest in practice, and despite being so sick earlier in the week he wasn't sure if he would have the strength or not to race, came out firing with both barrels in the 250SX main. How much faster was Hill than everyone else? He was able to build a lead so big that even after crashing he remounted and got going again without dropping a single position.
"I didn't ride at all," Hill said of the week before Oakland. "I tried to do a couple sessions before on Tuesday, but we had to call it, I was sick as a dog. I was really worried about this weekend, about how much strength I would have, how much energy I would have. But when the chips are down you gotta do it and I just went for it. I did the best I could. But that track was so brutal, all you could do was just try to get around it. When I was trying to push it was almost like I was wrecking myself. I'm just thankful to get out of here alive, and to do it with another win is amazing."
Hill leaves Oakland with the red plate, leading Shane McElrath by one point as the series heads into the last 250SX West race before the regional break.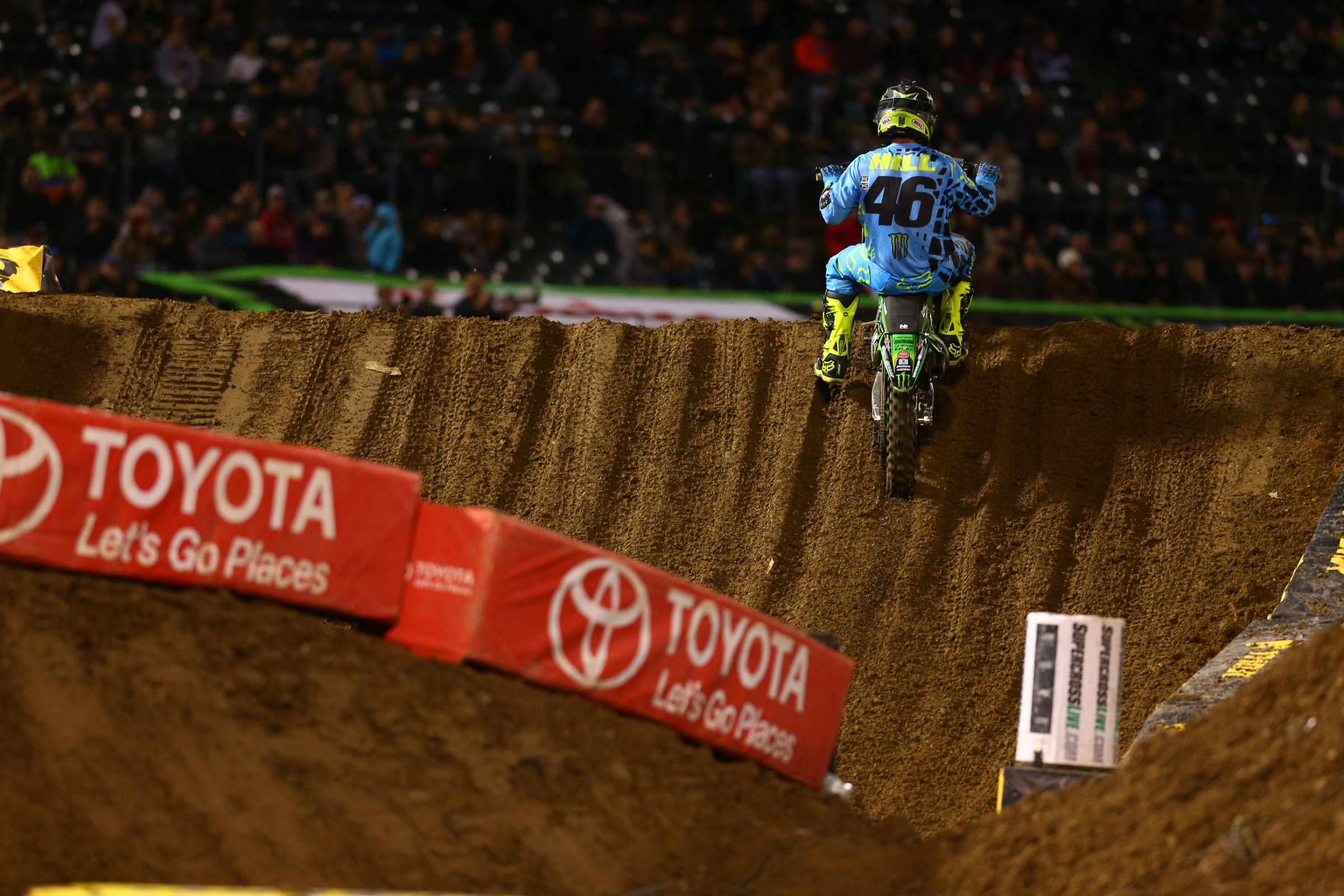 Martin Davalos came close to taking over the lead when Hill crashed, but he also came close to getting passed by McElrath, who took third, several times. That was the nature of tonight's soft and extremely rutted track—Davalos would get a gap on McElrath, only to bobble in a section and have McElrath instantly close right back up.
"I'd get close to him [Davalos], then I'd look up again and he'd just be gone," McElrath told us afterward. "That's just the way the track was. It made me feel like I didn't know how to ride a dirt bike. But it's actually a big relief. This is the first time I've had all the pressure off of myself. It seems like every weekend it's only gotten tougher too, having a target on my back. We're one point down and I couldn't be more relieved. I'm here and I'm thankful I'm safe after today. That track, it was something I'm glad to have made it through and even be on the podium at that. I'm ready to put up a fight next weekend going into the break."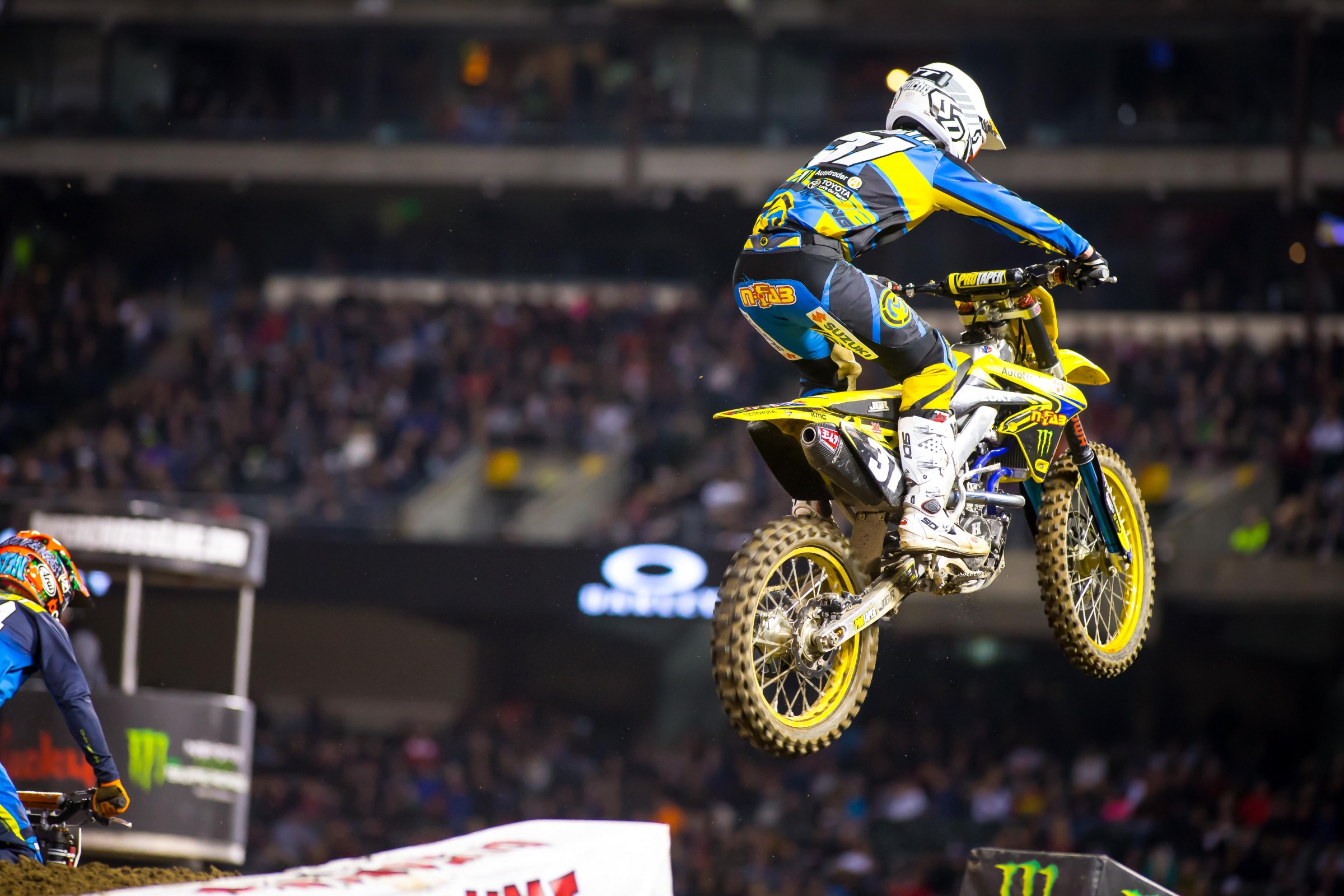 McElrath nearly didn't end up on the podium. Jimmy Decotis, after handing over third place to McElrath at roughly the halfway point, stayed on the gas and dogged McElrath for the rest of the race. On the final lap he put in a strong charge in an attempt to reclaim the final podium position but was cut short when he was forced to roll a triple to avoid a lapper.
"The main was good for me. I was eighth or ninth around the first corner but then there was that big pileup and I came around the triple in fourth. I got around Shane [McElrath] in the whoops and rode good for the first eight minutes, but I missed a rhythm and made a couple mistakes and he ended up getting back by me. Toward the end I reeled him back in and was thinking podium. It's something I've never gotten in my career and I was like, 'This is my time to get it.' I made a run in the whoops but he inched me into the lappers. It was hard out there with the lappers and it was a tough track. The harder you pushed the worse it was. I felt like I was just trail riding out there, and it was tiring even though I felt like I wasn't pushing that hard. Fourth to me, it's not where I want to be. I want to be on the podium, it's something I want to experience and stay up there. I was really close tonight but I just missed it."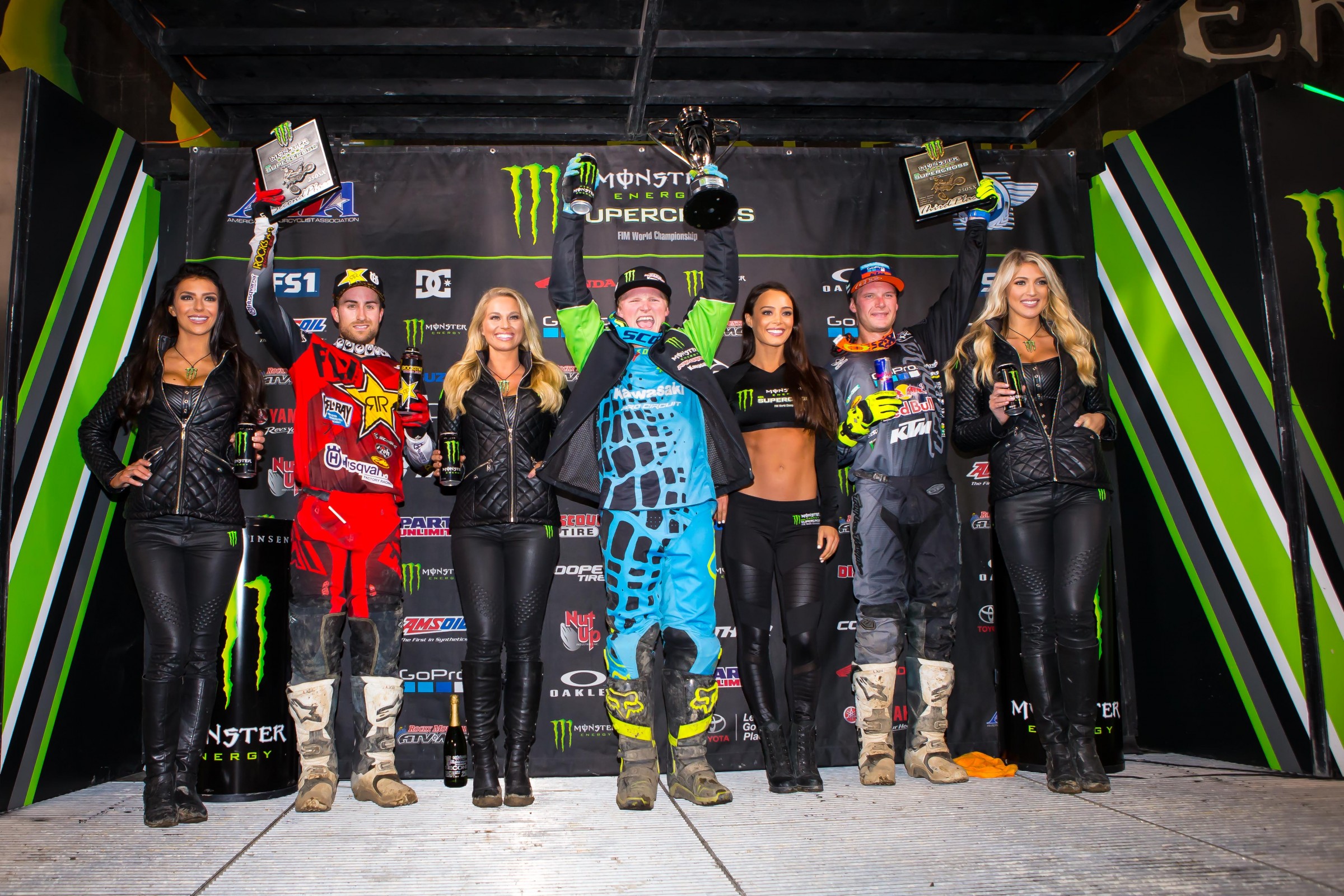 What could have been a great night for Aaron Plessinger ended outside the top five in sixth. Plessinger usually excels on rutty tracks like the one we had tonight, and he was indeed fast, winning his heat race over Decotis, McElrath, and Hill. But he once again suffered a bad start in the main, this time getting caught in a big pileup triggered when Austin Forkner went down in the second turn (Forkner pulled out of the race as a result), and when he wrestled free the leaders were long gone. Plessinger now sits sixteen points out of the lead, and with only five 250SX West Region races remaining, he's going to have to run the table in order to stay relevant to the championship.
Best result of the season for Phil Nicoletti, who took fifth. Afterward we asked him if the tough track contributed to his season high.
"I think so," he answered. "You couldn't just send it. You had to hit your marks lap after lap and figure it out, section by section. I think for me that was good, I got in a rhythm and was able to bang it out."
In the intro we mentioned momentum, and how it just kept building for Hill in Oakland. Well, the same can be said for Eli Tomac, who, after having a not so great day in qualifying and failing to transfer to the main out of his heat, found his mojo in the main event and went on an absolute rampage for the second race in a row, coming from eighth to first and beating Ryan Dungey by over ten seconds.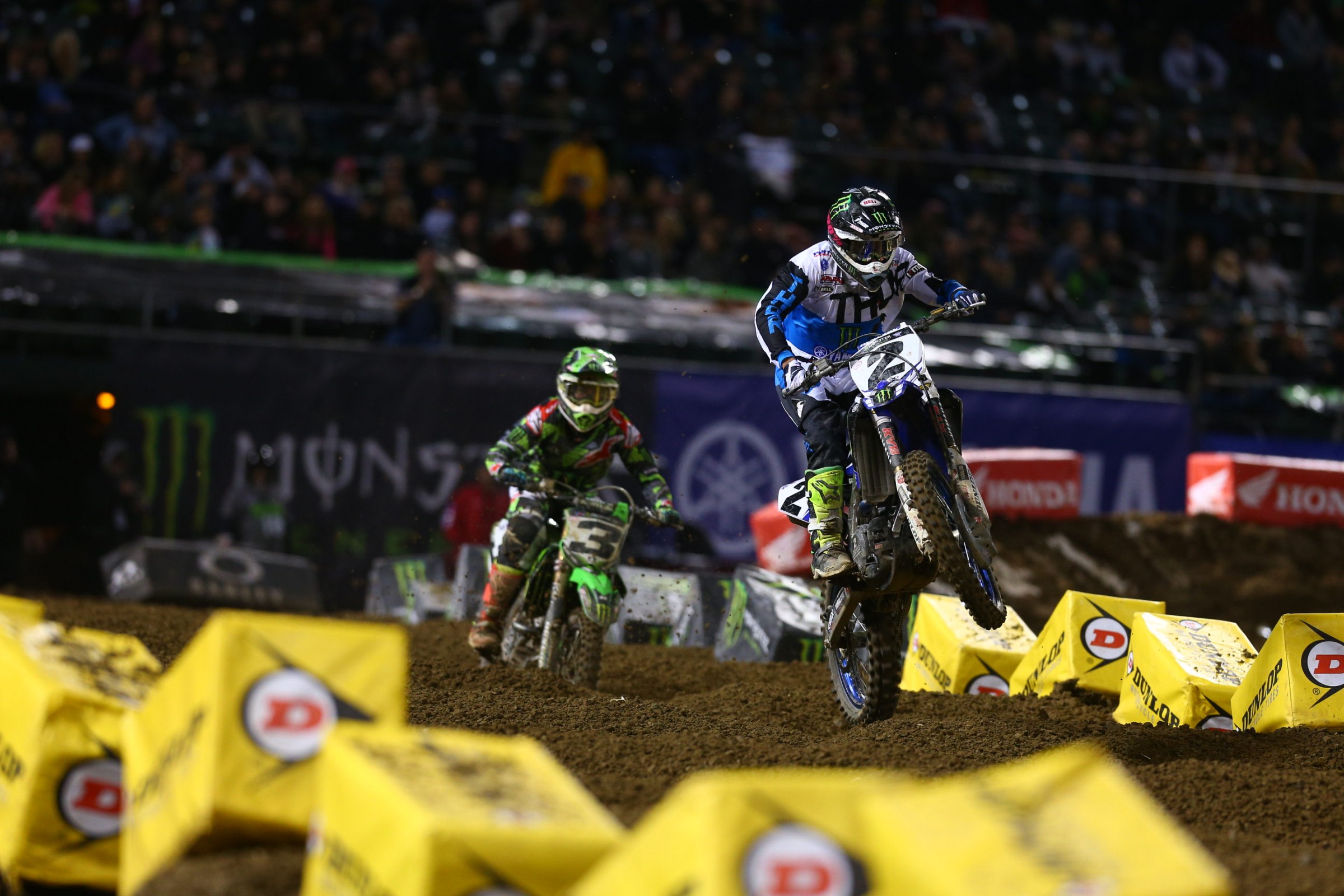 "I was struggling with flow all day," Tomac said. "It was pretty bad. In the heat race I felt like I didn't know what I was doing, I was pretty buried. I think that semi race was a saving grace for me, getting out there and breathing and going for it. Yeah, I had a bad gate pick [in the main] and got beat on the start, but I was able to blow some nerves out, some cobwebs, and found it."
Thanks to his win, and Marvin Musquin crashing in the main, Tomac takes over second place in in the standings and now trails Ryan Dungey by seventeen points.
Speaking of Dungey, you could make a case that it was him who maintained momentum tonight, despite losing to Tomac. He wasn't great in qualifying and was forced to ride in a semi after getting dropped out of a qualifying spot when Blake Baggett straight up passed him in the heat. But when the main came Dungey was able to put all that behind him and spent most of the race in the lead. And despite giving up the win to Tomac, Dungey still increased his points lead from fifteen to seventeen. [Note: He led Marvin Musquin by 15 points entering Oakland.] Even when he's not peaking his points lead still gets bigger!
Cooper Webb had quite a night, holding down second for a good portion of the race and ending up third to take the first podium of his young 450SX career, although it didn't come without a bit of drama.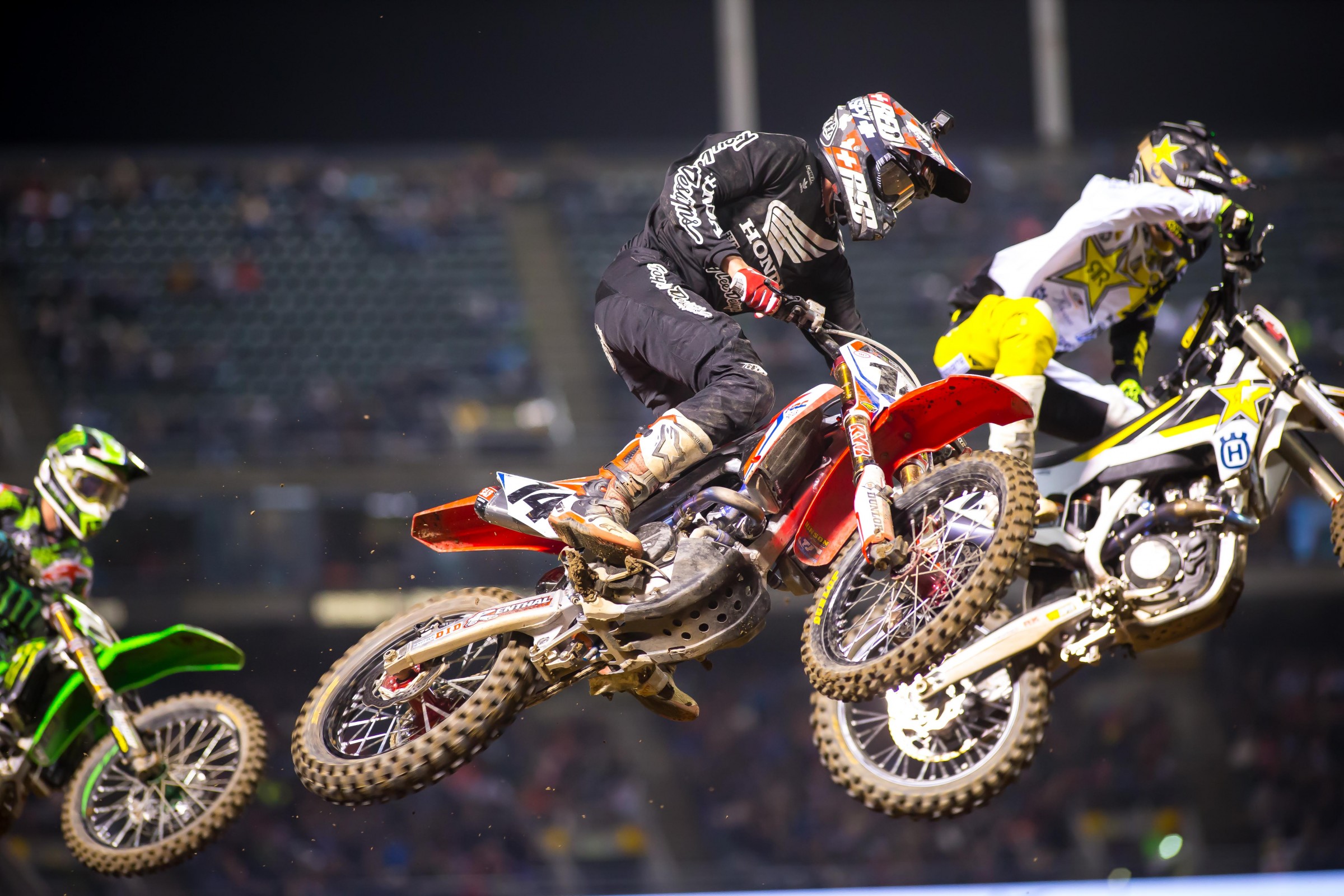 "I made a mistake and got some dirt clogged and stuck in my brake and I had to get that out. It was a little bit nerve wracking. I definitely wanted to be on the podium, but Jason Anderson was coming and I knew he wanted it too. You get in a groove and start to feel comfortable, but then stuff like that happens and you have to get back and push the limit again. I was glad I was able to regroup and get up here."
Dean Wilson probably rode more laps than most anyone tonight. Rockstar Energy Husqvarna Factory Racing's latest addition had to go to the semi, where he crashed while holding down a transfer position and was forced to go to the LCQ. Fortunately for Wilson he got a good start and earned a trip to the main, where he finished tenth. Wilson says he thinks with a bit more time on the bike he'll be able to post better results.
"I was battling for seventh for about twelve minutes or so but I got a little tired at the end," Wilson said. "I've only had two days on the bike though, so I would say it was a good day. The bike is good, next week will be better, and in a couple weeks I think I'll feel even more comfortable."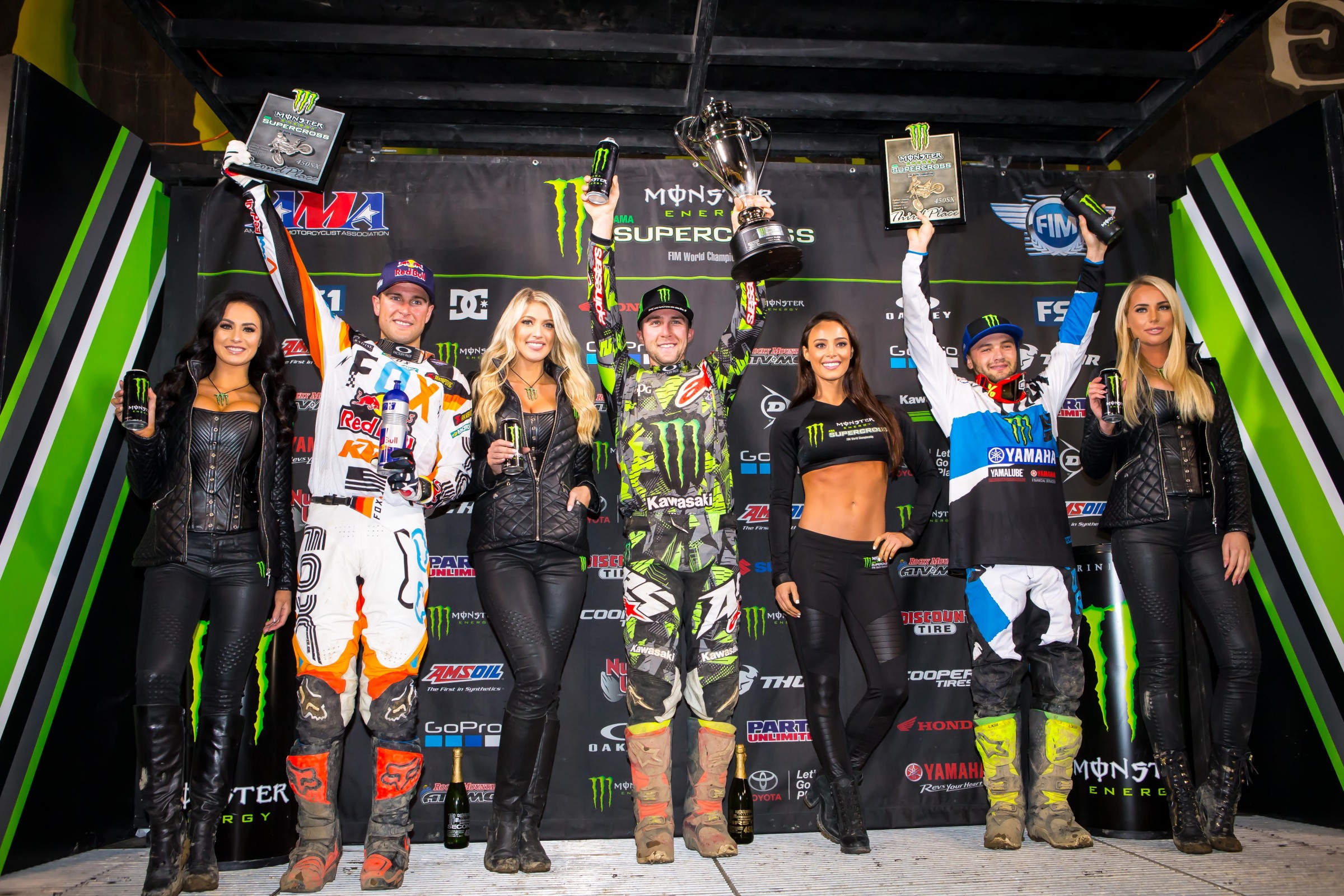 Results
450 Class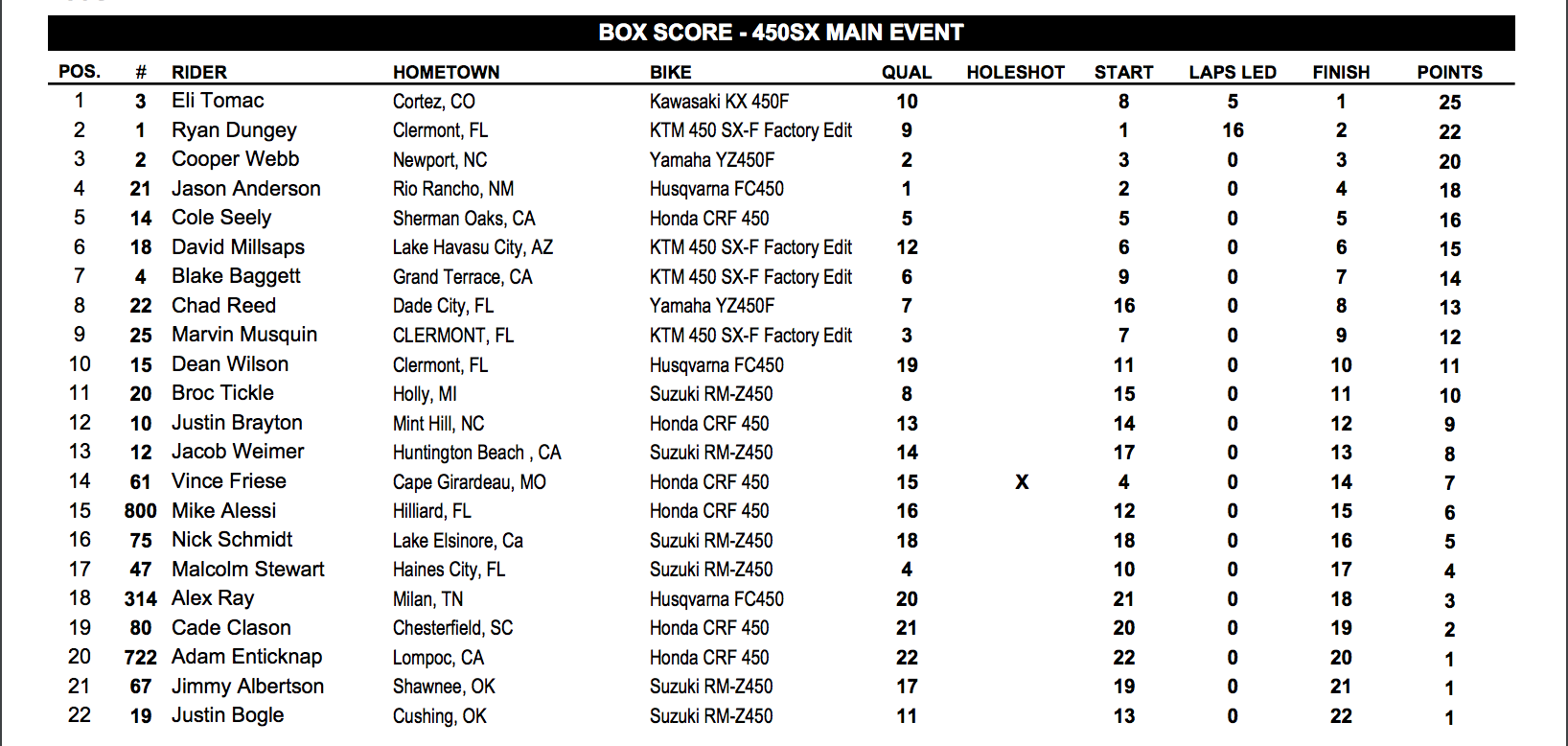 250 Class