Angel Stadium
Anaheim

,

CA
Anaheim 1 (A1)
Monster Energy AMA Supercross Championship
By Jason Weigandt and Aaron Hansel
It's the sleeping giant, the elephant in the room, the thing that goes bump in the night. Good racing is what every fan wants, but there's been this little threat to close racing and parity around these here parts lately. The potential power of both Team Honda and Ken Roczen is well known. Honda hasn't won consistently in supercross in a long, long time, but the legacy of the brand will never be forgotten. There was a time when Honda could not be stopped, and no matter how far in the rearview that falls, everyone knows the brand could always awake someday again. Then there's Roczen, who has undeniable talent. There are no guarantees that Honda or Kenny will hit on all cylinders, because nothing is guaranteed in racing, however, everyone does know that if they do both hit a stride—and together—it might be very scary for everyone else. It certainly was tonight at the Monster Energy Supercross opener in Anaheim. Roczen and his HRC CRF450R were flawless. He was fastest in the first qualifying session of the season. He won his heat race by leading every lap. He then led every lap in the main and won by a huge margin. He is coming off of a dominant Lucas Oil Pro Motocross campaign and a Monster Energy Cup where he didn't win overall, but won two of the three main events. This is the direction things are trending for Kenny and Honda, and that's why everyone pumped on close racing has to be a little worried, because no one was getting close to Roczen on this night.
"It's like I've been saying [all week], I'm just bringing that much more focus [into the season] and I'm super fit," said Honda HRC's Roczen on the podium. "I had a lot of fun out there. The track got rough, and since they tamed it down it helped out a lot once it got rough. We've got to keep our head on our shoulders, bottom line."
But it's a long season, though, and Roczen has already been here before. It's his third Anaheim 1 win in the last four years! His 2014 and 2015 wins, though, did not result in championships. At the post-race press conference, Kenny was calm, not boisterous or even much for celebrating. He said he's learned from those previous wins that you can't get too pumped up after the first-round win, and Kenny and the team will try to keep their eyes on the prize and take it week by week for now.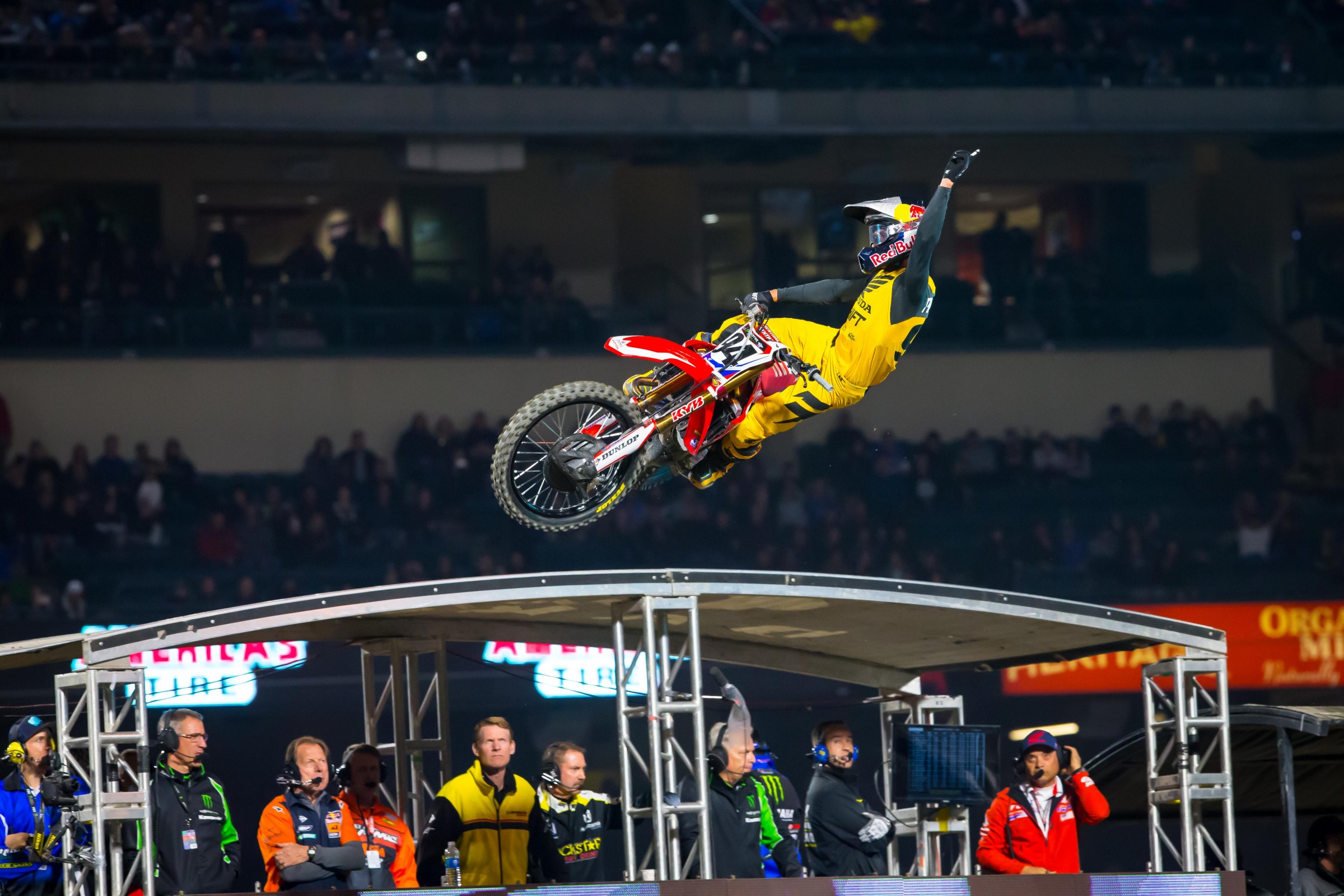 Speaking of the long game, Ryan Dungey played it again. The three-time and defending Monster Energy Supercross Champion was quiet throughout practice and qualifying, and even his heat race, but did his best work in the main, starting about eighth, quickly moving to fourth, and then systematically working his way into second. By the time he was there Roczen was long gone, and Dungey never threatened to close that gap. But second is still strong, and Dungey has actually never won Anaheim 1, and usually seems to find his true speed not long after. Roczen was as good as advertised, but Dungey isn't going anywhere.
"[Ken] rode great. From where I was at [coming off an injury] to have the first big race, this gets my feet back in the game," said Red Bull KTM's Dungey. "All we've done is testing and we've been waiting to get into a race. This was a true challenge. There was a good distance between first and second and that's a challenge. I'm looking forward to closing that."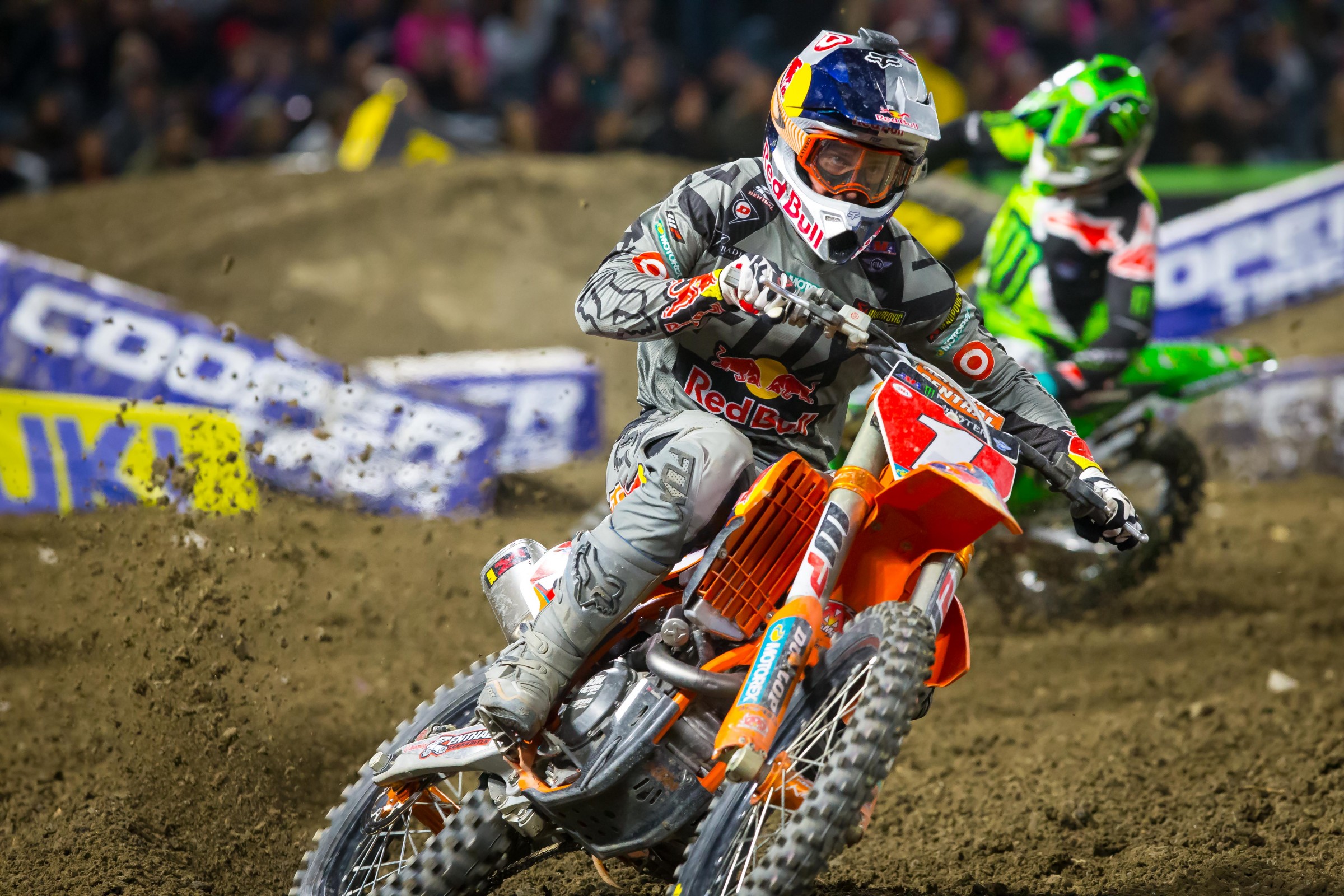 The most disappointed rider of the night had to be Monster Energy Kawasaki's Eli Tomac. Better starts have been a key job order for him this year, and his whole day looked good, with good qualifying speed, a heat race win (with a faster lap than Roczen's win in the other heat) and good starts in both the heat and the main. Tomac started the main second, scrapped it out early with Marvin Musquin, then secured the runner-up spot and looked ready to chase Roczen. Then it all fell apart. Tomac sunk like a rock and was passed by Dungey, Musquin and Jason Anderson to take a disappointing fifth. The culprit? Massive arm pump. "My arms basically blew up like mushroom clouds," said Tomac, who was at a loss as to why this happened, since he never really gets arm pump. He's left simply hoping it doesn't happen again next weekend.
Tomac's fade opened the door for Musquin. He was caught and passed by his teammate Dungey, but still landed on the box. "It feels really good to be on the podium tonight, especially at Anaheim I, it was big. I knew I was capable and it's just really awesome to see the work that we put in while in Florida pay off. It was a tough track tonight so I'm really happy to be on the podium and I'm looking forward to making some more adjustments with the bike and continuing the momentum."
Anderson took a quiet fourth after a so-so start, getting Tomac late. Tomac was fifth, just holding off Cole Seely. Seely rode a good race, but Anderson was able to pass him for a spot, and Seely's late charge after Tomac came up just short.
RockyMountainATV/MC KTM's Davi Millsaps rode well to finish seventh. Millsaps has had an injury-plagued off season and was then sick leading into the race too. Millsaps only got back on a bike November 1, then had to take the last three weeks off after other issues. Seventh is strong, considering that.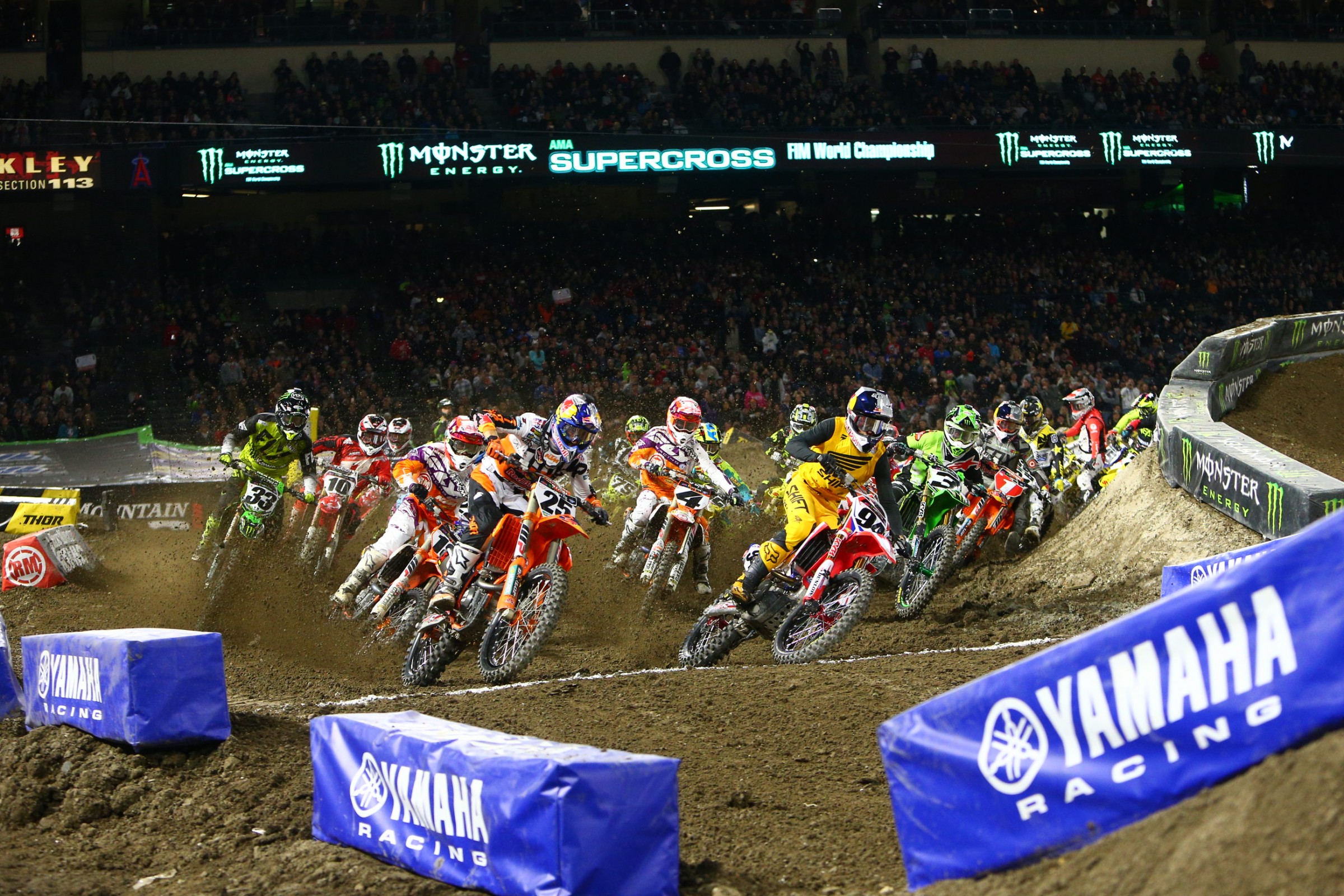 Weston Peick was eighth on the Autotrader.com/JGR Suzuki, but it was an eventful run. Chad Reed spent 12 laps close behind Peick, then finally went for a pass in the sand section, and the two collided. Then Peick told us that Reed went into for a second attempt, this time a big T-bone, and it was a hard hit. Peick stayed up but Reed broke a part on his water pump, ending the night for his Yamaha. Reed was credited with 20th.
Josh Grant's job is to record solid finishes for Monster Energy Kawasaki. He did just that, stalking the Peick/Reed battle for most of the night and taking ninth.
Cooper Webb was tenth, not exactly what the rookie wanted for his first 450SX main event. Cooper admitted post-race that the nerves of his first 450SX affected him, and also the track ended up much different than any of the test tracks, and his bike setup suffered. He said he hopes to be much better next weekend.
Jake Weimer filled in for Justin Barcia at JGR Suzuki, and after just two days on the bike, he was good, getting good starts in his heat and semi, and winning his semi. He was 11th in the main. Behind him came Dean Wilson on a super-privateer Yamaha setup. Dean's dad put his bike together and he pitted out of the family's 2008 Sprinter van. Twelfth is good for that!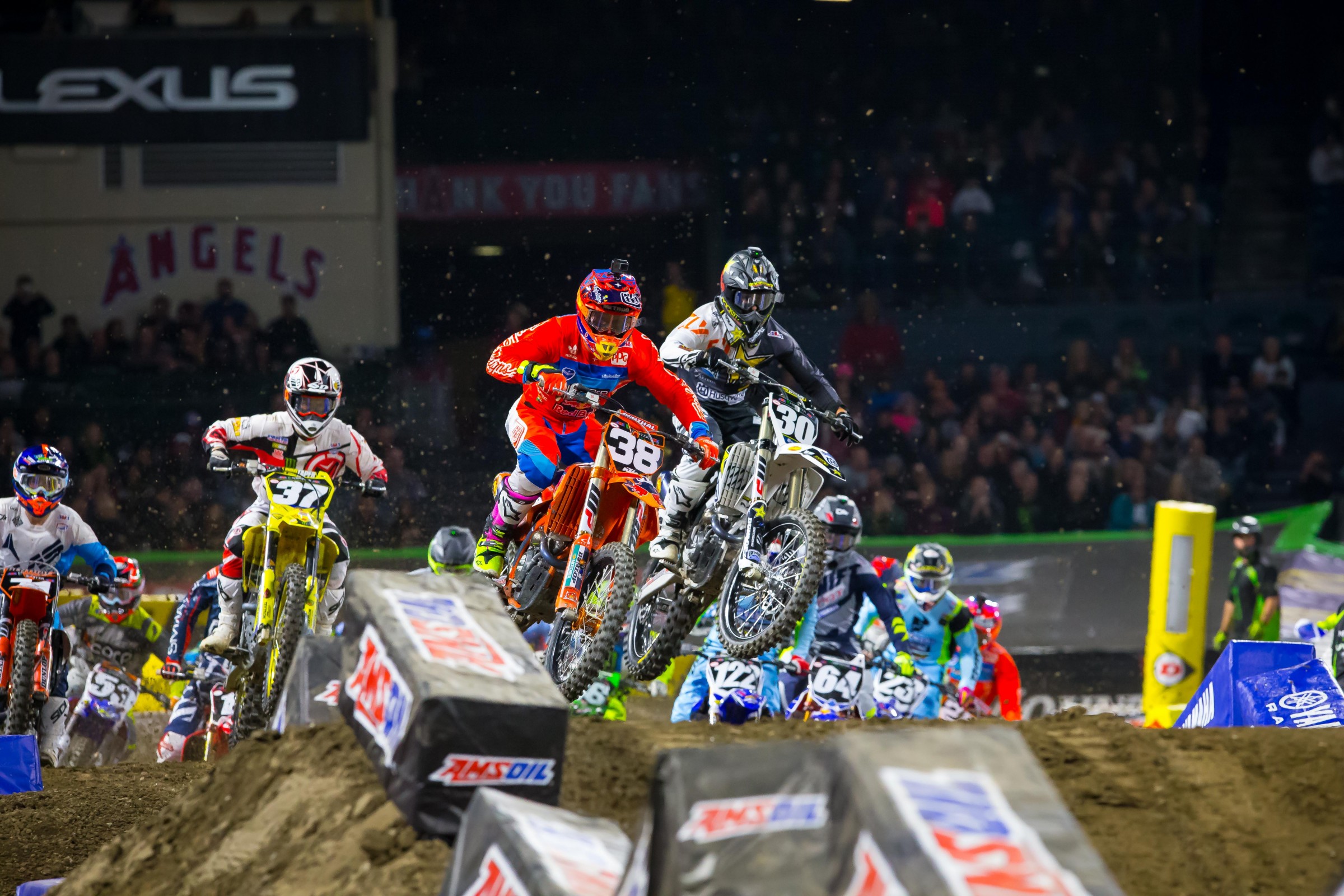 Rain was a threat throughout the week and led to a covered track and shortened/delayed practice schedule on race day. But while Saturday's weather turned out great, the rain from earlier in the week still did some damage. Roczen, Dungey and others said the track was tricky because the transitions started soft, making them notchy, and then so much drying agent was applied in the whoops that they because rock hard and very slick. They both commented on the track being very slippery, making it hard to really charge.
Nobody wants to have a bad race, especially at the season opener, but Trey Canard probably would have been happier with poor results than he is with what happened to him today. The Red Bull KTM rider took a nasty tumble during qualifying that sent his bike bouncing and tweaked his shoulder. Later he crashed in a semi which didn't help the situation. He was able to ride through the pain to qualify via the LCQ, but when the main event rolled around his shoulder was just too sore to continue and he pulled the plug. No word yet on the severity of the injury or Canard's status for next weekend.
If you're Christophe Pourcel you're probably wishing Canard would have made the decision to pull out a little sooner. Pourcel found himself behind Canard in the LCQ just outside the final transfer spot and wasn't able to get around Canard and into the main. Pourcel looked a little timid all night, but the good news for him is he typically gets faster and more comfortable as the season progresses.
Speaking of bad luck, Phil Nicoletti was served a healthy dose of it when he jammed his rear brake lever on the first lap and had to pull into the mechanic's area. The pit stop cost him a huge amount of time and when he got going again he was in dead last. He ended up seventeenth, definitely isn't what he wanted on his first race back on the 250, but at least there's plenty of room for improvement in San Diego. Of course Phil had some bad luck!
As long as we're on the subject of bad luck, let's talk about Mike Alessi. The Smartop Motoconcepts rider was clicking along during the main event when he hit a false neutral as he was going up the face of a triple jump. Not surprisingly he cased it extremely hard and took a vicious in the stomach from the handlebars.
"It was just kind of a freak thing. Going off the face of the triple I hit a weird false neutral and lost all drive on the face and cased it," Alessi told us later in the pits. "I took the whole impact of the handlebars to my stomach. I got the wind completely knocked out of me so bad that I pretty much blacked out. I hit so hard. As I rolled down the backside of the triple I was checking my wrists, my ankles, and I was like, 'Okay, I'm fine." Then as I rolled to that right hander I just went down. Nothing's broken and I should be back next week. It was just a gnarly impact to the abdominal area. It's a good thing my core is in good shape."
Not a bad night for CycleTrader.com/Rock River Yamaha rookie Bradley Taft, who finished thirteenth in his pro supercross debut in the 250SX Class, although he doesn't agree.
"It was good in qualifying, I qualified ninth, and then got fifth in my heat race. For my first race I felt that was pretty solid, but in the main event I think I was eleventh or something and ended up getting tangled up with another rider and went down," Taft said. "I got back up and got thirteenth. Hopefully I can do better next week. I'm definitely bummed, I had higher expectations. It's something to build off of though, and I guess I can only go up from here."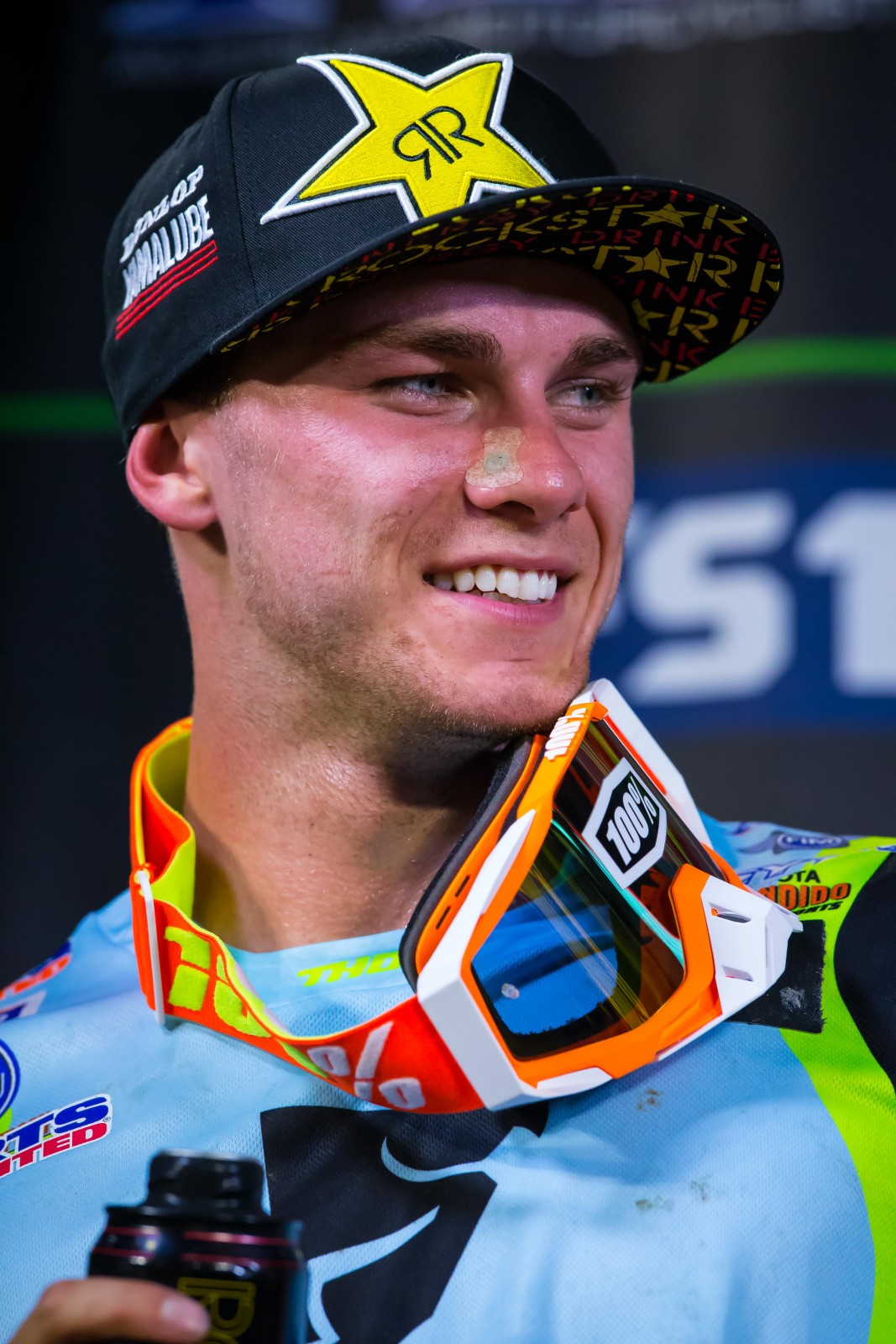 Austin Forkner, another rookie who made his supercross debut, also had some trouble. The Monster Energy/Pro Circuit/Kawasaki rider crashed in the whoops and went over the bars while running seventh, eventually ending up eighth. Forkner looked like he was in complete control all day and didn't seem to have any sketchy moments in qualifying so a crash in the whoops wasn't what we thought we'd see. Expect this kid to do much better as he gets more comfortable out there.
One rider who didn't have any problems was Shane McElrath, who had a perfect night, winning both his heat and leading every lap of the 250SX main event. After taking the win McElrath explained how he was able to stay calm on the way to winning his first race as a professional.
"That's what we do during the week – practice with our teammates and try to race hard with people behind you pressuring you," McElrath explained. "It was tough to be consistent lap after lap – the track was pretty tough but when you make a mistake you just kind of shake it off and try not to let the nerves get to you. We definitely put in the work, we didn't have high expectations but we knew what we had to do."
It's not like there wasn't any pressure him either, as Aaron Plessinger, who'd already gone around Martin Davalos for second, was closing in on McElrath in the closing stages of the race. Plessinger ran out of time, but his performance tonight indicates he'll be a major threat in the races to come.
One rider whose results don't show how well he was riding is Jeremy Martin. After qualifying fastest the GEICO Honda rider got an absolutely horrible start (after one lap he was in twelfth) in the main and was forced to work his way through the pack. He ended up sixth, but don't expect that to happen regularly.