Angel Stadium
Anaheim

,

CA
Anaheim 1 (A1)
Monster Energy AMA Supercross Championship
Before the 2017 Monster Energy Supercross Championship kicked off in Anaheim there was plenty of mystery and hype surrounding the series. Excitement was high and everyone was wondering how key players like Ken Roczen, Ryan Dungey, Eli Tomac, Marvin Musquin, and plenty more would stack up once the season got going. Well, you can't predict what will happen in the championship based off the results of a single race, but if what went down in Anaheim tonight is any indication of how the remaining sixteen races will play out, we've got a very clear idea of things are going to be. To see how it went, check out the Race Day Feed below. For a complete recap of the entire day, start at the bottom and work your way up. If all you're interested in is what happened in the mains, you can skip to those directly below.
450SX Main
Ken Roczen took the holeshot, and just like that it was over. He immediately went to work building a gap and there was absolutely nothing anyone could do about it. Tomac, who went back and forth with Marvin Musquin several times early, tried his best but Roczen was simply everyone's superior tonight and won by over sixteen seconds. Things continued to plummet for Tomac too, who slowed significantly at roughly the halfway point and dropped spots to Ryan Dungey, Musquin, and Jason Anderson before the checkers flew.
Behind the leaders there was plenty going wrong for other riders too. Blake Baggett was forced to overcome a first-lap crash and finished fourteenth. Mike Alessi also had something go wrong and cased a triple extremely hard. He couldn't have landed worse and it was sickening to watch. Somehow he didn't crash but collapsed after rolling down the other side and was carried off by the medical crew. Chad Reed was another rider who didn't have the night he was hoping for. After he and Weston Peick got together he ended up pulling off the track with what looked like a mechanical issue and wasn't able to finish the race. Trey Canard didn't even race the main event after tweaking his shoulder during qualifying. A fantastic night for some, but positively disastrous for others.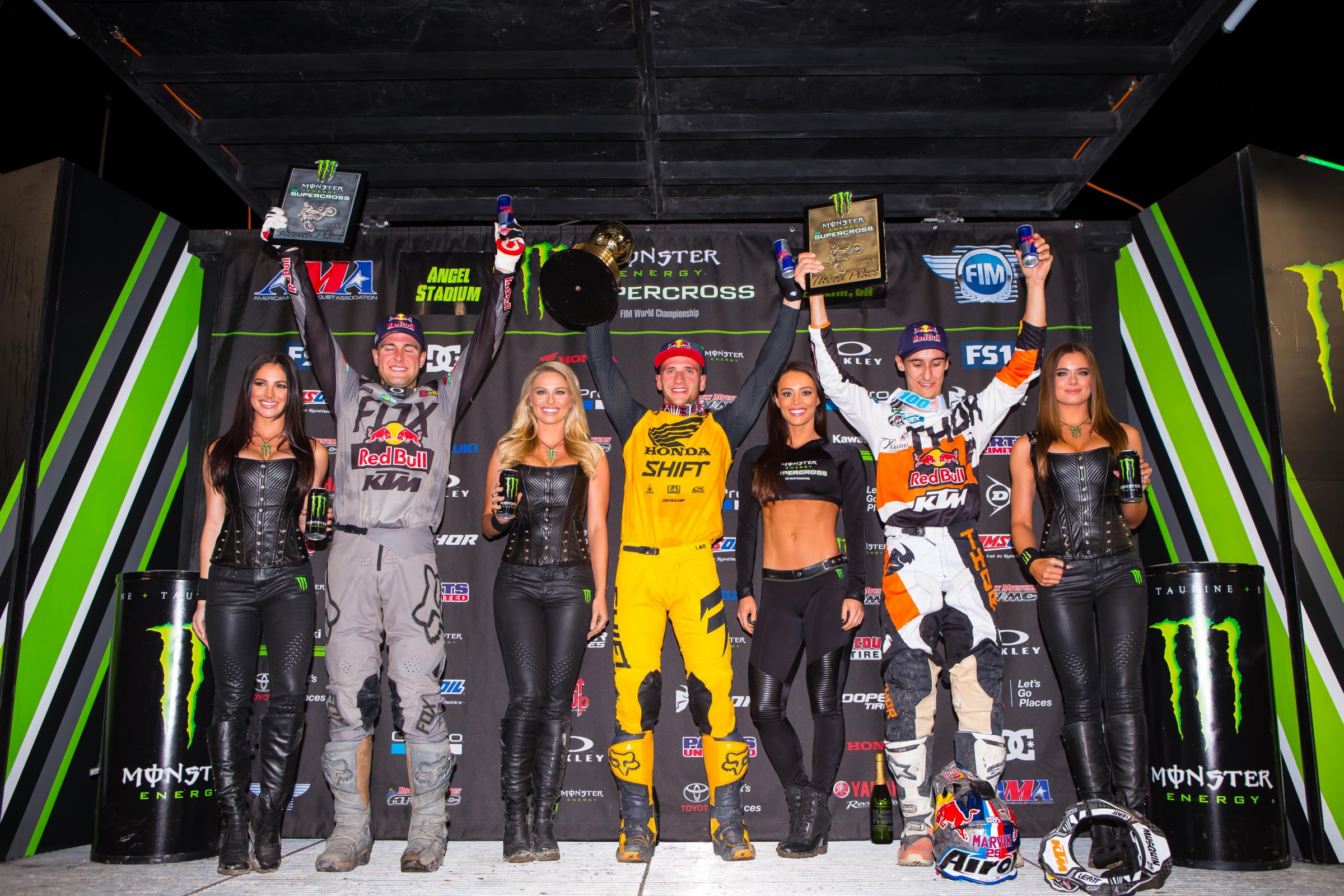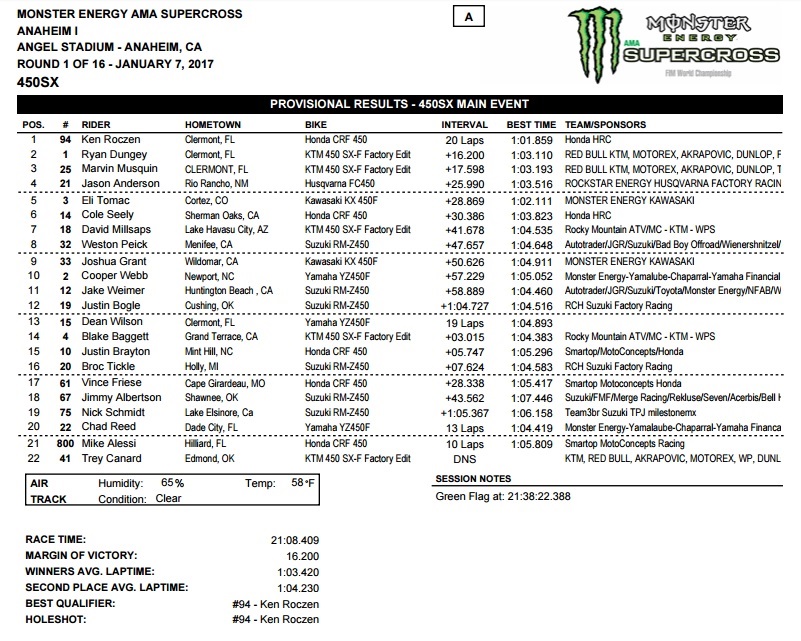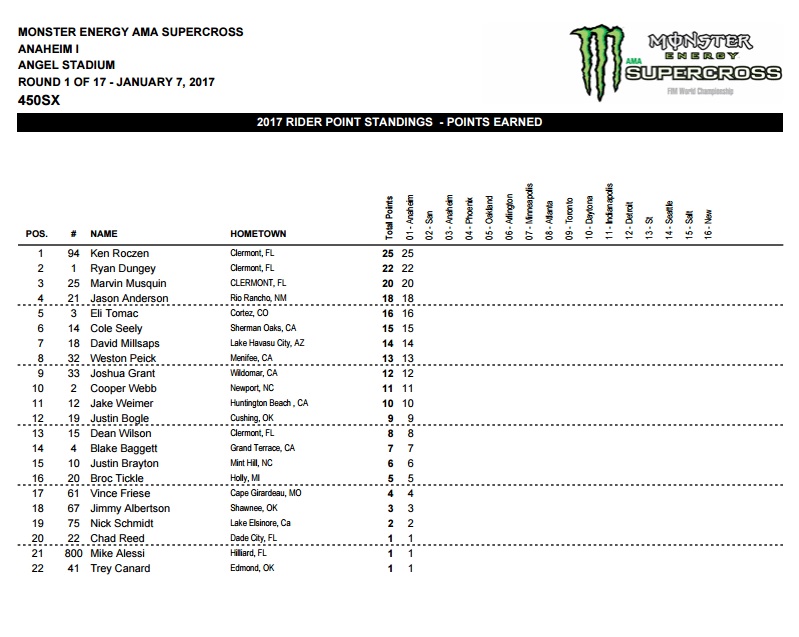 250SX Main
Shane McElrath kicked off the first 250SX main event of the year with a resounding holeshot, but when the other heat winner, Martin Davalos, settled in behind him it looked like there was going to be a fantastic battle for the lead. Instead, McElrath pulled a bit of a gap while Aaron Plessinger hunted down Davalos and took over second. Plessinger was riding just a hair faster than McElrath and started closing late in the race, but there just wasn't enough time. Credit to McElrath too, who rode a fantastic race to take the first win of his career.
Elsewhere Mitchell Oldenburg rode to a lonely fourth, Justin Hill overcame a mediocre start to log fifth, and Jeremy Martin, who was in damage control mode after starting in roughly fourteenth place, worked up to sixth. Rookie Austin Forkner went over the bars in the whoops while running seventh and finished eighth. Bummer for Hayden Mellross, whose bike quite on him early while running third. Phil Nicoletti also had some kind of bike problem and had to pit on the first lap. He finished seventeenth in his first race back on a 250 in quite a while.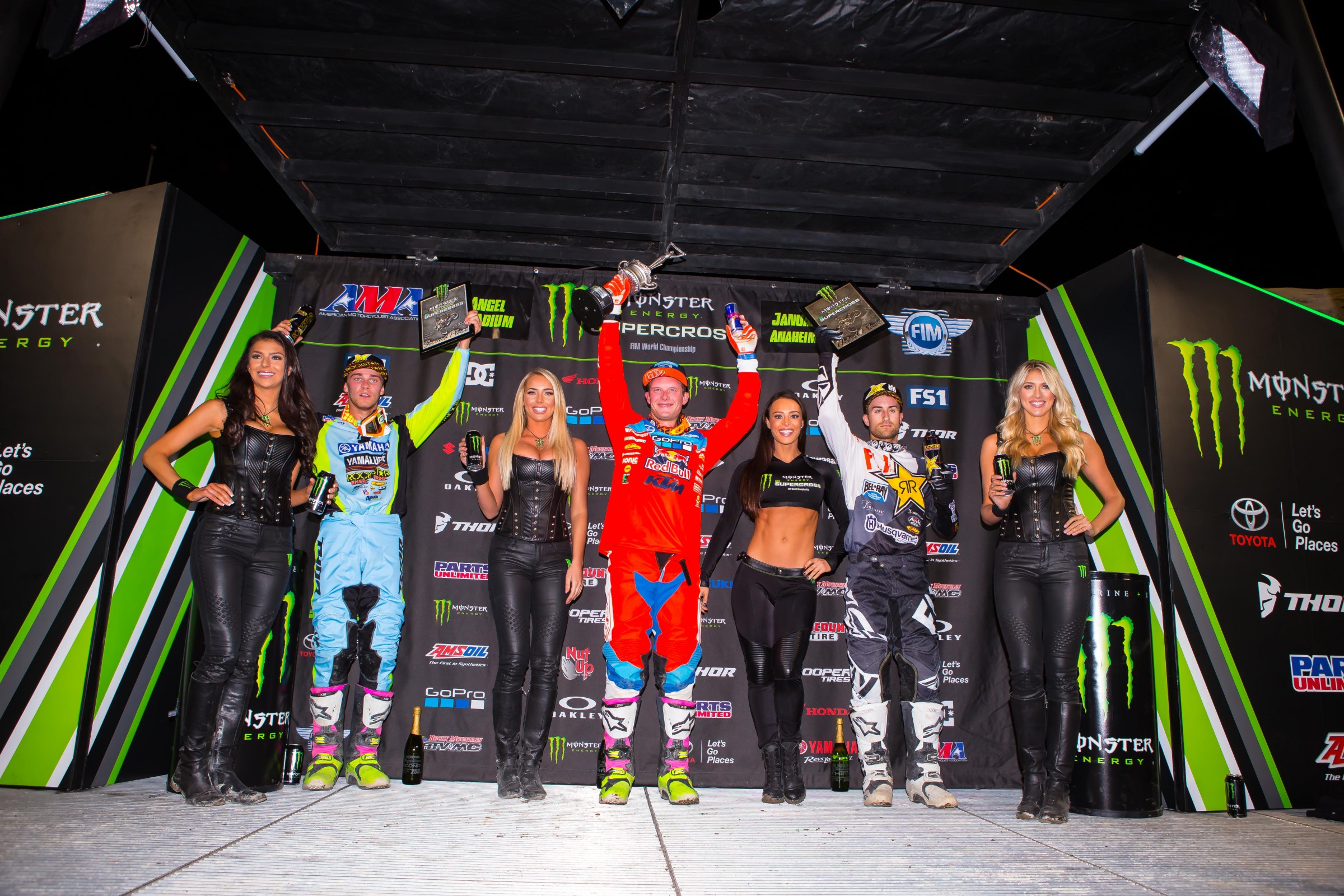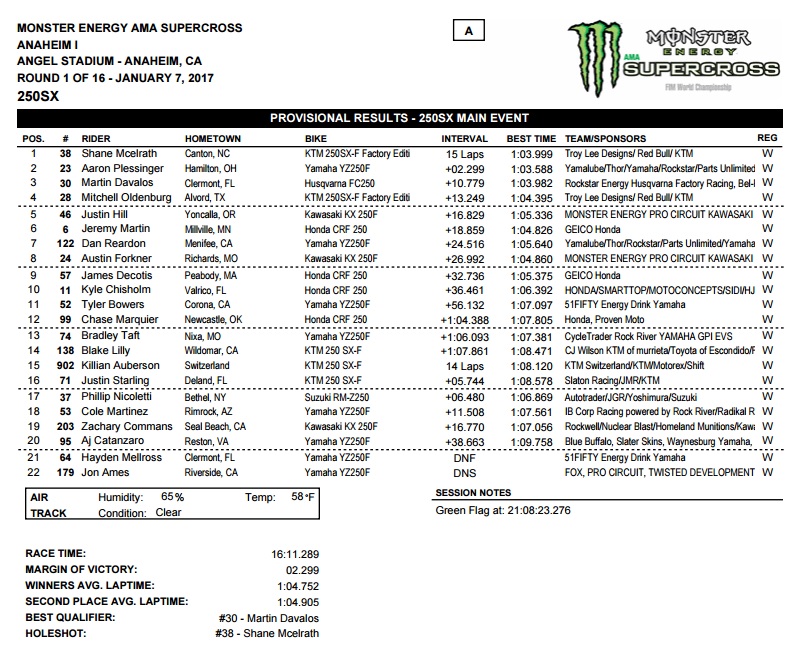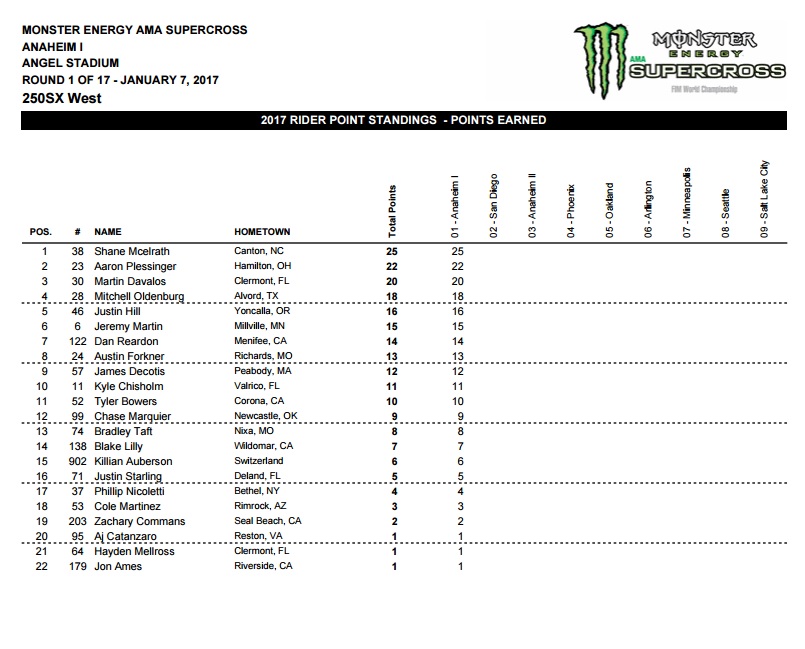 450SX LCQ
Josh Grant holeshot this one and ran away with it, with Nick Schmidt finishing a distant second. Behind them there was a bit of drama. Jimmy Albertson held third but he had Trey Canard on his tail. Canard meanwhile had Christophe Pourcel right behind him, just out of a transfer spot. The trio was pretty close for a couple laps and it seemed like sooner or later something had to give. Albertson held strong though and Pourcel was unable to make a move stick on Canard. They finished so close to each other they were all in the air at the same time over the finish line jump. The final running order was Grant, Schmidt, Albertson, and Canard, with Pourcel not making the cut.
450SX Semi Two
Davi Millsaps and Broc Tickle were wheel to wheel coming out of the first turn, but Tickle took command in the second corner while Millsaps got pinched and dropped about four spots. He almost immediately took most of them back, and several laps later went by Vince Friese for second. Tickle was gone at this point and rode to the uncontested win, with Millsaps also alone in second. The biggest moment of the race happened behind them. Weston Peick was closing on Friese for third but wasn't quite close enough to make something happen. Finally, in the final turn he dove to the inside and attempted to put a solid move on Friese. The crowd let out a huge gasp but Peick kept it clean and Friese was able to hold on by inches. Tickle, Millsaps, Friese, Peick, and Justin Brayton all transferred to the main. Jimmy Albertson was working on getting into a transfer spot but laid it down while attempting to put a move on Brayton.
450SX Semi One
Jake Weimer shot out to the early lead in this one. He had Cooper Webb behind him but that didn't seem to bother Weimer, who maintained a gap over Webb the whole race to take the win. Webb held down second for most of the race despite heavy pressure from Justin Bogle, who was dealing with pressure from Dean Wilson. In the second-to-last turn of the final lap Bogle dove to the inside of Webb to take the spot. Surprisingly Webb seemed to back off and didn't resist and made no attempt to get second back in the final turn. Weimer, Bogle, Webb, Wilson, and Mike Alessi all transferred to the main. Trey Canard went down with Alex Ray on the first lap and will make an appearance in the LCQ.
250SX LCQ
Jimmy Decotis and Chase Marquier jockeyed for the lead at first, but Decotis took the spot and motored off with the win. Marquier rode to a lonely second, followed by Jon Ames and Zach Commans. Josh Hansen was in this one too, but he got a bad start. He was making progress through the pack but ended up pulling off while pointing at something on the front of his bike before riding up the tunnel and back to the pits. Decotis, Marquier, Ames, and Commans took the final 250SX transfer spots of the night.
450SX Heat Two
Ken Roczen edged out Jake Weimer to take the lead immediately in this one. One turn later Ryan Dungey jammed his way past Weimer and for a moment it looked like we might see a battle between the two superstars. Roczen had other ideas though and simply rode away from Dungey, winning by nearly four seconds. Behind them were Marvin Musquin and Cole Seely, but they had a decent gap between them and a battle never materialized. Roczen, Dungey, Musquin, and Seely all went to the main.
450SX Heat One
The first 450SX action of the year was pretty uneventful. Blake Baggett took the holeshot but Eli Tomac almost immediately took the lead and steadily pulled away to take the win. Behind him Baggett rode to a lonely second, with Chad Reed and Jason Anderson taking third and fourth. Everyone got pretty spread out early on and things pretty much stayed that way for the whole heat.
250SX Heat Two
Great race in this one between Jeremy Martin and Shane McElrath. The two came out of the first turn side by side, with Martin taking over the lead in turn two. Martin held the lead, but McElrath stuck right on him and came back to take the lead on the final lap. McElrath, Martin, Oldenburg, Dan Reardon, AJ Catanzaro, Justin Starling, Killian Auberson, and Cole Martinez all transferred to the main. Josh Hansen and Jimmy Decotis both went down on the first lap. Hansen did a few more laps but ended up pulling off. Decotis was able to make up some spots but ended up just short, taking tenth.
250SX Heat One
The first holeshot of the year went to Martin Davalos and he never looked back from there, leading every lap of the first 250SX heat. Austin Forkner put some pressure on him at first but lost touch slightly as the race unfolded. Justin Hill was several spots back but worked through a few guys and nearly got Forkner at the end. Elsewhere Phil Nicoletti crashed on the first lap but was able to charge back to secure ninth, the final transfer position. Davalos, Forkner, Hill, Aaron Plessinger, Hayden Mellross, Kyle Chisholm, Tyler Bowers, Blake Lilly, and Nicoletti all transferred to the main.
Qualifying - Session Two
If this qualifier was any indication of how the night show is going to play out, Jeremy Martin has got to be feeling pretty good. After Shane McElrath and Aaron Plessinger took turns leading, Martin cranked up the speed and posted a time roughly seven tenths faster than anyone else. A few laps later he somehow lowered that time, separating himself from Aaron Plessinger by more than a second. Justin Hill still had some speed in the can at the end though and managed to throw down a heater to move himself within three tenths of a second of Martin's top time. Full times will be posted here shortly.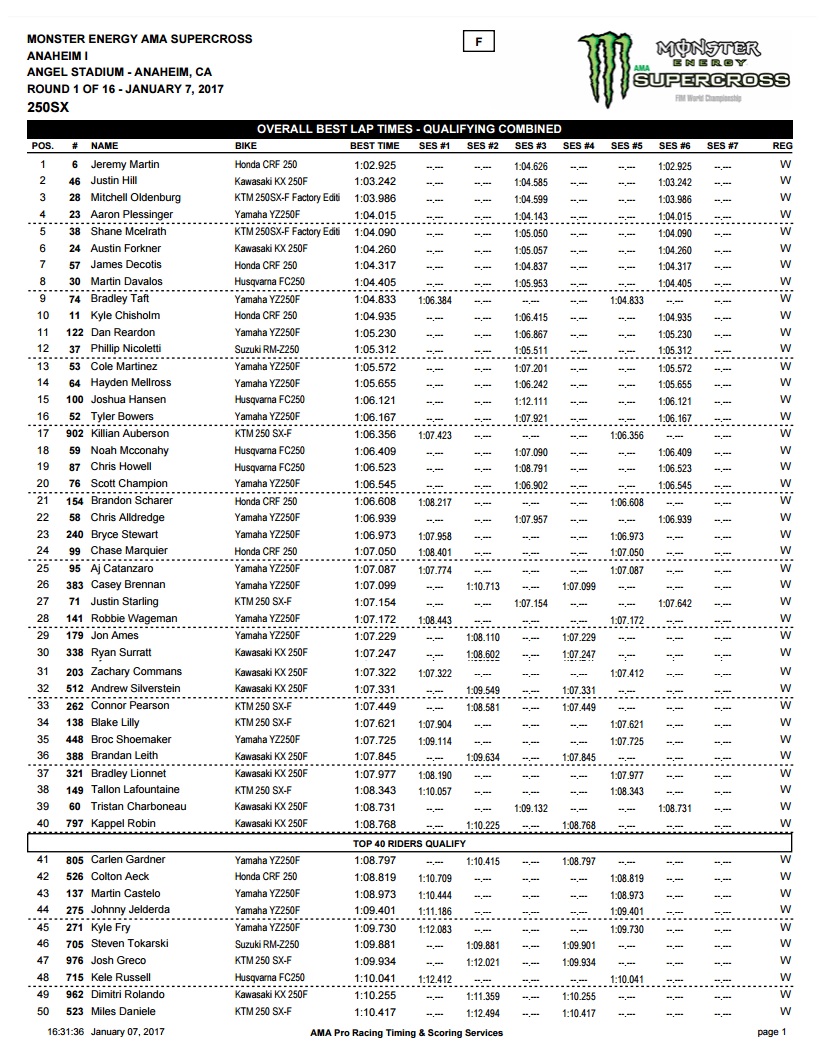 Dean Wilson was left without a ride this season but he's still out there making it happen.

Jeff Kardas
In 450 action it was Ken Roczen who was fast right away, but with about five minutes left Cole Seely forced his teammate off the top of the board, besting him by half a second. Roczen retaliated by improving his own time by about a second, but then Marvin Musquin took over, posting a 1:02.011. Eli Tomac busted out an extremely fast time on the last lap, a 1:02.100, but was just shy of beating Musquin, who is the season's first fastest qualifier. Full times will be posted here shortly.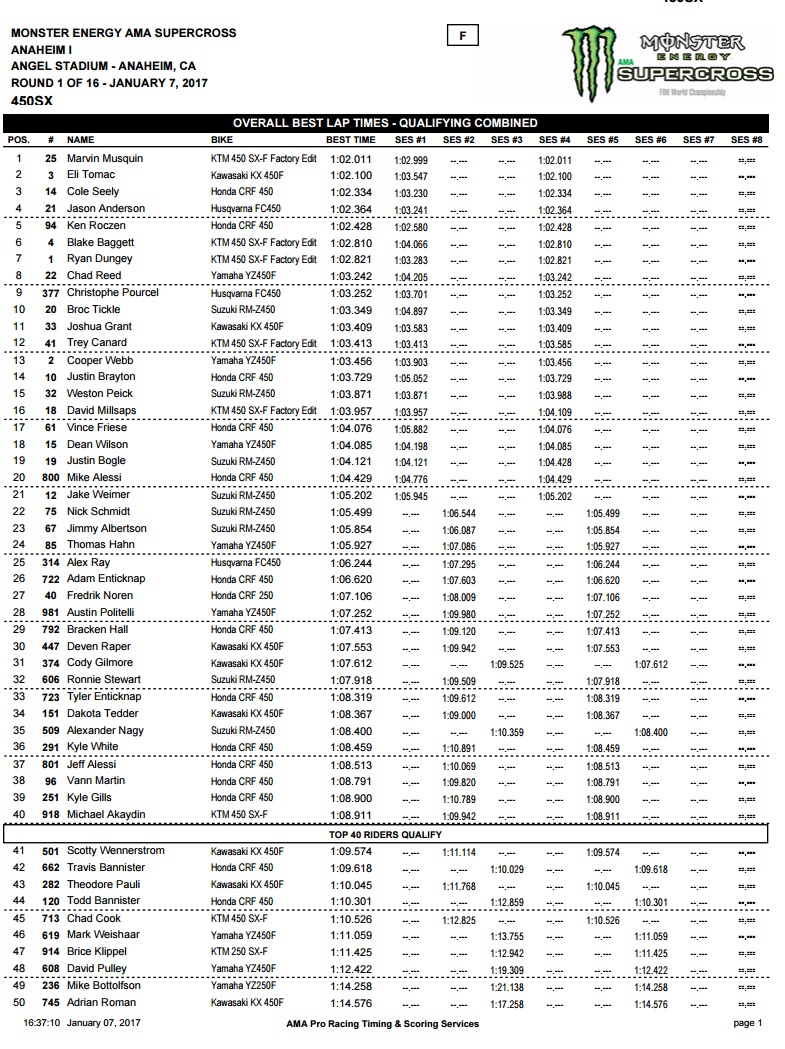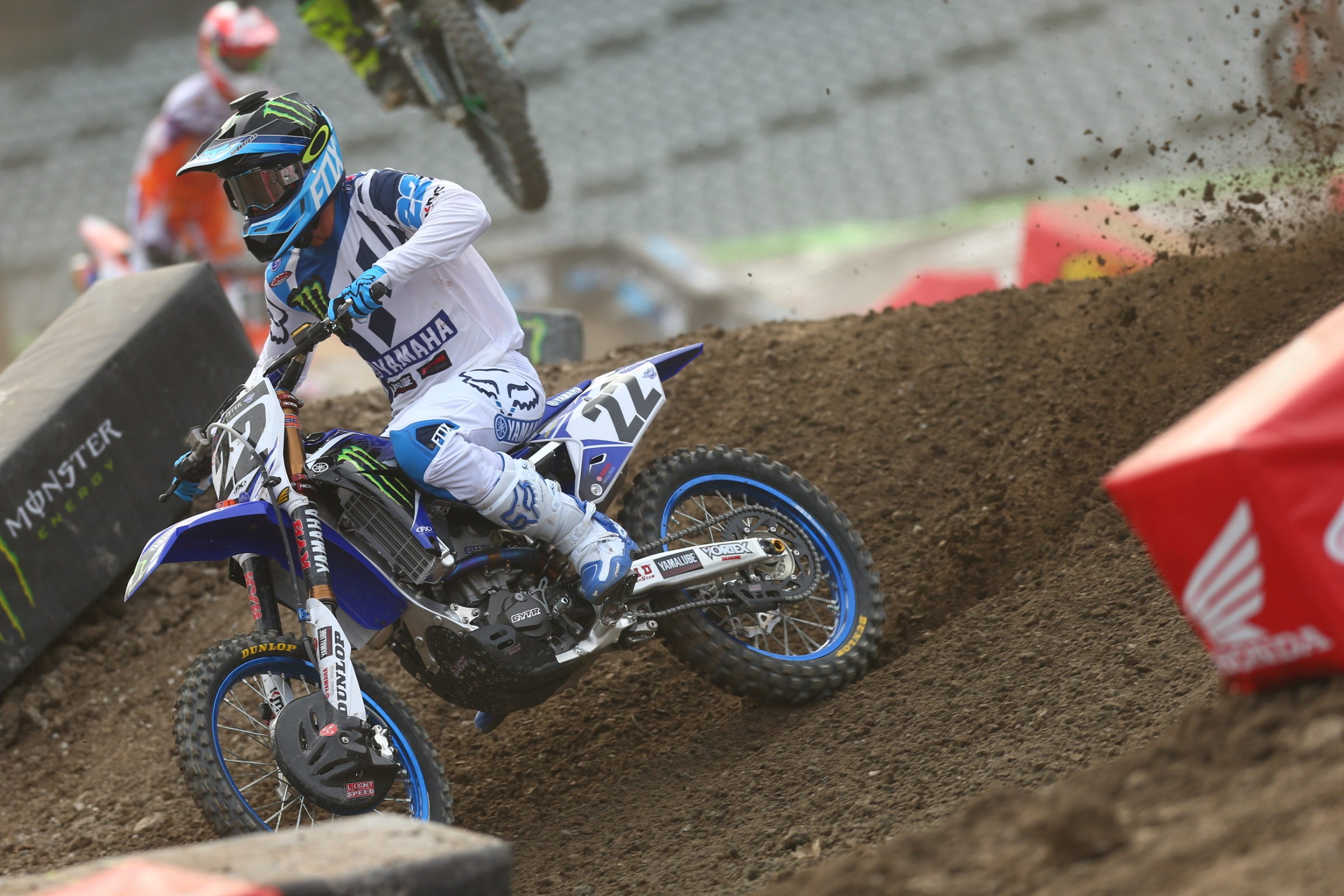 Qualifying - Session One
After a brief delay to give track workers extra time to get the track in shape after some rain came down, the untimed practice sessions were scrapped and riders were forced to learn the track quickly as they rolled straight into qualifying. That may seem like a huge deal, but the track is pretty straightforward and doesn't have any crazy sections, and it wasn't long before the guys were ripping off hot laps. In fact, most of the 450SX guys did everything on the first lap!
Not much happened in the 250SX group. Martin Davalos was fastest early on, followed by Shane McElrath and Justin Hill, with Aaron Plessinger finally laying down what would be the fastest time. Austin Forkner wasn't blazing fast in his first official supercross practice, but he never looked out of shape or sketchy in the least. We'll see what he brings to the second practice.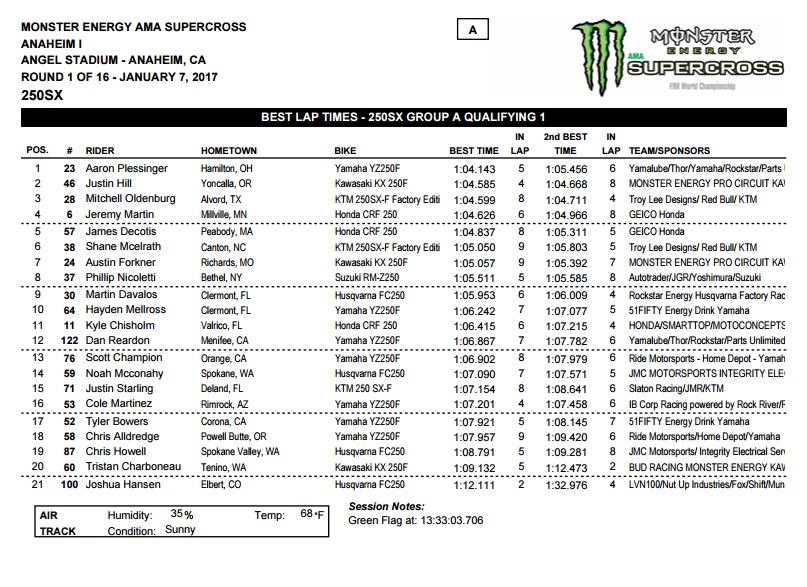 Things were a bit more interesting when the 450SX Class came out, and guys were trading the fastest time back and forth like crazy. Eli Tomac quickly busted out a 1:03.547, then beat his own time several laps later. Then Marvin Musquin took the top spot, only to see Ken Roczen best him by about half a second toward the end of the session. Trey Canard took a tumble in a rhythm lane that sent his bike bouncing but was able to get back up and get going again. Watching this qualifier was a firsthand reminder of just how many accomplished racers there are this season. Every two seconds a rider to watch would go ripping by and it was nearly impossible to keep an eye on everyone.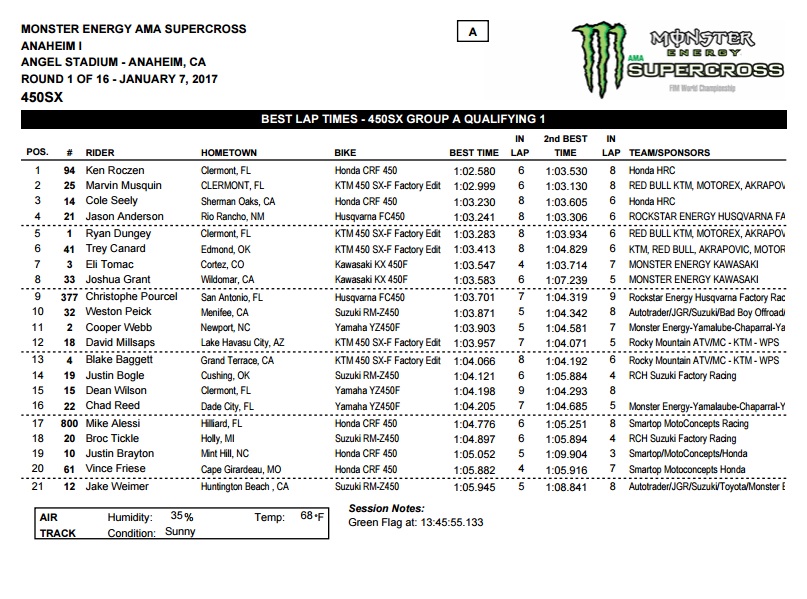 Morning Report
We've been talking about the upcoming season for several weeks now, but if you haven't been on Racer X Online in the last few days there are a few items you may have missed. First and foremost is the absence of Justin Barcia, who suffered a wrist injury that will keep him off the bike for the first several rounds. Our own Jason Weigandt caught up with Barcia to get his take on this recent setback, which you can see here. Jake Weimer will fill in for Barcia in the meantime. For a complete look at who's on the sidelines with injury, check out our latest injury report.
James and Malcolm Stewart are also noticeably absent, although neither are injured. After racing in Europe during the off-season Malcolm was planning on trying to be on the gate at A1 but found himself without a ride when the music stopped. Unless he's doing a very good job of hiding in the pits here in Anaheim, he won't be racing tonight. More than likely we'll see him later in the season. Same for James, who said he plans on making it to the races at some point.
For a quick rundown on some of the key players who are racing today, go here.
Practice reports will be slightly delayed today due to a revised schedule—some rain came down and the track crew need extra time to work the track into premium condition.