Sam Boyd Stadium
Las Vegas

,

NV
Race Center: Monster Energy Cup
Monster Energy Cup
Ken Roczen was on a tight schedule entering the Monster Energy Cup in Las Vegas last Saturday. After undergoing back surgery following the season finale, Roczen had less than two weeks to get ready for the weekend, and he was making a big change as well—changing from Showa suspension to KYB. The RCH/Soaring Eagle/Jimmy John's Suzuki rider was able to make it work, though, and rode to his first ever Monster Energy Cup win with a 1-4-1 performance.
After the race, Roczen spoke with a group of reporters about the suspension change, his win, and much more.
Racer X: You're ready for another main event?
Ken Roczen: Yeah, I'm ready for the fourth one. Let's have a Joker main event since I messed up that second one [laughs]. I wish I would have gotten a better start. But other than that, obviously the last one was the best moto from my side. I got a good start, just got out front. Especially on that track, it was really important to get a good start. Other than that, it was good. I haven't had a whole lot of time to really prepare. I felt great out there. My fitness and everything felt really good. The bike felt good, but we only had a week and a half to really go through a lot of testing. I was in Germany for a little bit and stuff, so we tried to squeeze everything in real quick, but it worked out.
You even made some big changes between last week and this week—Showa to KYB.
Yeah, it's personal preference. Both work great. I just prefer KYB and I was really happy, especially with the people that work on it. Good conversation and the material works very good.
You had to do a bit of a global search to get that stuff, though, didn't you?
Yeah, it was a little bit of a battle in general. But I want to win, so I want what's going to make me win and what's best for me. Sometimes you've just got to be a little selfish, and I knew what I was looking for. Other than that, though, right now I can't complain. I'm going off for a week of vacation right now and then starting my boot camp.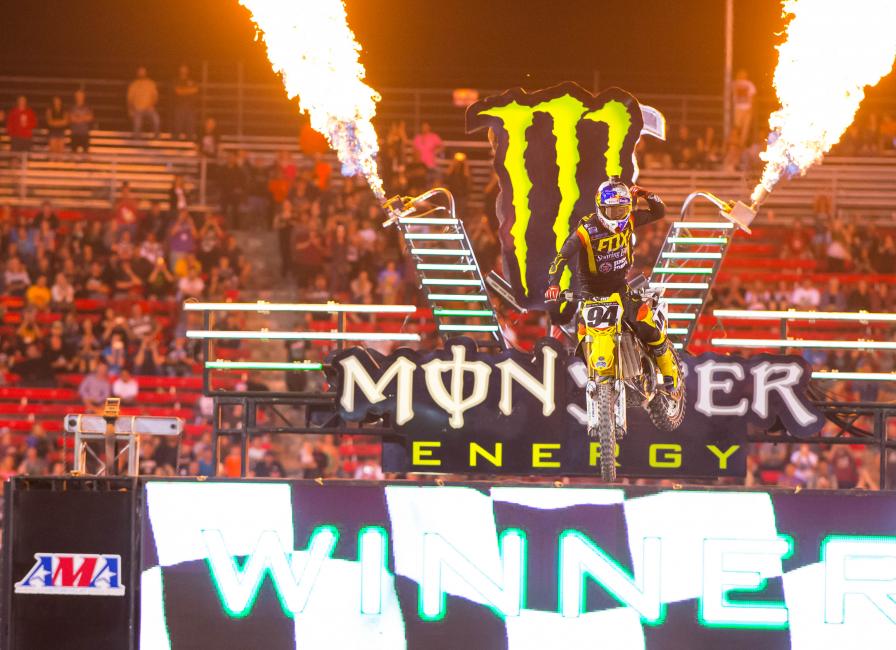 What goes into a boot camp during the off-season?
It's kind of a personal deal. I think people just do between four and eight weeks of strong training to get their base for the whole year, obviously. That's pretty much it. It's just getting everything dialed, live healthy, and focus.
How much time did you miss after surgery? I know you were in Germany, and then it looked like you were starting to ride over there a little bit.
Overall I took about four to five weeks off, and obviously I went to Germany. It's really tough. You don't know what four to five weeks do to you. It started off…. I had so much fun in Germany. We were building my track and everything. That was great to start off there because it's really tight and technical. So the first time you hop on the bike and go on there your heart rate [is] just through the roof and you're breathing your lungs out. But you can feel that improvement day by day. So that was a cool thing to do because I haven't been back in Germany for two years. So I did that and then came back, and obviously I had about not even two weeks until Monster Cup, so we tried to squeeze a lot of testing in it.
How much stock do you put into this race with that much time? Is it just, let's go and see what happens?
Well, I started off with the stuff that I rode in San Diego last year, and we made some changes there. We were going back and forth on some other things on the engine and obviously we switched to KYB, so we had to get that dialed for a little bit. There was just not a lot of time. The first week that I came back on Sunday, and then that next week I rode seven days in a row because I had to get a lot of stuff done. So that was definitely something else.
"Sometimes you've just got to be a little selfish, and I knew what I was looking for."
Cramming to get a lot of this testing in.
Yeah, the more stuff we can get out of the way, the better, but obviously we were looking forward to this race, and we just wanted to make it as good as possible for how much time we had.
How was the course here? People keep saying supercross, but it's not supercross—it's more a hybrid style. What'd you think tonight?
It's good. I think that's the best I've ever seen Vegas be, because normally it gets rock hard and dry and kind of crappy. So I think all the moisture and all the rain we had previously helped the track out a lot.
It looked like they had a little different piece of equipment kind of chewing it up, too, in between.
Exactly. And especially in the morning, it was kind of wet and actually pretty muddy. But for how hot it was and stuff, the track stayed pretty good.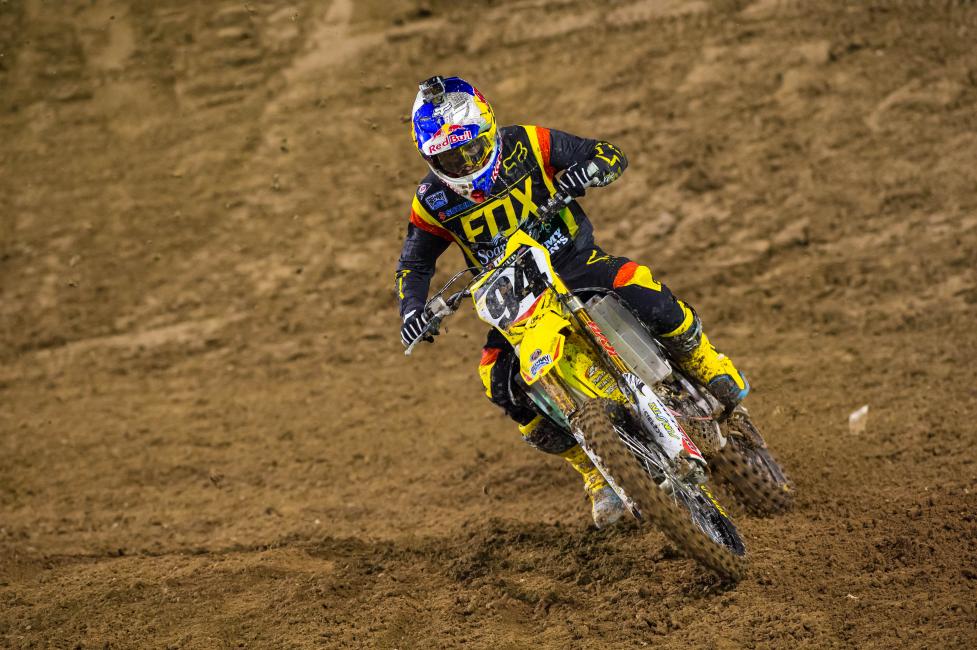 The Joker Lane, we saw another one tonight with Jason [Anderson] missing it. It seems to catch everyone off guard—[Ryan] Dungey, [Ryan] Villopoto. Is this just an intensity thing? You're going so fast and don't think about it? Is it a factor just because you're not used to doing it?
You're battling. I kind of had it in my head, and I was pretty confident I was going to take it. It's twenty riders; one guy is going to miss it. I can't go from thinking about myself…. I felt great. I always thought about the Joker Lane. Other people might not. Or other people think about it and you sometimes might not think about it.
When did you know you had won after that first race?
I didn't know. I was thinking about it. I'm like, dude, no way he beat me by that much. I was riding all right. I could have been a bit faster, but I was like, I didn't know where he came from. I was pretty sure I was first, but then I looked up on the thing and it was Jason [Anderson] first. I was like, damn it, there he goes. But then they said that obviously he missed it.
In the second race, were there any changes or anything? That was like your weak point. The third race you were really strong.
I got a worse start and was battling with [Vince] Friese and a bunch of other dudes. Obviously, now [in the third race] I started second and went by Jason, and I could actually ride the way I want to ride. When you come outside of the stadium the berms, everything is so tight and small. It's really hard unless you're leading, where you can actually ride your style and your speed. It's the best. So obviously my start wasn't great in the second one.