Sam Boyd Stadium
Las Vegas

,

NV
Race Center: Monster Energy Cup
Monster Energy Cup
The Monster Energy Cup hasn't always been kind to Ryan Dungey. Who can forget the now-infamous mid-air shift in 2012? Or the missed Joke Lane in 2013? Yet, for all those minor setbacks, Dungey finds a way onto the podium, claiming a top-three spot every year except 2014 since the race's inception in 2011. Including 2015, Dungey has finished runner-up at the race four of the five years.
After the race, he spoke with a group of reporters about the race and what's in store for 2016.
Racer X: How many second places?
Ryan Dungey: Three and now we make it four. It's okay. This is a fun race. I definitely don't enter a race I don't intend to win. But considering the off-season, off time resting, and then three weeks back on the bike, I'm happy with the way things are moving. It's a good place to see where we're at, making some little progress. It's not supercross, but it's good to go racing and keep that feel going. Now it's another two months until we race again at Anaheim 1, but we'll use this to build and build up myself and the physical side and mental side and then the bike preparation as well.
To me you're looking stronger on the bike. Does it feel that way to you too?
Yeah, it does, absolutely. The intensity feels better. Things are definitely firing much better. And that's Aldon [Baker]; [we now have] a year under our belts. And now we can keep building. There's definitely a lot more improvement to make, without a doubt. We come into this race; I don't think any of us are 100 percent peaking, ready like we are for Anaheim 1. But it's good to have a little more off time and then really come out firing and swinging at Anaheim 1.
You've had some rough Monster Energy Cups. Did it feel good? Was it satisfying being in this one?
Yeah, for sure. I knew the chances were good. Obviously, Kenny [Roczen] was a couple points ahead of us. But Ken was riding good tonight. Second place is respectable too. I'm going to use this and not be bitter, but be better and use this to grow.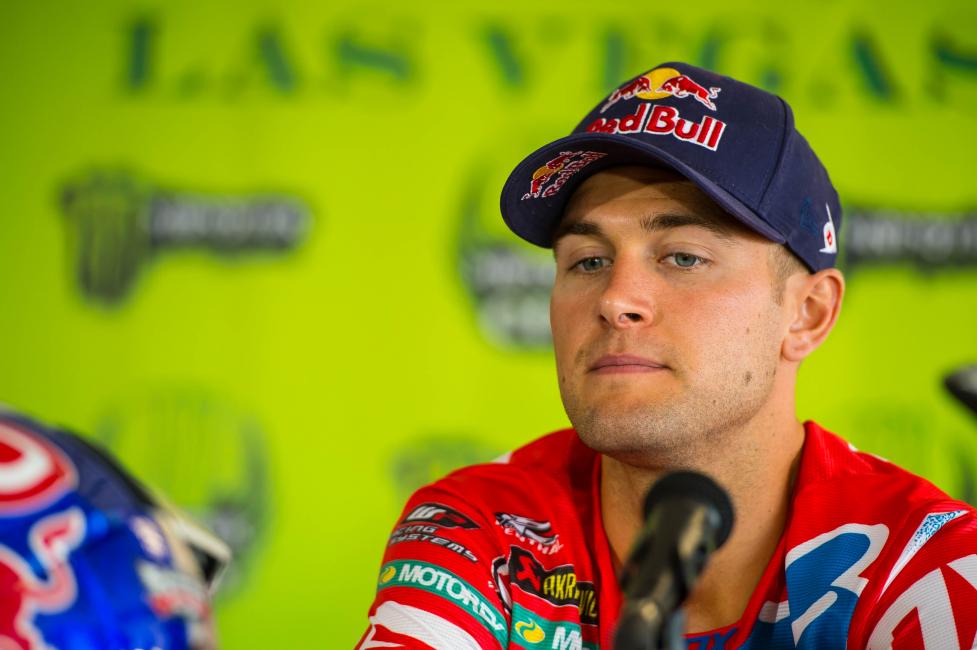 You didn't forget any Joker Lanes this time, so that's good.
[Laughs] No, I had that in mind. I don't think I can forget it, from what happened.
What about the sand?
That was tricky. I got to say, I think we all were sweating it a little bit jumping in because there's a bunch of lines, it's squiggly, you kind of lose your balance. But [if] you landed with the gas on, it wasn't too bad.
You're coming in with a lot of speed, too.
You're coming third gear tapped, and then you kind of have to let off the gas, brake, and then you let the brakes go and you just coast off the face of that jump. It's tricky. I was surprised to see the one guy do it, and then we all started doing it. It ended up being a lot faster. I think it was a good half a second because you kept your momentum.
"It's a little uneasy at first, but then the first gate dropped, and after that it was like, all right, I remember how to do this."
How was the start this year with the elevation?
I think it was fun, something different. Obviously, behind the gate is super consistent [note: the riders launched off a metal pad instead of the traditional dirt], and then the tricky, challenging part was just getting that drive, getting that rear tire down as soon as you cross the gate to drive down the back side. Obviously, Jason Anderson did a good job of that, winning all three holeshots, so he won the truck. But we were right there, I think, in the top three or four every deal. It was good, considering. Practice, our times were a little bit off. And I knew those guys were going all out. It wasn't something they were going to do for ten laps. So I wasn't stressing on it too much, but it's never the best deal when you're, I think it was thirteenth gate pick the first moto.
Anything you would take from the Monster Energy Cup for supercross?
It's really kind of hard to say. You can call it a supercross track, but it's not a supercross track. It's more of a motocross mixture in it. It's fast turns. Supercross is a bunch of nineties, 180s, and sometimes some different turns, but most of the time you got those rhythms and whoops. All these things are missing. And what I noticed, it's one day, guys are going all out effort. Obviously the money's on the line, they're going for it. It's kind of a do-or-die situation, and if you make it, good; if you break, then it's not the end of the world either. So it raises the intensity, but I think it also raises the confidence level in a lot of riders, both 250 and 450. We were all within a second.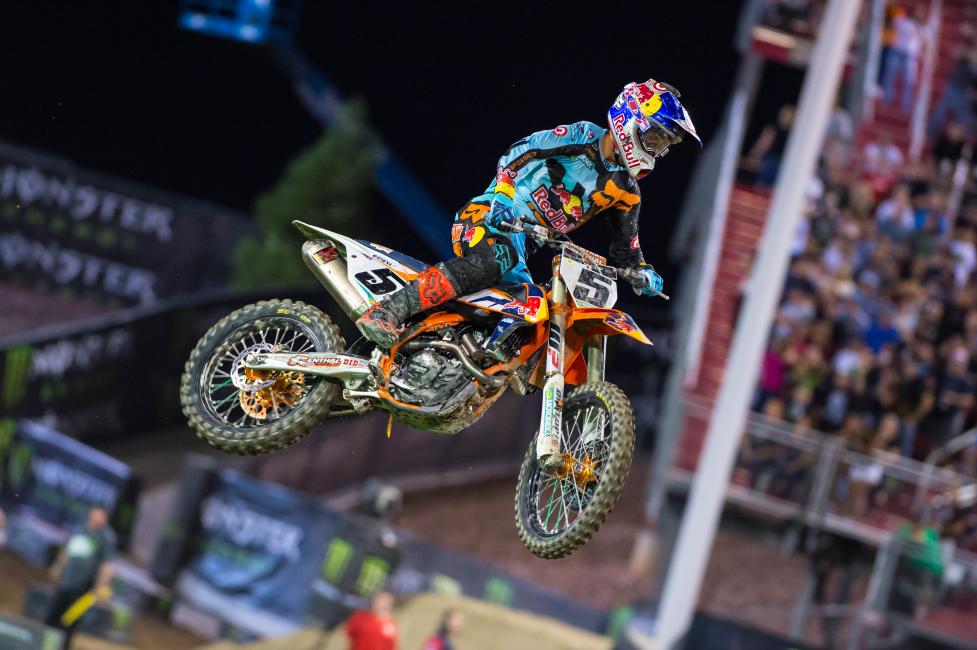 What about the metal grate behind the starting gate? That could almost simplify stuff at a supercross if it's consistent. You don't have to worry about packing stuff, or gate choice would be a little simpler.
Yeah, it isn't going to be as crucial to get a good gate position. Sometimes it will still be to set yourself up for the turn. But it is more consistent. But I personally like the dirt for now. I think this is cool because it's consistent, but then it's even drop down too, so it was kind of cool. It reminded me of Anaheim 3 actually. We won that race that one night.
Going forward, this off-season is going to be a little different for you. Last year you were getting married and stuff. Now you go straight into training. How is that going to help you going into '16?
I think I've had plenty of off time. I feel refreshed, rejuvenated. I'm not going to lie, it is a little different when you sit out for five weeks and you kind of get used to relaxing. Then you got to come back on the line and you get that adrenaline, the pressure, kind of that pumping going. It's a little uneasy at first, but then the first gate dropped, and after that it was like, all right, I remember how to do this.
Do these off-season races help? If you would have gone straight from Indiana to Anaheim, that's four months.
I think it is good to get some sort of racing in after the big break I had. Red Bull Straight Rhythm last week, but that's not doing laps. This was closer to what we're going to be doing. It gives you that feel, and then you can kind of hang onto that until Anaheim 1 comes around and feed off of that.