BikeGraphix Releases Breast Cancer Awareness Number Backgrounds
Overland Park, KS - BikeGraphix, creator of the $29 number plate background, is offering a Breast Cancer Awareness set of number plate backgrounds for the month of October. A portion of the proceeds will go to the National Breast Cancer Foundation. The Awareness series has a pink background with a white number and an optional black outline. The front and two side plates also have a Breast Cancer Awareness ribbon on each plate. As always, you can add your name or company to the front plate.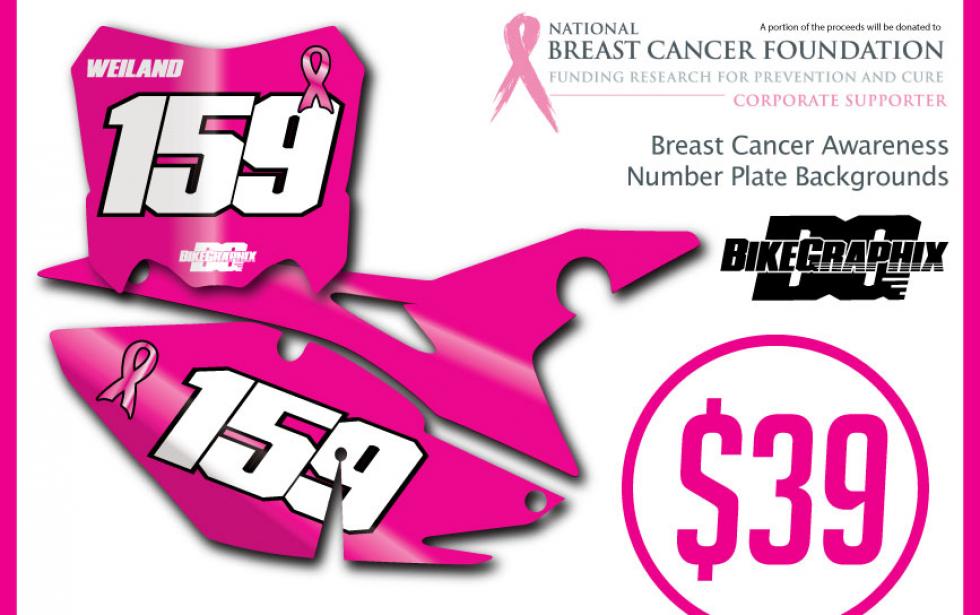 BikeGraphix is offering this package for $39.95 and it can be installed for free if you send in clean plastic. The Awareness series number plate backgrounds will ship within forty-eight hours of placing your order. As with all BikeGraphix number plate backgrounds, they are 20 millimeters thick, ultra gloss laminated vinyl, which includes our MotoWrap technology for easy installation. Our Roughneck vinyl upgrade is always available for an additional $15, and uses a thick, rough-over laminate to help prevent boot and scuff wear.
Available only at BikeGraphix.com