Russell Clinches Third Consecutive Title at Unadilla
MORGANTOWN, W.Va. - The 2015 AMSOIL Grand National Cross Country Series (GNCC), presented by Maxxis, an AMA National Championship, descended upon New York's legendary Unadilla MX on Sunday for the tenth round of the 13-race GNCC series. The Parts Unlimited Unadilla GNCC hosted a record number of over 2,000 ATV and motorcycle racers over the weekend, culminating with three-hours of excitement in the XC1 Pro class. In an all-out battle to the finish, Josh Strang secured his first win of the season, while Jason Thomas put forth a dominant performance in the XC2 Pro Lites class.
As the green flag dropped for the XC1 Pro bike start, it was Rockstar Energy Husqvarna Factory Racing's Josh Strang who captured the $250 All Balls Racing XC1 Holeshot Award. This quick lead ultimately worked to Strang's advantage, allowing him to have an open playing field.
AirGroup/Rockstar Energy/Husqvarna's Ryan Sipes stayed close to Strang, but had his hands full when Rocky Mountain ATV/MC KR4/FAR's Thad Duvall entered himself into the mix by the second lap. Throughout the entirety of the race, the duo would swap the second and third place positions. It would ultimately be DuVall taking the second overall, with Sipes following closely in third.
"Anytime I get to race I have fun, but especially today," said DuVall. "Ryan and I have become pretty good friends the last few weeks during our time in Slovakia, and racing against someone that I knew I could trust was just awesome."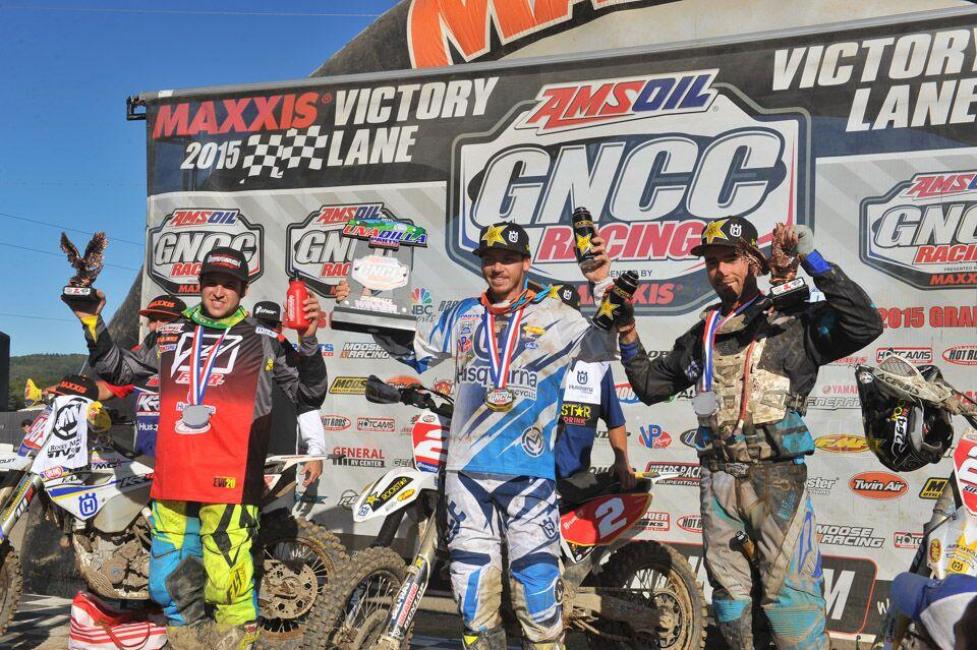 After missing the last four rounds due to a shoulder injury, Strang was able to fully recover and come back fresh for the last half of the season and gain his first overall win. Strang would lead the whole race with the exception of pit stops.
"I've never won at this track, and it was good to get my first win here," said Strang. "The track is rough and fast, but it can get frustrating with the lapped riders. Of course that's all part of GNCC Racing, and having the high rider turnout is good for our sport."
After many questions, Factory FMF/KTM's Kailub Russell officially announced that his injury at last week's ISDE was, in fact, a torn ACL. However, his presence was still made in the 1 p.m. Pro Race. Russell would need to finish fifth or better to claim the 2015 championship. In the end, Russell would finish in fourth, allowing him to clinch his third consecutive GNCC National title.
"I wasn't sure how I was going to feel on the bike, because anything can happen to make my injury worse," said Russell. "It took me about an hour and half to feel like I had warmed up and get my momentum going."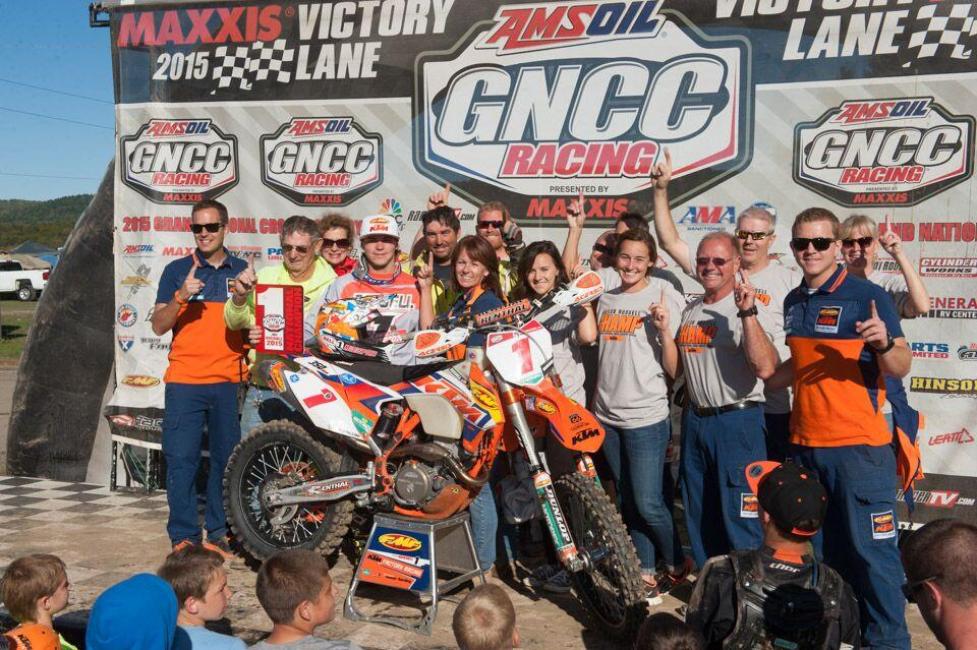 Rockstar Energy Husqvarna Factory Racing backed rider Andrew Delong rode a consistent race finishing fifth overall. Despite running fourth for a majority of the race, JCR Honda's Chris Bach finished in the sixth place position. N-Fab AmPro Yamaha's Grant Baylor rode a comfortable pace in the final laps, finishing ninth overall for the day, followed by Canada's Tyler Medaglia.
In the XC2 Pro Lites division, it would be Rocky Mountain ATV/MC KR4/FAR's Nick Davis grabbing the $100 Hot Cams Holeshot award. Davis took full advantage of the early lead, until DirtWise/Maxxis/KLIM's Jason Thomas made his way to the familiar first place spot. Davis' bobble during the second lap put him back to fourth. Fortunately, he was able to recover quickly and find himself back in the front. Thomas made a last lap push and eventually took the top spot away from Davis. E & H Honda's Trevor Bollinger had an impressive race, working his way from 20th on the first lap to third when the checkered flag flew. Bollinger suffered earlier on in the race after barbwire wrapped around his rear tire.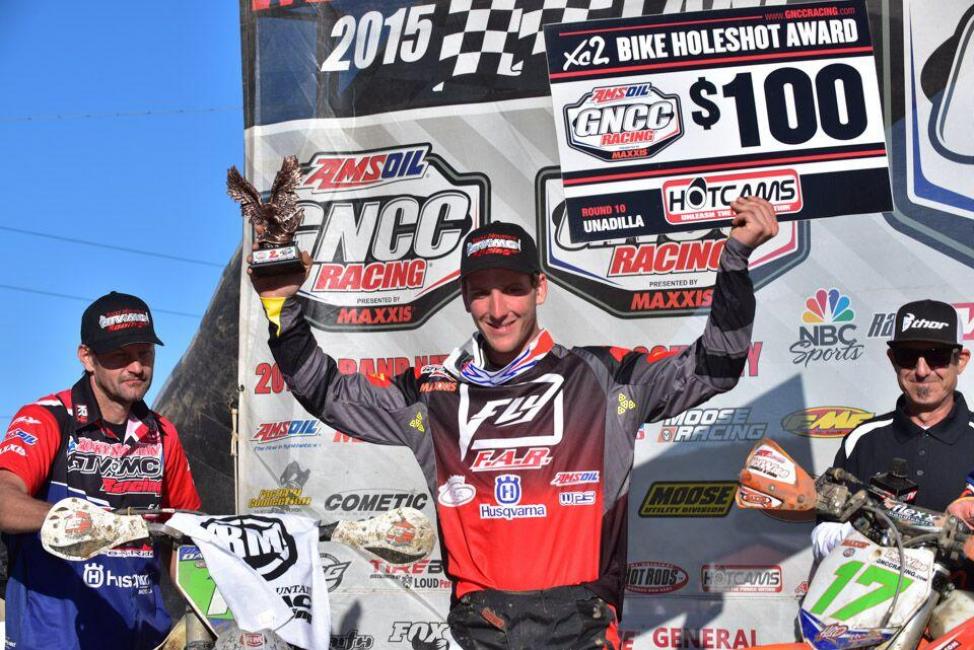 "I didn't really take a summer break, because I've been busy racing local races and training," reported Thomas. "The lappers didn't affect me today because the local series I've been racing has a lot of riders and a short loop, which is very similar to here at Unadilla."
West Virginia's Anthony Stone grabbed another victory in the 250 A class, also securing the American Kargo Top Amateur Award with 27th overall. The next finishing amateur rider was Vance Francis, 250 A, who walked away with 30th overall.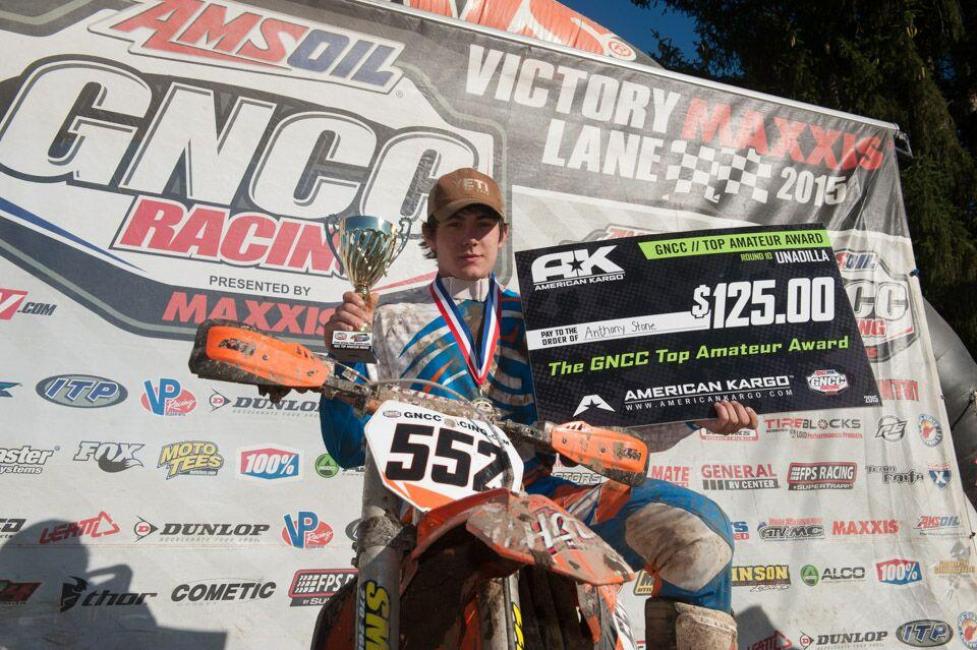 In the 10 a.m. race, Factory FMF/KTM backed Kacy Martinez continued her dominance, leading the way by three minutes. Rocky Mountain ATV*MC/KR4/FAR teammates Sarah Baldwin and Brooke Cosner finish out the podium.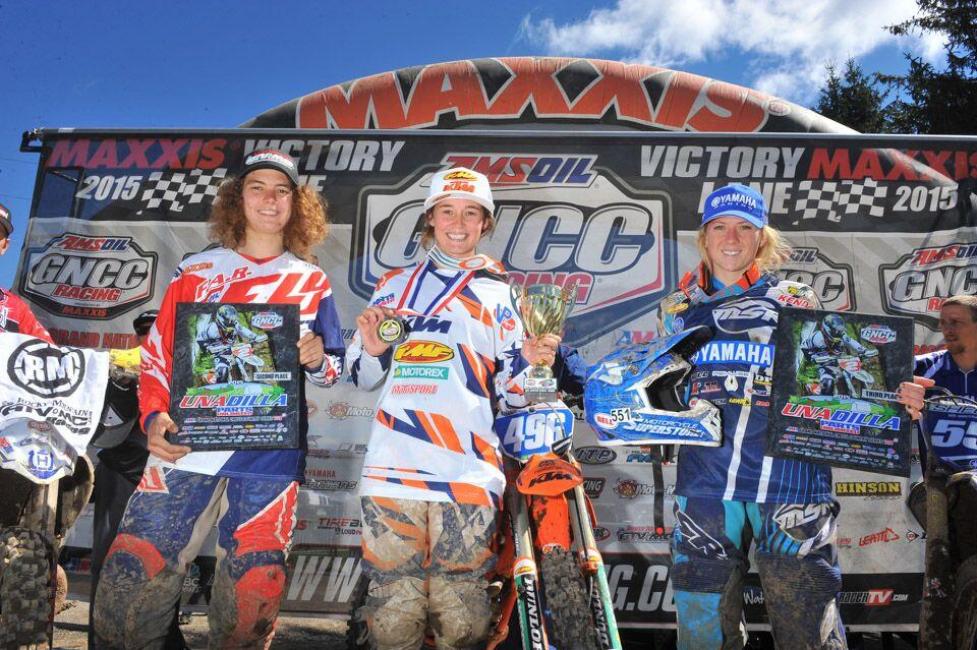 The future stars of the sport took to the track first in the 8 a.m. Youth Race. It would be Florida's Jesse Ansley who returned to his winning ways claiming his fifth win of the season. Hunter Williams put in a hard fight against Ansley, but faced some bad luck during lap four. North Carolina's Conner Smith and Maryland's Randall Ervin round out the podium.
The 1:00 p.m. race was broadcast LIVE in its entirety on RacerTV.com and can be viewed as an achieved video now. Please click HERE to view the full three-hour race coverage. In addition to the achieved live race coverage on RacerTV, a highlight show featuring the event will air on NBC Sports Network will feature a highlight show Sunday, November 29 at 1:30 p.m. Complete results from today's ATV racing can be found HERE.
The 2015 AMSOIL GNCC series heads to Central City, Pennsylvania October 3 and 4 for the Car-Mate Mountain Ridge GNCC. For more information on the series, visit the official website at www.gnccracing.com or call (304) 284-0084.
Stay up-to-date with exclusive content from the 2015 AMSOIL GNCC Series by following the official Facebook, Twitter, and Instagram accounts.
Parts Unlimited Unadilla
Location: New Berlin, NY
Round 10 of 13
Date: Sunday, September, 20
XC1 Event Results:
Josh Strang (HSQ)
Thad DuVall (HSQ)
Ryan Sipes (HSQ)
Kailub Russell (KTM)
Andrew Delong (HSQ)
Chris Bach (HON)
Grant Baylor (YAM)
Tyler Medaglia (HSQ)
Jordan Ashburn (YAM)
Cory Buttrick (BET)
*Overall National Championship Standings
Kailub Russell (283)
Grant Baylor (173)
Thad DuVall (170)
Chris Bach (159)
Josh Strang (148)
Ryan Sipes (143)
Jordan Ashburn (120)
Jason Thomas (117)
Ricky Russell (87)
Trevor Bollinger (82)
*Indicates that the Overall National Championship Standings will determine the 2015 National Champion.
XC2 Event Results:
Jason Thomas (KTM)
Nick Davis (HSQ)
Trevor Bollinger (HON)
Ricky Russell (YAM)
Jesse Groemm (BET)
Craig Delong (HSQ)
Scott Grills (YAM)
Benjamin Kelley (KTM)
Dylan Macritchie (KTM)
Ryder Lafferty (HSQ)
XC2 Series Standings:
Jason Thomas (252)
Ricky Russell (176)
Craig Delong (170)
Trevor Bollinger (164)
Nick Davis (150)
Layne Michael (142)
Tegan Temple (122)
Cory Buttrick (122)
Austin Lee (105)
Callan May (94)