Pro-Am Viking Clash and Halloween Bash
Millville, MN – The 8th annual Pro-Am Viking Clash and Halloween Bash is set for the upcoming weekend on Saturday September 26, and Sunday September 27, at the legendary Spring Creek Motocross Track. This is three-moto format race show cases some of the best amateurs in the Midwest along with budding professionals which will allow you to see how you stack up against top completion on an AMA professional track run by event professionals. An AMA Pro-Am race allows both professionally licensed and A-class amateur motocross racers to complete for their share of the $3000.00 purse, manufacturer contingency (KTM, Suzuki, Kawasaki, Yamaha), holeshot cash awards, and AMA advancement points.
This race isn't just for Pro-Am racers as Legendary three-tiered three-column trophies are awarded to the top three in each class except pay classes (14-24A, 250 A, Open A). These trophies are taller than most pee wee and 65cc racers!
This track builds champions! The 2015 AMA Lucas Oil Motocross Champions grew up racing Spring Creek. These number one plates are held by: Ryan Dungey (450cc) and Jeremy Martin (250cc).
Besides having incredible racing, there are other activities that makes this weekend a must attend.
Saturday 2 PM – 1st Floor Commons: Decorate your own Viking helmet and shield
Saturday 7 PM – 2nd Floor Comfort Zone: Halloween costume contest
Saturday 8 PM – Campgrounds: Trick-or-Treating
Saturday 8:30 PM – Campgrounds: Campsite judging contest.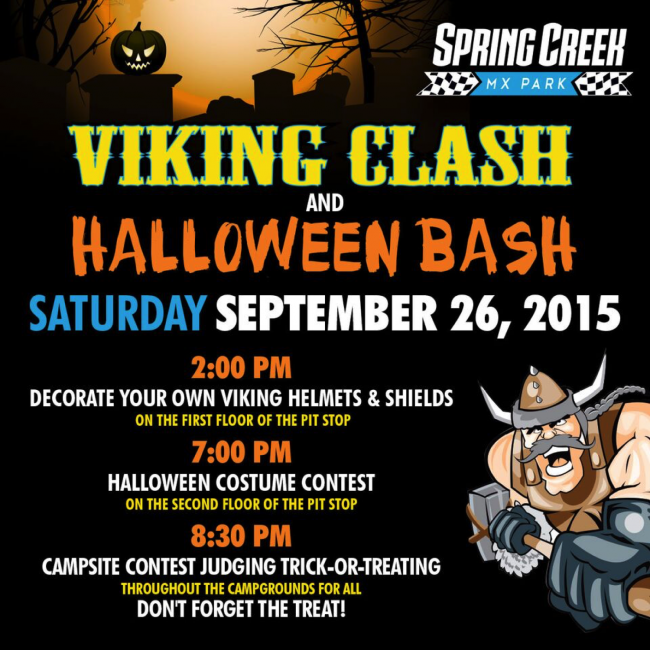 Weekend Schedule
Friday: Early Entry & Set-up
Gate Hours: 5PM – Midnight
Race Check-In & Post Registration: 5PM – 10PM
Saturday: Practice 2 Rotations & Race Day 1 – Moto 1 (& maybe start 2nd Motos)
Gate Hours: 6:30AM – 10PM
Race Check-In & Post Registration: 6:30AM – 8AM
Practice Starts: 8AM
Riders' Meeting: 10:00AM—rider's meeting is mandatory!
Races Begin: 10:30AM
Fan Fest: See Details Below
Sunday: Race Day 2 – Motos 2 & 3
Gate Hours: 7AM-8PM
Site Lap: 8AM
Resume Racing: 8:30AM
*The plan is that all classes will race on both days. How far we get through the race schedule on Saturday will depend on weather, turn-out, etc., so please stay tuned to 107.7FM at the races for live announcing and weekend updates.
**2nd Motos may begin on Saturday, so don't leave after your first moto!
For additional information and online registration visit http://www.SpringCreekmx.com.