Hangtown Motocross Classic
Rancho Cordova

,

CA
Race Center: Hangtown
Lucas Oil AMA Pro Motocross Championship
Lucas Oil/Troy Lee Designs KTM rider Darryn Durham has been fighting injuries since, well, since right after he won the New Orleans 250SX in 2012. Back then he was a Monster Energy/Pro Circuit Kawasaki rider and it appeared things were on the up. Then came shoulder problems that took him out for over a year, then a big concussion last year, and then wrist problems this year.

Finally news broke that Darryn couldn't go for the Lucas Oil Pro Motocross Championship this summer, and TLD was replacing him with Mitchell Oldenburg. Was Darryn fired? TLD team manager Tyler Keefe called us—with Darryn—to set the record straight.
Racer X: Okay, so we have both of you on the phone right now, but does that mean someone is going to try to come through the phone right now and punch someone in the face? Are you guys about to fight or are you all good?
Durham: Everyone's cool.

Keefe: Yeah, everyone is good. This actually even goes back to a day at Milestone before Anaheim 1 where Darryn cased a jump. It started acting up, then he broke the scaphoid at Anaheim 1. Went and got surgery on it, took what, two and a half months off?
Durham: Yeah it was about eight weeks. Then I jumped back on it and started going pretty hard, started testing and getting ready.
So did you crash again? Or does it just still hurt from the surgery after Anaheim?
Durham: Well, I just got back riding and I kind of eased into it. It still hurt. I was icing it every day after riding and icing it every day between rides and it just never came back to 100 percent. I was trying to do 30-minute motos, and I went down to Club MX to try some rougher tracks. It just never felt right. I kind of knew it wasn't going to be ready.
You told me at Anaheim that you bent a screw that was already in your wrist. So when did you hurt it the first time?
Durham: I hurt it in November of 2011.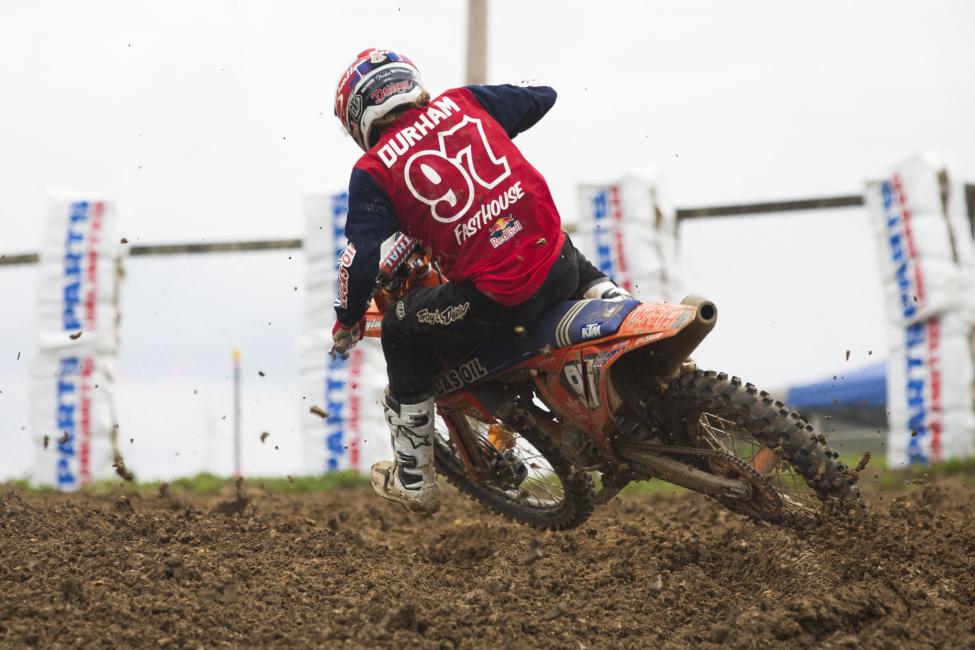 This goes way back.
Durham: Yeah. So I had a screw in it already and then I just got a new one put in, and it just hasn't recovered to where I can grip right. And it's my throttle hand, too, and that's what sucks because I don't have full motion, and as the laps go on my strength goes away. Then it starts locking up.
When and how did you come to the decision that this wouldn't work for Hangtown?
Keefe: Well, we first started talking about California. Darryn wasn't going to ride the last few supercrosses so he was able to get back east and try some rougher motocross tracks. He went to Club MX for a few days, then he went to get his wrist checked out again. He was struggling to, I guess you could say, get a lot of feedback from the doctors—correct me if I'm wrong here, Darryn. Some of the doctors just wanted to start from scratch again. I didn't want to put him at risk of going back out there and potentially crashing again because of his wrist. So we just said we should talk about what's best for his long-term health and the long-term future for him and this team. I think the best solution is to take more time off and get the wrist fixed right. His long-term health is number one.
Darryn, what have the doctors said? Is this something they can actually fix?
Durham: Yeah, I think it is. I talked to the same doctor that did Villopoto's wrist, and there is another procedure he can do. I just had to make a call. I felt really good on the bike and I was going fast, but after so many laps I just couldn't ride the way I wanted to. So I had to make a call—ride fast but then be potentially out of control after I couldn't hang on? I didn't want to waste anybody's time and have something go wrong. I'm going to come back when I'm 100 percent.
So you're not done.
Durham: No, I'm not done. We've even talked about me potentially coming back at the end of the season. I want to race, and I want to race this year.
So Tyler, you had to go out and find another guy, and that's not easy with just a week before we go racing.
Keefe: Yeah, that's what it came down to. It was a big thing for Darryn to say that, yeah it's short notice but it's longer notice than him trying the first two rounds and saying, "Okay I can't do it." I totally respect him for telling me where he stands. We're going to put somebody on the bike for some rounds, but nothing is totally set yet [Note: this spot is expected to go to Mitchell Oldenburg who is testing now, but the team hasn't committed yet]. We have Jessy [Nelson] and Shane [McElrath] who are riding really well, so we'll just let time go and see where we stand.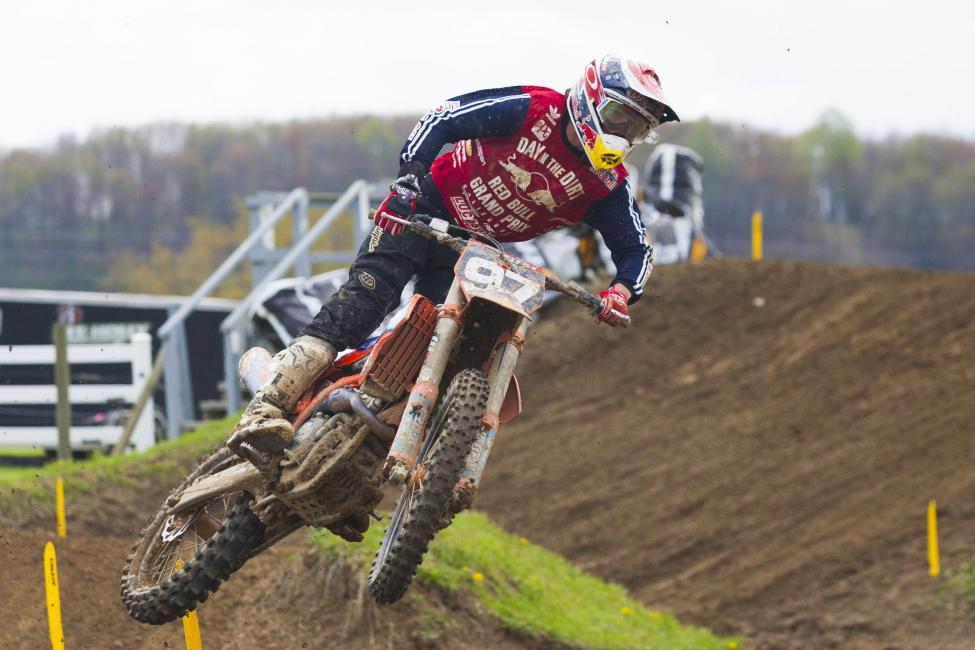 So no fighting? No one quit? No one is fired?
Keefe: Nope!
Darryn, dude, you've barely been able to race these last few years. How badly do you want to show everyone what you can do again?
Durham: I really do want to show what I can do again. I want to go out and be able to do it the whole time. That's what I'm working towards. Just trying to get good twisting the throttle again!
Keefe: Yeah and his raw speed was really good as far as outdoor testing goes. So it would have been really good to have him out there to do a breakout ride. It's a bummer because he's one of the more talented guys out there.
Durham: I'll have a video out soon with some of my outdoor testing clips on it and I'll explain a lot more there. I'm just super thankful for this team, everyone at the Lucas Oil Troy Lee Designs KTM team has been working super hard, my mechanic Shawn, our suspension guy, everyone has been working hard and I really want to show everyone what I can do.