What an interesting week. The 2015 Monster Energy Supercross season is finally over, and the 2015 Lucas Oil Pro Motocross Championship is just getting ready to start. Every rider and race team is in the middle of changing things over from indoors to outdoors during this rare off-weekend. And I know the Dirt Diggers at Hangtown are going wide open getting ready for next weekend's series opener, and so are the folks at Glen Helen Raceway, where the second round will go the following Saturday. There are some changes taking place as we speak—Mitchell Oldenburg to Lucas Oil/Troy Lee Designs KTM? Malcolm Stewart to, well, where?—as well as some fine tuning as we get ready for Hangtown. And there are probably still some smiles on the faces of Ryan Dungey and Marvin Musquin and the whole Red Bull KTM team after their tour de force in Las Vegas.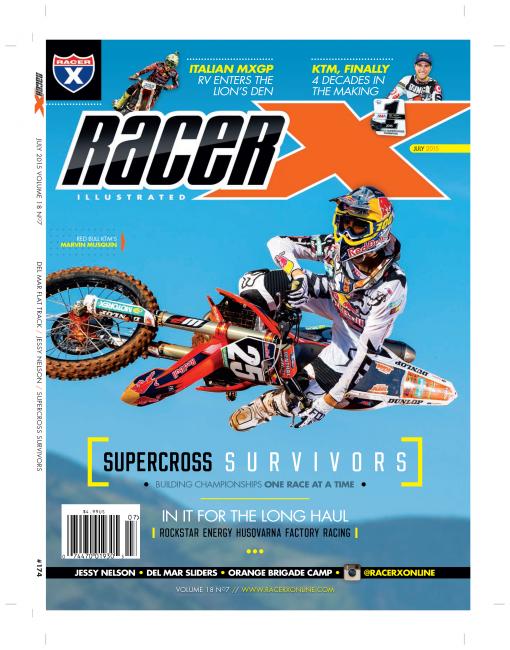 If you're already planning your next-Saturday afternoon, all four motos of the GoPro Hangtown Classic will air live on television. The race starts locally at 2 p.m., which means 5 p.m. in the East, and will air on MAVTV; the second motos will begin at 4 p.m. locally, which means 7 p.m. in the East, on NBC Sports Network. You can also watch the pre-race show and timed practices, as well as the first motos, on www.promotocross.com (and look for more on how to watch more live online and the international packages early next week).
One more cool thing coming up: Racer X's annual collection of free national stickers! Mike Fisher and Jordan Roberts worked with Matt and Robert Davis at Throttle Jockey to come up with another unique line of stickers that will be given away at the Racer X booth all summer long, while supplies last. We went with the an old-school motel motif this time, a nod to the #signjousting we [Ed. Note: That DC likes to do] like to do on Instagram. Each of the twelve decals is different, but you only get them at the Racer X booth at that round, though we will be giving away some full collections from time to time as contest prizes here at Racer X Online. So when you get to Hangtown, immediately start looking for the Racer X booth and grab your Hangtown 2015 sticker, and maybe even sign up for a subscription or pit pass!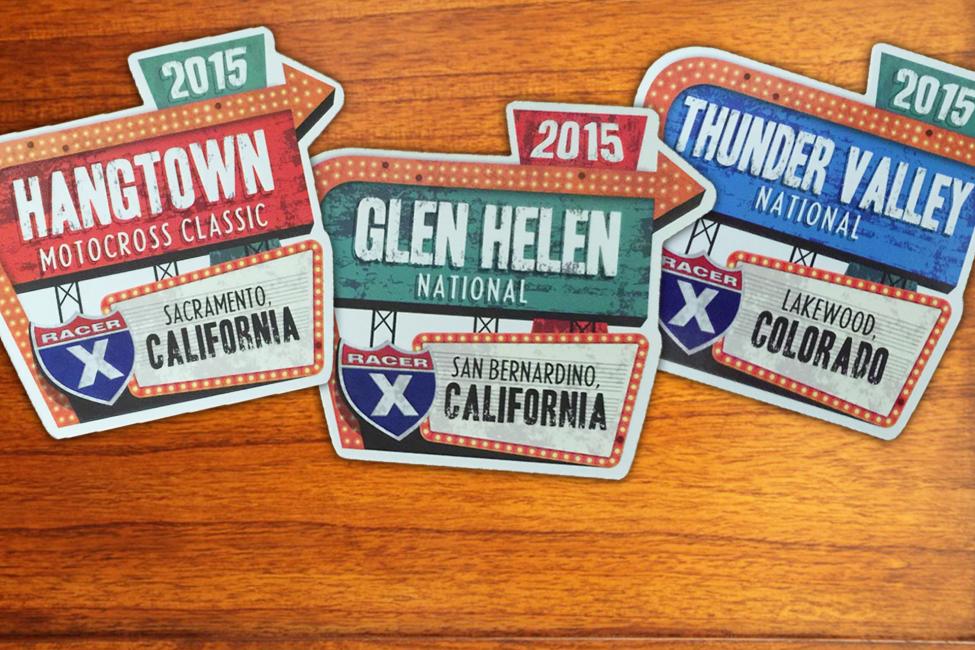 But let's start in Europe, where there will be racing this weekend. The FIM World Motocross Championship returns to action at Talavera in Spain, a very cool track I was lucky enough to visit back in 1995 while covering the 250 GP race there for Cycle News and Dirt Rider. It's a really cool, hilly track, and it should certainly be hot, all of which would have made it ideal for Ryan Villopoto. Alas, the American is back home, healing that broken tailbone and likely not getting back on a race back for some time—like maybe the next month or more. It's a blow to the fans over there who have been hoping for that showdown between RV and eight-time world champ Tony Cairoli (who's dealing with some injuries of his own and will now move up from as 350 to 450 to try to track down early championship leader Max Nagl on the white-hot Husqvarna and Rockstar Suzuki's Clement Desalle). Villopoto's hopes to go out with a world championship are now completely shot, though anyone who's broken their tailbone like that might have come to this conclusion the moment he hit the deck in Italy. It's a painful, slow-to-heal part of your body, making training (let alone riding a motorcycle at speed) virtually impossible. I saw the report that Villopoto is back working with Aldon Baker to speed up the process, but while Aldon is a miracle worker when it comes to fitness, healing multiple fractures is not really his specialty.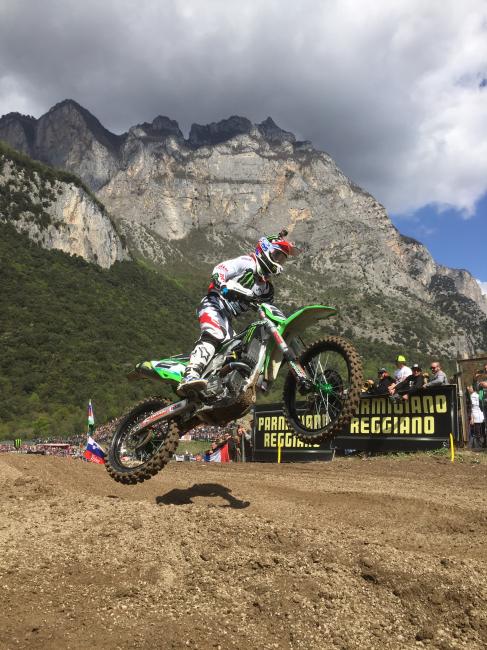 So what will Villopoto do in the future? I imagine he will return to the GPs at some point this summer and try to at least get some more wins. Beyond that, he's said many times that this was his last season, win or lose, but more lately his hinted that that may not be the case. Who knows? Maybe he will do one more year—over there or back here. But his misadventure so far in 2015 should in no way cloud his legacy as one of the all-time best riders in the history of the sport. He talked about quitting a lot last year, and many thought he should. As Jeff Stanton once told Kevin Windham, the moment you ask someone when it's time to call it quits, well, that's the time. And as you will see down below, we did a little math on career supercross winning percentages, and it bodes very well for Ryan Villopoto's legacy.
But fans in England and France will have an American to keep an eye on in the next couple of races, as Mike Alessi's team has announced that he will be riding a sort of catch-all schedule this summer that will include those GP races, some Canadian rounds, and maybe even some AMA Motocross. Like RV, Alessi hasn't raced an outdoor national since August 2013 (he went and raced in Canada instead) nor a supercross since Daytona, so I imagine he will be a little "race-rusty" like Villopoto was. Good luck to Mike and his team as they embark on a summer of racing.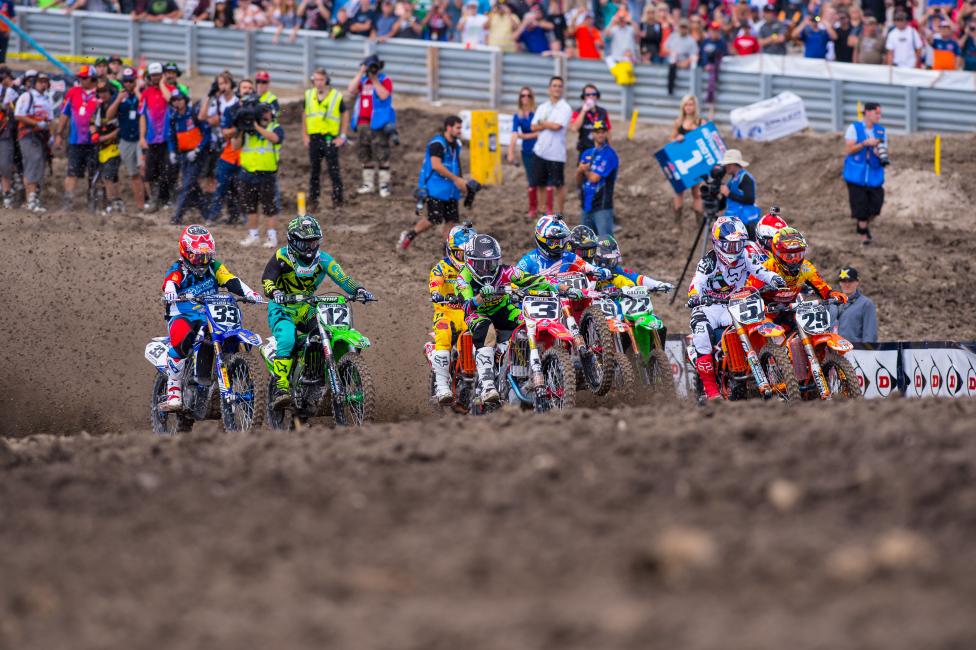 And then we got another little tidbit of news that will affect the Lucas Oil Pro Motocross Championship schedule in 2016 and beyond. After October 31 of this year, Miller Motorsports Park in Tooele, Utah—site of the Utah National the past two years—will cease operations. The multimillion-dollar facility is about forty-five minutes south of Salt Lake City, which doesn't seem like much, but it was on a day-to-day basis for getting people out there for any of the myriad motorsports opportunities they offered. The 2015 Utah National, slated for August 15, will take place as planned, but beyond that, the whole facility will begin shutting down, a victim of the high costs of operating such a premier venue during a tough economic climate. Here's a local news story on the situation.
Okay, before we get into the rest of Racerhead, I asked each of the guys to offer "one bold prediction" about Monster Energy Supercross 2016, even though it's many months away. I figured putting them on the spot about next year would be a fun way to end this year's Monster Energy Supercross story. But they told me I had to list one first, so here it goes: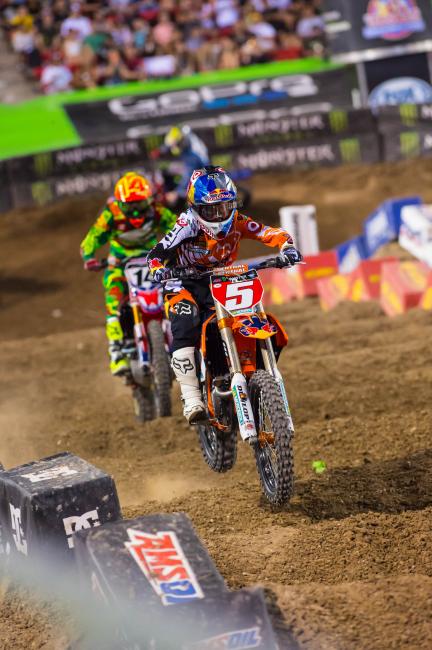 DC's 2016 BOLD Prediction: For the seventh year in a row, the Monster Energy Supercross Champion will be named Ryan.
Aaron Hansel's 2016 BOLD Prediction: Red Bull KTM's Marvin Musquin wins four 450SX races in his rookie campaign.
Jason Thomas' 2016 BOLD Prediction: Adam Cianciarulo wins a 250 Regional SX title.
Jordan Roberts' 2016 BOLD Prediction: Monster Energy Kawasaki will reclaim the 450SX championship.
Chase Stallo's 2016 BOLD Prediction: Yamalube/Star Racing Yamaha's rise continues as Aaron Plessinger wins a 250SX region (and congrats to Aaron and his whole family and team on being named 250 Supercross Rookie of the Year).
Steve Matthes' 2016 BOLD Prediction: Shane McElrath, 2016 250SX West Region Champion.
David Pingree's 2016 BOLD Prediction: Marvin Musquin will race the KTM 350 SX-F instead of the 450.
Browndog Wilson's 2016 BOLD Prediction: Husqvarna rider Christophe Pourcel will finally win his first 450SX main event and it will be on a Husqvarna.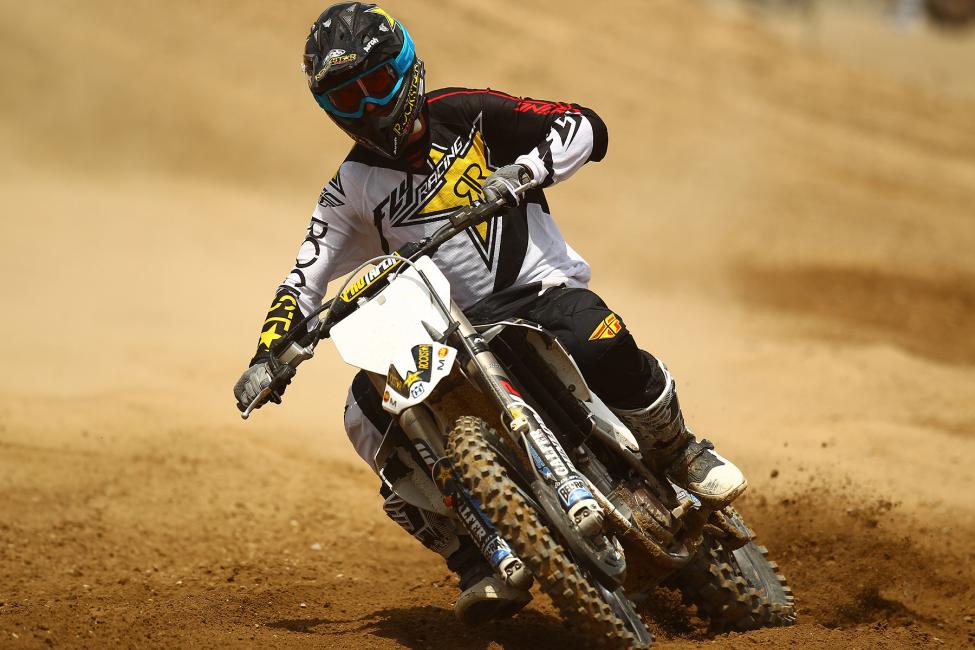 Jason Weigandt's 2016 BOLD Prediction: I can't believe this is even considered bold at this point, but look out for Kenny Roczen next year. He's been out hurt while his old team romps on new bikes. Then you know how it works in this game: if you don't win, the crap-talk comes. I keep hearing things about the RCH team and Kenny still learning to gel with each other, and of course Kenny parting ways with Aldon Baker raised some eyebrows. But don't forget Kenny was on the verge of winning three of the first four races this season until he cased a jump and ruined his ankle, which ruined his season. I don't care which team he's on—he's simply too talented to fail, and there's no shortage of smart people involved with the RCH program. Plus, most riders have a strange supercross learning curve with a great year one, a struggle in year two, and then a peak in year three. Kenny's going to be fine next year—and by the end of the summer, we might remember that again.
Let's get on with Racerhead.
THE BEST 250 SX IMPORT EVER (Andras Hegyi)
Red Bull KTM's Marvin Musquin got two new records, and among the foreign riders he had the best small-bore supercross season ever. The French champion is the first foreign rider to get on the podium in all nine races in a season. Marvin got podiums in all the eight East Region rounds, and then he won the Dave Coombs Sr. East-West Shootout. Another French rider, Mickael Pichon, had nine podiums in 1996, but that season consisted of eleven races.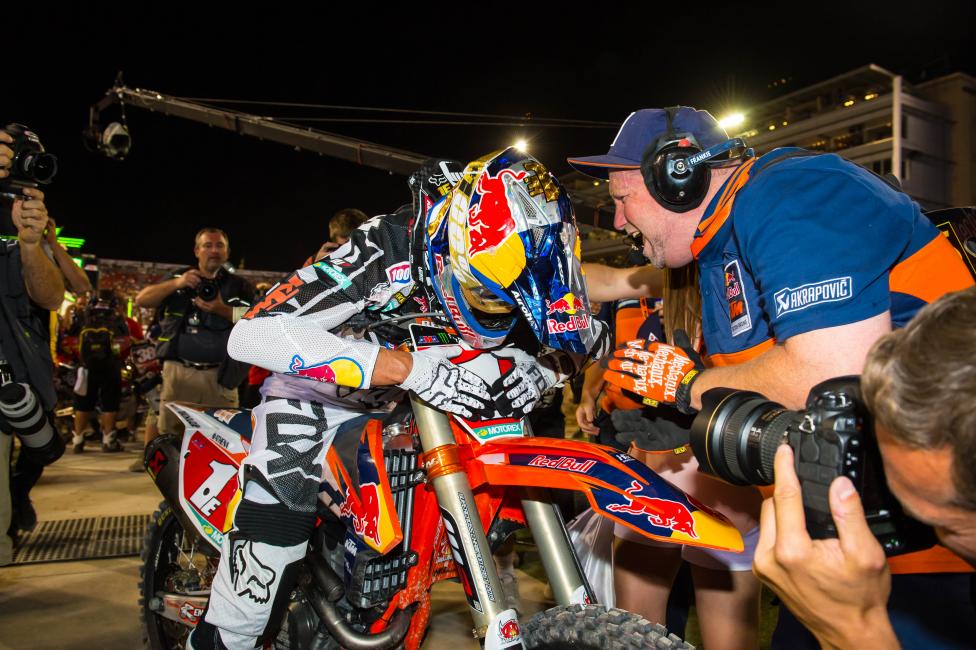 Regarding the wins in a season, Musquin also became the best foreign supercrosser. Winning the Shootout at Las Vegas, he is the first non-American rider to get seven wins in a season. Musquin overtook Pichon's mark, as well as Costa Rican Ernesto Fonseca's and Aussie Chad Reed's (and both Fonseca and Reed had their great 125 seasons on Yamaha of Troy equipment). Those three foreign riders got six wins in a 125/250 SX season.
Besides Musquin and Reed there are two American riders to get podiums in every championship rounds and in the Shootout: in 1998, both Ricky Carmichael and John Dowd got podiums in every race of the season. RC swept all nine races on his way to the East Region crown, and Dowd got podiums in all eight races he entered as West Region #1.
WHAT'S NEXT FOR JS7 (Jason Weigandt)
A denied appeal confirmed that James Stewart won't be on the gate next weekend at Hangtown. He also won't be lining up for the final two nationals in Utah and Indiana, even though his suspension ends on August 11. The Yoshimura Suzuki team has told me that it's simply unrealistic for James to train and test like a racer all summer just to do four basically meaningless motos at the end of the year. After all, if Ryan Dungey is in pedal-to-the-metal mode all summer, a rider would have to train and ride stride-for-stride with him the whole time to have any chance of a decent result. That's hard to do coming off the couch (let's not even think about the attempt at Unadilla in 2010).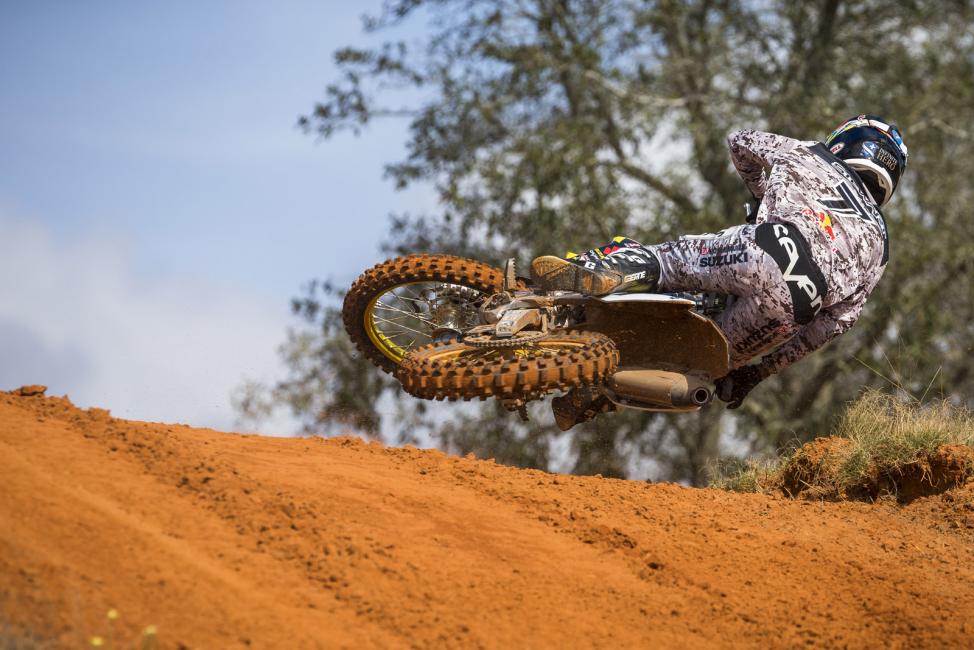 So when do we see James next? Monster Energy Cup and the second edition of the Red Bull Straight Rhythm (he's defending champ!) are in the cards for sure. But I'm hearing some chatter about an X Games bid also. I don't know what event, but my guess would be Best Whip, which James actually competed in a few years ago. It would be a good fit. That's usually a voted-by-the-fans comp, so #FreeJames fans might just push him to the top, plus it's such a different level and type of competition that not only do WADA rules not apply, they would barely even matter since this is as much an exhibition as a competition. That said, he still has to be careful because I heard even practicing or training on a dirt bike at home could raise the ire of WADA types, which also kind of gives you an idea of how their rules don't really make sense for this sport. Dirt bikes are recreational vehicles at heart; you don't have to be attempting to compete professionally to want to get on one.
A half-dozen years ago, X Games was getting huge love in this industry, but that ship has sailed and most riders and teams have settled back into the regular supercross and motocross schedule. This year's event, though—which will take place in June in Austin, Texas, on the same weekend as the Muddy Creek National—could be the perfect fit for James, and James might be the perfect fit for it. They need each other. What's not to love?
THE NUMBER: 100 (Andras Hegyi)
Red Bull KTM's Ryan Dungey, the 2015 Monster Energy AMA Supercross Champion, became the twenty-first rider to make at least one hundred career starts in supercross' premier class. Here's a list of the "100 Club" going back through to 1974, the first year of AMA Supercross.
Mike LaRocco: 227 starts (1989-2006)
Kevin Windham 207 (1996-2013)
Larry Ward 190 (1989-2003)
Chad Reed 185 (2002-present)
Nick Wey 184 (2000-present)
Jeremy McGrath 173 (1992-2006)
Jeff Ward 160 (1979-1992)
Andrew Short 139 (2003-)
Tim Ferry 131 (1995-2009)
Ezra Lusk 126 (1993-2004)
Davi Millsaps 125 (2007-present)
Jason Thomas 123 (1997-2012)
James Stewart 119 (2005- )
Johnny O'Mara 118 (1981-1990)
Ricky Carmichael 115 (1999-2007)
Jeff Emig 115 (1990-1999)
Michael Byrne 113 (2001-2011)
Jeff Stanton 113 (1987-1994)
Broc Glover 101 (1977-1988)
Ricky Johnson 100 (1981-1991)
Ryan Dungey 100 (2008-present)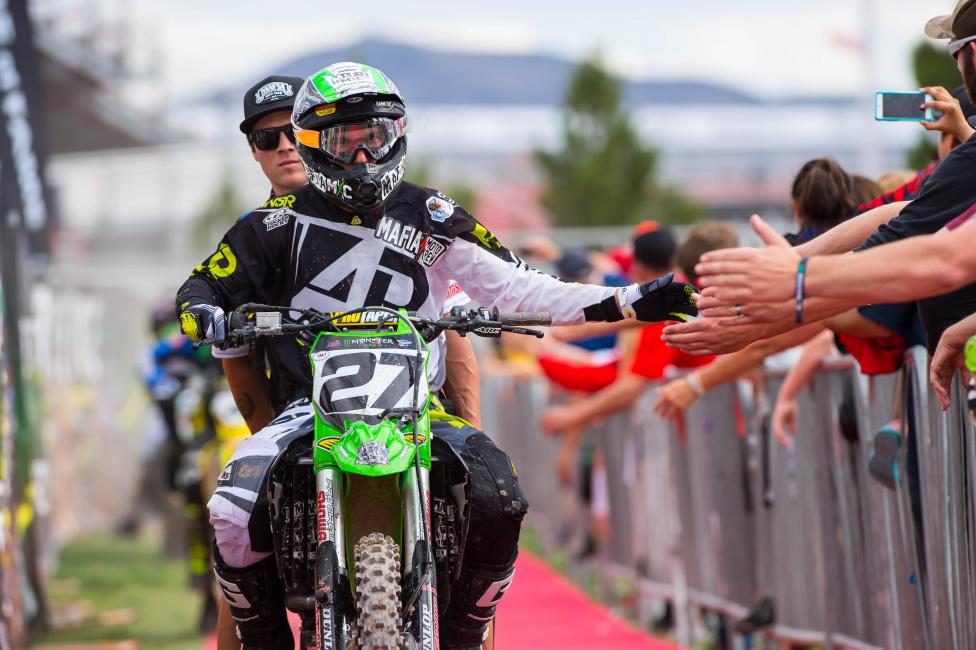 CAREER BATTING AVERAGES (DC)
Now, let's do some math and figure out who has the highest winning percentage in SX history. Turns out that the run of Ryan Villopoto, from its modest starts in 2009 to complete domination at the end of 2014, makes him the most efficient winner in Monster Energy Supercross history.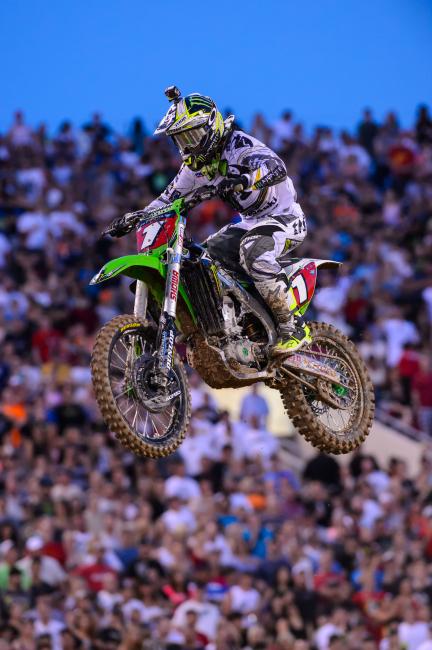 Ryan Villopoto: 41 wins in 92 starts = .446
James Stewart: 50 wins in 119 starts = .420
Ricky Carmichael: 48 wins in 115 starts = .417
Jeremy McGrath: 72 wins in 173 starts = .416
Bob Hannah: 27 wins in 79 starts = .342
Jean-Michel Bayle: 16 wins in 56 starts = .285
Rick Johnson: 28 wins in 100 starts = .280
Chad Reed: 44 wins in 185 starts = .258
Ryan Dungey: 21 wins in 100 starts = .210
DUNGEY's DOMINANCE (DC)
Ryan Dungey outpointed Eli Tomac by 85 in the final rankings of the 2015 Monster Energy AMA Supercross Championship. The gap is impressive, but it should be noted that many of the top competitors suffered injuries (Ken Roczen, Trey Canard) and of course a couple very big names weren't out there (RV, Stewart). No matter, Dungey was on the box sixteen straight times after his first-race fourth, and he won many more races than anyone else. So where does his lead rank amongst championship gaps over the last twenty years?
2014 Ryan Villopoto won by 64 points over Ryan Dungey
2013 Ryan Villopoto won by 33 points over Davi Millsaps
2012 Ryan Villopoto won by 57 points over Davi Millsaps
2011 Ryan Villopoto won by 4 points over Chad Reed
2010 Ryan Dungey won by 70 points over Kevin Windham
2009 James Stewart won by 4 points over Chad Reed
2008 Chad Reed won by 13 points over Kevin Windham
2007 James Stewart won by 51 points over Chad Reed
2006 Ricky Carmichael won by 2 points over James Stewart
2005 Ricky Carmichael won by 25 points over Chad Reed
2004 Chad Reed won by 9 points over Kevin Windham
2003 Ricky Carmichael won by 7 points over Chad Reed
2002 Ricky Carmichael won by 35 points over David Vuillemin
2001 Ricky Carmichael won by 64 points over Jeremy McGrath
2000 Jeremy McGrath won by 35 points over David Vuillemin
1999 Jeremy McGrath won by 83 points over Ezra Lusk
1998 Jeremy McGrath won by 51 points over Ezra Lusk
1997 Jeff Emig won by 15 points over Jeremy McGrath
1996 Jeremy McGrath won by 132 points over Jeff Emig
That's right: In the last twenty years only McGrath has won the SX title by more points than Dungey won this one by. Jeremy was literally more than five races of points ahead of everyone (in a fifteen-race series!) and Dungey was more than three ahead of everyone this time.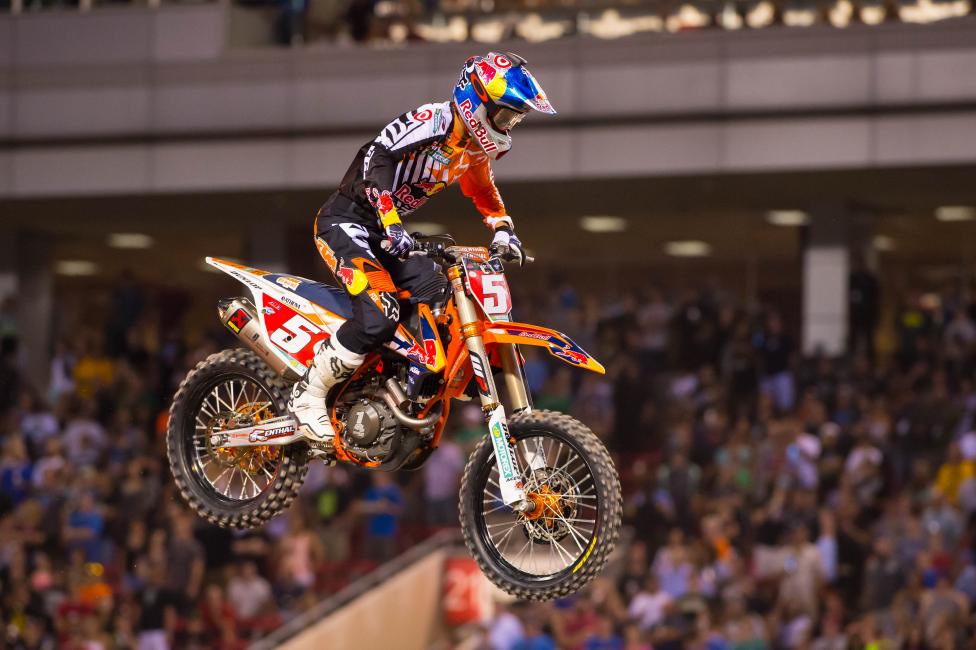 PRO PERSPECTIVE (David Pingree)
There is an endless supply of jokes about the "Stopwatch Nationals" at local Southern California tracks this time of year. Every top team and all their riders are hard at work prepping for the start of Lucas Oil Pro Motocross, and everybody wants to see how their rider is doing compared to other riders in the class. While most will dismiss it as unimportant, there is a certain amount of pressure when you're at these tracks. I remember seeing all the mechanics lined up with stopwatches and thinking, Okay, I need to put in a burner so they know I'm hauling ass. Then I'd argue with myself about how it would be better to purposely put in a slow lap so they don't suspect that I'll be good at the first round. Then I'd think to myself, Hey, stop having a conversation about this stupid topic and focus on testing or doing my motos or whatever I was doing.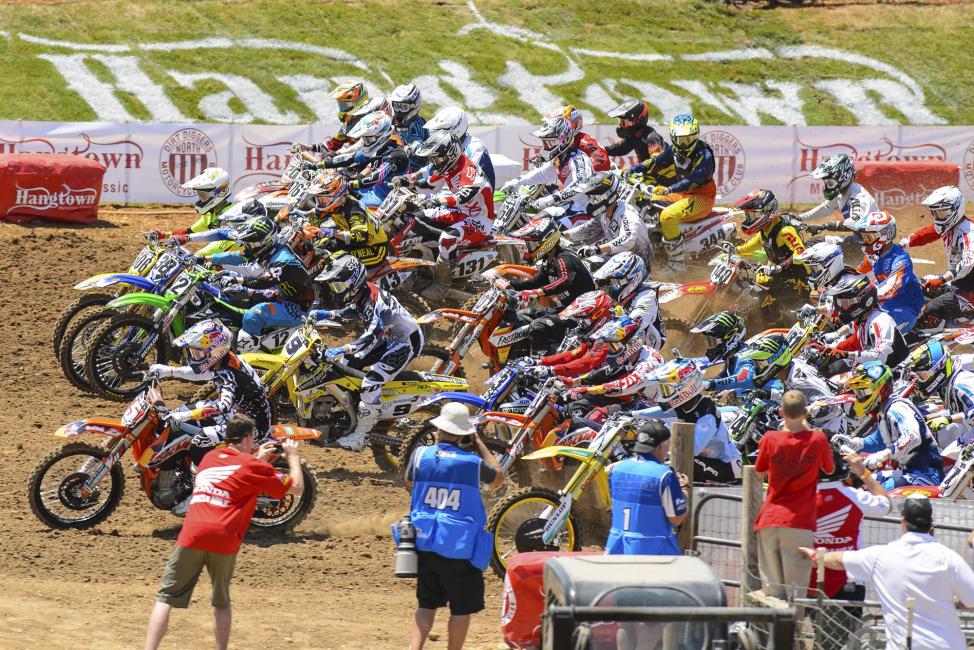 Some will push the limits trying to show everybody how fast they are and others will slow-play it like Christophe Pourcel always did/does. Either way, we'll all know once the gate drops at Hangtown.
RED RISING (Andras Hegyi)
It had been since 2008 that Honda got at least six wins in a season. This is the twentieth season that Honda has been able to get at least six wins. Honda recorded its best season in 1996, when it got fourteen wins, every one of them via Jeremy McGrath! Honda also recorded twenty-three podiums this year—the first time that has happened since 2008. This is the ninth season the brand has picked up at least twenty-three podiums. Honda's record seasons were 1984, 1990, and 2008. In each of those three seasons, Honda recorded twenty-six podiums. Finally, there was a Honda rider on every podium in 450SX, the first time that's happened since 2002 (it also happened in 1986 and '96). But because 2015 was a seventeen-race series, this podium-perfect season had the most races of all.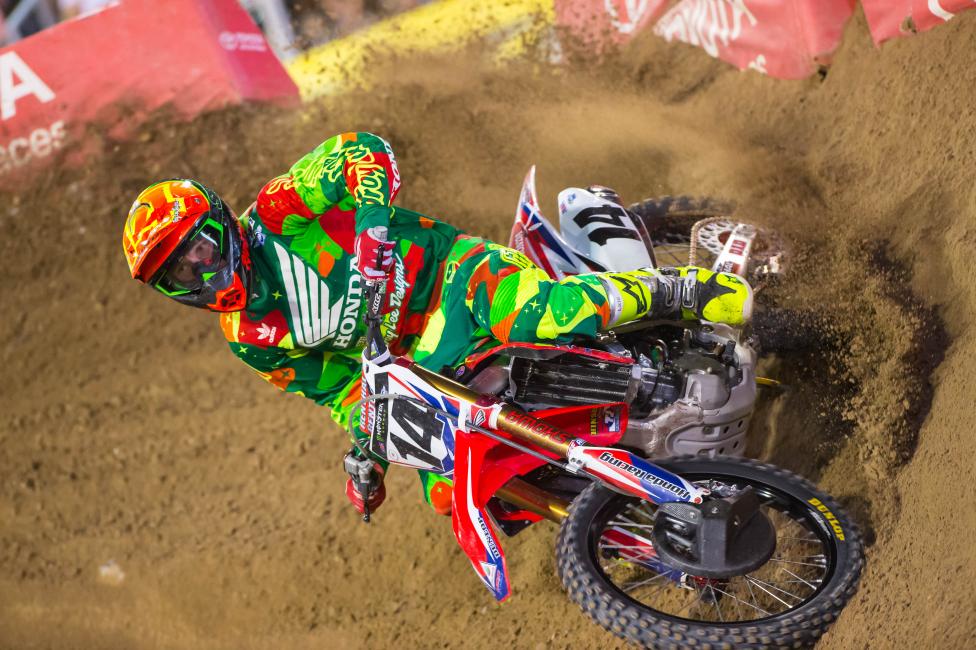 And congratulations to Seely on being named the Supercross Rookie of the Year for his third-overall finish in the series, as well as his first 450SX main-event win in Houston.
HEY, WATCH IT
The 2015 Lucas Oil Pro Motocross season kicks over in just over a week's time, with the Hangtown National on May 16. The test tracks in California are brimming right now and our Austin White was at Comp Edge this week and caught up with Adam Cianciarulo, who is set to make his return at Hangtown after missing all of outdoors last year with a shoulder injury. He also caught Blake Baggett getting in some laps before his 450MX debut in a weeks time. Blake is known as an outdoors specialist, so it's should be interesting to see where he fits in.
HEADLINE OF THE WEEK
Bultaco goes Electric, focuses on Europe…
THINGS YOU COULND'T GET AWAY WITH TODAY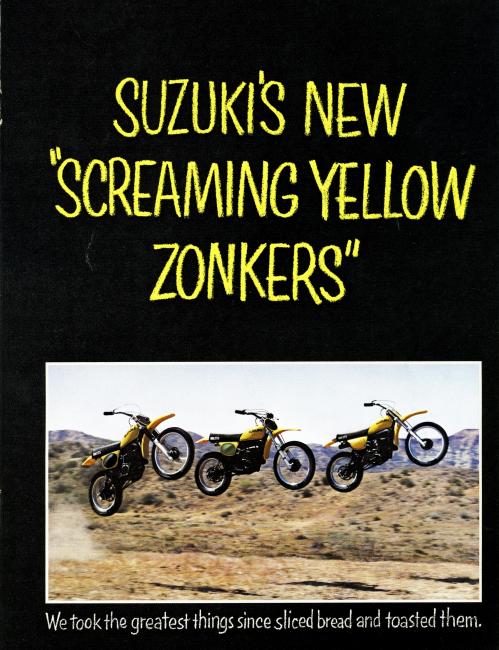 RANDOM NOTES
Don't miss the online coverage from Round 6 of the 2015 Amsoil Grand National Cross Country Series presented by Maxxis, an AMA National Championship this Saturday and Sunday at 1 p.m. EST.
If you miss a race, full replays will be archived on RacerTV.com throughout the season.
Saturday, May 9
ATV Racing
Online: 1 p.m. EST, www.RacerTV.com (LIVE)
Sunday, May 10
Bike Racing
Online: 1 p.m. EST, www.RacerTV.com (LIVE)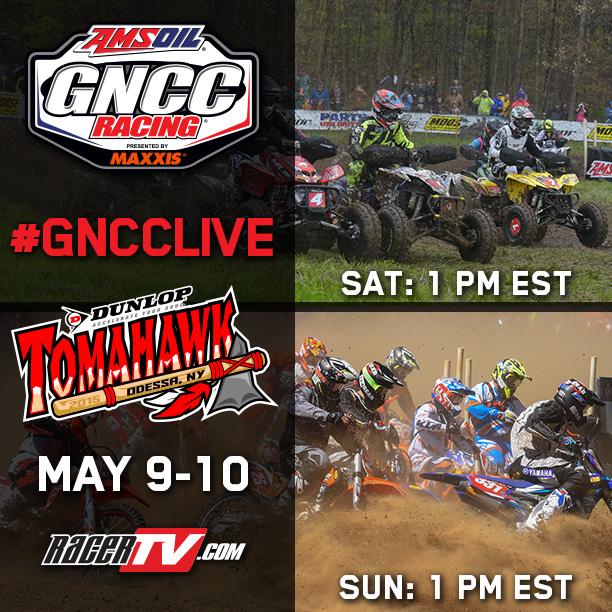 For more from Canada, check out the DMX Frid'Eh Update #18.
That's it for Racerhead this week. Thanks for reading, thanks for stopping by, and see you at Hangtown!