Red Bull KTM's Antonio Cairoli increased his pantheon status in the sport of motocross with his eighth FIM World Championship last weekend, earned after a third-position finish in Goias, Brazil, even with a dodgy left eye. The seemingly unreachable total of ten titles achieved by Stefan Everts is now very touchable, as Cairoli still has two years remaining on his factory contract with the Austrians. Everts' haul of 101 GP wins, however, might be a stretch too far for the soon-to-be 29-year-old, who has already cast an indelible mark on the FIM series. Cairoli currently sits on seventy-two wins.
This year was another showcase of Cairoli's strength, consistency, and versatility on the 350SX-F. The Sicilian has accumulated thirteen podium finishes and nine wins in sixteen rounds and owned fifteen motos from the thirty-two run so far. There's still one round remaining, too. He achieved this feat in spite of personal tragedy. The popular champion suddenly lost his father, Benedetto, in May. Monster Energy Kawasaki's Gautier Paulin challenged Cairoli with his speed in Qatar, Trentino, and Valkenswaard, until the Kawasaki rider crashed and injured his shoulder and thumb. Rockstar Energy Suzuki's Clement Desalle also claimed four Grands Prix before a broken scaphoid ended his season and ambition for yet another term.
Cairoli could face his hardest test yet in 2015 if Ryan Villopoto puts an end to three months of intense rumor mongering and decides to attempt MXGP. With this eighth success, TC222 is still the top dog at the international level, so the stage is nicely set for a memorable duel.
Racer X: Third place at Trindade. You got the job done after the first moto but it wasn't an easy Grand Prix for you.
Antonio Cairoli: Third place was good, but it was not what I expected. Today Max [Nagl] was perfect. I made some mistakes, and I also had the problem with my eye from Saturday [he lost a goggle lens and suffered with the dust]. I didn't feel so comfortable to push all the time, especially in the first moto when I knew I just had to make sure of the title.
That's six in a row in the premier class (MX1/MXGP) now. Were there moments when you thought it would be difficult to make it happen this year?
Not really. Maybe the first race [Qatar] because I wasn't so well prepared due to the injury to my ankle. I didn't have a good feeling, and my speed was not good. I came away from that race thinking "this year will be hard," but afterwards I found some nice pace in the next races and the results started coming.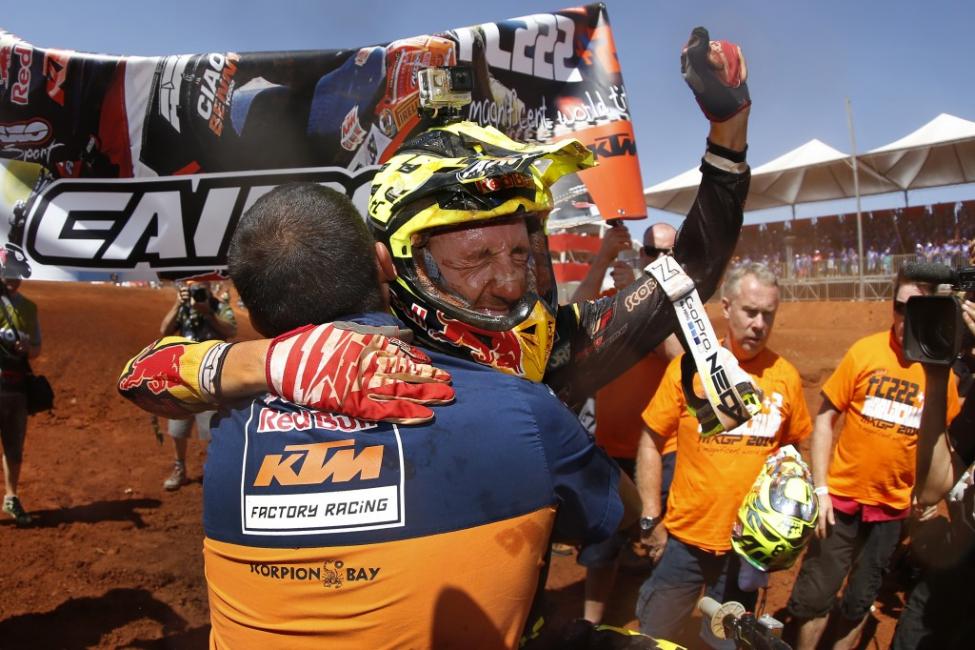 Was there one standout from 2014?
For sure Maggiora [victory in his home round in June]. To win there in front of that crowd was amazing. I was really happy that day, especially on a track that is not one of my favorites. Apart from that I don't have one particular special moment from the season…I'm pleased that I improved on the hard-pack this year, but I still need to work more to get better with my 350 on this terrain. Hopefully next year we will have a better bike with the new model [KTM are set to race with 2016 pre-production models in the '15 series].
What about the other guys? Clement Desalle made a step and Gautier Paulin was strong at the beginning until he got injured. Jeremy Van Horebeek was also consistent.
It was more difficult this year, but my goal from the beginning was to make the podium every weekend and I almost did it. When you get a line of good results like that, then it can be difficult to lose the bigger picture because your opponents have to do the same. They were crashing or making mistakes, and I knew I could be confident of making it happen again.
What was the low point?
France [crashing in both motos and conceding to Desalle] was not one of my best! I should have won the GP up until the last lap, but I made a stupid mistake. I was not completely focused there… it was hard to get my head on racing for a couple of GPs. Anyway, I was pleased for the most part about the results. To finish off the podium only three times is pretty good.
I imagine you think about your father quite a lot, but was he on your mind particularly this weekend? Was it quite emotional out there?
Yeah. It was quite emotional for sure. If he was still here… then he would be right here with me now. Normally he wouldn't come to a GP like Brazil, but he told me earlier in the year he wanted to come this time. Unfortunately, he couldn't make it, but I'm sure he was watching me from up there and is happy that everything has gone well.
After eight championships, 2015 could be set to be a huge challenge if Ryan Villopoto decides to try MXGP. A part of you must be quite excited by that.
For sure. If it happens then it is amazing for everybody and not only for me. It is positive for the sport, and I'm sure there will be more interest because of it. For me it is also gives more motivation to get even better.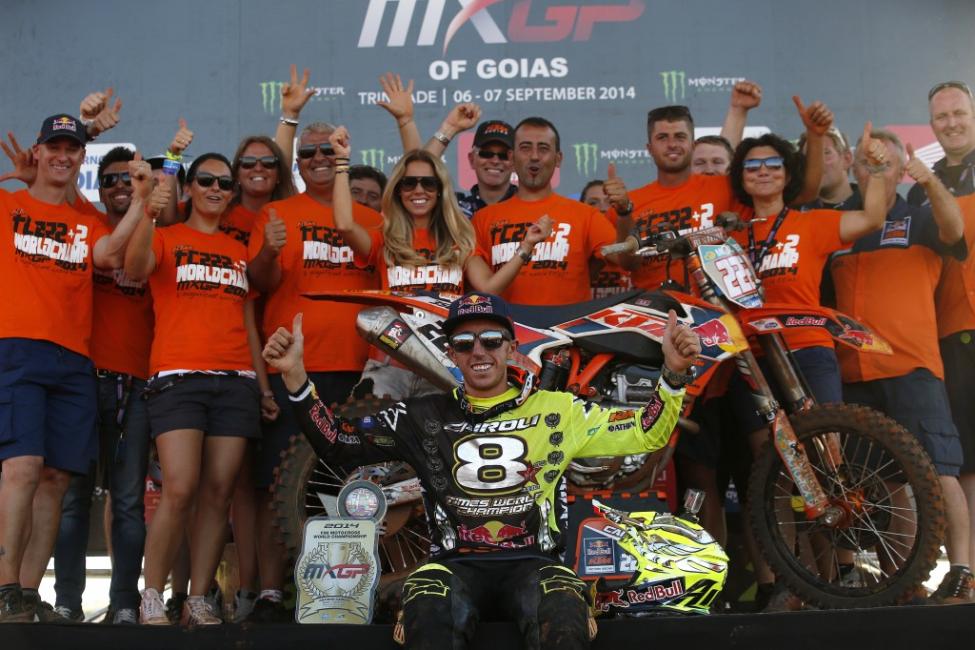 I think some people couldn't believe that you took part in the media event soccer tournament on Friday on the eve of possible championship success.
It was cool! I like football a lot, and to play with the people from the paddock and the media was a lot of fun. To do something different like that… there were only two of us [Cairoli and Alex Tonkov], and the rest were Brazilians. If something [an injury] would happen, then it happens. I think if you keep your head on your shoulders and not go crazy [then it won't]. I wanted to play football at that time, and so I did it.
Mexico this week and then the 250?
The next goal is to get a good result with the 250 at the Motocross of Nations! I hope I can get some good training done these two weeks on the bike and we put on a good show with Team Italy.