Racerhead is coming to you from the exact center of the motocross world—for this week, anyway. Hurricane Mills, Tennessee, to be exact. As crazy as it may seem to people who know Loretta Lynn Ranch as the home of the beloved country music legend, motocross people know it as the home of the AMA Amateur National Motocross Championship. It's a weeklong battle, with a pre-weeklong prelude of camping, preparing, and hanging out, after weeks and months, and even years of youth and amateur competitors getting ready to win. Admittedly, I am biased—my parents and a man named Paul Shlegel came up with the idea for this race way back in 1981—but I truly believe it to be an exceptional motocross experience for riders young and old and their families. Even as I write this, the motos are streaming live on www.racertv.com and will continue to do so tomorrow morning and afternoon until all thirty-six class champions are crowned. Some classes have already been completed, and I can promise you the future of American motocross lies with some very talented young men and women!
The track here has been just brutal all week, even with the coolest and most downright pleasant weather I can remember at this time of year. Usually this place is a furnace, but we've been blessed this week. Track boss Jeff Russell and Petersbuilt's Marc Peters are doing a fantastic job of keeping it rough and challenging, and there are lines from side to side. It's a real test here this week, and the odds are high for everyone.
It would be difficult here in Racerhead to tap out a cohesive description of the vibe, the excitement, and just the massiveness of it all. And if you've never actually been to the ranch, well, it's just impossible. But in the weeks to come, if you have any friends who went to race or watch or even work there as part of the industry, ask them what they think of Loretta Lynn's. I have been here for almost two weeks, helping the MX Sports and AMA crews and the ranch folks get ready as best as I can—and that's followed by nightly socializing, tailgating, cookouts, dinners, the beer tent, and more. It takes a toll, and driving home will be a chore, but I can't wait to eat in an actual restaurant or drink out of an actual glass instead of a plastic cup, sleep in past 6 a.m., and go to bed well before midnight. For someone working in motocross, being at Loretta Lynn's is like running a half-marathon every day, then going to Anaheim every night.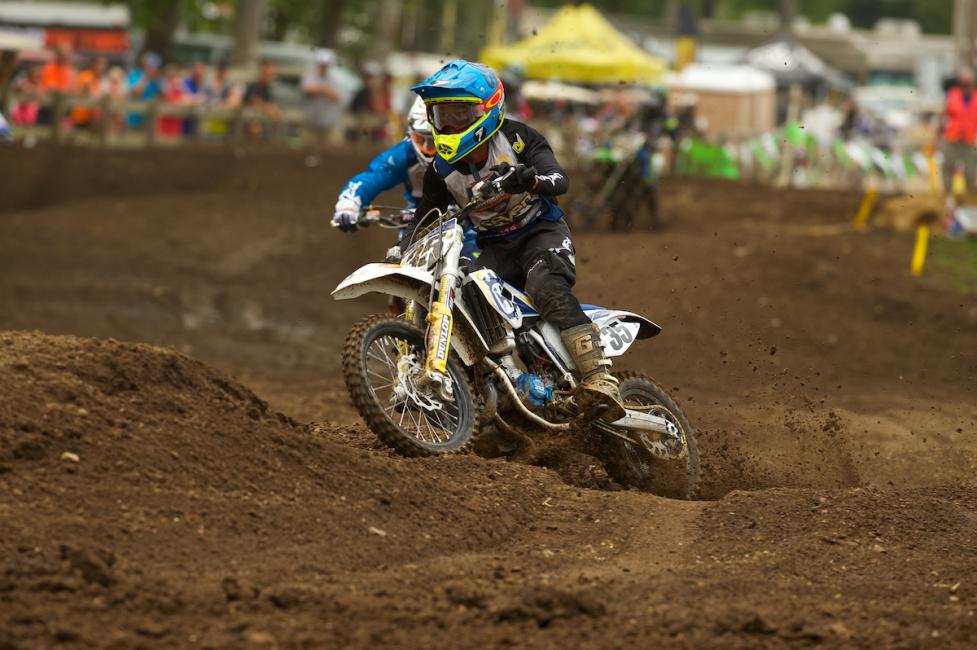 (Also, most of the Racer X staff is either here at the ranch trying to help out, or, like Jason Weigandt, hosting the live coverage and many of the nighttime activities. So please forgive us in advance for not having more stuff on the rest of the motocross world.)
Instead of trying to report it all, I will just hit on some of the highlights that jumped out at me—though, like I said, I was mostly on the infield working during much of the motos and didn't get to hear much of the who's-going-where. As for the results, forget about it—too much going on, with motos starting at 7:30 a.m. on the dot and running well past 6 p.m. Here are all the results so far for the 33rd Annual Rocky Mountain ATV/MC AMA Amateur National Motocross Championships.
First of all, I think RJ Hampshire is the real deal. He's won five motos in a row, with one to go for a perfect sweep and a likely AMA Horizon Award as the outstanding rider in 2014. Then RJ will step right into a GEICO Honda professional ride, following the footsteps of Trey Canard (congrats on the new cover and your two-year Honda Muscle Milk extension!), Justin Barcia, Eli Tomac, Justin Bogle, and more. Coming into the race, I thought soon-to-be Yamalube/Star Racing rider Aaron Plessinger would be the standout, but he started out just a little behind Hampshire and never caught up—and his first-moto crash on Tuesday was brutal. Plessinger broke a toe but stayed out there racing, but no matter how hard he and Colt Nichols and Luke Renzland and Chris Alldredge and the rest tried to catch the #22, no one has beaten him yet.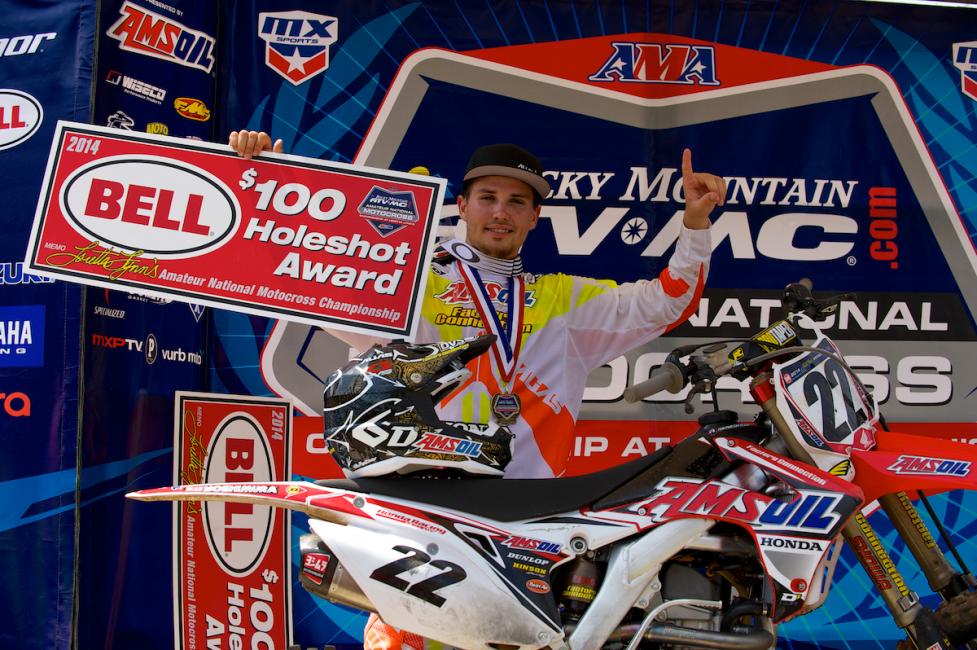 Hampshire wears #22 because he rides with Chad Reed in Dade City, Florida, and is being trained by a former #22, multi-time Loretta Lynn's winner Tim Ferry. Hampshire is a great kid, and so are the kids who were chasing him. Can't wait to see how these guys do, beginning next week at Unadilla!
The Intermediate classes are also packed, with names like Ryan Surratt (former 125 SX Champ Willie's son), Chase Bell (GEICO Honda's Zach's little brother), and Missouri newcomer Bradley Taft doing battle in 250 B Limited (and Taft winning the first two motos). In the 250 B Class it's Washington's Tristan Charboneau against Cairo, Georgia-based Lorenzo Locurcio and Mitchell Harrison, Arizona's Mark Worth, Maryland's Alexander Frye, Texas' Andrew Pierce, California's Josh Mosiman… See, I knew this would happen: once I start listing these guys, I'm afraid of leaving someone out! Check out the daily race reports—they haven't been missing a thing.
So Ryan Villopoto came to the ranch for Monster Energy Kawasaki. He did some stuff for the team, including handing out all of the prizes at the Thor/Kawasaki Team Green dinner, worked on a couple of motos on the live streaming, and just seemed like he was in a good place. He wasn't limping too badly after undergoing that major surgery on his knee, but I'm really starting to worry that he may not be ready in time to chase a fifth straight Monster Energy AMA Supercross Championship. The buzz on the infield was that he might even be done, but I refuse to believe it's that bad. Regardless, people were thrilled to see RV at the ranch, and he seemed happy to be back around the races.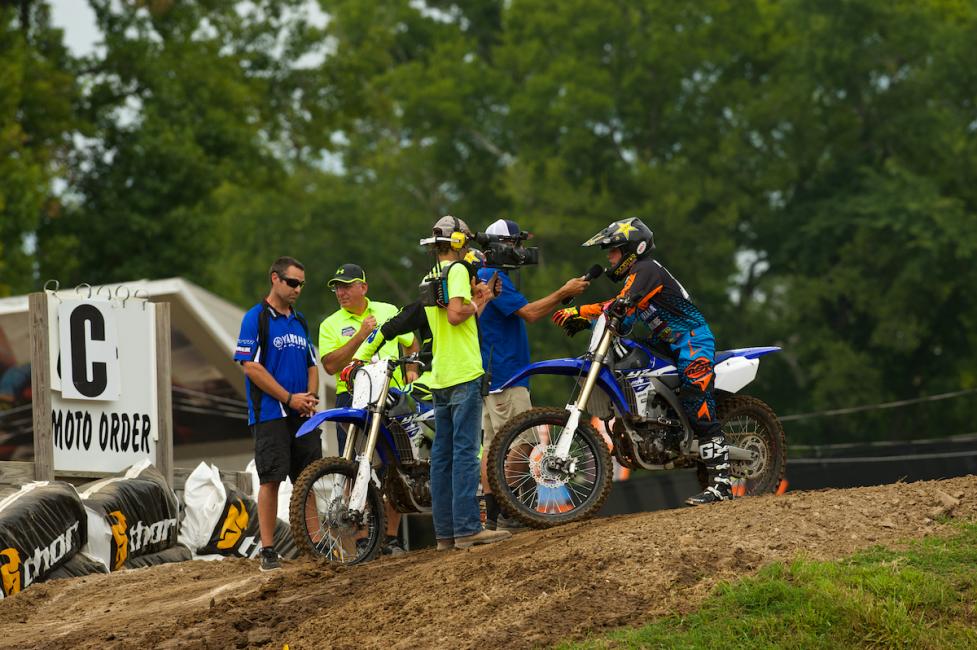 Jeremy Martin was also there introducing the new Yamahas, and the Lucas Oil 250 Pro Motocross points leader was stoked to see himself on the event T-shirt. Ironically, Jeremy never won an overall here at Loretta Lynn's.
Here's some possible future trivia: If Martin holds on and so does 450 points leader Ken Roczen, it will mark the first time in probably twenty or more years that the two AMA Pro Motocross Champions were not Loretta Lynn's champions growing up!
Roczen was not at the ranch this week—or maybe he was but I just didn't see him—but a lot of people were talking about this interview with KTM's Pit Beirer in the German magazine CROSS, where Beirer lets the car out of the bag: Roczen is leaving for a Suzuki gig.
If you're wondering how this story was broken in a German magazine, well, it's not just because Roczen is also German, like Beirer and the writer Wolfgang Brandt. The media folks in America who did know simply didn't want to break the embargo on the deal—it would supposedly cost someone $250K if word got out. Maybe that was just a U.S. embargo…
Nathan Ramsey was at the ranch and very proud to announce that he will be joining KTM as a full-time coach/talent manager. He's one of many, many former top pro riders now working on developing new talent. That's a booming industry here now—there were more people signed up out of tiny Cairo, Georgia, than from most states! Lots of other old pros are here, too, some racing (and winning), others with their own families. And it's amazing how fast Robbie Reynard and Trampas Parker and James Povolny still are! I can't even say I wish I were out there, because these guys would beat me just as bad as they used to. But I am hearing there will be some class structure changes coming soon to give rank-and-file vet riders who were never pros more chances to compete and win out there.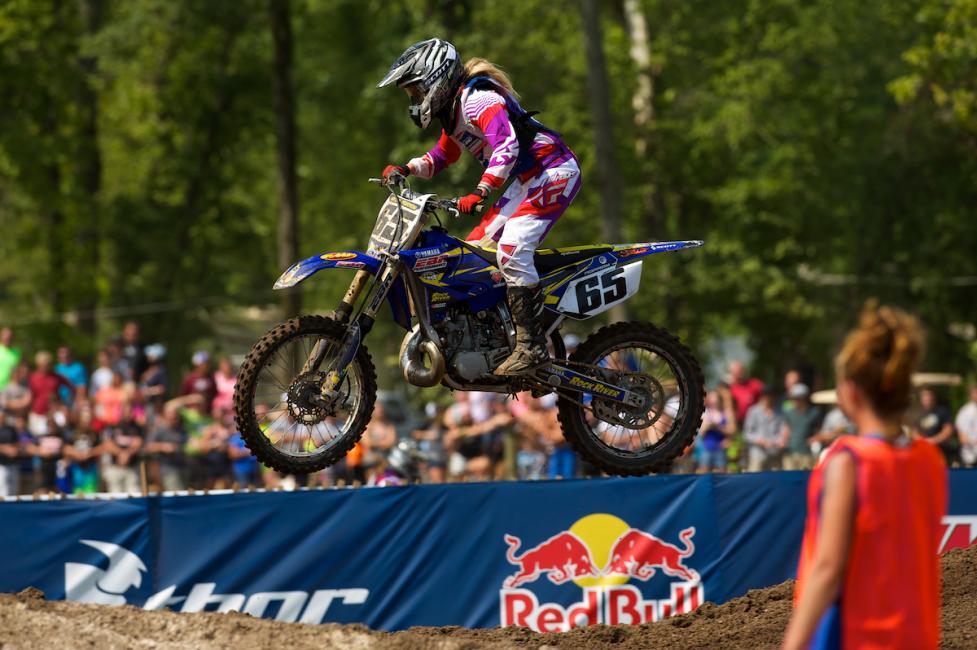 The mini classes were packed with future superstars. Remember these names, in no particular order: Garrett Marchbanks, Austin Forkner, Tanner Stack, Jett Jordan Bailey, Sean Cantrell, Mitchell Falk, Chase Sexton, Max Markolf.… Again, too many to list! Oh, and Hannah Hodges—definitely remember that name. She's going to be something else.
The Super-Mini 1 (12-15) final moto is getting ready to go, and I need to watch this—four guys can win the title!
PRO PERSPECTIVE – LORETTA LYNN'S (David Pingree and Jason Thomas)
JT: Loretta Lynn's is the most important race on the amateur calendar. Sure, there are lots of amateur nationals throughout the year nowadays, but it is still numero uno. This was even more the case when I was there with the likes of Ricky Carmichael, Nick Wey, etc. Back then this was the only title that counted. You never had an amateur graduate with eighty-five titles or something ridiculous, because only Loretta's was a national title. It was the prized possession, and everyone knew it. My whole year led up to that event in one way or another. Whether it was deciding what class to be prepared for, which bikes would give me the best chance of winning, or deciphering which riders would pick Stock and which would pick Mod, there was always a ton of debate about that one week in August.
It is still the race that will determine most of the highest-profile rides, and undoubtedly the most prestigious of the (too) many titles up for grabs. Winning Loretta's doesn't necessarily guarantee greatness, but if you can withstand the pressure of that week and walk away victorious, it certainly bodes well. Taking a look at the previous winners is proof enough that it's a milestone on the long journey to professional racing. Every rider from Jeremy McGrath to Adam Cianciarulo has ridden along that billboard straightaway. So, for all those youngsters paving their way to stardom, take the time to soak it in. Days like these will be gone far too soon. Loretta Lynn's is what the sport is all about.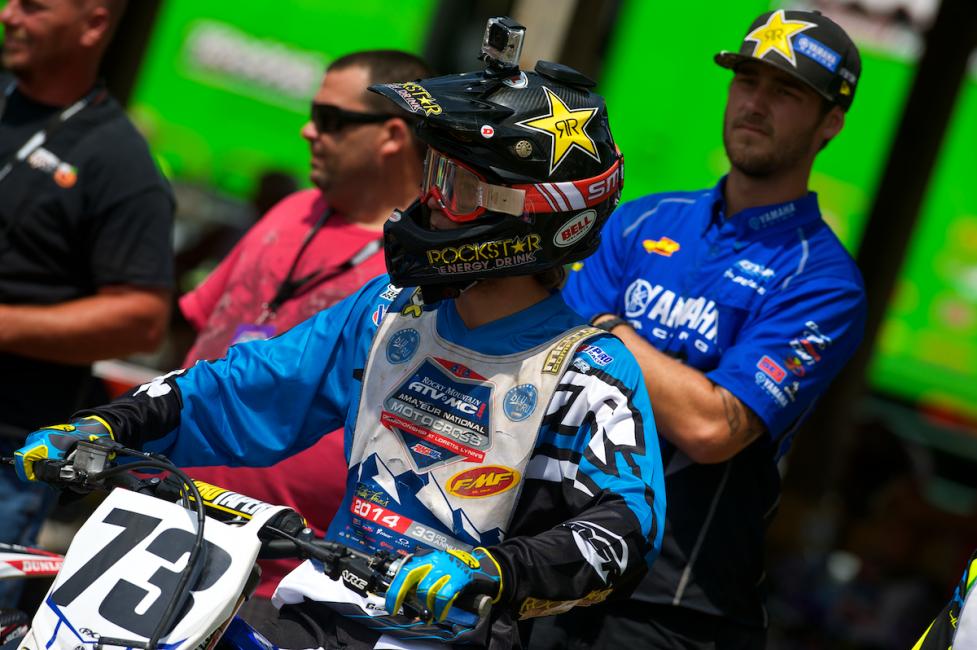 PING: Something Adam Cianciarulo said this year really hit home for me in regards to the importance of Loretta Lynn's. He was asked about his first win and how he handled the pressure of being out front in a supercross race with thousands of fans watching. He explained that when he got into the lead, he immediately thought back to all the motos he'd raced at Loretta Lynn's, and he put himself in that same frame of mind, like he was back at the Ranch. He focused on riding his own race, blocked out the distractions, and kept pushing until he saw a checkered flag.
Adam's experiences at the ranch had a profound effect on his ability to perform at the highest level of professional racing. Riders who can overcome the pressure of an entire year of preparation and anticipation, the commitment from the family (time and money), and every sponsor in the industry watching you are more likely to succeed at the next level. Success in Tennessee doesn't guarantee success at the next level, but it helps. And, while there are a few riders who never won at Loretta's and still went on to be great pro racers, they are the exception. This week will provide some great insight into what pro racing will look like in five to ten years.
HEY, WATCH IT!
Racer X Films: Remastered, Washougal
Racer X Films: 2015 RM-Z450 GoPro Lap
Racer X Films: Justin Bogle, In the Spotlight
Animated Track Lap: Loretta Lynn's
Fox MX15: The Brotherhood of Motocross
RANDOM NOTES
The submission period for the 2014 Racer X Amateur Film Festival, presented by MotoSport and ISAW Action Camera, has officially reached the halfway mark as of today. With three weeks down and three to go, there is still plenty of time to put together a short, quality motocross film. You don't have to use the most high-end camera on the market to have a worthy submission, either. Our internal panel of judges will send eight amateur videographers to the semifinals based on their skill behind the lens and attention to detail within the edit.
We've got some pretty cool sponsors on board this year as well—not just because of the thousands of dollars worth of prize packs they're putting forth, but also because of their involvement in the motocross film industry. One of the most common questions I hear people ask is, "How do I get a job in the motocross industry?" Well, nothing is guaranteed past the prize packs that will be going to the final four contestants, but keep in mind that we have the guys that make some key decisions for MotoSport and ISAW as part of our panel of judges. They'll be analyzing every submission that comes across our table.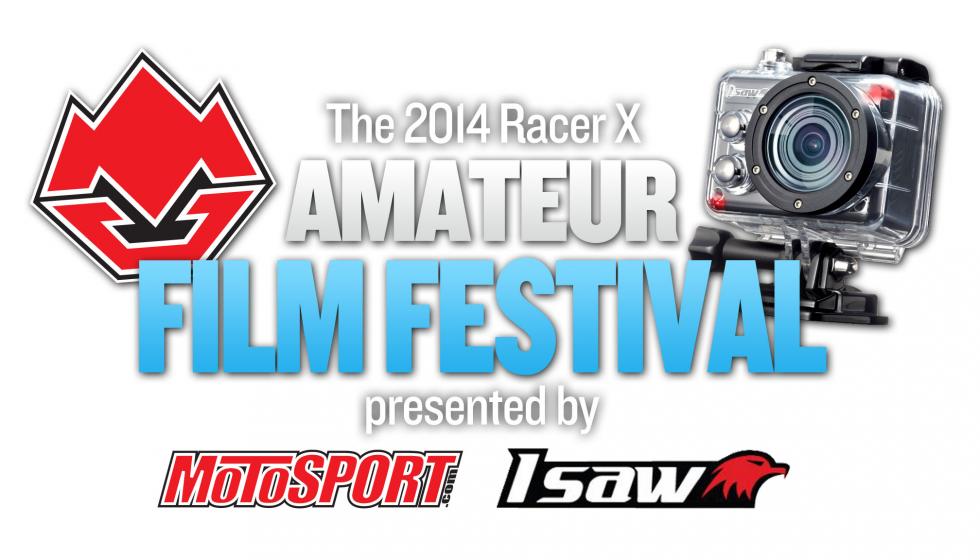 You will want to make sure your submission makes it to the table, so here are a few things you'll need to check before you hit the submit button:
Film festival and sponsor logos in the intro of your video
Film/edit credits at the beginning or end of your video
Video must be no longer than four minutes in length
You must have the rights to the music you use
Set your YouTube video to "Unlisted" when you upload it
Though these are some common requirements that are often overlooked, these tips are by no means a substitution for thoroughly reading the contest rules and guidelines HERE. Here's wishing the best of luck to all of the contestants—and remember, the future of motocross videography starts here.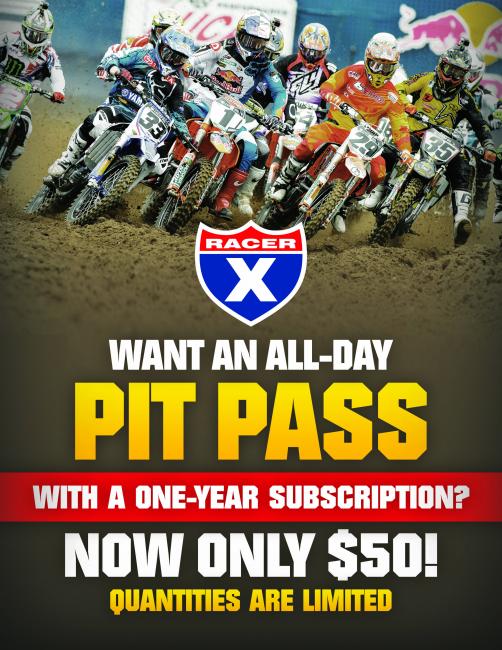 Are you going to the Unadilla National next weekend? Don't miss your chance to spend all day in the pro pits with the Racer X All-Day Pit Pass! For $50 you get thirteen issues of Racer X Illustrated plus an all-day pit pass. If you're buying more than one pass you can get a multi-year subscription, or you can give the subscription as a gift. This offer is good for both new and renewing subscribers.
Quantities are limited, so preorder your Racer X All-Day Pit Pass here before they sell out.
That's it! Thanks for reading Racerhead. See you at the races—wait, we're at one!