There was a real risk bringing Monster Energy Supercross to New Jersey and the New York market for the first time since 1991. The Meadowlands Sports complex hasn't hosted supercross fans in several generations, and the last time they did race here, the crowds weren't impressive. It costs much more to put a race on here than anywhere else, and the open-air stadium comes with the threat of cold temps and spring showers. But today's fans powered right through any doubt. Even with a significant amount of rain, a massive crowd showed up (62,200, double what the race averaged back in the day) and you could sense a buzz all weekend. The excitement could measure right up to Anaheim or Las Vegas, the race generated more media coverage than any supercross ever. Fans and industry types wore smiles all weekend while weaving in and out of New York City. Even the things that could normally dampen enthusiasm—it really did rain, and Ryan Villopoto turned the 450SX main into a snoozer—didn't matter. This race was about the bigger picture in so many ways.
Especially for Villopoto. Yeah it was his third win in a row and sixth of the season, but more importantly he clinched his record-tying fourth-straight championship. As you'd expect, Villopoto wasn't screaming and yelling or crying once he was handed the number one plate. "And maybe that's one of my weaknesses," he said, admitting he maybe doesn't enjoy the highs as much as he should. Look for a big interview later tonight with the champ as he talks in depth about the pressures of winning every year—and answers the "Will he race the nationals?" question.
It appeared Josh Hill would grab the holeshot but Villopoto sliced underneath in turn one, and from there he rode the sticky, rutted track just as well as you'd expect. And the track was actually better than expected, really. Rain throughout the afternoon and during parts of the night show should have done real damage, but it turned out fine. "The dirt really held up to it well, and of course without the Dirt Wurx guys it would have been bad," said Villopoto.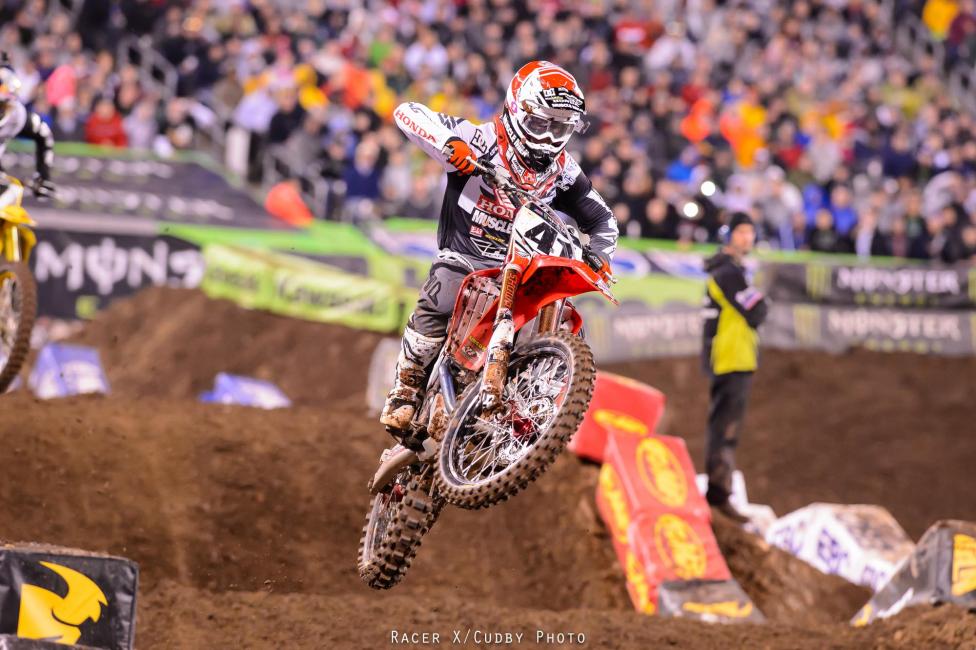 Hill held on for a podium, his first since early 2010—and first since a devastating leg injury threatened to end his career. Hill looked just as happy as Villopoto! All season long Hill has said he could podium if he got a holeshot. "I'm glad I wasn't buffing," he said. And although he will be let go by the Soaring Eagle Casino RCH Suzuki team after next weekend, he had nothing but good things to say about the squad that backed him when he was down for so long. We spotted team owner Carey Hart on the floor giving Hill a hug, and saying "I'm so proud of you man, and not even because you ride for my team, just as a person."
Hill had a simple strategy: race forward. "I tried to stay on RV's ass as long as I could, then [Eli] Tomac got me and I tried to stay on him." Tomac was riding well though, and while he couldn't quite pace RV, he was better than everyone else en route to his second runner-up finish of the season. Tomac is rounding into shape quite nicely as the Lucas Oil Pro Motocross Championship looms. "We're getting closer and closer to that No. 1 spot," Tomac said in a team statement. "My congratulations to Ryan on his championship. He's the best and he's done what I want to do several times. He's where I want to be."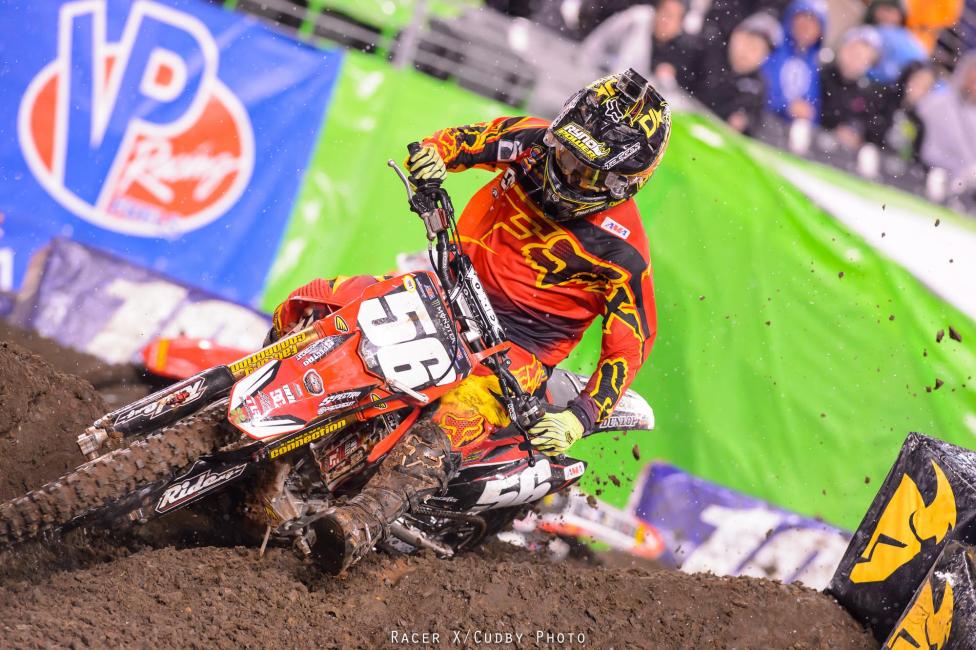 Behind Tomac and Hill, a battle was raging with Justin Barcia, Ken Roczen and Ryan Dungey. All three had bad starts. As they battled each other while also fighting through lappers and ruts, they each took turns being the fastest rider in that pack. At one point Dungey looked best, then he suddenly made a bunch of mistakes and started battling with Roczen, then Barcia caught fire and passed them both! Dungey later went down, while Roczen kept pushing Barcia to the end. It looked like they might catch Hill, but Hill dug deep and held his ground. "Mid way through the race they were catching me, but I just focused back on trying to catch Tomac and that helped."
Also in the mix was Mike Alessi, who grabbed his typical good start and rode solid to finish up behind Dungey in seventh. The most exciting part of the 450SX main was watching the three-man Barcia/Dungey/Roczen battle meet Alessi, and all four hooked it up. As for the racing with the top three? "I supposed it was pretty boring for the fans," said Tomac with a laugh.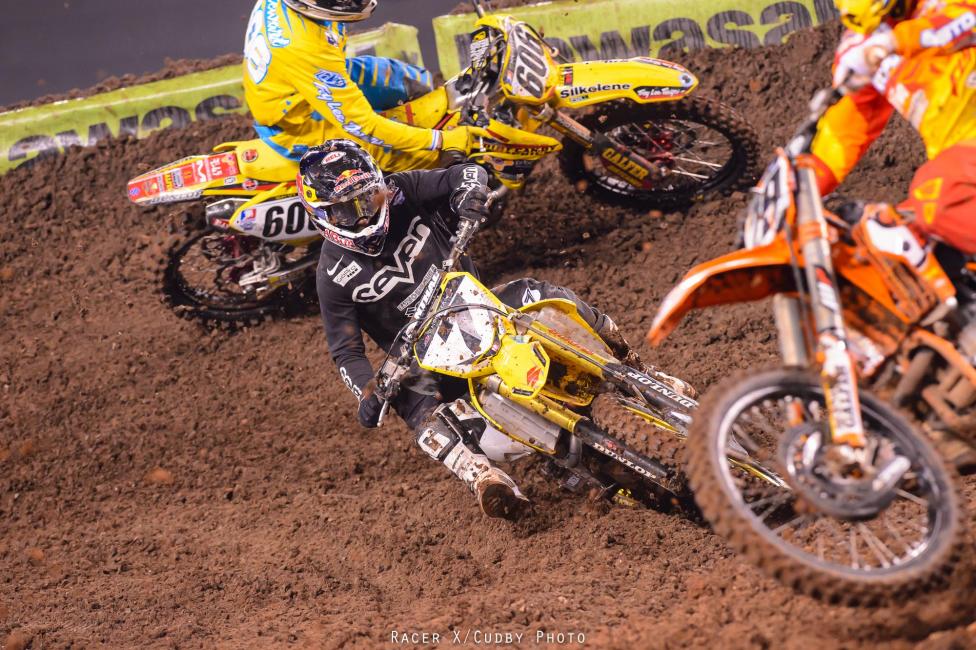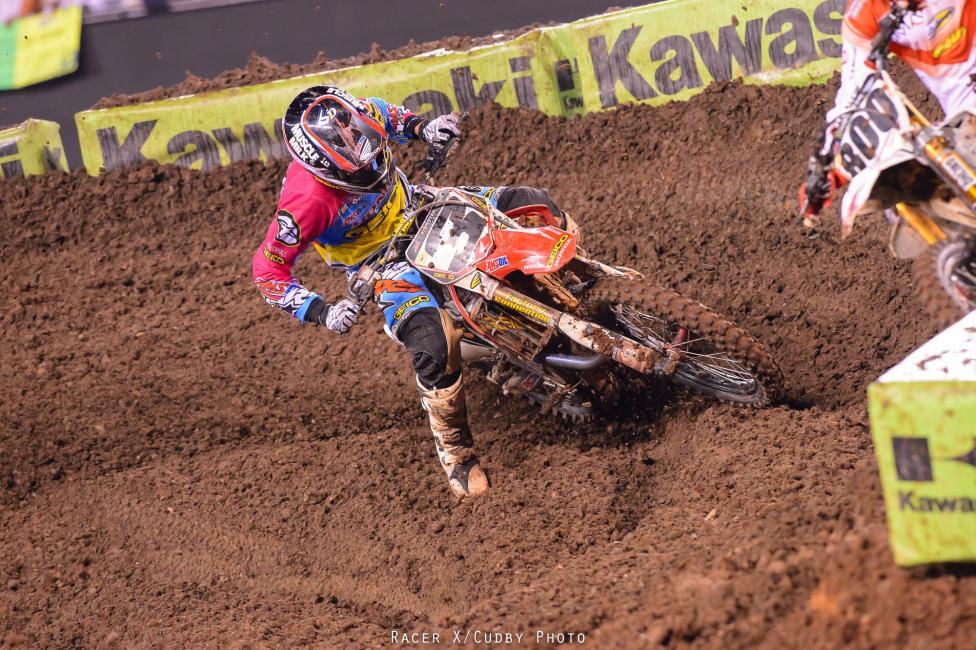 You don't see Villopoto go crazy when he wins a race or a title. You're not seeing any strange behavior from Justin Bogle, either, but this is by design. During a week of noise about Martin Davalos' injury, Bogle tried to treat the race like any other. "I just need to win races and ride my dirt bike," he told us. "I didn't even have the red plate." Bogle was perhaps a tad more cautious than usual on the opening laps of the main, but then he started rolling forward and ate the competition up. With his second win of the season (and his career) Bogle is now, finally, really, the points leader, and has basically clinched the title since Davalos is out for the year. "It was raining during the main and the track was greasy in a lot of spots," Bogle said. "The one thing I wanted to avoid was going down early, so I was a little careful. Once we got rolling I just fell into a rhythm and kind of checked out. There were a few moments when things got gnarly, but I kept my focus and rode it out.
"I'm so happy to be in this position. We've got one more race next weekend in Vegas and I want to do the same thing I did here. One of my team guys reminded me to enjoy myself today and I really kind of took that attitude."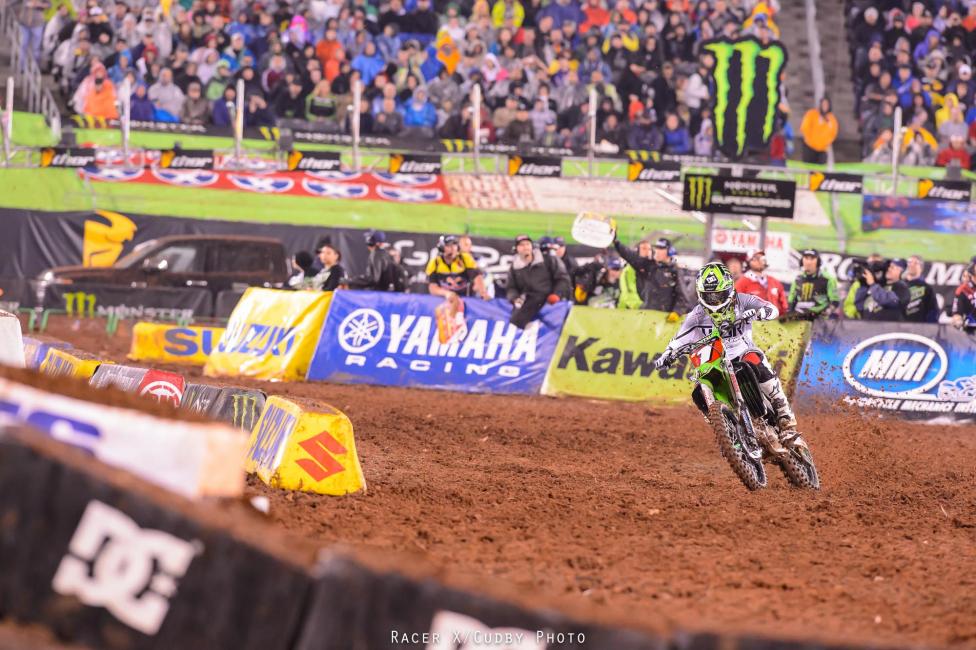 Injuries have decimated 250SX East, and just three riders in the field rode full-factory bikes: Bogle, his GEICO Honda teammate Matt Bisceglia, and Yamalube Star Racing Yamaha's Jeremy Martin. If a privateer was going to win a main, this was the night, and Riverside Harley-Davidson's Jimmy Decotis staked his claim by winning his heat race and holeshotting the main. The fans loved it! But a few laps in, Bisceglia went down to the inside to make a pass, and Decotis hit his rear wheel and went down. He did claw back for 9th.
Vince Friese also represented privateer power on his Factory Metal Works/Club MX machine, going fast in practice and battling Bogle, Bisceglia and Martin for a podium. Martin and Bogle snuck through, but Friese hung on for third and his first-ever trip to the box.