Thomas Covington has swelled the MX2 ranks of the CLS Monster Energy Kawasaki Grand Prix team for the rest of 2014 and 2015. The teenager opted to tackle the FIM Motocross World Championship instead of lining up at Glen Helen in Pro Circuit colors for his maiden year as a pro. We spoke to him before the Grand Prix of Trentino (where he underwent a tricky debut for the French/Dutch crew, certainly in comparison to his first GP outing at Qatar where he rode to third position in the second moto) about the choice for his early career path.
Racer X: Tom, why are you here? It's not a conventional choice you could say.
Thomas Covington: Yeah, most fans in the U.S. might think I'm a bit crazy but I just think it's a good experience for me; seeing the world. Also, the races I have been to so far this year have been awesome. I like the atmosphere. I enjoy the fans and the people. Overall it was something I didn't want to pass up. Not many kids my age get the chance to see so much of the world in one year without paying a fortune. I thought about it for a long time and decided this would be the best move for me.
In terms of life experience you can gain a lot but having had that Pro Circuit contract it seems a strange route at the beginning of a career.
There were pros and cons, but coming over here first gives me more experience before going back to the U.S. I should be a lot stronger to go back and to do well. I'll have a couple of seasons under my belt.
Did you have a chat with Mitch [Payton] about it?
I spoke with quite a few people. I spoke with Mitch the day I got back from Brazil and he said it was totally up to me; he wasn't going to tell me to stay or to tell me to go. I believe that he thinks this is a good move for me and wants to see me over here.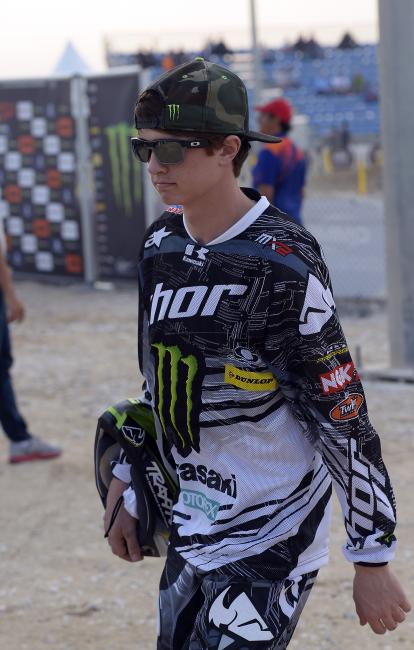 So being a Grand Prix rider this is your first pro contract?
This is my first pro ride and Qatar was my first pro race. I had the contract with Mitch but I'm living this one out so I guess it's my first.
Can you understand why people might wonder about the decision?
Yeah, because nobody has really done it this way before. Supercross didn't have anything to do with it. I thought about how MX2 looks for me. I knew I would have a good chance next year [seven riders will leave the class having reached the age limit of 23] but also this season as well because after the first three rounds I saw the speed of the top guys was really good but I knew I would be able to run up front. That's not to say I wouldn't have taken good results back home either. It's a tough question to fully answer, I guess, although I can appreciate that nobody from the U.S. ever comes here as their first choice. It always seems to be a "last resort" type of thing or at the end of their career but I have a completely different mind set on it. I just feel it's something I couldn't pass up.
You are approaching this season in a weird way. Starting with one Kawasaki team as a wild card and now signing for another.
Yeah, it has been a crazy few weeks. KRT was cool enough to get a bike for me and put it under their rig and everything. They are an MXGP team, not MX2 so they really did me a favor there and I appreciate it. After the first three races some other teams were interested in me and thought I'd want to stay and that's when I really started to think, 'Do I want to do this?' I thought about it for about a week and I had to make my decision quickly because Italy and Bulgaria were back-to-back and coming up fast.
Have you had a chance to orientate yourself? Most people start a season thinking "I'll aim for this or that," but now you cannot afford to lose too much ground and time.
It's a lot easier for me now with the CLS team. They have all the resources that I need for the bike and to make sure it is what I need at every race. We kind of threw the KRT thing together at the last minute and did the best with what we had but we were a bit unprepared and that's why I had so many bike issues in those first three rounds. Now I think we have a strong motor and a good bike. The next few rounds will be a little better.
As a wild card there were no real expectations or pressure on you. Now you have to work with a multi-national team and get the job done.
I've definitely thrown myself into it! As soon as we confirmed the deal I got the first flight over to Holland and began testing and got three days on the bike before coming here [Italy]. After this weekend I'll have to sort out things like where I am going to live and flights for the next races. This weekend I just want to get comfy on the bike.
Being the only American rider in Grands Prix must carry some good PR weight?
For sure it is cool … well, I'd like some more Americans in the paddock! But it's fine. It is nice to be able to represent our country a little bit in the GPs and I hope I can do it well. It's another reason why I came. It seemed like everybody I spoke to about it said, "Man, it would be so cool if an American actually went over there as his first choice." Nobody has ever done that and I thought it would be something different. I suppose I'm a bit different than most motocrossers, most of them would hate living in Europe but I kind of enjoy the travel and seeing all the places.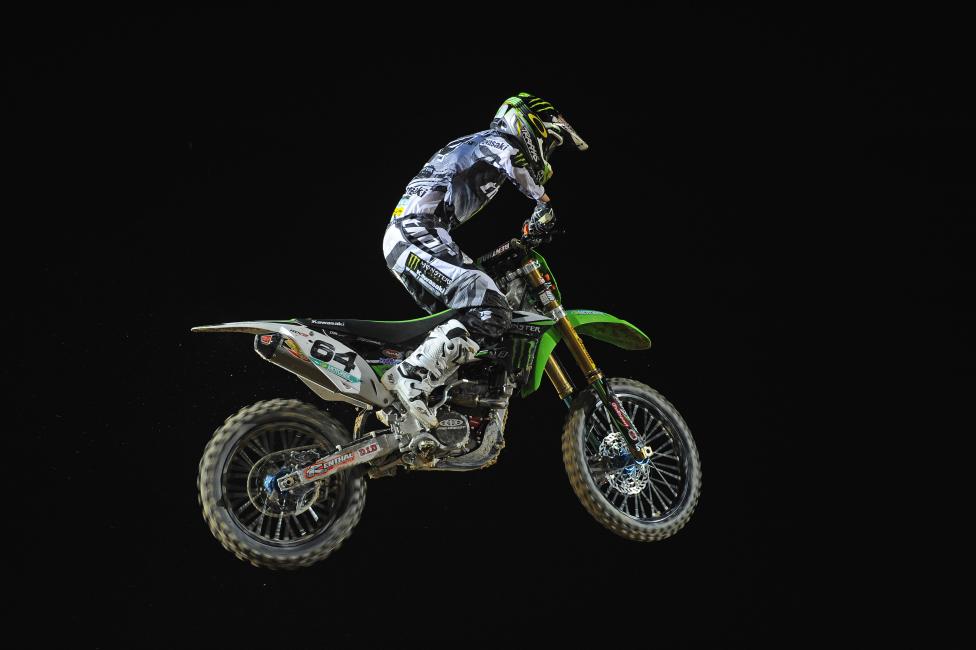 How free do you feel? Your dad has a prominent role at Monster Energy so would it still be easy for you to talk with Red Bull KTM or Rockstar Suzuki? Do you feel tied to a particular brand?
Not at all. My dad and I do our separate things. I do like Monster Energy because they, and Kawasaki, have supported me even before my dad knew what Monster was. This is why I choose to sign with CLS because I can continue those relationships. My dad works for Monster too, but if I wanted to go somewhere else then that would not be a part of it. My dad is more of a "dad" to me than any kind of manager or figure from Monster. When he's with me he takes his working hat off for a minute.
Lastly, how determined are you? You could be injured or depressed with UK or Dutch weather … there are other U.S. riders who have struggled to adapt to life so far from home. Are you the kind of kid who will embrace it as much as he can?
I've definitely got a tough journey ahead but I'm determined to be one of the top guys here. I want to be consistently in the top five as soon as possible and as far as the living situation goes I have a little bit of advantage in knowing Tommy [Searle] and Jamie [Dobb] for a quite a while so they'll be my European family while I'm here. They have been very cool to me and after the Dutch GP I'll go to England and settle there for a little bit.