Jake Canada needed a change of scenery. He needed to start anew. After a breakout 2012 season, which included nine top-tens in the 250SX East Region and four in Lucas Oil Pro Motocross, Canada's stock dropped in 2013. The Californian was only able to muster one top-ten in the 250SX West Region before suffering a broken wrist early in the Lucas Oil Pro Motocross Championships. Following a messy split from SmarTop/MotoConcepts shortly after, Canada put a deal together late in the MX season and found the top ten at Unadilla in 450MX—salvaging something during a turbulent season.
This off-season Canada signed a supercross-only contract with 51Fifty Energy Drink [the team does not contest the Lucas Oil Pro Motocross Championships]. Following a rough start to the season, Canada has ripped off four consecutive top-tens to become the only privateer inside the top-ten in 250 West points. With his contract ending after Vegas, Canada is still searching for a ride outdoors in 2014. We talked with him earlier this week about his season, his hopes to land an outdoor deal, and more.
Racer X: It seems like just yesterday we were at Anaheim, but we are down to just one round [in 250SX West]. Are you happy with how your season has gone?
Jake Canada: Yeah, I'm happy. It's not what we were looking for. Last year I had a top five, as well as the year before. But the field is pretty stacked and I'm happy I've been able to beat some of the factory guys each weekend. As long as I can beat one or two of those guys each weekend, I feel like I'm doing my job. The last two weekends I've put in pretty consistent rides, and even came from a little ways back, and ended up with two eighths. I want to get in the top five come Vegas, so I'm going to put my head down and keep working hard and try and end it good in Vegas.
If you look at the point standings, every guy in front of you is factory backed. Is that something you take notice of?
Well, I like that I'm beating them, because like I said, I'm hunting for their ride. Just like every other rider out there I want to get on one of those teams and have the backing and resources that they do. At the end of the day I kind of know where I should be and what my potential is, and I feel like I can be up there running inside the top five and mixing it up with those guys. If I'm able to do that, I'll be happy with myself.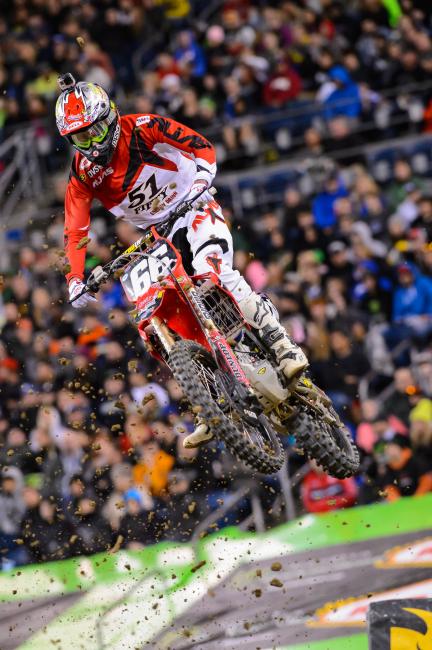 Last year you struggled with injuries and some other things that put you off track, but you're back into the fold this year. You began the season with a new team, which provided a change of scenery. Do you feel like you're back on track and that you need to just ride this momentum into outdoors and next year?
For sure. I've been stoked on the entire 51Fifty Energy team this year. They gave me a great bike. I feel like it was a really competitive bike this year. I have been in kind of a panic mode though because it's a supercross only deal. After Vegas my contract is up so I'm trying to get a hold of anyone I can to try and get a deal together. I've talked with some people from Canada, and people here, to see if there is anything available for outdoors. So, just kind of searching right now.
Do you have anything in place at the moment?
No, I don't. I've talked with the Rockstar Yamaha team in Canada a little bit, but it's hard because everyone kind of has their riders already.
In the past you've put together your own deal for the nationals, which later helped you gain support. You live in California, so could we see you ride at least Glen Helen and Hangtown and try and land a deal that way?
No, not this year. I wouldn't be able to do that. After 2012 and 2013, I had a little bit of money saved up and that was the only way I was able to do those last couple of outdoor races that I did on the 450 last year. This year, if I don't get a deal, I don't have a bike here, so I will probably be working with my dad, trying to pay my rent still.
How does that affect you mentally when you're racing? In Houston and Seattle you're obviously concentrating on the race at hand, but you're also looking at your future as well.
It's definitely not easy. It's just a little stressful I would say. I think I do a good job blocking it out, but it's getting closer to that time and outdoors is about to start so I've been in a little bit of panic mode trying to get something going.
Can you let us in on how you go about trying to get a ride? Do you have an agent or someone helping?
No, I don't have an agent. Whenever I hear about fill-in rides or teams that need a rider, I try and contact them and let the team mangers know that I don't have an outdoor deal. My trainer Charles Dao is helping me out a little bit. But we are kind of just doing it on our own. I definitely don't have money for an agent right now [laughs].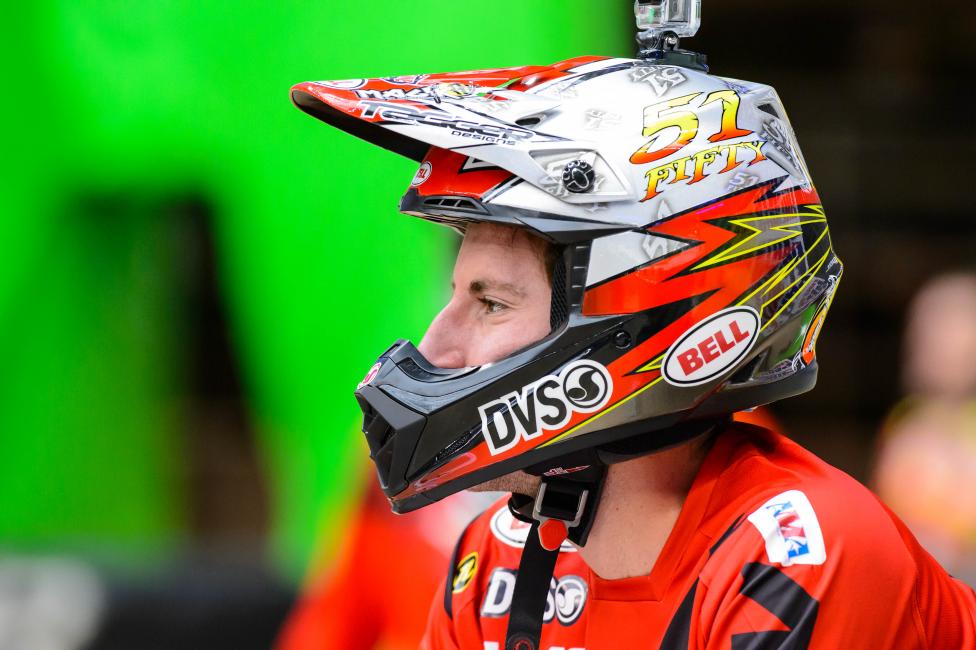 Is Canada is serious option for you this season?
It wasn't, because they [Rockstar Yamaha] had all their guys signed for this year. It's really kind of a long shot, honestly. There were some issues with a passport or something, I'm not too sure, but he's [Nico Izzi] not going to do them anymore, so that's why I got in contact with them. I talked with the team already and talked with one of the main Rockstar guys to see if they were going to have a fourth man, or what the deal was. Hopefully I'll hear something back, but it's kind of up in the air at the moment.
You're essentially you own agent, making calls while also trying to train and get prepared for outdoors. How are you able to juggle it all? It has to pull you in a lot of different directions.
It definitely does, but it's not too bad, it's part of the job. If I want to get something out of it I have to put in the work and at this point I'll do whatever it takes. It's not too bad, but it would be nice to have a deal in place for outdoors so that I can just focus on training and riding.
Thanks, Jake. Who would you like to thank for helping you this season?
51Fifty Energy, Alias, Von Zipper, Deft Family, Proven Moto, DVS, Magik Graphics, Imperial Motion and Bell Moto.
If you have any interest in sponsoring Jake for the Lucas Oil Pro Motocross Championships, you can contact him at jakecanada57@gmail.com.