Christmas is close, so happy holidays and Merry Christmas before we get into Racerhead. Here's hoping everyone has a safe, fun holiday and then we get down to business at Anaheim in just fifteen days from now.
Let me start with a salute to the racer I've know the longest, my big brother Tim Coombs. He turned 50 years old today—fifty! That's a big number when add "years old" to it. My brother has raced since he was 6 years old, starting on a Yamaha 65 Enduro, then working his way all the way up to his Service Honda CR560-something, which was too much bike for even a seasoned pro like him. He won Loretta Lynn's in the Pro-Am class in 1985, beating Tyson Vohland for the title, then he won the Blackwater 100 in 1988, earning himself the cover of Cycle News from a Tom Mueller shot, and Motoworld's Rider of the Week, where he was introduced by Larry Maiers. His best outdoor national finish was fifth at the '85 Broome-Tioga 500 National, ahead of such exceptional riders as Jo Jo Keller, Mike Fisher, Billy Liles, Kevin Foley, and more.
But his professional racing career didn't work out as well as he hoped, as injuries mounted and so did his age. So he did the next best thing, which was to start working at and around the racetracks and continuing riding as a vet rider. Now he's the father of an aspiring 51cc rider named Cade, who might be our family's last hope for motocross greatness, because my son wants to play basketball and make movies, and my daughter just wants to rule the world.
But back to Timmy. He's the son of a racer, he's married to a racer in his wife, Jessica, and he's raising a little racer, plus three other exceptionally cute kids. He's much more behind-the-scenes than myself or my sister, but he's every bit the enthusiast and hard worker that our dad was, and I am proud to be his little brother.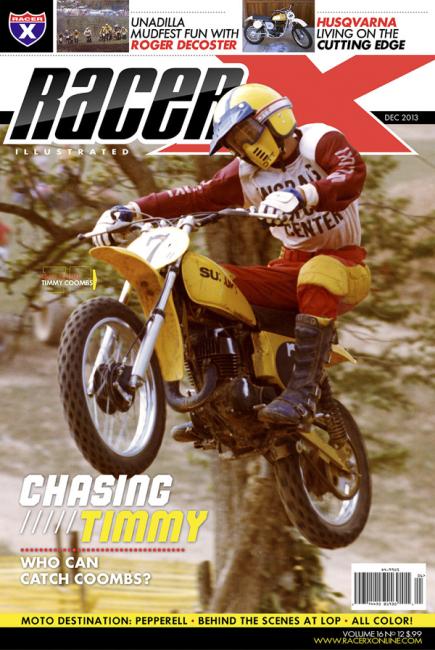 Happy birthday, 1988 Blackwater 100 Champ!
The Racer X cover above is actually one I had made for Tim from an old photo we uploaded to Paul Buckley's very cool
www.herocentric.com
site, where you can make all kinds of cool things with your old photos. The site has the capability to turn things around quickly, so if you're looking for a last-minute Christmas present for a friend and fellow racer, or even a non-racer, check out
www.herocentric.com
. And also consider his
www.mxinsidershirtclub.com
for another cool last-minute gift: a motocross T-shirt a month for a year!
Okay, here's the rest of Racerhead on a pre-Christmas, almost-Anaheim holiday weekend:
BONFIRE OF THE INJURIES (DC)
Whatever happened to Ken Roczen on Tuesday when he crashed in Florida, everyone is glad that he appears to be okay—just banged up on his upper arm. It was first reported by our colleague Adam Wheeler at OTOR, then by Jordan Labbe at Moto Verte in France, as well as Racer X Online. At first it seemed like it was just another damned crash with bad timing that might leave the popular and highly competitive Red Bull KTM rider off the starting gate at Anaheim, just like Davi Millsaps, Trey Canard, Marvin Musquin, Blake Baggett, etc…
But then things got a little sideways when Roczen, who has a massive and loyal following on Instagram of more than 105,000 fans, posted a photo of an exercise rowing machine and didn't mention the crash or the injury reports. Immediately, people on Instagram and Twitter went on the offensive, as if journalists in three countries were making it all up. People were accusing an incredibly talented, sincere, and objective journalist like Jason Weigandt of "making shit up," even though he had nothing to do with the report.
For the record, Ken crashed pretty hard on Tuesday in Florida and went to see a doctor. He was told he might have fractured his humerus, but only a hairline crack. He was put in a cast and sent home but then flew to California for the holidays and to see his regular doctor. This one was much more optimistic about the injury, fortunately. Now his chances of being at Anaheim on January 4 would be listed as either "probable" or maybe a "game-time decision" if SX/MX were a different sport….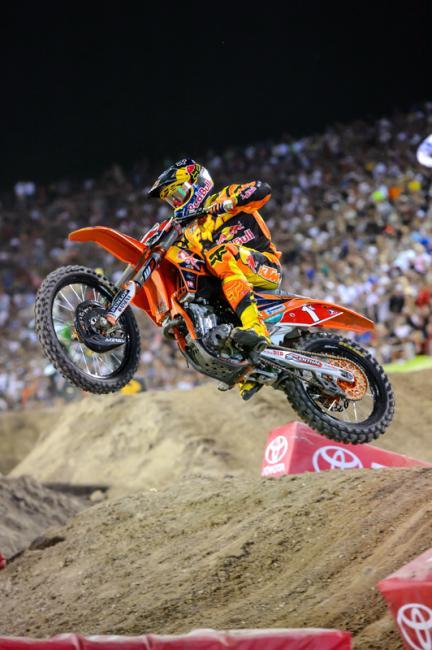 Ken Roczen's chances of being at Anaheim on January 4 would be listed as either "probable" or maybe a "game-time decision" if SX/MX were a different sport.

But we're not. Our sport is one where news of crashes and/or injuries is treated like highly guarded company secrets. It makes the job of being a motocross reporter a little more difficult than it should be. For guys on the daily beat of racing like Weege and Matthes and GuyB and Steve Cox, or any of the other mag and website guys, they all have a constantly moving target trying to nail down injury reports. No sport that I know of has the same wall of silence as motocross when it comes to discussing injuries, and I have no idea why things are the way they are. I'm just glad Roczen really isn't hurt that badly, and hopefully no one has to talk about a new injury anytime soon.
NEW INJURY (DC)
Well, that didn't last long. Austin Howell's crash last week while practicing at Milestone MX resulted in a collapsed lung, lacerated spleen, broken ribs, a concussion, and a broken right thumb. He had surgery on the thumb yesterday, but according to his longtime friend and supporter Manny, he's already itching to get back out there riding again.
WHO'S RIDING WHERE? (Steve Matthes)
I'd love to be able to talk to you guys about who I feel is going to do well in the 250SX West Region series but I simply can't. As usual, the teams are not telling us who is signed up for what coast, and this process is just such a pet peeve of mine in the sport. I blame Monster Energy/Pro Circuit Kawasaki's Mitch Payton for this trend, by the way, because he doesn't even tell his own guys what coast they're racing because he wants them all ready for Anaheim 1 in case something happens injury-wise. I get that theory, I really do, but why not just tell the riders what coast they're racing but to be ready in case something happens? Why keep it a secret from the riders themselves? Because Payton does this and he has such a successful team, the other teams started doing this as well. Poppycock, I say!
So here are some guesses. We think GEICO Honda's Zach Osborne is going to ride the West because he's ready and healthy and his teammate Justin Bogle is not; Blake Wharton is likely to ride the East. We're not sure what Zach Bell and Matt Bisceglia are going to do.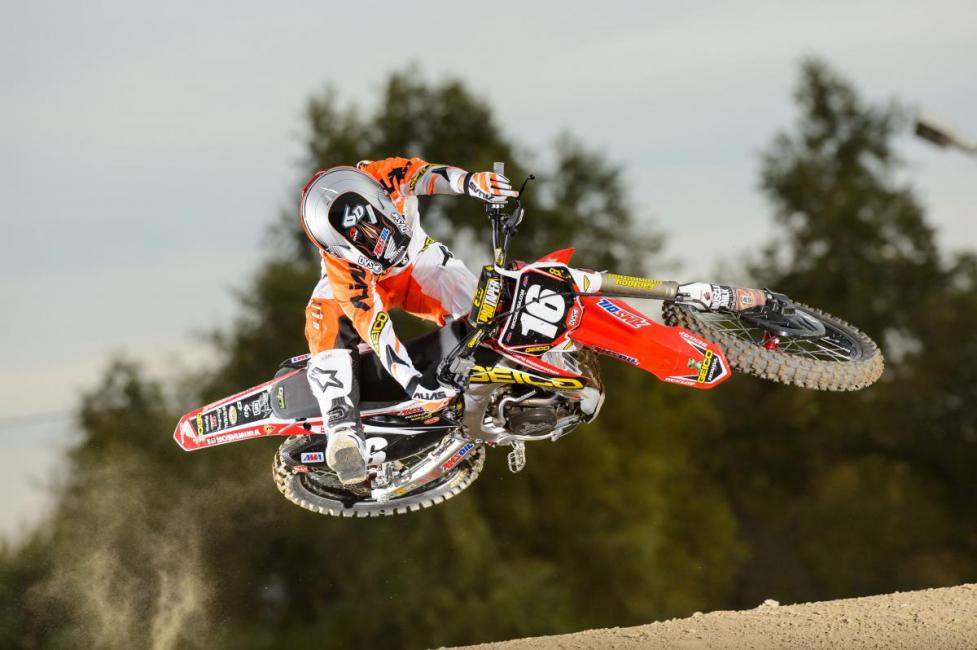 It looks like Zach Osborne will be riding the West Coast in 2014.


Photo: Simon Cudby



At Pro Circuit we think Dean Wilson will race West because his teammate Blake Baggett got hurt; we're guessing Darryn Durham and Justin Hill in the West too, with Adam Cianciarulo and Martin Davalos in the East. But we have no real clue! And for Red Bull KTM we do know Dean Ferris is racing West Region because, well, Dean told us on Instagram last week. All of the TLD Honda guys—Cole Seely, Malcolm Stewart, Jessy Nelson, Shane McElrath—will ride the West. Rockstar KTM will probably have Jason Anderson in the West, but we won't know for sure until we see them all on the gate. Or not.
Like DC was saying above, I don't get this part of keeping things secret in supercross. Maybe our own David Pingree, who rode for Mitch Payton, can one day talk about this practice and whether it helps or hurts? I'm all ears to try and find out why teams, sponsors and riders enjoy not being talked about.
2017 (DC)
For more than a year we've all been under the impression that the 2015 Motocross of Nations would be held at Glen Helen in San Bernardino, California, because that's what was announced at the 2012 MXoN in Lommel, Belgium. But yesterday GuyB posted that a rumor was being floated that the race would be pushed back two years to 2017, replaced by Ernée, France, and last night a press release went out from Youthstream that the MXoN's return to the U.S. was indeed being pushed back two more years, but offered no specific reason why.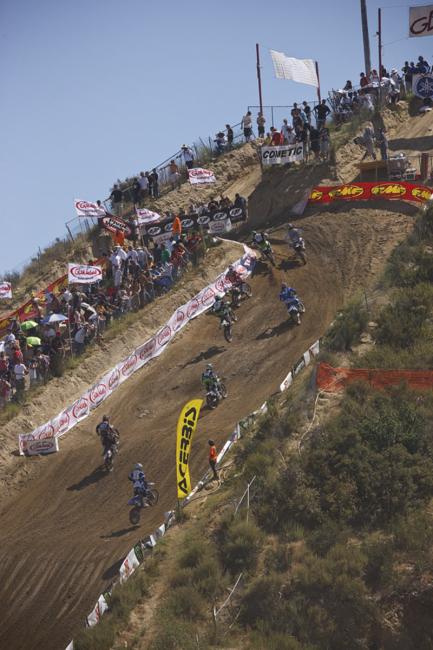 The Motocross of Nations at Glen Helen has been moved to 2017.
Photo: Simon Cudby
For what it's worth, Ernée is a very good track (Team USA won there in 2005), and so, of course, is the famous circuit in Maggiora, which will host the race in 2016 (and where Team USA won in 1986).
But first we have Keggums in Latvia, which also looks like a very good track. That's the site of the MXoN in 2014.
NICOLETTI'S UNIQUE DEAL (Chase Stallo)
When news broke last week that JGRMX/Toyota Yamaha had signed Phil Nicoletti to an unprecedented six-race deal for 2014 (three in Monster Energy Supercross and three in Lucas Oil Pro Motocross) there were varying opinions across multiple platforms. (Racer X Online Senior Editor Jason Weignadt and myself weighed in on the deal as well.) I spoke with Nicoletti earlier this week for an interview that will appear in Racer X Illustrated and he couldn't be happier about the deal—which is all that matters, right?
"Last year I believe I had a pretty solid year, but at the same time every place was full," Nicoletti said. "So I had to make a decision on what would be the best for me. It just made sense for me—because I stay at Club MX and am an hour and twenty minutes away from the shop—to be able to do this. If I need parts or a motor or suspension change, I can drive there and have it done in a day.
"Also, I can go test with them on a certain day. I don't have to go to California and live out there for three months at a time," he added. "I just had to sit down and think about it, and this is a good opportunity. Granted, it's not a full series, but it's a chance to showcase on good equipment what I can do."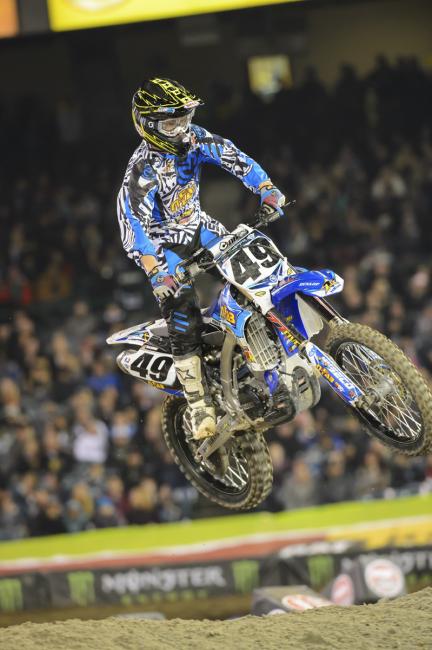 Phil Nicoletti is excited about his new deal with JGRMX.
Photo: Simon Cudby
Barring injury to either Josh Grant or Justin Brayton, Nicoletti will begin the season in Atlanta, the eighth round of Monster Energy Supercross. Nicoletti will also compete at Daytona, East Rutherford, and the first three rounds of Lucas Oil Pro Motocross. While he is free to sign with another team at any point, Nicoletti said he is content where he is and is grateful to have this opportunity.
"I think if people were in my position, I firmly believe they would have done the same thing," he said. "I just don't know how you can turn down this sort of opportunity. To me it doesn't make sense."
Nicoletti is hoping his performance on the track, not injury, will solidify a spot.
"People keep saying the injury deal, but I don't want those guys getting hurt," he said. "If I got on the team for the whole season, I want it to be because I'm fast enough, not because, God forbid, one of the guys falls and hurts themselves. That's not the goal of the deal."
Pick up a copy of the March issue of Racer X Illustrated to read the full Q&A.
PRO PERSPECTIVE (Jason Thomas and David Pingree)
JT: For most, the holidays are full of eggnog, cookies, and relaxing with family and friends. While riders do usually take a day or two off for Christmas, as it's crunch time for the season, most will be keeping the relaxing to a minimum. The biggest struggle is the added travel that the holidays can bring, as many riders will be criss-crossing the country in order to spend time with loved ones. Any trainer will tell you that travel is a huge strain on the body. Sitting in a germ-filled tin can for five hours or more isn't ideal for the immune system either. Overall, it just is another thing for the body to deal with at a time when no one can afford to get sick.
For those lucky enough to have family close by, it is a pretty basic scenario. The program will remain constant other than Christmas day, and a few years I even managed to sneak in an afternoon twenty-lapper. New Year's is usually kept fairly mellow, and a lot of the riders all end up hanging out together since they are the only ones not partaking in an adult beverage or ten. I have been on both sides of the coin now, and while I will definitely have more fun on New Year's Eve than they will, I will surely be jealous come January 4.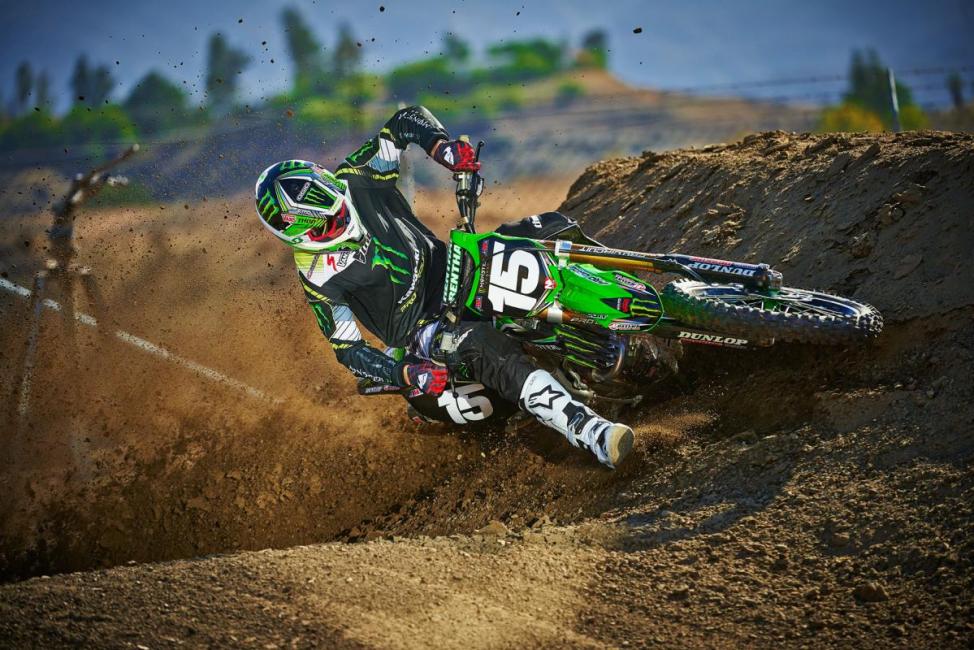 Dean Wilson may be headed out West as well.
Photo: Simon Cudby
Ping: When I graduated from high school and moved to California to race, I didn't realize that I wouldn't spend another Christmas with my family for over a decade. As a racer, the travel is an added stress that I didn't need. I was focused on the opener, and a weekend of stuffing my face with frosted sugar cookies and eggnog just wasn't in the cards. I think most riders enjoy the day off with family (if they are close) or friends (if they are living out of state) and then they get back to work. You end up with the perfect storm this time of year with cold and flu season picking up, massive amounts of stress and several months of hard training, which weaken the immune system. That can all add up to a pretty devastating cold the week before the season opener.
Typically this is the time of year when riders will transition into a maintenance program, which is slightly less strenuous than what they've been involved with for the past few months. A good trainer will focus on staying healthy, rested, and recovered as the season kicks off and goes on its first run of races. New Year's Eve? As a racer it's something you just don't get to celebrate in a traditional way. Well, not if you are planning on winning races, anyway. You can stay up late and party when you get older and quit racing. Or just get tired watching Arrested Development reruns on Netflix, fall asleep at 10:45, and wake up the next morning with some celebratory pancakes. That's how I roll.
WMX (CONT'D)
MX Sports Pro Racing and the AMA were able to put together a 2014 Women's Motocross (WMX) Championship schedule which takes the WMX out of the Lucas Oil AMA Pro Motocross Championships and put it with many of the biggest amateur events around the country. The eight-round series will take place in conjunction with premier amateur motocross events throughout the country, including the Ricky Carmichael Amateur Supercross in Daytona, the James Stewart Freestone Spring Classic in Texas, the California Classic at Glen Helen, Mammoth Mountain in California, the Baja Brawl in Michigan, Tennessee's Top Gun Showdown, the Kawasaki Race of Champions in New Jersey, and finally the Winter Olympics at Gatorback in Florida. A rider's six best finishes out of eight will count toward the final rankings. There will be more information as the series comes together in the next few weeks on the WMX Facebook page, which is right here.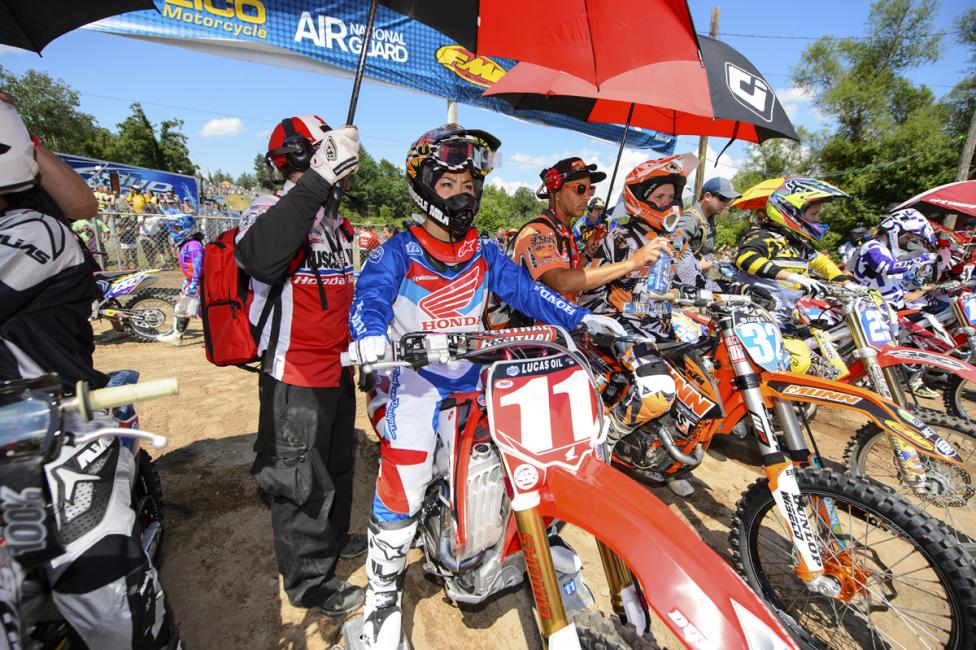 The WMX has a brand new format starting in 2014.
Photo: Simon Cudby
So why not Loretta Lynn's AMA Amateur National Motocross Championships? Because that event has a mandatory qualifying process of its own and requires participation in both the Area and Regional levels, plus the WMX girls will have time carved out at each of those other events so they don't have to be there longer than a couple of days. Loretta Lynn's is a weeklong championship for all classes, which would make it difficult to carve out time the last two days and insert a couple of WMX practices and motos.
STRANGE HEADLINE OF THE WEEK
NFL Players Worry about Violent Threats from Fantasy Football Players...
'Lost My Playoff Game By 4 Points, That's 4 Bullets For Each Of You Bitches'...
WATCH IT:
We pulled together a whole collection of interesting and diverse online motocross videos for The List this week, so make sure you check it out and maybe you will find something from yesteryear that you didn't even know existed, like footage of Jim Pomeroy's shocking win at the 1973 Spanish 250 Grand Prix!
Miss Supercross herself, Dianna Dahlgren, has a new 2014 calendar out, and this behind-the-scenes video popped up online to accompany the release.
And not to be outdone, here is a behind-the-scenes video shoot of the Rockstar Energy Racing girls.
RANDOM NOTES:
Alyssa Roenigk of ESPN.com wrote a brilliant piece on Kurt Casselli, which appeared on the front page of the site yesterday. Roenigk was embedded with the Red Bull KTM team that Caselli rode for, so she was able to explain the tragic accident in great detail. It's a tough piece to read, even if it is exceptionally well written.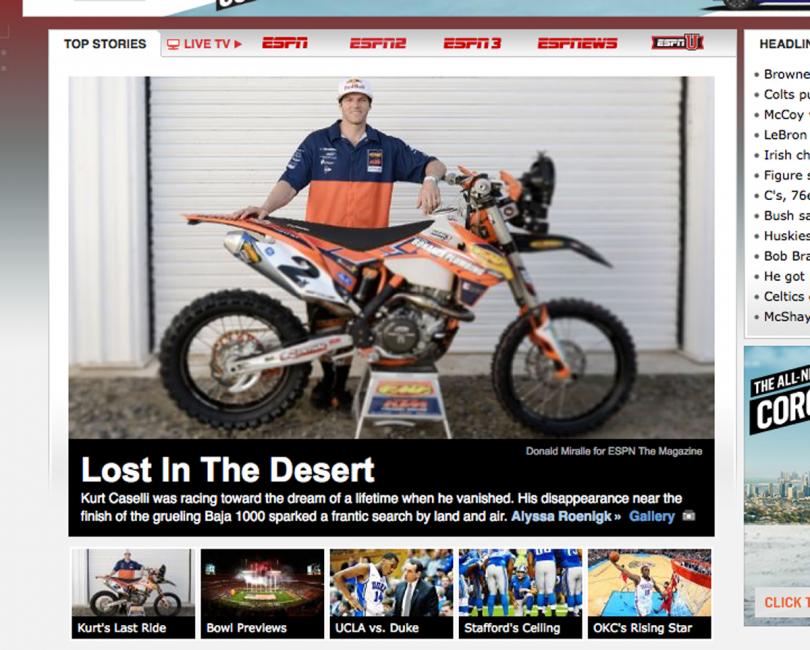 Finally, back at the MXoN in Germany in the press room I had a chat with Rob Kinsey, the moto artist who does a fantastic job of documenting the heroes of world motocross on canvas. I had been wanting to get something special for my longtime friend and at-large editor Eric Johnson, and together Rob and I decided on a painting of the one rider in history that EJ is most enamored with, yet has never actually met: Russia's Gennady Moiseev, the three-time 250cc World Champion from the seventies.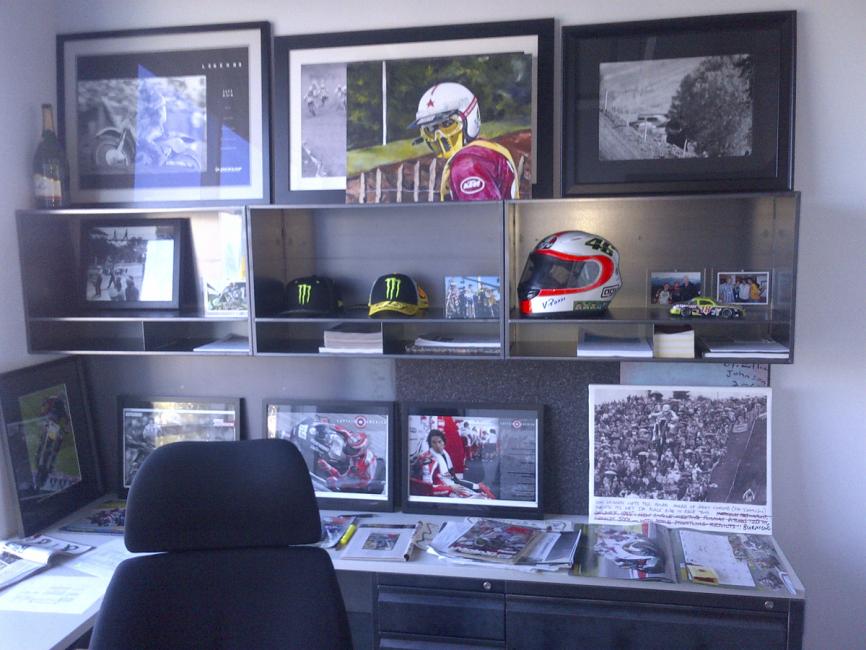 Check out the painting of Gennady Moiseev, with the red Soviet star, on top of EJ's desk
Six weeks later the painting arrived in the mail from England. Rob did a wonderful job on the piece, so I kept it here until it was Christmastime. I finally sent it last week and it arrived at EJ's house in California right when he had a few special guests over, including Stefan Everts and Johnny O'Mara. Needless to say, Rob's painting surprised and thrilled EJ, and it apparently led to an epic bench-racing session with the O'Show and the King of Motocross. Great job, Rob!
Now one last thing: Racer X Online is excited to introduce an all-new website. The new site is currently in the beta phase, but you are more than welcome to browse it at beta.racerxonline.com. If you have any suggestions or encounter problems, please email us: feedback@racerxonline.com with details of the issue, your web browser version information, and screenshots if applicable.
Thanks for reading Racerhead. Merry Christmas and Happy Holidays, and see you all at the races.