Young stars like Webb, Cianciarulo, Martin, Hill, among others, garner most of the attention, but Canada's Cole Thompson has been one of the more efficient young guns over the years. Since turning pro in 2012, Thompson has recorded eight top-tens in twelve 250SX East Region races and had some dazzling rides in Lucas Oil Pro Motocross aboard a 450 in 2012. After a brief stint with Star-Valli Yamaha outdoors in 2012, Thompson went back to a mostly privateer effort in 2013.
Following a career-high sixth overall in the 250SX East Region and some good rides outdoors in 2013, Thompson returned home to ride for factory KTM in the final five rounds of the Canadian Nationals. Thompson thrived on home soil and re-signed with the team for 2014—with an exception: He would be able to race Monster Energy Supercross. We caught up with Thompson as he's back in the U.S. preparing for the 250SX East Region by racing the MotoSport.com Arenacross Tour.
Racer X: This off-season you have been racing the MotoSport.com Arenacross Tour and been doing pretty well. Can you tell us about the series and how things are going?
Cole Thompson: Yeah, the series has been going good. We are four rounds in now, and we have been getting some good racing in. A lot more people are showing up, a lot more pros and stuff, so it's been good this year. I've been able to win three out four and I got third last weekend.
Your brother has a role in promoting the series as well, right?
Yeah, my brother [Justin] runs the whole series. This is his third season running it. He's been working hard to get it out there. It's tough right now with everyone being so conservative with their investments in racing right now. But it's getting bigger. MotoSport coming on was huge for him and the whole tour.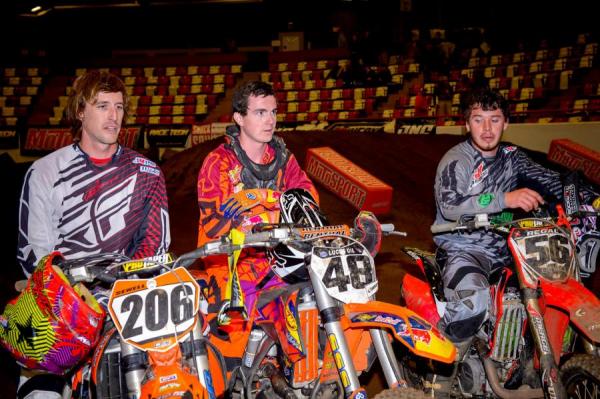 Cole Thompson (center, 48) currently leads the MotoSport.com Arenacross Tour.
MotoSport.com Arenacross Tour photo
And the races primarily take place in the South…
Yeah. Mostly Mississippi, and they also go to Tennessee and we have one round in Kentucky and one round in Texas this year.
For next season I've heard you are signed to race in Canada but will be doing the 250SX East Region as well. Can you elaborate on what your plans are for next year?
Right now I'm with KTM Canada. I got onboard with them last summer to do the last five rounds up there. We are putting a deal together for supercross, with KTMs, obviously, and then going up there to race the Canadian Nationals in the summer, as well as many AMA Nationals as I can. I'm really looking forward to supercross and having some good support with everybody from KTM.
This will be your first year not on a privateer effort for supercross. How much of a difference are you expecting this to make?
It's huge having the people behind me giving me the bikes and the parts I need. It's going to be a lot better. I think my bikes are going to be a million times better this year, which is huge for me. Obviously, in the 250 class in supercross, it comes down to having a really good bike that will get you to the next level. I think I'll be able to have that this year and I'm looking forward to going racing again.
In speaking with you, I know it was your goal to stay racing in the U.S. When you were setting up your contract was that one of the things you wanted in there: That you would be able to still race in the U.S. for supercross?
Yeah, I definitely want to be able to keep doing supercross every year. That's the one time of season I really like and have fun with. Outdoors is where the sport began, but I really like racing supercross. I feel like I'm able to adapt more to the technical side of supercross. It worked out good to go back home and race the Canadian Nationals and be in my home country again. It was fun last summer doing it.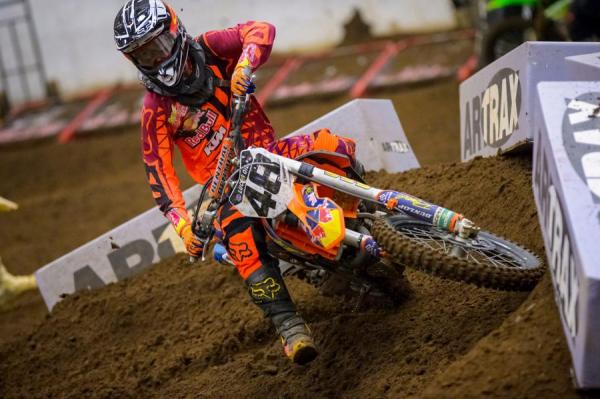 Thompson will contest the 250SX East Region before racing the Canadian Nationals this summer.
MotoSport.com Arenacross Tour photo
What did it mean for you to, not only go back home, but to go back home and win?
It was awesome. I was able to get two overalls. I had a few ups and downs. One of the races I was in a good position to go for the overall in the second moto and ended up in a pond. It was some crazy stuff, but overall it was great to pull off two wins and be back home racing with everyone I grew up with as a kid. It was just great to be back home finally.
There will be some stiff competition next season with Metcalfe, Facciotti and the Medaglia brothers. Is the goal a title next year?
The main goal is to go up there and really just try to put myself in a position to get the championship and do the best I can for KTM and everyone that puts some much support into the team.
In years past, you've stayed near Canada during the off-season. Will that be the plan this year as well?
Right now I'm staying in Mississippi because it's more central to the Arenacross Tour and my brother actually has a compound here. So I've been able to stay here and do a lot of riding. Probably for the summer I will be heading back up because I have three tracks at home and a facility and it will be easier to get to the races in Canada.