There's a soft spot in the hearts of every of motocross fan for the privateers, the riders and teams that don't get any support from one of the five major manufacturers. The notion of grabbing some tools, getting some bikes, and going up against the big-budgeted factory teams has been going on for as long as there has been organized motocross racing.… Actually, it goes back to David vs. Goliath!
It's always pretty cool when the underdog wins, even if it's just for a moto or a race. We thought it would be interesting to look back at some of the best and most unique privateer teams that have come and gone in our great sport. Remember, this List is for teams that came and saw but are now gone--today's pits feature several great efforts, too, and they'll get their coverage.

So here, in no particular order, are some of the more interesting privateer teams to ever hit the scene.
Team Tamm
One of the more successful teams (from the outside, anyway) in the eighties was the outfit run by auto-parts-store magnate Bob Tamm. The team mostly rode Hondas in its heyday and they looked sharp out on the track, with unique outfits and some of the top privateers around riding for them. And incredibly, Team Tamm won the 1984 Hangtown 250MX class with Michigan's Alan King. And even better, after three rounds King was leading the points!  Soon, though, things fell apart and the team disbanded, but riders like King, AJ Whiting, Jeff Hicks, Brian Myerscough, Tom Carson, AJ Whiting, and many others all at one time rode for Team Tamm. The team manager was Pro Action's George Quay, who's still in the industry today.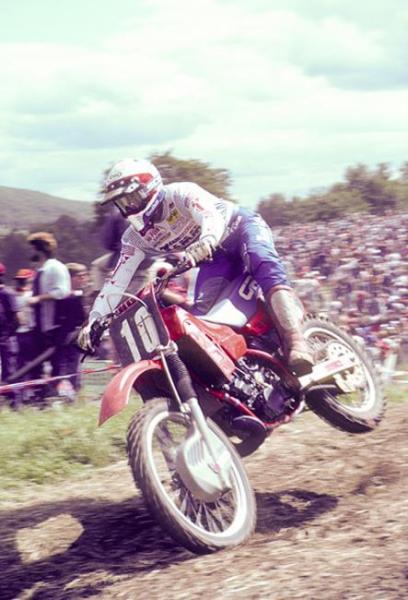 Team Tamm's Alan King was actually leading the 250 Nationals in 1984.
Fran Kuhn photo
Team Noleen
This high-desert-based SoCal team had some incredible rides in its time. The aftermarket suspension and motor shop owned by Clark Jones hit its high point in the 1994 250SX series when rider Larry Ward ended up second in the series behind Jeremy McGrath and in front of, oh, ALL THE REST OF THE FACTORY RIDERS! The team also saw Kyle Lewis consistently grab top privateer honors in the 250 MX Nationals, some Ultracross titles in there with Larry Brooks and, after Jones sold the shop, Tim Ferry took top privateer honors in the '99 250SX series. Remembered for bringing on Sizzler restaurants as a team sponsor, Team Noleen employed some very solid riders like Ward, Lewis, Ferry, Brooks, and Shaun Kalos. Clark Jones still stayed involved with the sport and is back today doing suspension for Mike Alessi among others.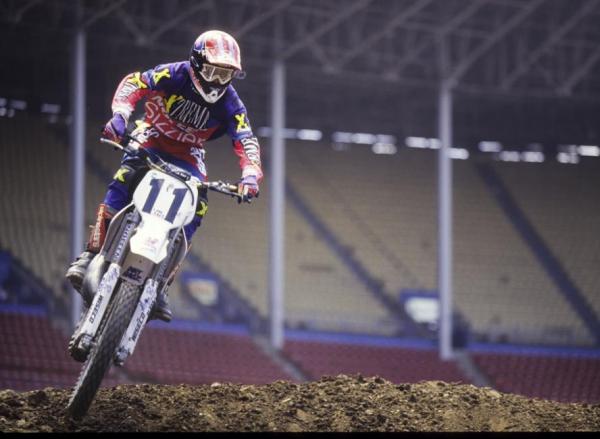 Larry Ward finished second in the 1994 Supercross Series behind Jeremy McGrath.
DC photo
Moto XXX
This team was founded by punk rock drummers Erik Sandin and Jordan Burns and snowboard film director Kurt Haller, and its mission was to upset the apple cart of the establishment. First-year riders Brian Swink and Brian Deegan were managed by Kenny Watson, and although this team went through a lot of different stages (and a new owner) in its time, the length of time this team had a presence in the pits without real factory support (later on its bikes came from Honda but not from the racing division) is something to be admired. Brian Deegan won a 125SX, Larry Ward won a 125MX national (Big Bird was the first-ever 250 four-stroke rider to win a 125 National) and riders like Lewis, Ferry (what is this, Team Noleen again?), Nick Wey, Damon Huffman, Kelly Smith, Mike Metzger and many others have thrown on the Moto XXX jersey at some time or another. Rock on, bro.
Great Western Bank
Ah yes, the late GWB team was one-and-done, gone after a single year. Or actually, three-quarters of a year and done. But oh what a three-quarters of a year it was! There was just something about this ragtag group of popular riders that captured everyone's imagination in 1996. Denny Stephenson, Phil Lawrence, Dave Castillo, and Buddy Antunez were all fast friends who realized they didn't have a ride for the upcoming season, and Antunez had a hot tip to secure a big-money deal from Great Western Bank (a huge branch of banks in Southern California). So the team was formed, all riding Kawasakis. Lawrence had a great season, as he finished fourth (and top privateer) in the '96 250SX series. And Antunez ended up top privateer with fourth in points during the '96 125 MX series. Those were the highs. The lows? The team did not receive ONE single check from Great Western Bank, but they did fly private to many races and had a great time week to week. The Pulpmx Show had three of the four members in-studio (and Lawrence on the phone) to do a reunion show where, predictably, everyone had a good time. Listen to it here (mp3 link).
Team TUF
A small Illinois Kawasaki/Suzuki dealership started a one-man team in 1986 with ex-factory rider Alan King (again?) and enjoyed some success over the years with its patented slap-some-weird-color-plastic-on-our-bikes-to get-noticed strategy. Dave Antolak ran the team and enjoyed varying degrees of success with King, Keith Bowen, Ronnie Tichenor, Mark Barnett (it's true, look it up), and others. TUF was up against the factory teams but often its riders were some of the best-placing privateers week in and week out.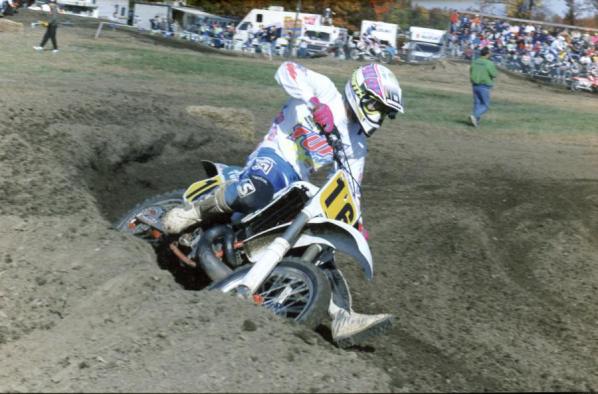 Keith Bowen is one of the many fast guys who rode for TUF Racing over the years.
Thom Veety photo
DGY Yamaha
Another Illinois dealership owned and operated by Jim Swan, DGY (so named because it was located in Downers Grove, a suburb outside of Chicago) ran Yamaha's 125 support team for many years. DGY riders included Doug Henry, Jimmy Button, Chad Pederson, and many others. DGY had some sneaky good results over the years before folding up after only a few years. Besides its foray into having its own team, DGY helped as a sponsor of several great riders. And they were Henry's sponsor when Doug scored his shocking privateer win at the muddy 1991 Hangtown National.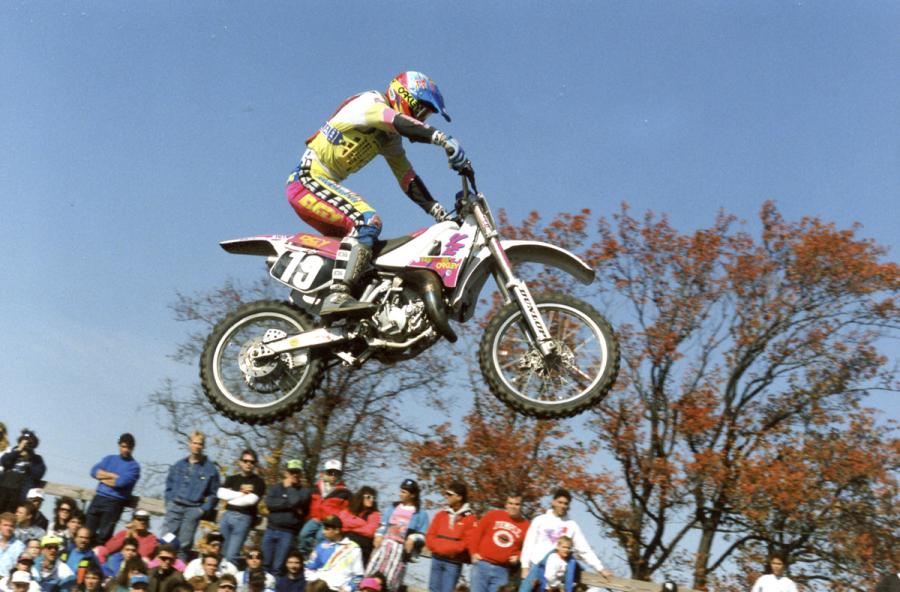 Doug Henry rode for DGY Yamaha in 1991 and actually won the Hangtown 125 National.
Thom Veety photo
Team Moto X Fox
Geoff and Bob Fox were no doubt ahead of their time. The Fox brothers, based out of Northern California, started making dirt bike parts and clothing in the mid-'70s to much success. One of the products that really took off was the Moto X Fox Shock, which was vastly superior to what the OEMs had on their bikes. Soon the baby of Bob Fox was used by everyone out there and the Fox brothers started a team using Bob's shocks and Geoff's clothing. They took the 1977 125 Nationals by storm. Wearing yellow-red-and-orange uniforms, the team consisting of Steve Wise, Mark Barnett, and Pat Richter (among others) finished fifth, sixth, and seventh in the 125 Nationals. Team Moto X Fox would eventually fold up its tent, but Bob took the suspension part of the business and was very successful, and Geoff took the clothing part, which became Fox Racing, and it would end up being pretty good also, don't you think?
Honda of Troy
Dubbed the Fifth Dragon for its abilities to challenge the four factory teams of the day, HoT was originally based from a Troy, Ohio, dealership. Erik Kehoe was actually one of the first riders, but through the years a ton of huge names came over and generated great results, including Larry Ward, Mike Brown, James Dobb, and Mike Kiedrowski. They were HoT! Yamaha eventually came calling with factory support, and Yamaha of Troy carried the flag for the blue team's 125 efforts, nailing championships with the likes of Ernesto Fonseca, Stephane Roncada, and, yes, Jason Lawrence (he makes The List again!). But it's hard not to think of the Fifth Dragon and sigh for the tragic life of Phil Alderton, the founder of the team, who was eventually consumed by alcohol and drug problems that cost him his life, way, way too early.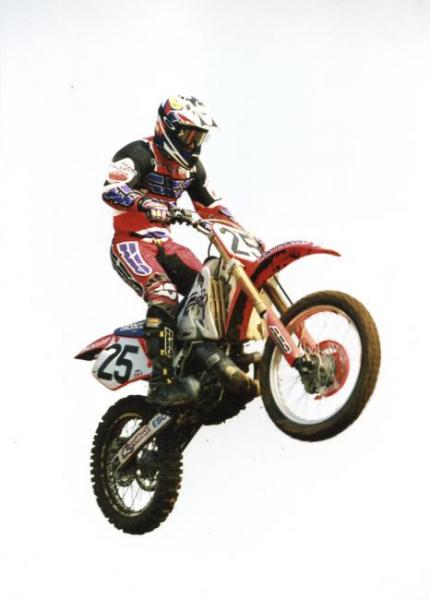 Michigan's Todd DeHoop was the first rider for the Fifth Dragon, better known as Honda of Troy.
Thom Vetey photo
Team LOP
And then there's the biggest privateer upset ever, the win by the late Marty Moates at the 1980 Carlsbad 500cc U.S. Grand Prix of Motocross. Moates, a journeyman who was riding on his home track that day, stomped the world's best factory riders—and not just the Americans but the Belgians, the Swedes, the Germans and more—in both motos. It was the one and only win for the Laurens Offner Products (LOP) effort, as well as it was the one and only major win for Moates.
Bonus! One From Today

MotoConcepts
Yeah, we said at the top we're focusing on old-school teams, but we're throwing some love to team MCR because they're a good reference today to what the teams listed above did in their day. Owned and run by Leisure Concepts (hot tub accessories) owner Mike Genova, this team started up in 2007 on Hondas and switched to Yamahas for a few years. Now it uses Suzuki 450s, and is a venue for Genova's MotoConcepts line of stands, mats, and accessories. Mike Alessi is the star rider these days, and he won a moto for the team two years ago at Washougal. Riders like Weston Peick, Ryan Sipes, Kyle Chisholm and others have all suited up for MCR. Genova has eschewed the factory system by having Alessi run whatever bike he wants to and referring to the machine as a MCR450. Still going strong in the pits today, Genova continues to support the sport and fight the factory teams all at the same time.
We can throw one more modern shoutout to teams like BTOSports.com KTM and Dodge/RCH Suzuki, which started as privateer efforts but now have direct factory support. Hmm, sounds like another List for the future!