Everyone makes mistakes. Top riders have missed the start because they forgot their mandatory hats-off device (Jake Canada), crashed on the parade lap (Jason Anderson), had their bikes catch on fire (Regis Harrington), hurt themselves tripping over their gear bag in their hotel room (Mike Craig), rolled a rental car (Jason Lawrence), jumped a starting gate (Jason Lawrence), gotten into fights with fans (Jason Lawrence).… Even the all-time King of Supercross, the legendary Jeremy McGrath, jumped on a plane to Rochester, Minnesota, on his way to the Spring Creek National at Millville, only to step out onto the runway in Rochester, New York (which was close to Broome-Tioga, at least!).
As ordinary riders, we've all done some pretty mindless things out on the track, allowing our minds to wander off at the wrong time. Personally, I didn't get to make too many mistakes racing pro because my career lasted about as long as this paragraph, but at other times I have crashed on the sighting lap at Loretta Lynn's (I wanted to see if I could roll the first Commandment from the inside and then triple, only to go upside down when my bike bogged because I forgot to turn the gas on) and pulled off on the white flag, too anxious to celebrate a Junior +25 moto win over my big brother at Pleasure Valley. I almost killed myself when I rode my XR75 through a fence I didn't see at Appalachia Lake Park, and then I really, truly almost got myself killed when I walked across the track just past the finish line at the '98 Los Angeles SX, talking into a TV headset and not realizing the sighting lap had started before the main event and here came the aforementioned McGrath, seemingly from the heavens.… But it would have been kind of cool if the last thing I ever heard was Art Eckman asking, "Davey, how does the track look down there?!"
I bring all of this up, of course, in context of what happened last Saturday night in Las Vegas at the Monster Energy Cup. Besides an exceptionally fun event in front of a nearly packed stadium with whips, fireworks, crashes, and more dazzling Monster Girls than Hugh Hefner's last birthday party, we saw the two most solid racers of this generation make truly eye-popping mistakes. First Ryan Dungey and then Ryan Villopoto missed the obligatory trip through the Joker Lane, costing them five spots minimum (Dungey) and at least $100K (Villopoto) and eternal memories of moto embarrassment.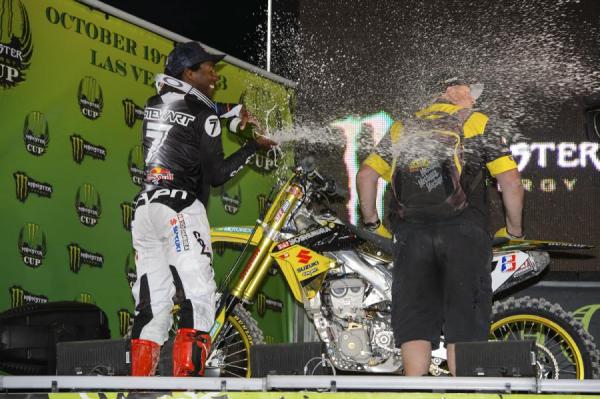 James Stewart will be looking for more celebrations like this come January.
Simon Cudby photo
In large part, those mistakes took some of the attention away from a resurgent ride by James Stewart, who looked like he somehow turned the clock back a few years and proved that while he may not be back to where he was in 2009, he's not exactly done either. James showed fight, form, and that huge smile in the winner's circle, which could mean trouble for the competition come January. There were also truly impressive and consistently strong motos by Ken Roczen, who I have no doubt will win races in 2014 on the 450 (and I am comfortable saying that about Eli Tomac, though he really, really needs to get some holeshot tips from his teammate Wil Hahn). And mistakes notwithstanding, Villopoto and Dungey both looked comfortable and fast. We also saw also strong introductory rides by Amateur All-Stars RJ Hampshire and Jordon Smith, and a strong Super Mini performance by Austin Forkner. Hell, even Ricky Carmichael's talking-to-the-crowd track-map ride was stellar! Hardly anyone noticed the announcement that the 2014 Lucas Oil Pro Motocross Championship will start on May 24 at yet another new place in Southern California called Glen Helen Raceway.... Okay, it's not new, but it was news—very good news.
Yet it's the mistakes we remember in a race like this, at least for now. Both RV and RD have always been tacticians, like quarterbacks out there, usually calling the shots to everyone else. For them to be the ones jumping offsides or committing fielding errors, it's just downright strange. But if one day we look back at the MEC and it's James Stewart's last win, the same way the U.S. Open was for Jeff Emig in 1999 or Damon Huffman in '98, that would change the memory, and I would be truly shocked. I'm guessing James still has some winning in him, and there's no doubt that both Ryans would prefer to have made such costly mistakes in October instead of January—let alone May.
So let's start Racerhead with more brain-fade memories from JT Money and Ping…
PRO PERSPECTIVE (Jason Thomas and David Pingree)
JT$: We have all done something regrettable in our racing lives. I have had a few actually but one that sticks out was in the fall of 2000.
I had just signed my Husqvarna contract, and my first race on it was going to be all the way down in New Zealand. It was going to be more of a fun race, and the guys who went were more or less taking it as a vacation. There wasn't much money up for grabs, but the tourism department paid for us to basically tour the island and also partake in some activities such as bungee jumping, jeep excursions, and deep-sea fishing.
As for the race, everything was going pretty smoothly and I was working out the bugs on the new Husky. For the final moto, they decided they wanted everyone to stop just past the finish line landing and do interviews. Well, I'm not sure who misunderstood what, but I do know that when I jumped the finish-line triple on the last lap, there were two riders sitting on their bikes right where I was headed. One was Kiwi legend Daryll King, and I'm pretty sure I landed right on his back. It looked like a motocross bomb exploded in some sort of demented finish-line celebration.
As I laid there trying to assess the damage to myself and also wondered what the heck had just happened, I started to worry about how bad I had also hurt those two guys. I saw them moving, so that was a good start, and after a few minutes everyone had gotten back to their feet. Both of the guys were pretty mad, but honestly I found it pretty dumb to plan a party on the landing of a jump. Maybe it was just me. Luckily, no one was seriously hurt, and I can look back on it and laugh—hopefully, they do too. We all have had our moments, I'm just glad mine didn't cost me 100 grand!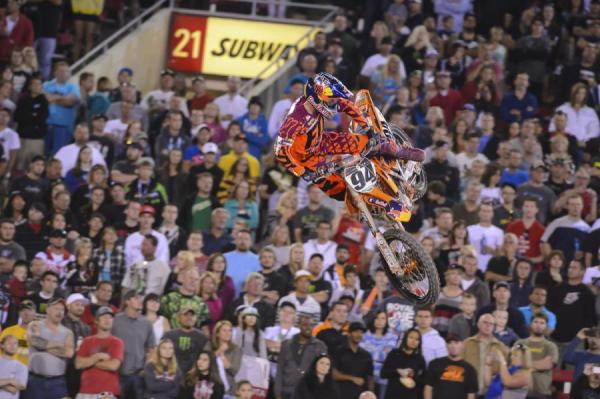 Ken Roczen will move up to the 450 Class full-time in 2014. After watching him at the MEC, he could be another contender for a championship.
Simon Cudby photo
Ping: I was riding for FMF Honda in 1998. That was the El Nino year where it rained like crazy all year out here. One day I went riding in the hills by my house with some friends. There was a small creek that had turned into a 50' wide river from all the rain and we were taking turns splashing through it. It started off simple with some wheelies through the shallow parts where you barely got your boots wet. Then it started ramping up, and before I knew it we were daring each other to cross in deeper and deeper sections until we were submarining through the river. About thirty minutes later all of our bikes were waterlogged and we had top push them all home.
I drove my bike to Torrence the next day to have my mechanic get it running again. Here's where I look like a real ass: My wrench, Dean Gibson, pulls the exhaust off and about 12 gallons of water come pouring out of the pipe and cylinder. That water show draws a crowd, including big Donnie Emler, and they were all wondering what the hell was going on. To make matters worse, I had a Pro Circuit silencer on the bike (with no logos) and Uncle Donnie pointed to it, looked at me, and just said, "Really?"
Not my finest hour.
TECHNOLOGY (Steve Matthes)
One of the interesting things at the MEC, besides Monster Energy Kawasaki's sweet new look, was Kawi's use of data acquisition from a device they had strapped onto the bikes of Ryan Villopoto and Jake Weimer. Of course we've been reporting on the rules that have been relaxed to allow the teams to use GPS, which allows them to map out the track and check engine-related things like RPMs and throttle position as well as air/fuel mixtures. This has been going on for a while now, but at the MEC, Kawasaki engineer Theo Lockwood bolted on a rear-shock stroke sensor as well as clutch-arm sensor.
"I come from a road race background, so this stuff is not new to me, and it's my personal goal to get it on the motocross bikes," Lockwood told me this week. "Motocross is tough because unlike road racing, the surface is always changing—bumps are coming and going and it's a learning process for all of us."
Of course, a few years ago Team L&M had wheel-speed sensors on James Stewart's Yamaha and there was a huge hubbub about it. (It didn't help that the announcers weren't educated about what they were.) As of now, those remain illegal, although with a motocross bike, speed sensors couldn't account for traction or lack of it by the bike, along with telemetry, which would allow on-the-fly-changes by a specialist on the side of the track. But in Lockwood's opinion, the telemetry would be pretty dicey because of the lack of rider-to-pit communication as well as the knowledge of the guy making the adjustments when he wasn't on the bike. For now, those are the things that aren't allowed, but the collection of data and track mapping is an example of where things are in the sport right now.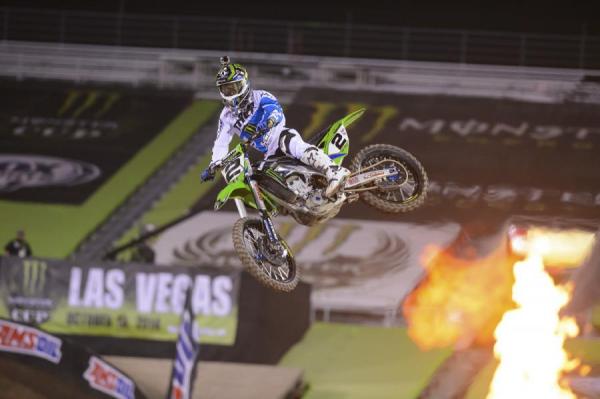 Ryan Villopoto and Kawasaki did a lot of testing at the MEC.
Simon Cudby photo
"Telemetry would be useful for the TV show," Lockwood offers. "Imagine if you could put on the screen what gear the rider is in, how fast he's going, and compare two riders at once on-screen to help educate the fans."
So what is the goal of all this stuff—besides the obvious of trying to help their riders win races?
"For us, we gather the info from the fastest guy out there [Villopoto], and no one has any info from anyone like that, so this is valuable to collect it and figure out how he can go so fast," Lockwood says. "And then we can help our guys that aren't as fast as Ryan by showing them what he's doing and also help Ryan with any weak areas he may have—although I'm not sure he has any!"
When asked if there was any interesting data collected by the team after the race, Lockwood mentioned that the sensors measured Villopoto going between 60 and 65 mph when they were exiting the stadium. Pretty fast!
I checked in with Villopoto this week via text and he mentioned that he was fine but pretty sore. And that's about all I got out of him, but it's a relief for him and Kawasaki that he wasn't hurt worse. That was a bad crash—check it out from Ryan's point of view.
And here's a little different look at the MEC through the lens of Simon Cudby.
BY THE NUMBERS (Chase Stallo)
Last year, Monster Energy Supercross aired a record twelve races live on Speed, with the other six races aired next day spread across CBS (450 SX) and Speed (250 SX). On August 17, Speed was replaced by Fox Sports 1, which will feature daily sports programming ranging from football to soccer to UFC and more. The good news for supercross fans is that Feld's rights agreement with Fox doesn't end until after 2014.
Also, according to SportsBusinessDaily.com, the twelve races that aired live on Speed drew an average Nielsen rating of .24 and 329,000 viewers. In contrast, the next-day races aired on CBS averaged a .6 Nielsen rating and 938,000 viewers. Many have expressed disappointment with CBS' supercross coverage, but if you look at the pure numbers, CBS is huge for the growth of the sport. To put it in perspective, next-day coverage on CBS was seen by 609,000 more people compared to live coverage on Speed, according to the report.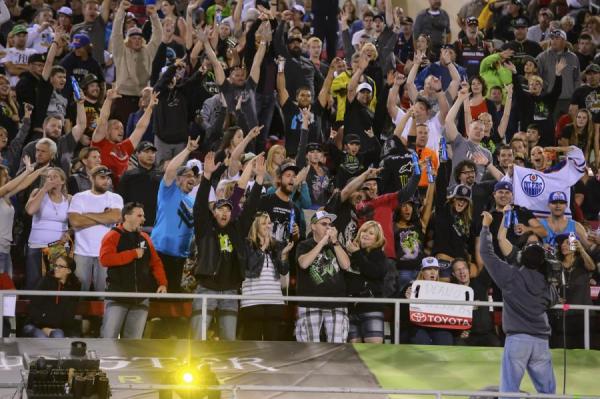 Attendance at Monster Energy Supercross events increased by 2 percent in 2013.
Simon Cudby photo
The report also cited growth at the gate, with the series seeing an increased attendance of 2 percent from 2012, with 848,485 spectators over the seventeen rounds; average attendance was 49,911, a record for the series. And that was in a down economy where other forms of motorsports were truly suffering; even ESPN has dialed the X Games way back. It also speaks volumes to what a good show the racers put on, and the way it's presented in the stadiums and on our televisions.
GATE EXPECTATIONS (Aaron Hansel)
The action at last weekend's Monster Energy Cup was so good that by the end of the night, few people were left thinking about the early gate malfunctions. But if you're still wondering just what happened, we've got the answer. Feld Motor Sports had a new, electronically controlled system made specifically for the MEC, and it was supposed to be fail-proof. In the week leading up to the race, the system was tested over and over, working perfectly every time. Still, they made sure a manual system was in place, on the off chance that trouble arose.
Well, arise it did. For the first race of the night—the gate drop that mattered most—the electronic solenoid (a magnetic coil) used to drop the gates failed, prompting an immediate red flag and a switch to the manual system, which appeared to also fail when only one gate dropped yet again. Turns out it wasn't an issue with the manual system itself, but a problem with the operator, who didn't know just how hard he had to twist the mechanism to release the gates. Feld put a different person in place, and the gate dropped properly for the rest of the night.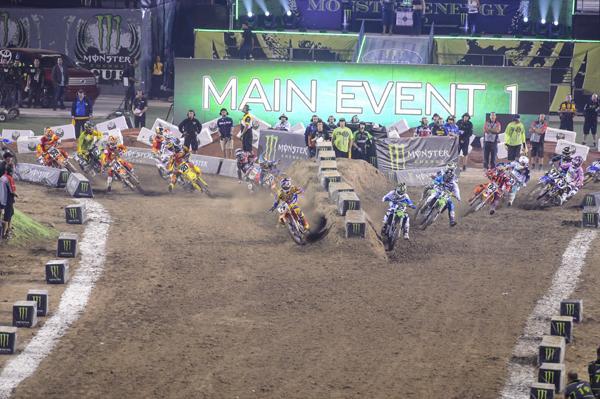 "To make a long story short, both malfunctions (2012 and 2013) were due to problems with 'high-tech' electronics." - Dave Prater
Simon Cudby photo
In a follow-up email, Feld Motor Sports' Dave Prater told us: "To make a long story short, both malfunctions (2012 and 2013) were due to problems with 'high-tech' electronics. We tested the new system hundreds of times in mid-September and then again on-site the week of the event. We also ran the electronic system during practice (dropping the gate for the last round of practice for all classes) and the LCQ before the start of the event. Each time it worked perfectly. When it failed in 2012 and 2013, we went to our mechanical backup and it worked flawlessly. In the future, we will have a primary mechanical system and a backup mechanical system, whether it's split or not. I will never use an electrical system on a gate ever again."
So that answers that!
GNCC GRAND FINALE (DC)
By the way, Racerhead is coming to you from Crawfordsville, Indiana, site of the last round of the 2013 Amsoil Grand National Cross Country Series, which has come down to a winner-take-all sprint between KTM teammates Kailub Russell and Charlie Mullins. The two have gone back and forth all season long, and the #1 plate will basically come down to the winner of this last round, or at least the one of the two who fares better here. It's actually cold, and it's been snowing on and off, though nothing was sticking. If you want to watch this drama all go down live, you can on Sunday afternoon when it streams live at www.racertv.com beginning at 1 p.m. ET.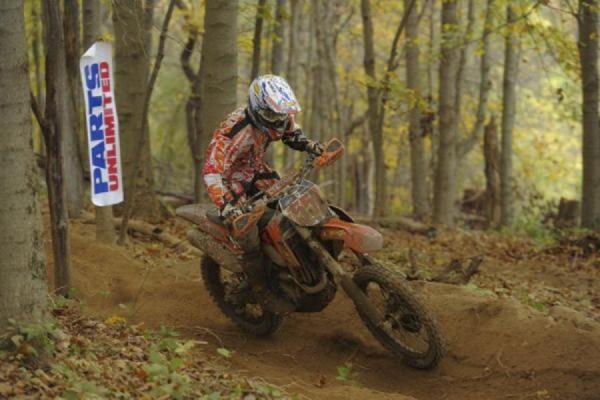 Kailub Russell holds a slim two point lead over Charlie Mullins heading into the final round.
Ken Hill / GNCCRacing.com photo
HEY, WATCH IT!
Our friend and frequent collaborator BJ Smith was asked to build the introduction video/career retrospective for Ricky Carmichael's induction into the AMA Motorcycle Museum Hall of Fame last Friday night.
And after you watch the RC video, please skip over to the tearjerker that was the late Danny Hamel's introduction, or the inspiring segment on Mark Blackwell, the former motocross champion who parlayed his success on the track and love of the sport into a Hall of Fame career in the motorcycling industry.
At the Monster Energy Cup, Georgia Linsday and the Racer X Films crew ambushed Zach Osborne with questions about his bushy eyebrows. She even suggested we let fans vote on what new eyebrow style Zach should go with, but when we asked him this week if he's going to follow through with that, he answered back, "Negative!!!" So enjoy the video, and even share your thoughts on what Zach's new style should be—just don't expect him to actually go for it!
Some Tyler Evans videos get even more entertaining as time passes. This is one of them:
Racer X Films: Kawboys
Racer X Films: What's Next for Barcia?
GoPro Video of RV's ME Cup crash
RANDOM NOTES
Want to help support a fellow motocross racer? Head over to the DFW's Got Talent Facebook Page and check out the video put up by Blake Wharton and the Rogue Locusts. Then help them win the competition by giving them your vote! Votes can be cast daily.
It looks like NASCAR is implementing Baseline testing for its drivers next year. That's the same testing we started doing last year in both Monster Energy Supercross and Lucas Oil Pro Motocross. We were definitely ahead of the (left-hand) curve here!
That's it for Racerhead. Thanks for stopping by, and see you at the races.