In a rough and tumble series that stretches from the beginning of March to the very last weekend of October. With 13 races each lasting three hours, it's rare that the Amsoil Grand National Cross Country Series Championship comes down to the wire like this. However, it's déjà vu for Kailub Russell, who was in the same position at last year's finale, locked into a winner-take-all battle for the number one plate. He lost it before he even had a chance to fight.
Last year Russell, in his second year in the premier XC1 pro class, took it down to the wire with New Zealand veteran Paul Whibley. Whibley used to be a horrible starter but miraculously has become the best, and he holeshot the final race while Russell was plowed into by another rider in turn one. Whibley set sail while Russell pinned it to the stops to catch up. He pinned it too hard, apparently, because arm pump set in, and by the time it was gone, so was Whibley and so was the title. Russell settled for arm pump surgery in the off-season.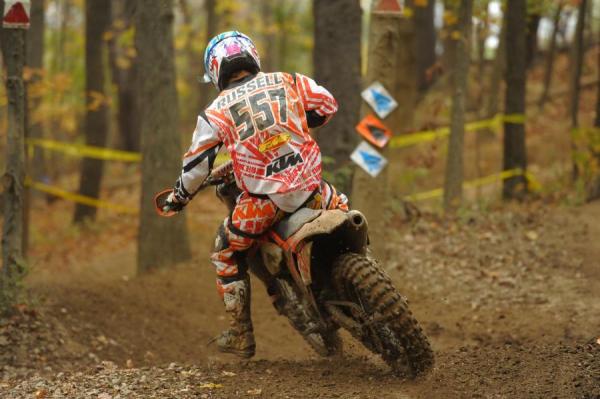 Russell is seeking his first XC1 title this weekend.
Ken Hill / GNCCRacing.com photo
Now Russell is dueling with his FMF KTM teammate Charlie Mullins, the 2011 GNCC Champ. These teammates have owned the series this year, winning all but one of the 12 races so far. Mullins lit it up early with three wins in the first four rounds, but Russell launched a mid-season surge with five-straight victories. Credit to Mullins for fighting back and winning the previous race two weeks ago in Ohio. Had Russell made it six in a row, he'd have a bit of a points cushion heading into this weekend's finale. Now Russell has a two-point lead heading into the Amsoil Ironman GNCC this weekend. There's a five point difference between a first and a second at a GNCC, and a four point difference between second and third. Translation: whoever finishes in front of the other wins the title.
There are many similarities between the teammates, beyond the fact that they're, well, teammates. Both Russell and Mullins hail from Ohio, but both now live in North Carolina, which is the Southern California or Florida of the GNCC set. Both are soft spoken, and they have managed to avoid friction despite pitting out of the same semi every week. Deeper, there are differences.
Russell is following the standard GNCC title trajectory. He won back-to-back XC2 Lites championships before moving to the XC2 pro class in 2011. He had a solid rookie year with a win and fourth in points, then rounded into a real title threat in his sophomore season last year. But often you have to learn to lose one before you can win one, and that's what '12 was for.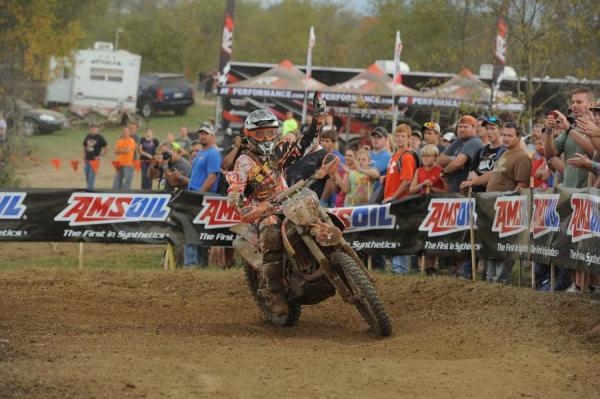 Mullins is going for his second title on Sunday.
Ken Hill / GNCCRacing.com photo
Mullins was once on a similar trajectory. He, too, was s star of the GNCC youth and amateur ranks, and entered the pro class with much hype. He delivered, too, winning races against world beaters like Juha Salminen and David Knight. But for season after season, the title never came together, and by 2010 he was off the full factory teams and putting together a ride with support from a Yamaha dealership. Heck, he even rode the previous-gen 2009 YZ450F during the entire 2010 season!
The industry looked ready to move on to the next set of stars, but KTM believed Mullins had yet to peak. They offered a ride for 2011 and he went to another level, doing a better job dealing with championship pressure and finally running off with the championship. Last year, his title defense was marred by a ridiculous run of bad luck. Now he's back on point, in his prime, and trying to prevent his younger teammate from reaching the top of the mountain. Two men enter, one man leaves happy.
What's interesting is, when Mullins first broke though he was known for relying on talent first. As years have gone on, he's become one of the fittest and most focused riders in the game. If Mullins isn't motoing down, he's on his mountain bike or in the gym, and this year he has already won the AMA National Enduro Championship, too. If Mullins takes the GNCC crown, he'll be the first rider ever to score the GNCC and Enduro titles in the same year. Russell, meanwhile, seems to run the opposite tact. He says his five-race win streak started because he stopped riding so much during the week. For him, less is more.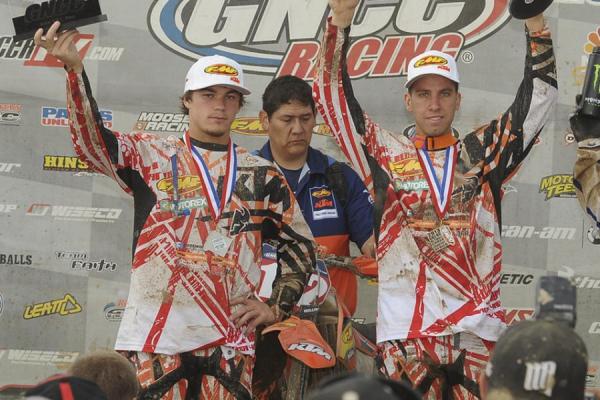 Russell (left) and Mullins are separated by two points headings into the finale.
Ken Hill / GNCCRacing.com photo
A few other things to note: First, the Ironman GNCC in Indiana is now back as the GNCC finale, a spot it served for a good 15 years. More recently, Loretta Lynn's hosted the final. Survey any rider and they'll tell you the Ironman is the best track in the series. It's the RedBud of GNCC, packing an absolutely massive crowd (they love them some motorsports around here) and a strange combination of land. Yes, Indiana is flat, yet there's a river that cuts through the property and creates massive, massive hill climbs. The dirt is awesome, also. So you get flat pits and parking, but rugged terrain, too. Again, think about RedBud sitting among flat land yet offering LaRocco's Leap without breaking a sweat.
Watch for some spoilers, too. Nytro Handguards/BRE KTM privateer Chris Bach has enjoyed a strong season and is third in series' points. Rocky Mountain ATV/MC's Josh Strang, once on the same lose-one-to-win-one title trajectory as Russell, has returned to the series this year on a Kawasaki. At some rounds, the Aussie (and 2010 GNCC Champ) has shown he can run with the KTM 'mates. If this is one of those weekends, he could put a wrench in the works. Shenandoah Honda's Thad DuVall is the one rider this year to take a win away from the KTM boys, and he's always fast. Whibley, last year's champ, is back from injury and will most probably nail the start.
But at some point, you've got to figure it will come down to KTM's dynamic duo, who oddly ride two different bikes (a 350 for Russell, a 450 for Mullins). Title pressure seems to bring that extra intensity others can't match—but the question is, who will push the hardest?