The Monster Energy Cup is a one-off race for the top riders, with the three-moto format and Joker Lane stuff we've covered pretty much to death over the last four days on this website. Hey, there hasn't been a supercross race since May, we're excited!
But at least there was a supercross in May for the pro riders. The class that is really stacked with talent and hype and pressure is the Amateur All-Star race. This is a true one off race, because it's not just the only time these riders compete 1). on a supercross-type track in front of 2). a big crowd 3). under the lights but it is also, by the way, the only time these riders race against each other at all.
The Stewart/Villopoto battle was great, but we've seen Stewart and Villopoto lock up a few times this season. The Ryans? Over and over. Tomac and Roczen? Of course.
Credit to the Feld folks for the Amateur All-Stars concept, which strips away the very basis (unfortunately) of amateur racing—building multiple classes so everyone has a chance to win a trophy—and jams them all into one race at one time with just one winner.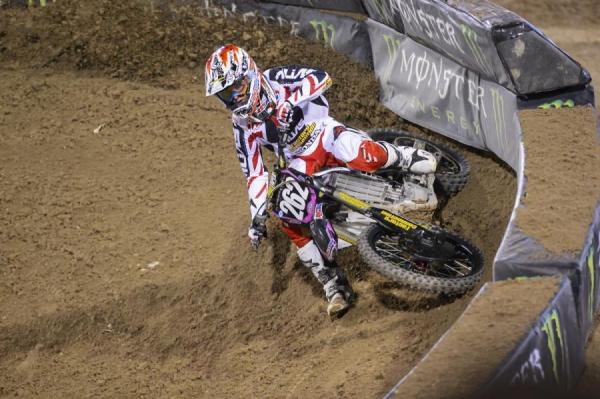 GEICO Honda's Jordon Smith and a very fast group of amateurs went head-to-head at the Monster Energy Cup.
Simon Cudby photo
This is the opposite of most amateur races around the country, from the local stuff to all the big ones. Just for an example, take the AMA Amateur National Championship at Loretta Lynn Ranch (re: Loretta's) which offers six classes between the A and B ranks: Open Pro Sport, 250 A, 250 B, 250 B Limited, 450 A, 450 B Limited, as well as the Schoolboy 1 and Schoolboy 2 classes. Even that grouping has been paired down a bit (there used to be a 250 Pro Sport class, too) but that's still eight classes for the really fast kids to race, which makes it really hard to figure out who is really fast. And the amateur teams and sponsors know this, so they will purposely put riders in certain classes to duck and cover from the fastest competition. (Note: everyone also does this at every other motocross race ever.)
Except for this Monster Energy Cup deal. There simply isn't time to put multiple classes in there. To give you an idea of the breadth of this race, check out the top ten overall from the weekend with the Loretta's classes they rode listed next to them:
1. RJ Hampshire (Open Pro Sport/250 A)
2. Zach Commans (250 B/Schoolboy 2)
3. Jordon Smith (250 B Limited/250 B)
4. Mark Worth (250 B Limited/250 B)
5. Jace Owen (450 A/250 A)
6. Darian Sanayei (250 B/250 B Limited)
7. Ryan Surratt (Schoolboy 1/Schoolboy 2)
8. Thomas Covington (Open Pro Sport/250 A)
9. Paul Coates (Open Pro Sport/250 A)
10. Keith Tucker (250 B Limited/250 B)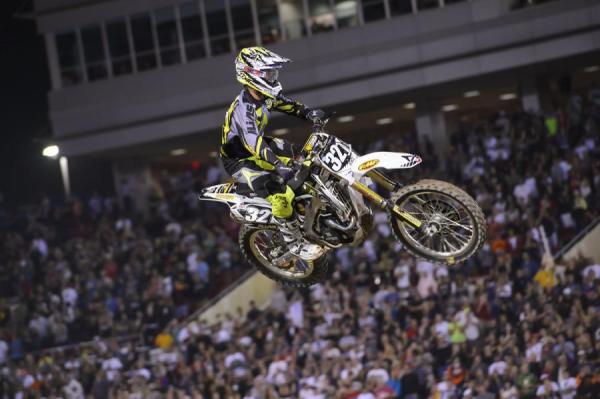 GEICO Honda's newest member, RJ Hampshire, would take home the overall.
Simon Cudby photo
That's four A riders, five B riders and one Schoolboy racer in the top ten. Now, don't go off on the fact that the B riders are as fast as the A riders because Loretta's was the last B race for any of those B kids, anyway. Now it's October, so they've all become A riders anyway, and the fastest A riders from August (like Matt Bisceglia and Shane McElrath) are now pros (McElrath raced the MEC last year). We're not trying to make a point about the best As and Bs going the same speed—this has been known and understood for decades. Conversely, we're making the point that it would be really interesting to put them all on one gate and see how it turns out. And that only happens once a year.
A race like Monster Energy Cup isn't going to make for the ultimate showdown on the am side, as multiple day events do a better job of reducing luck and determining the best all-around rider. But it's still pretty darned cool to know that this is the only race all year where every fast kid lines up for battle, together. You thought the Joker Lane was unique? There's nothing else quite like the Amateur All Stars, anywhere.