This is the third year of the Monster Energy Cup, and after a bunt single the first year and a solid double in the second, I'd say that the folks at Feld Motor Sports hit a homerun this year. To be fair, all the exciting stuff that happened this past Saturday night was not all due to Feld's tinkering, but if you're going to come down on them for things that they don't always have control over, you have to give them credit for things that are exciting but aren't necessarily part of their grand plan.
The Monster Energy Cup is not the eighteenth round supercross, and no one who runs the thing wants you to think that it is. So in an effort to distinguish itself from a normal supercross, different ideas like three ten-lap main events, no qualifying in the night show, Super-Mini and Amateur All-Stars races, a Best Whip contest and a single class for professional riders on 250s and 450s are in effect, as well as, it must be noted, something called The Joker Lane.
Introduced last year, the Joker Lane is a separate lane that adds five seconds or so to a rider's lap time, and each rider has to take it once in every main event. It's a clever idea and one that last year, on a track that didn't really separate anyone, gave Eli Tomac the final moto win when leader Justin Barcia had to dip into it while Tomac zoomed by. No setup, no thought, no balls-out to try and get by someone. Nope, make up time slowly on a guy and then ride on by when he takes the Joker Lane. Of course, this all hinges on whether or not you took the Joker Lane before the guy in front of you. If not, you're effed. Oh yeah, and you also have to be faster than the rider in front of you. Last year it was a cool, neat little trick. This year it had a, pardon the pun, MONSTER of an effect on the race.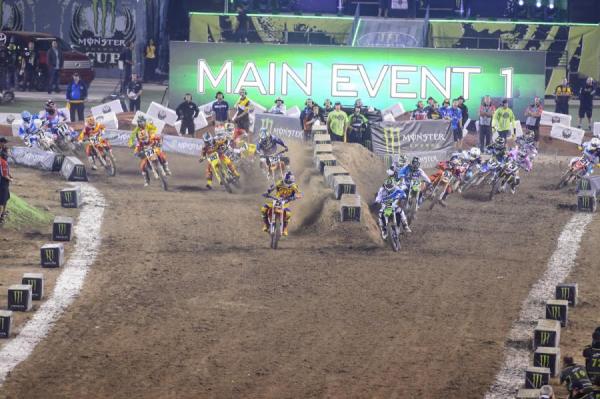 You thought this was an exciting way to begin the night, but the craziness has only just begun!
Cudby photo
We'll get to that in a little bit, but first, the track. Truthfully, it was a pretty simple design. The riders really had nothing out there to separate them (although a couple of riders found something), as there were no whoops, and the one rhythm section had different options but was really exactly the same speed either way. But remember, there were also two classes of amateur riders out there, and the track designers had to factor that in. It was a good track but not difficult at all for the riders. The track weaved outside the stadium, and most riders I spoke to indicated that was a spot where you had the ability to hold it on and make up some time.
If you're a listener to any of my different podcasts or a reader of this column then you know I've long been on the pulpit that supercross needs a change. We've done the same thing for too long now and haven't adapted to the different bikes and riders in the same way other sports a look at things and make changes. Name a mainstream stick and ball (or puck) sport or even a motorsport and you'll see them trying different formats, rules, point systems; you name it and organizing bodies have tried to change it. But we in supercross, despite having four-strokes pushed on us by an inept (at the time) AMA rulebook, have changed very little.
Main events are still twenty laps, it's still twenty-five points for a win, twenty-two for second (and so on), the top four in the heat go to the main (or top nine in recent years) and the 250s (125s) do fifteen laps. Heck the triples have been sixty-five-ish feet for the longest time while horsepower has gone up and up. We don't change! We just trot out the same old format week in and week out and most of the time we get the same results and factors that determine race winners or supercross champions.
With splintered organizations for years (that includes AMA Pro Racing and then the AMA, which have OEM support for mostly political reasons; Feld and its various incarnations and previous owners of the promotion group; the FIM, who Feld was forced to team up with when they thought the AMA was leaving; and anyone else I forgot) there wasn't one group or person who could really look at some coming changes with a full focus. Now there is light at the end of the tunnel. The different bodies in control (AMA, FIM, Feld) have, in the words of one high-level insider, "never gotten along better." Hopefully we can focus on moving this sport to a new level racing-wise, entertainment-wise and marketing-wise.
So with that, why not try a Joker Lane at some races? What about changing the points structure? A holeshot point? Fastest qualifier points? Laps led? Maybe a chase-style format where only the last six races count toward the title? What about giving all forty riders in the night show points so that those who don't make a main event can still point to an overall series finish for their potential sponsors? Try some different main event formats (like at the MEC) at some races so fans can see if there are any different results and/or riders who can shine a little more in one format versus the other. Maybe bring in more dirt and use more floor space used at some of these venues to switch up the tracks?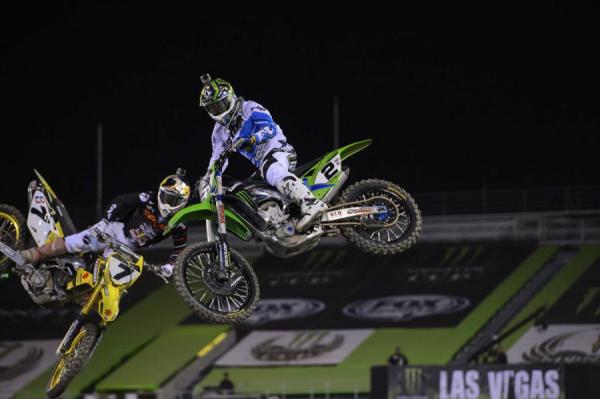 These dudes were scrubbing so hard, It's hard to believe they are actually going the same direction on the same track.
Cudby photo
I'm ALL about the MEC changes and I've been told that Feld is indeed trying to get some of these things implemented into the regular Monster Energy Supercross Championship. There's talk of changing things up because now everyone is more on the same page than ever before. And to that I say, Hallelujah! You don't need to take what we have now and trash it, just add to it. Here's the best part: if it doesn't work we can always go back to what we've been doing for forty years.
Simply put, the MEC was a fantastic race and one to remember. There isn't anyone (except maybe Matt Buyten) who left that stadium and won't remember what they saw for a long time. And the best part was Feld didn't have to really do anything to ensure this but put in that Joker Lane. That was all it took for chaos to ensue. In fact having not one, but two, starting gate malfunctions to start the night off (despite there being an LCQ and four practice starts during the day where the gate worked perfectly) was mostly forgotten about because of the great racing and the drama that followed.
When James Stewart finished eighth in main event number one, it seemed that his chances to win the MEC were shot. Even though it was a three-main format, I mean c'mon, there were riders like Ryan Dungey and Ryan Villopoto in the race. An eighth wasn't going to cut it! Stewart washed out early in the first main and in the shortened format, eighth was all he could do. Late in the first main event he passed Cooper Webb and moved one spot up and in the end, it was this late-race pass that just might have won Stewart the Monster Cup.
In the second race James came out with the holeshot and when Ryan Villopoto caught up to him a titanic battle ensued. This past year there wasn't anyone who had anything for Villopoto on most nights, but Stewart was very frisky on this night. I have to admit that I thought RV would get by and take the win. After all, he did win the first main event (by being the second rider to get the checkers--more on that later) and this just in, he's good. James even reached into his "Crazy-Balls" past by quading over a tabletop that no one had done all day in an effort to pull away from RV. But being the great rider he is, Villopoto matched the #7 the very next lap by doing the same thing. It was an amazing example of how good and fearless these guys are.
Stewart just wasn't having it and challenged Villopoto on this night. The highlight to me was an absolutely gorgeous pass on Villopoto going into the back section. There was no room to the inside of Villopoto but Stewart braked a bit early, cut in underneath and jumped to the inside of Villopoto in a pass that only a few riders in the world could ever do. And this came after he scrubbed himself into oblivion on the triple right before. He may not win with as much regularity as he used to, but make no mistake about it, Stewart's still got very, very special skills.
Stewart knew that he had to beat Kenny Roczen (among others) going into the third moto to get the overall and he made it happen by passing Roczen (not in the corner after the quad like pretty much all of us thought he would) and winning the third main event and the whole shooting match with 8-1-1 scores. It was an amazing ending to an amazing race. James Stewart isn't done just yet folks, he's still very much a force to be reckoned with.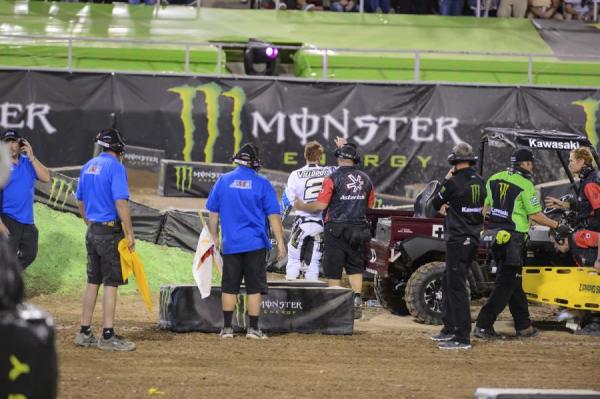 At least no one was going to make Joker Lane jokes at this point.
Cudby photo
Okay we've got to talk about the elephant in the room. Or perhaps the Joker in the room. I can't believe what I saw on Saturday night and I'm still having trouble wrapping my head around it. You HAD to take the Joker Lane one time each main event and in the first race it was Villopoto and Dungey first and second on the last lap and neither rider had taken it yet. So when they came out of the back and Villopoto dipped in, it was assumed that Dungey would follow. Only he didn't! He just rode by and took the checkers. And after Villopoto informed Dungey of the fact he didn't take it, the reaction of Dungey was hilarious and sad all at the same time. I'm not sure HOW you forget to do the only thing you have to remember to do in the race but it happens.
Wait, it gets better. So main event number two comes around and Stewart's leading on the last lap. He goes into the Joker Lane while Villopoto, THE RIDER WHO TOOK THE LANE THE MAIN BEFORE AND REMINDED THE RIDER WHO DIDN'T TAKE IT THAT HE NEEDED TO, forgot to follow Stewart into the Joker Lane. I have no clue how Villopoto forgot to take this thing but he did. And then five seconds after not taking it and shooting into the lead, Villopoto crashed on that quad really badly and knocked himself out. It was an amazing and unbelievable sequence of events and emotions. How could Dungey forget to take the Joker Lane, and an even better question is, how could Villopoto forget to take the Joker Lane in the very next race? My mind is blown. I asked numerous racers about how they could forget about taking it and the guys I talked to all said that they had no clue how someone could forget, but then mentioned that they're not as fast as Dungey and Villopoto. So Villopoto, for the second year in a row, crashed out of the Monster Cup in race two. I touched base with Ryan yesterday and he said he's fine but sore. He didn't tell me this but the Kawasaki guys mentioned that he didn't know it was the last lap as Stewart's bike was blocking the flag from RV's view. So there's that. As a former mechanic I have no doubt that Carlos (Dungey's wrench) and Mike (Villopoto's wrench) had "JOKER LANE" written as big as possible on their pit boards near the end of the race, but a lot of racers don't look at the board and this proves it.
All of the above drama and excitement is brought to you by the Joker Lane. Are you paying attention Feld? The added addition of the lane and the shortened main events made for a great night of racing. Let's just try it at a few races, please!
So as I said, Villopoto crashed out for the second year in a row and when some time passes I do intend to ask him if realizing he missed the Joker Lane contributed to his crash. The riders I spoke to all seemed to think it did, as did many of the different people I spoke to in the pits. After looking like he was out cold for a bit, it was certainly nice to see Villopoto get up and walk off under his own power.
One thing the crash did do was save Villopoto from the wrath of everyone in the stadium and on social media, because after making the same mistake that Dungey did, no one really felt like making eye-sight jokes about a dude who was laying on the ground knocked out. So there's that I suppose…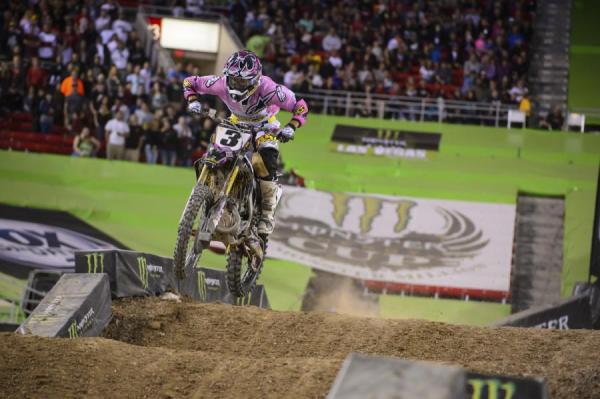 Tomac had a solid night in one of what should be 1000 close 450 battles with Roczen and Barcia.
Cudby photo
Dungey was docked five spots for missing the lane and like Stewart, he had to have been thinking he was out of the running. But this was a crazy race and he closed up right behind Stewart in that third main event to just barely lose the overall on the night! Incredible that he got that close to winning despite the penalty—this event was that wide open. Think about the MEC for Dungey and Villopoto. RV's crashed out of two in a row and Dungey debuted a KTM there two years ago with not much time on it, last year his shifter bent twice and he had to shift with his hand in the air and now this year he forgets to take the Joker Lane while in second. Not the best memories…
Somehow Kenny Roczen was leading the whole thing after two main events with a 4-4 score. That was how wacky this night was. I was interested in watching Roczen, Eli Tomac and Justin Barcia battle it out for the title of "The Next One Once RV Retires" crown. Tomac was solid and steady, Barcia was fast but self-destructed in the third main and Roczen ended up third overall. So strike this one for the German but it's just the first of hundreds of battles for these three in the next ten years.
After the race I went up to Pro Circuit's Mitch Payton and asked him if he was happy about Dean Wilson's Monster Cup and really, it was my own fault to not recognize that Wilson was indeed pretty good at the MEC. It's just that I saw him go down in the first main and never really noticed him from there on out. But Wilson took that first poopy moto and turned it into chicken salad with 5-6 finishes. And this was after he qualified seventh fastest going into the night. So take away that one bad moto (when the track was ice from over-watering and Dean-O lost his front end) and Wilson was pretty good on the 450.
Of course we know that Wilson's going back to the 250 Class for 2014 in the hopes that after two injury-plagued years he can rebuild himself back into being one of the next "ones," which is where his rivals like Barcia, Tomac and Roczen are right now. Remember, it wasn't that long ago that Dean was racing with, and beating, those three guys and look where they are now. If he's healthy, I'm high on Wilson and his talent. He's working very closely with Ryan Hughes on a training program and he'll get there, it's just going to take a little longer than he, and many others, thought it would.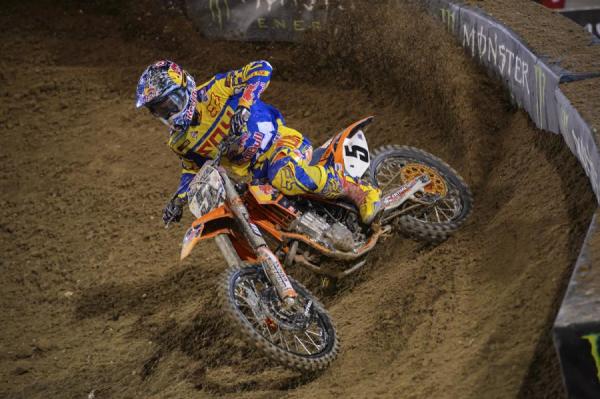 Dungey has certainly been through some strange stuff at this event.
Cudby photo
Cole Seely was good at the MEC on the Honda 450. Seely's another guy that's been there and done that in the 250 class and it's probably time to move up after this year. I always say that these guys should stay down as long as they can, make good money and be a contender for the win, but there's a fine line where it's just not working anymore and it's time to try something else. Seely's got great supercross skills and is a very technical rider. The MEC track and format is a place where Seely can really shine and I'd say he did just that with a quiet but solid ride.
A few other news and notes from the race:
- The Amateur All-Star race featured Cooper Webb and Adam Cianciarulo last year and well we all saw how well those guys did this year, right? The 2013 version of this race saw Florida kid RJ Hampshire take home the overall with 1-3 scores. Hampshire is working with The Tim Ferry and I met RJ this past spring when I went out to Ferry's house. He's a good kid, works hard and has great style. He also is aggressive (ask Jace Owen about that) and used that, ahem, skill to win the race. Afterward it was announced that GEICO had selected Hampshire to ride for their amateur effort, teaming up with the next GEICO rider Jordon Smith, who he beat at this race. But kudos to Smith for probably having the runner up crash of the night in his first moto and then coming back to win moto two.
- Speaking of Webb, it was surprising to see him forced into the LCQ to get into the twenty-two-man field. I'm not sure what happened to him out there but he didn't make the 18-fastest lap time cut. But once in through the LCQ, he rode well, way inside the top 18! The LCQ was stacked with Kyle Chisholm (his first supercross since February) Nick Wey (his first supercross since May 2012) and Jimmy Albertson (racing for his new team and also he got hurt in supercross in March so he was rusty also) and some good riders (like Jimmy Decotis, Jessy Nelson and Austin Politelli) missed out on making the night show. Tough deal!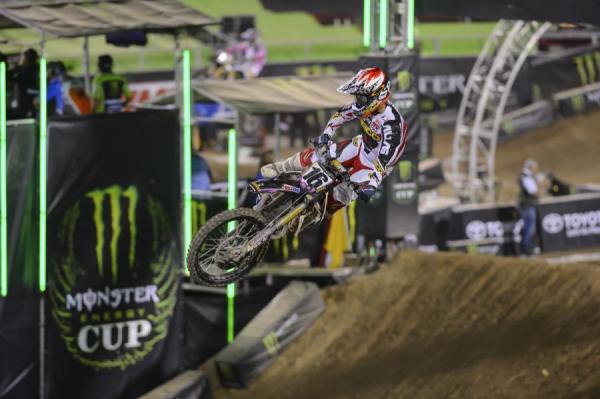 Better luck next time, Zachypoo.
Cudby photo
- The production rules are relaxed at the MEC and we saw that with teams busting out some different stuff. I know that Monster Kawasaki had all the data acquisition equipment hooked up to Villopoto's bike and also Showa debuted a new works shock that has the compression and rebound stacks all in the body of the shock up top in what they're calling a "balance-free rear" (BFR) shock. Just another step up in technology for our sport, and it should be interesting to see how it works.
- Kawasaki also debuted a new look at the MEC that was, in my opinion, vastly better than their old 2013 look. A reach back in time to when Kawasakis were green and blue was a nice touch. They've partnered with a new graphic company, D'Cor, and in talking to Danny Dobey, the owner, he seemed to think that Kawasaki might veto the MEC look for a white rear fender and all that to make the bikes look like the production units. I understand, but I'm begging Bassmaster, Reid, Dan and whoever else at Kawasaki can make this decision: let the MEC look stand!
- Zach Osborne debuted a 450 and a new number but didn't have a very good race, having a few problems in the main events. Hey Zach, look at the bright side: next year's race will be better!
Thanks for reading and email me at matthes@racerxonline.com if you want to chat about this race or anything else. Maybe we can swap Tim Ferry stories