,
Race Center: Monster Energy Cup
Monster Energy AMA Supercross Championship
Wow. That's about all we can say about the 2013 Monster Energy Cup that took place Saturday night in Las Vegas, Nevada. When introduced a few years back this race was purported to be many things but one thing it was not supposed to be was a regular old supercross. Rest assured, it's very much not one. Last night had a bit of everything.
The overall winner was Yoshimura Suzuki's James Stewart who admitted after the race that he didn't think he had a shot after going down early in the first of three main events and finishing in 8th place. After that, Stewart holeshot the second race and had a titanic battle with Monster Energy Kawasaki's Ryan Villopoto for the lead (hopefully we'll see more of that kind of action in 2014) that ended with:
1). Villopoto forgetting to take the Joker Lane on the last lap and sailing into the lead.

2). Villopoto then crashing hard on a triple over a tabletop and getting helped off by the medics. That would be it for Villopoto on the night, the second year in a row he crashed out after winning race one.
3). Stewart took the win in the second main, giving him a shot at the overall since Villopoto was out. He trailed only Red Bull KTM's Kenny Roczen for the overall, and whichever rider won the final main would grab the overall win. Roczen holeshot the final race, but Stewart made a nice pass on the #94 and took off for the overall (and the 100K first place prize) with 8-1-1 scores. 8-1-1!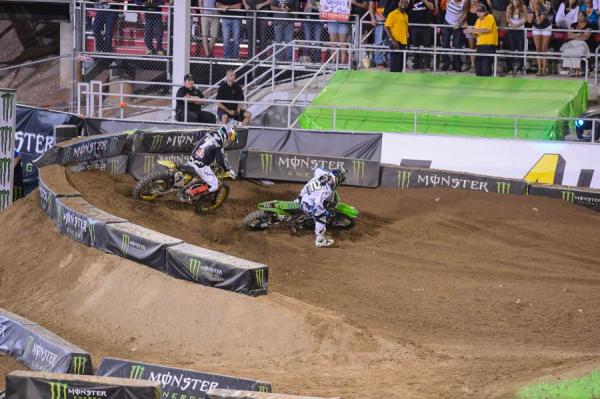 Villopoto and Stewart put on a tremendous battle in the second race.
Simon Cudby photo
Ryan Dungey was also in the hunt for the overall victory, incredibly, despite missing the required trip through the Joker Lane in race one and taking a five-position penalty. Villopoto led every lap of that first main until taking the Joker Lane on the final go around, while Dungey skipped it and made the pass. Dungey thought he won the race until Villopoto rode up to him and mentioned that he didn't take the Joker Lane. Dungey's reaction (slamming his helmeted head into his hands) won't soon be forgotten. Despite the five-spot penalty (giving him a sixth) Dungey was still in the hunt after a third in race two, since Stewart was carrying that eighth. That was all amazing enough, but then seeing Villopoto forget to take the Joker Lane the very next main after getting the win when Dungey forgot to take it was absolutely surreal!
Why the heck did Villopoto not take the Joker Lane? We contacted a source within his camp today, and he explained that Villopoto had not seen the white flag and didn't realize it was the last lap.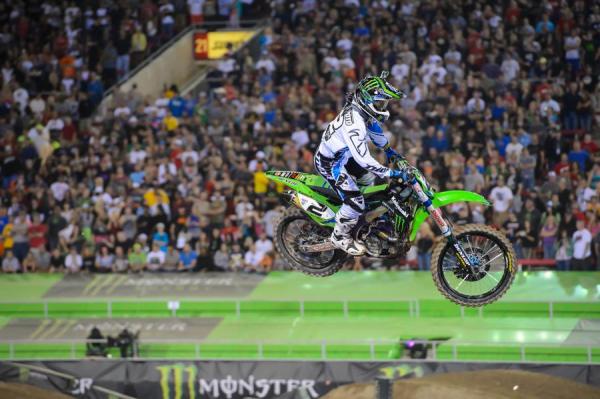 Villopoto didn't realize it was the last lap in the second race, and skipped the Joker Lane.
Cudby photo
As we said, at one point in the third main event it was Kenny Roczen leading that race and the overall with 4-4 scores going in. Roczen pulled a clutch holeshot in the third main but Stewart made a slick move and got by. On a track that was tough to pass on, Stew found the right angles and openings to make things happen. Roczen kept Stewart in sight, but waited on the Joker Lane until the end, which hurt him. A fast closing Dungey and Eli Tomac snuck by, pushing Kenny from 2nd to 4th just like that. Still his 4-4-4 scores were good enough for third overall.
In the final main, Dungey was on it and almost squeezed by Stewart when James ducked off for the Joker Lane late in the race. It was a nice comeback by Dungey, who had to have been crushed to have forgotten to take the Joker in the first one. Give him a second in that race and the overall would have been his.
Defending MEC champion Honda Muscle Milk's Justin Barcia was dealing with bad starts and other issues throughout the night, but found himself tied for second overall going into the last main. Remember, everyone had issues at some point! A great ride in the final main could have landed Barcia a second-straight MEC win, but couple of crashes and an inability to start his bike after the final one ruined his chances. His 7-2-18 scores dropped him to 8th overall.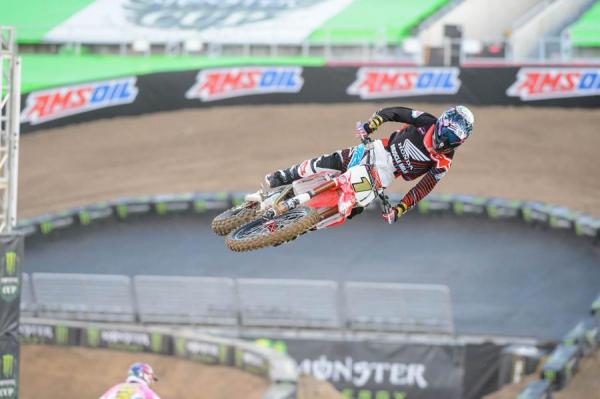 Barcia didn't defend his number-one plate, but was actually in contention heading into the final moto.
Cudby photo
GEICO's Zach Osborne debuted his new number and jumped up a 450 for the MEC but it was not a good night for "Zacho" as he DNF'd some races and crashed back in some others. He didn't get last in any of the motos so there's that…but it didn't go much better either.
Osborne's teammate Eli Tomac didn't win a main like last year, but he quietly had a really good night, and got better as the night went on. Afterwards, he credited a bike change he made (lowering the rear end) which made the bike work much better. He admitted he should've done it earlier.
All the qualifying for the 22-man field was set before the night show and it was a stacked field at that. The fastest 18 riders from timed qualifying headed to the mains, followed by a five-lap LCQ that seeded the top four into the main. MyPlash Yamaha rookie Cooper Webb took the win there with veterans Jimmy Albertson, Kyle Chisholm and Nick Wey getting the last three spots. Riders like Jimmy Decotis and Jessy Nelson, among others, did not make it. On the other end, N-Fab backed Honda rider Chris Blose had to be happy with his qualifying, making it into the top 18 and then logging 22-17-17 scores on the night. The privateer made himself some cash.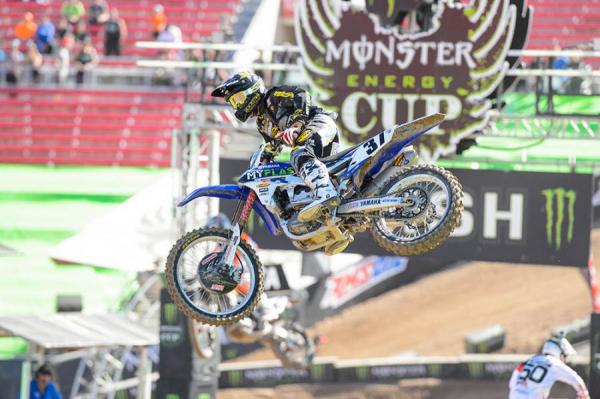 Last year's Amateur All-Star Winner, Cooper Webb, won the LCQ on a 450 to make the pro field.
Cudby photo
RJ Hampshire won the amateur all-star race after some nice battles with Jordon Smith. Hampshire led most of race one, but Smith made a late race charge, which ended in a wild swap, save, endo and crash. Hampshire took the victory while Smith took ninth. That cost Smith, who came back to win the second moto, while Hampshire rode smart to take a third and lock in the overall with a 1-3. Darian Sanayei split them in the final race with a second, but was sixth overall with 11-2 scores. A consistent Zach Commans was second overall with 5-4 scores.
In the Supermini race it was Kawasaki's Austin Forkner who swept the field for the second year in a row!
Last year that the split-start gate had an issue and didn't drop for one of the mains, and then forced the promoters to go to a manual gate drop. Major changes were made to fix the system for 2013, but we then saw not one but two gate drop malfunctions this time. There was full moon and when you combine "starting gate-gate" issues and Dungey and Villopoto missing the Joker Lane, well, it was that kind of night.