Hello, everyone, and welcome to the Rev Up. Life moves pretty fast. If you don't stop and take a look around every once in a while, you could miss it. Of course, that is a quote from Ferris Bueller's Day Off and, yes, I've used it several times in past columns but sometimes it hits home like a ton of bricks. Personally speaking, I was in Pala, California helping conduct the 2014 450 Shootout just five days ago, and as I write these words I am in Orlando, Florida preparing to make a visit to the big AIMExpo trade show going on here. No big deal for this guy, as I have always been a slave to constant stimulation. "Bring me more, and bring it fast," is my mantra. Such is the case with this weekend's 3rd Annual Monster Energy Cup in fabulous Las Vegas.
There is more on and off-track action crammed into a Saturday than the average fan can absorb. It seems to me that every single aspect of motocross has been compressed into the dynamic schedule, which only flexes the image of the "lifestyle in a can." No points, no championship lore, just a damn lot of money. The groundwork was laid for this race back in 1998 with the U.S. Open of Supercross inside the MGM Grand, and I can still remember the shock and awe of the $100,000 grand prize.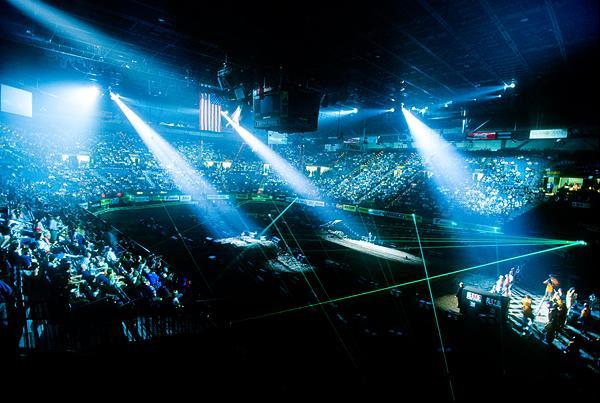 The U.S. Open of Supercross inside the MGM Grand.
Simon Cudby photo
I always liked attending the USSX, mainly because it was the late 90's and we partied our balls off and wore awesome shiny silver shirts, but the idea of a decadent off-season race works. There actually is room in professional motocross for the Monster Energy Cup. The boys basically transition to supercross the weekend after the Nationals subside and these types of outlaw races have been around since the inception of our sport. But, this monster has million dollar claws. That's a pack of gum and $999,999, son. (slapping palm with backside of opposite hand)
Who would have thought that Ryan Villopoto (Monster Energy's premiere motocross athlete) would have taken all those pictures with the glass case of cheddar then deftly rode away with it in his hip pocket? Well, it happened, it was looking to happen two times in a row, and it can damn sure happen this time. RV remains the furious annihilator and unless one of the new guys show up with some unearthly focus and aggression, he will become the sport's first Two Million Dollar Man. I'm taking a risk speaking about this like it is fact, but that is just how I see it going down. I think the best racing will be in the Amateur All-Stars and Supermini classes, and there is going to be a pad load of fun going on with the Dirt Shark Jump Contest. I don't really get the whole Dirt Shark thing, but that trophy is bad ass and those guys look like they're having a lot of fun which is a blast of fresh energy in the wake of the Carmichael era. I suppose there isn't much to "get" as the D/S crew seems to roll out big parties, painfully hot women, and whip contests. Not a bad business plan. This particular jump contest will be the first time Oklahoma boy Brett Cue gets to show some drain plug action on such a scale and I think his whips are perhaps the best. He's a great guy and I'll be pulling for him to yank some huge ones.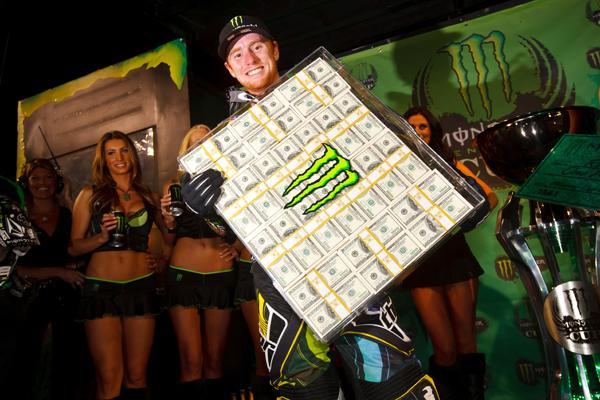 Villopoto's looking to bring home the bacon, again.
Simon Cudby photo
We're all pretty A.D.D. as motocross fans and we don't handle downtime very well. When you look at the calendar it hasn't been that long since Lake Elsinore, it's only been a couple weeks since the MXoN and now, boom! Here is MEC3. You cranky fans have a Saturday night of live television headed your way that should feed the greed deliciously. Time to see the big show folks! This is arguably the biggest race of the year; outlaw style, monster style, whatever style you claim, it has something for everyone.
Thanks for reading, see you next week.