That hum you hear in the distance is coming from practice tracks and riding facilities all over the country. The 2013 season is in the midst of turning into the 2014 season, and the pro tracks are at full throttle as everyone gets ready for next weekend's Monster Energy Cup in Las Vegas, as well as the off-season international races that take place in Europe: Paris, Geneva, Genoa, the German SX Series, and more. Teams are taking final shape, and there's lots of chair-swapping going on in the industry as well. I've been trying to keep up with the carousel of news and PRs about changes of employment (and kept an eye on the Vital MX forum) to see who's gone where.
For instance, Dave Gowland was the manager of the Rockstar Energy Racing team, which saw three different riders—Davi Millsaps, Blake Wharton, and Jason Anderson—win SX main events. Now he's the new vice president of business development for One Industries, which sponsored the Rockstar team, while the team itself has switched from Suzukis to KTMs. And speaking of KTM, they've apparently hired Ryan Morais as the new team coordinator at Red Bull KTM, taking over for Casey Lytle, who is said to be moving over to the R&D department. Morais was the manager of MyPlash/Star Racing Yamaha, and that opening is apparently going to be filled by two-time 125cc National Motocross Champion Steve Lamson. Lammy had been working with Tedder Racing the past two years....
And by now you've probably seen the biggest news of the week: the joining of forces between Red Bull KTM's Ken Roczen and training guru Aldon Baker. Roczen is the West Region 250 SX champ; Baker is the man who helped shape championship drives for Ricky Carmichael, Ryan Villopoto, Blake Baggett, and more. Kenny's decision to commit to Baker's notoriously tough training regimen might just be the last piece of the puzzle for a major title here in the U.S. The Red Bull KTM rider certainly has the speed, but the last two years he's struggled late in the long U.S. season—especially outdoors. Now that he's moving up to a 450 full-time, the news that he will be working with Baker is certainly interesting—not only for his fans but for his competitors.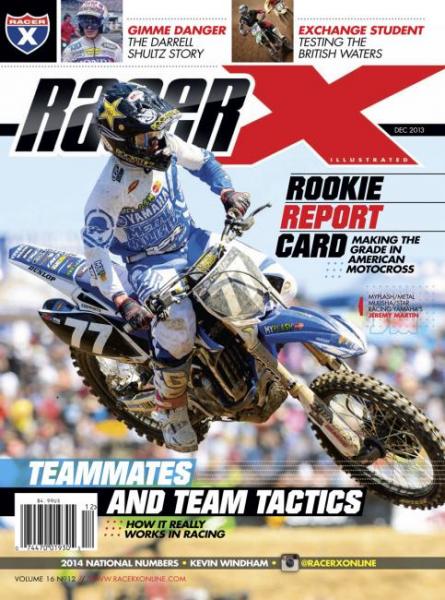 Jeremy Martin graces the cover of the December issue of Racer X Illustrated. It is Martin's first Racer X cover.
Cover photo by Simon Cudby
But in this post-Lance Armstrong world, it's the nature of sporting performance in general that brings skeptics and doubters who feel that any obvious improvement in one's endurance or strength is the result of performance enhancing drugs. When someone went online today with a similar accusation about Baker and his success with athletes (as well as his background in cycling), it was one of his current athletes—young Adam Cianciarulo—who took to Instagram to defend the friend and trainer:
@adamcianciarulo People like this never cease to amaze me. I've been around Aldon for two years and the only Performance enhancement me or any of his riders get is called hard work and dedication.
Personally, I've known Aldon for fifteen years, and I'm with AC here. I've seen Aldon literally turn Carmichael from a chubby teenager into the best motocross rider who ever lived, and certainly the strongest. He did it through work, diet, riding, proper rest, more work, more diet, more riding.... Same goes for Villopoto, who basically bet anyone $100K to take a test to prove he wasn't cheating. Sometimes people forget that guys like RC and RV are not only committed to their training, but also wildly talented and able to go faster than anyone else at any given moment. Such pure talent has little to do with their endurance or strength and everything to do with confidence, skill, and commitment. I have a feeling Baker could soon be doing the same with K-Roc, and that spells trouble for everyone in the future.
Baker's program is in demand, and he gets to more or less choose who to work with at any given time. He's worked with riders who haven't panned out as well, or who didn't stay with him for long—he's not cheap by any means, and there's no letting up once you commit to his training program, which is relentless. (I tried to spend a day with him and Carmichael once in the early '00s, and I failed miserably.) Sometimes these pairings work out, sometimes they don't—that's the nature of racing. It's man and machine, plus luck and timing and environment and a few other elements that all add up to whether or not someone becomes a champion.
Of course, there are probably some cheaters out there too. But until someone gets caught—and our sport is getting much more stringent in testing for PEDs, especially in the summer when the motos are much longer and harder—I would prefer to give the riders and trainers the benefit of the doubt.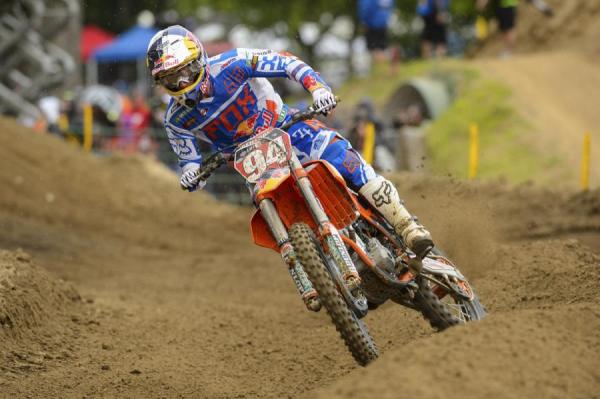 Ken Roczen has brought on world renown trainer Aldon Baker for the 2014 season.
Simon Cudby photo
MALCOLM GOES BACK TO TLD (David Pingree)
The news that Malcolm Stewart has inked a deal for 2014 with Troy Lee Designs/Lucas Oil Honda wasn't a big surprise for me, because I know how much Troy likes Malcolm. The younger Stewart had a great summer and was one of the bigger surprises in the 450 Class. However, he will have to slim down if he wants to have the same effect in the 250 division. You can't give up 50 pounds to your competitors and expect to get a start. Talent isn't the question here; size is. If Malcolm can get a little lighter and keep improving his speed, he could be a player in the 250 West Region, just like his teammate Cole Seely will be. If not, you may see Stewart starting each race from mid-pack, and that's tough to do in fifteen-lap main events.
HEAD ON (DC)
Motocross has an ongoing challenge in protecting athletes and preventing head trauma. The prevention of concussions has become a priority across the board, from state-of-the-art helmet design to ImPACT Base Testing of all professional athletes in Monster Energy Supercross and Lucas Oil Pro Motocross. So anytime something new comes along that can have a positive effect—the Hats-Off Device, 6-D Helmets, concussion-preventing mouth guards—we need to spread the word. Racer X Virtual Trainer Tim Crytser spotted this new "smart cap" that looks similar to the beanie Sebastien Tortelli used to wear under his lid, but with electronic sensors to monitor impacts.
And if you get a chance, I strongly suggest you watch the PBS Frontline special League of Denial, a documentary about the unfortunate history of how the dangers of concussion impacts came to light—beginning with the death of Pittsburgh Steeler Hall of Fame center Mike Webster after literally losing his mind, and how Allegheny County coroner Bennet Omalu discovered the true cause of his dementia and early death at age 50—and how the NFL made mistake after mistake in first denying the problem, then failing to confront it. It touches close to home here. Dr. Julian Bailes, who was at the forefront of the initial movement—he was the Steelers' team doctor and played a large part in uncovering the crisis—lived here in Morgantown and was very helpful in answering questions about concussions and head trauma as it pertains to motocross racers.
League of Denial is an amazing and sad documentary, and not for the squeamish. You can watch it in its entirety here.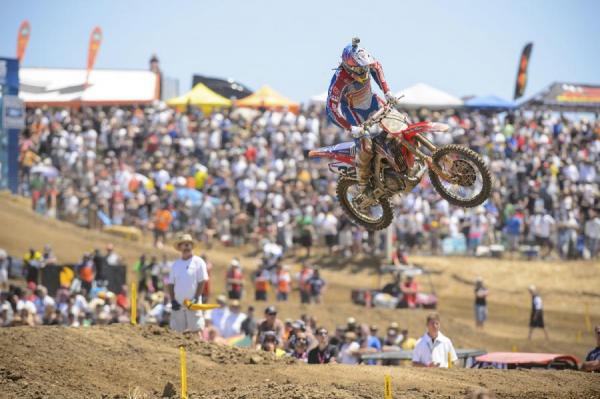 Malcolm Stewart is headed back to Lucas Oil/TLD Honda for 2014 after filling-in for the now retired Christian Craig over the summer.
Simon Cudby photo
GIVE ME FIVE (DC)
In case you missed it, there was a race last weekend with some very big names involved. The Red Bull Give Me Five race took place in Madrid and included reigning seven-time MX1 World Champion Tony Cairoli, former world champs Ken Roczen and Marvin Musquin, and multi-time SX/MX #1 Ryan Dungey. From afar, the race seemed more like an exhibition than a true test, but by all accounts the riders enjoyed themselves, and it helped Dungey, Roczen, and Musquin stay sharp as they get ready for the Monster Energy Cup. Dungey won the race in Spain, and as we reported last week, he also got himself engaged. So it was a good trip for RD, except for that one day in Germany....
Here's Adam Wheeler's report on the Red Bull Give Me Five race.
RIVERFRONT REMEMBERANCE (Aaron Hansel)
Our sport does its best to honor the memory of our greatest competitors with things like the Legends & Heroes Tour, memorial races, ride days, and more. When I skipped out on work to do some market research (okay, I went riding) the other day, I came across another very cool tribute at Riverfront Motocross Park in Marysville, California—this one dedicated to NorCal native Danny "Magoo" Chandler.
It's the front end of a motorcycle, and it's adorned with the #42 that Magoo wore in his Maico days. Overlooking the starting gate, it's fixed on a concrete pad on one of the park's lawns and bears a plaque talking about Chandler and his career:
"Danny Chandler was a top AMA and World Championship motocross racer in the 1980s. His hard-charging racing style won him legions of loyal fans at home and abroad. His racing career came to a premature end when he was left paralyzed after a crash at a Paris Supercross race in December of 1985."
It goes on to talk about Danny's life and career, which began at age 4 and reached its zenith in 1982, when he won all four motos of the Motocross and Trophee des Nations, the Carlsbad 500cc U.S. Grand Prix, his first 500 National, and the ABC's Superbikers race, also at Carlsbad.
Following his career-ending accident, Chandler embarked on a mission to help spread motorcycle safety and cooperation with the DARE drug awareness program for schoolchildren nationwide. In 1999 he was inducted into the AMA Motorcycle Hall of Fame. Magoo passed away on May 6, 2010, at age 50.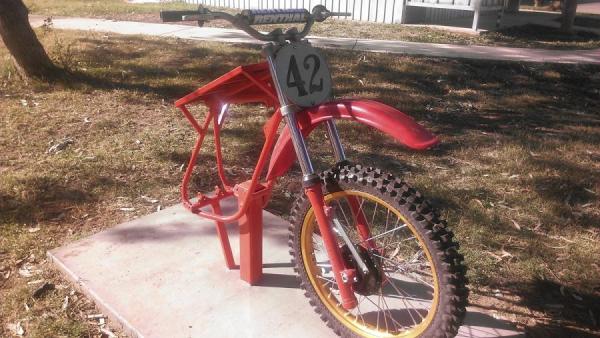 Aaron Hansel photo
QUICK TRIVIA (DC)
Racer X Online will give a free one-year digital subscription to the first person who answers this question correctly (send answers to contests@racerxonline.com): Who is the only rider who rode for Team USA after representing another country at the FIM Motocross des Nations?
UPDATE: We have already received the correct answer: Billy Liles, who raced for Luxembourg in 1989, then Team USA in 1992. Congrats to DJ Hite on winning a free one-year digital subscription of Racer X Illustrated.
NUMBERS GAME (DC)
Earlier this week we worked on a piece about racing numbers—more specifically, the last time each of the top twenty numbers won a race. (The number hasn't won a race in the longest time? #16.) At the bottom of the list we invited readers to add some more numbers and dates, and "smee113" obliged with the next time numbers:
#21 - Jason Anderson (250SX West, Salt Lake City, 2013)
#22 - Chad Reed (450SX, Los Angeles, 2012)
#23 - Nicholas Wey (125MX, Spring Creek, 1999)
#24 - Brett Metcalfe (450MX, Southwick, 2011)
#25 - Marvin Musquin (250MX, High Point, 2013)
#26 - Brandon Jesseman (125SX East, St. Louis, 2003)
#27 - Brock Sellards (125MX, Washougal, 1999)
#28 - Tyla Rattray (250MX, Southwick, 2011)
#29 - Andrew Short (450SX, Seattle, 2012)
#30 - Jake Weimer (250SX West, Phoenix, 2008)
Another reader pointed out Tony Cairoli's winning efforts at this year's Motocross of Nations, where he carried the #13 to wins in his two motos. We weren't counting the MXoN here, just the U.S. circuit, but if we did, Tony would also be the last man to win with #46 (MXoN 2012) as well as his trademark #222, which he's worn to five straight MX1 world titles. I can't remember anyone winning an AMA SX or MX with either #46 or #222; can anyone else out there?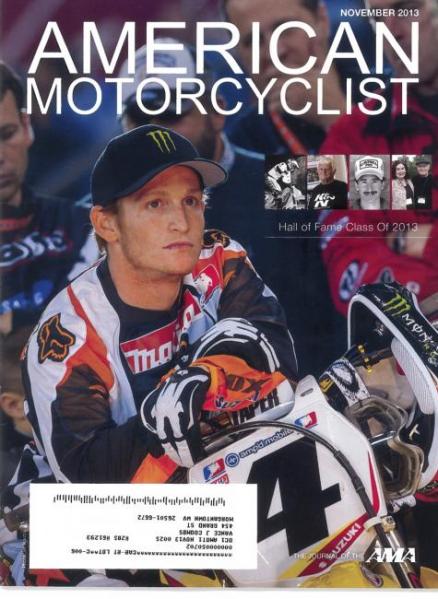 We mentioned The GOAT earlier; he's going into the AMA Motorcycle Hall of Fame next Friday night. He's also on the cover of the new American Motorcyclist magazine.
Cover photo by Jeff Kardas
HEAD-SCRATCHING HEADLINE OF THE WEEK
Vampires Rock Racing Team Up With Motul for 2014
HEY, WATCH IT!
MOTO 5 The Movie Trailer
Vintage Iron feat. Guy Cooper, Brett Cue and Jerry Robin
100%: The Barstow
VP Racing Fuels Presents: High Gear
Racer X Films:
Dean Wilson
Malcolm Stewart
Ronnie Renner
RANDOM NOTES
The annual "Michigan Shift" of stuff in the garage—when dirt bikes yield space to hunting gear and snowmobiles—is starting to take place, which means it's high time for the 24th annual Throttle Jockey RedBud Grass Race on October 12-13. The swan song of the 2013 Great Lakes Motocross championship season at RedBud—aka "America's Track"—the annual Grass Race delivers competitors back to the roots of the sport, recreating how tracks used to look: natural terrain churned black for a weekend by hundreds of knobby tires. And an all-new track will highlight the 2013 Throttle Jockey RedBud Grass Race's long-running classic "XR National Championship" races, one class for single shock XR 75s and 80s and the other for the old school twin shockers. It's a 3/10 mile course within the grass track, with a hand-on-the-helmet flag start that fits the bike era, and all of the action right in front of the spectators. If you're anywhere near RedBud, and you want to see the great JaBorg JaBorg for what may be his one and only appearance this season—unless he gets held up at customs again—then be there!
Brett Metcalfe is heading Down Under to race some Aussie supercrosses, and he talks about that, what he's doing next year, his MXoN rides, his time in Canada, and why he didn't think Jeremy and Tyler Medaglia were that fast here.
That's it for Racerhead. See you next week in Las Vegas! And if you can't make it, don't forget that the Monster Energy Cup airs live on the new Fox Sports 2, then plays on Sunday on Fox Sports 1. More on that next week. See you at the races.