Everyone likes to study the AMA National numbers each year when they come out, even with the slightly confusing system of permanent numbers, single-digits, etc. One thing we always do is try to figure out the last time any given number won a supercross main event or outdoor national. Like when was the last time someone reached the winner's circle wearing #6? With that in mind, here's a look at numbers 1-20, and the last time anyone won with that number.
#1: Red Bull KTM's Ryan Dungey won as reigning champion while wearing the #1 plate at Southwick in the 450 class (June 29, 2013).
#2: Monster Energy Kawasaki's Ryan Villopoto wore #2 when he ended his championship run in Lucas Oil Motocross with a win at Lake Elsinore (August 24, 2013).
#3: The Ryans make it easy. Now it's time to go a little further back. Remember when the veteran Mike Brown won the 2005 Budds Creek National in the 250 class? It was Father's Day, and Brownie wore #3 on a privateer Honda CRF250 (June 19, 2005). Now that Eli Tomac has taken the number, it probably won't be nearly as long before we see another win for #3.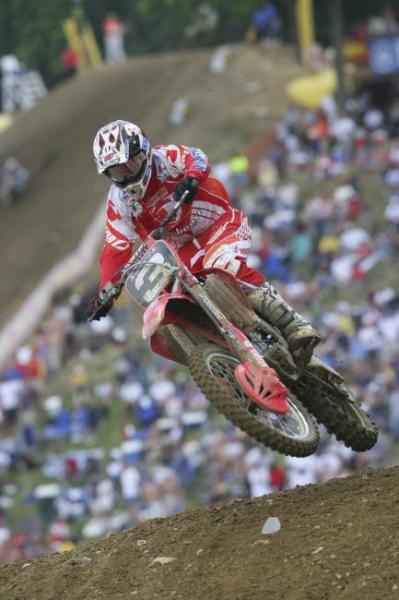 Mike Brown was the last, but Eli Tomac may be the next.
Simon Cudby photo
#4: Ricky Carmichael wore his patented #4 when he won his 102nd and last outdoor national at Spring Creek in Millville, MN (August 12, 2007). Now the number hangs on Blake Baggett's Monster Energy/Pro Circuit Kawasaki, but Blake only raced with #4 once in 2013, as he was taken down in the first turn at Anaheim 1 and broke his wrist, ending his SX season (he did give practice a shot at Phoenix, but crashed out). Baggett then wore #1 outdoors as the reigning 250 Champion (he won at Budds Creek wearing the #1). With the very capable Baggett running #4 again for 2014, like Tomac with #3, this number will almost certainly get another win soon.
#5: Ryan Dungey again, this time with the last Monster Energy Supercross main event he won in 2013, the Minneapolis SX at the Metrodome (April 13, 2013).
#6: For the last major win for #6, we had to go all the way back to the 2000 Hangtown 125 National, where the veteran Steve Lamson won as a privateer on a Honda CR125 (May 21, 2000). With no one currently wearing #6, it could be some time before we see it win again.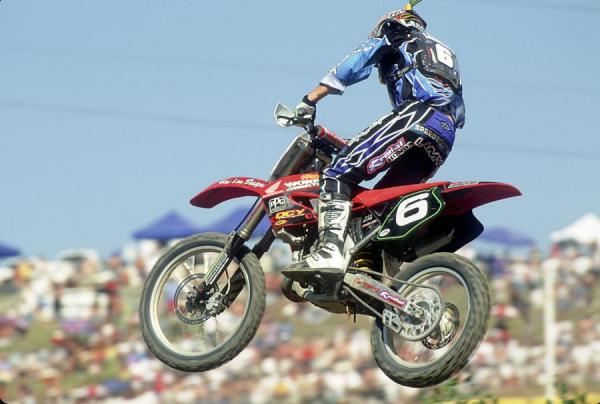 You have to go back thirteen years to find the last time a rider won with #6.
Fran Kuhn photo
#7: Yoshimura Suzuki rider James Stewart won the Red Bull Spring Creek 450 National (July 27, 2013) with the #7. James started wearing this number in 2006, after starting his career out with #259.
#8: Another number that no one is currently using, so we have to go back to Grant Langston's title run in the 2007 450 Nationals, which he iced with a win at the last round at Glen Helen (September 9, 2007).
#9: Ivan Tedesco is still the man in possession of #9, though it's uncertain if he will ever race a pro supercross or national again. So we go back to his win at the Thunder Valley 450 National (June 27, 2009) as the last time we saw this digit win.
#10: Ryan Dungey again, this time back in 2009 when he was on his way to winning the Lucas Oil 250 Pro Motocross Championship. He won the Washougal 250 National (July 25, 2009). Current #10 Justin Brayton has come close in supercross a few times but has yet to grab a victory.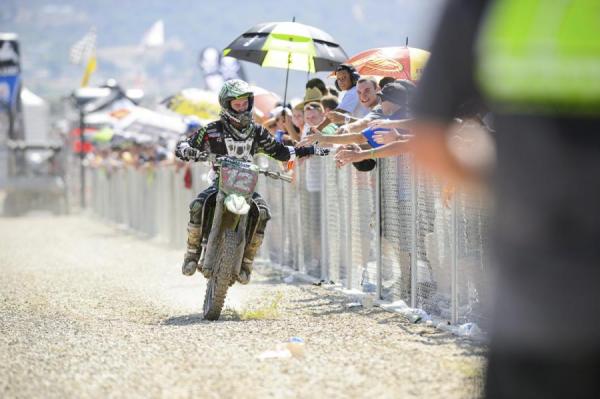 Although Blake Baggett didn't have much of a chance to win with #4 in 2013, he was the last rider to win with #12.
Simon Cudby photo
#11: As we get into the double digits, it gets a little more complicated because the numbers change hands more. We've seen Kyle Chisholm wear the #11 for the past three seasons, but without a win on the AMA circuit. Before that it was Travis Preston, who wore the #11 from 2006 through 2010, without any wins. Before that Ezra Lusk ran the digit for many years, and his last win came on a KX250 at the Phoenix SX (January 11, 2003).
#12: Baggett wore #12 while racing towards the 2012 Lucas Oil 250 Pro Motocross Championship, taking the last round that year at Lake Elsinore (September 8, 2012).
#13: Rockstar Energy Racing's Blake Wharton broke through with a win for #13 while at a race in his home state, the Houston 250 SX main event (April 6, 2013). Before that we had to go back to Sebastien Tortelli!
#14: This one's easy: GEICO Honda's Kevin Windham, though ironically it happened at an outdoor race: the Steel City 450 National (September 4, 2010).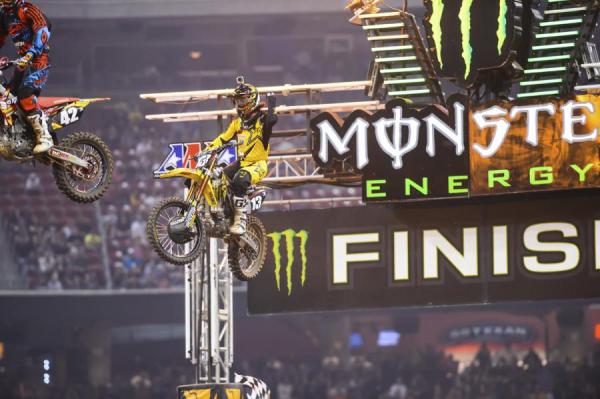 Blake Wharton snapped the unlucky #13 streak with his win in Houston this year.
Simon Cudby photo
#15: Monster Energy/Pro Circuit Kawasaki's Dean Wilson wears #15 now, and though we didn't see much of him in 2013 due to injuries, he did win the first East Region 250 SX in Dallas (February 16, 2013). That bumps Tim Ferry off of this list. Sorry, Matthes!
#16: It's been a really, really long time since someone won with #16, primarily because the legendary John Dowd kept the number for more than a decade, much of it as a part-time racer. Ironically, he never won a race while running his permanent #16, but he made the podium many times. Dowd did actually win with an earned #16 back in 1994, but that wasn't the latest victory for the digit. It turns out that the last winner was Yamaha of Troy's Casey Johnson, riding a YZ125, at the San Diego 125 Supercross (January 16, 1999).
#17: GEICO Honda's Eli Tomac is the most recent winner here, having taken the last round of the 2013 Lucas Oil 250 Pro Motocross Championship at Lake Elsinore (August 24, 2013).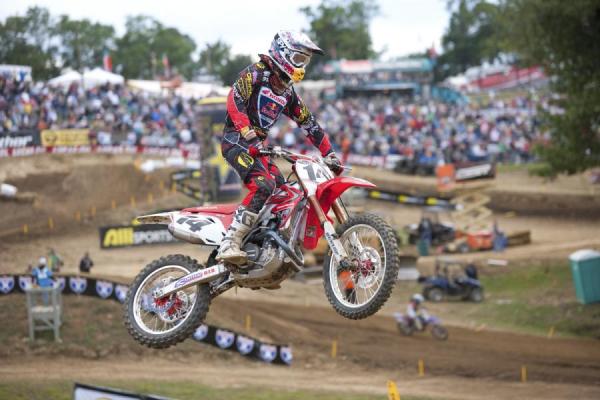 The legendary K-Dub was the last rider to win with #14.
Andrew Fredrickson photo
#18: Rockstar Energy's Davi Millsaps won the San Diego SX (February 9, 2013) while wearing #18 as well as the red plate as the Monster Energy Supercross points leader.
#19: Another digit that won this year on its way to a title, this time by GEICO Honda's Wil Hahn at the St. Louis 250 East Region Supercross (March 2, 2013).
#20: We'll stop at #20, which belongs right now to Broc Tickle, though he has not won with the number yet. But GEICO Honda's Justin Barcia wore it outdoors in 2012 and won the Washougal 250 National (July 21, 2012).
Want to add some more? Have at it below!