Last Sunday was a tough day at the office for Team USA, as we have hashed and rehashed and rehashtagged to death. Eli Tomac and Justin Barcia suffered untimely crashes (but when is a crash ever really timely?) and Ryan Dungey picked a bad day to do just okay. Second place is a great finish in a series, but not in a one-off, winner-take-all race like the Motocross of Nations.
But besides the results, it was an otherwise great weekend for motocross in general. The MXoN is an amazing event, one where the whole motocross world comes together for an annual convention of sorts, kind of like the Anaheim Supercross opener, only with all sorts of international flavor added in. I have been lucky enough to go to several of these events since my first in 1993, the last year of Team USA's magical thirteen-year winning streak, and I have made a lot of friends at these races over the years. And not just in the press room or the paddock, but out in the infield, along the fence lines, and even in the streets of some far-off foreign cities. Motocross is a tie that binds.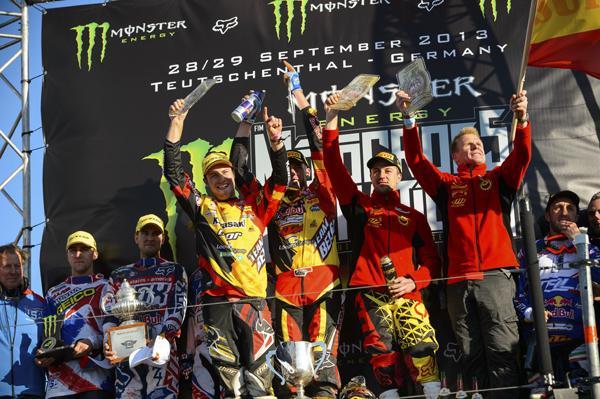 This picture says it all for both Belgium and the USA at the Motocross of Nations.
Simon Cudby photo
As I mentioned last week, a former Canadian rider named Scott Dixon sent an invite for my mom and me to check out his adopted hometown of Berlin and do a little sightseeing and bench-racing. We had an exceptional time checking out the history of one of the most important cities in world history, and not just during the last century. With limited time we managed to check out a whole bunch of old buildings, museums, memorials, and beer gardens. (Thanks for all that, Scott—good to know I'm not the only history geek in motocross!) Once we got down to Leipzig, where most of Team USA was staying, we got hooked up with our usual traveling partner, Jeff Cernic—though he was without his steady sidekick Larry "Moe" Sidor. Every night the hotel lobby turned into a big bench-racing session with old friends and new, Americans, British, German, and more.
At the race itself I ran into my old friends from Ireland Eugene Hutcheon and Tim Douglas, and we picked up right where we left off last year in Belgium: talking about Team USA's chances of winning and Team Ireland's chances of just qualifying. Tim had even made some sweet Team Ireland T-shirts for the occasion (Tim's an excellent designer at Moto-Graphix.co.uk), though the trio of Gary Gibson, Martin Barr, and Graeme Irwin didn't make the main. It wasn't for a lack of trying or fan support, so maybe better luck next year for both of our sides!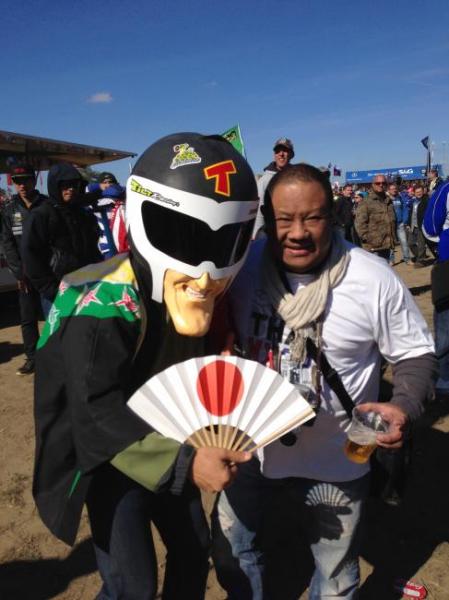 Thai GP promoter Kraitos and a very enthusiastic Team Japan fan.
DC photo
It was near one of the many beer tents (Oktoberfest was right around every corner) that I ran into someone I met at this race a year ago, Kraitos Wongsawan, promoter of the Grand Prix of Thailand, and just like last year, we ended up bench-racing and talking shop. Same thing happened later when we spotted Glen Helen promoter Bud Feldkamp, who will host the 2015 Motocross of Nations at his track in San Bernardino, California. Bud was on holiday with his wife, and we had a nice chat in the Alpinestars rig on Sunday morning. (And thanks again to Alpinestars and also Thor/Parts Unlimited Europe for all of the hospitality for Team USA and their supporters; it's nice to have a little oasis to hang out with or know where to meet up with everyone, or even watch the races from above.)
But back to the infield. The thing about the MXoN is that every step of the way, you will see someone who is just as passionate about motocross and proud of their countrymen as any American motocross fan. Many literally wear their pride on their sleeves, or their heads, or carry flags or wear funny costumes that shout their allegiance. It's like being at Mardi Gras, only everyone is a motocross fan. It's truly an unforgettable experience, no matter who wins, and every motocross fan should go check this race out once in Europe, where it was born in 1947—and certainly the next time it's here in the States in 2015.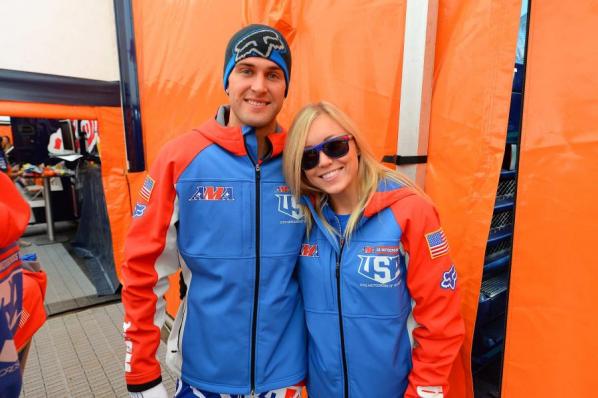 Congratulations to Ryan Dungey and his fiancee Lindsay.
Simon Cudby photo
The night before the race, as we were walking through the paddock, a friend from Team Belgium stopped me and told me he had a present for me, special delivery. He led us into their compound and presented me with a case of Duvel beer, with a note on the top that said, "From the country with the best beer and the best riders in the world!" It was signed by all three of the Red Knights of Team Belgium riders—Clement Desalle, Ken De Dycker, and Jeremy Van Horebeek—set up by Kelso from Rockstar, a sponsor of the team. I immediately decided that if the U.S. couldn't win, it would be nice for Belgium to get back on top!
As for Team USA in the race itself, I don't think it's anywhere near as much for them as athletes as it is for us as fans. The pressure to win is massive, and even when we finish second, like we did this time around, it's mostly considered a failure. This quote, from the official press release on Belgium's win, kind of sums up the expectations for the Americans: "Team USA were only able to finish second and Team Italy was extremely happy for being on the third step of the podium." Yes, only able to finish second out of forty, yet third-place Italy gets to be extremely happy for third.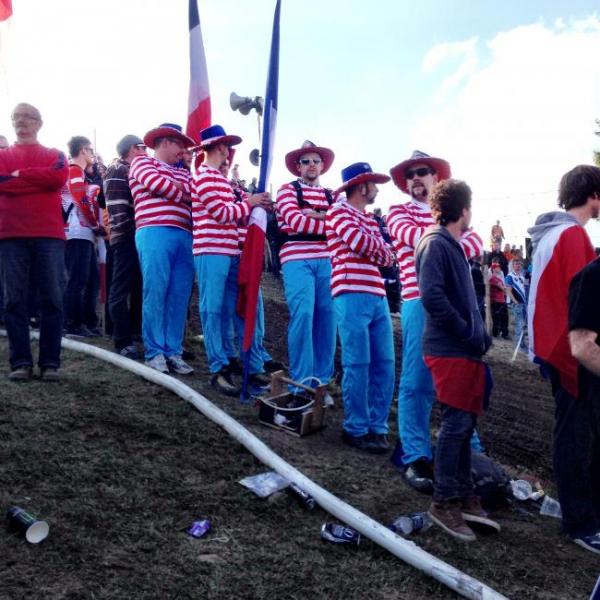 Highly committed French fans.
DC photo
Trust me, the Italians and the Irish and the Canadians and just about every other country there would love to have a failure like second place, but it's different for us. Our country is bigger, our talent pool deeper, our SX and national circuits super competitive. Plus there's all that success from the past, including a seven-year run that only ended last year in Germany. Nevertheless, Ryan Dungey took some real heat this week online for his results, even though he was the highest-finishing American in the overall tally (6-7 moto scores) and has been the team leader for five years running. It's a huge undertaking, staying in shape for five more weeks, traveling to Europe to race, and not being out on the SX tracks testing like almost everyone back in the States is already well into. Ryan deserves much more respect for taking on the job of this race, as do Eli and Justin and Roger DeCoster and the AMA's Kevin Crowther and Fox Racing's Chris "Beeker" Onstott, and Asterisk's Dr. Reiman and Eddie Casillas, who go there on their own dollar to assist and take care of the riders, and just everyone else who puts the time and effort and resources into helping Team USA be the favorite at this race pretty much every time. We didn't win, but we will be back, no doubt about it.
And congratulations to Ryan Dungey on a much bigger deal: He asked his longtime girlfriend, Lindsay, to marry him and she said yes.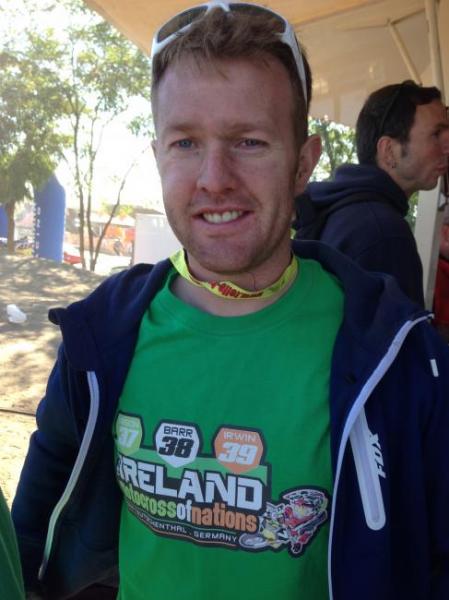 Tim Douglas shows off the Team Ireland t-shirt.
DC photo
Hats off to Tony Cairoli, who rode two solid and downright smart races to win the individual overall, and to Ken Roczen, the athlete with probably the most pressure of all over in Germany. K-Roc fended off Tomac's attacks and won the MX2 overall for the fourth year in a row, which must be some kind of record. It was awesome to see all the German fans and flags and chainsaws and cowbells and whatever else they could get their hands on to cheer for Kenny. I've never been to a true European soccer match, but I imagine the atmosphere there is close to what it was for Roczen's homecoming race!
Finally, thanks to Youthstream and Giuseppe Luongo for all of their hospitality and for putting on a damn good race every year. Showing it on CBS Sports on Sunday afternoon was a treat for U.S. fans (and so was the live streaming on MX-Life.TV). A lot of work and risk goes into putting on races this big, and when everything works out—the weather, the homecoming of Roczen, the last-lap conclusion—it's just a great day for motocross. Thanks again, and we'll see you next year.
Here's the rest of Racerhead...
UNINTENTIONAL MISTAKES (Steve Matthes)
It's all over but the crying if you're anyone but Team Belgium. The MXoN has come and gone; so has lots of virtual fighting on Twitter, message boards, and the like. I'm of the opinion that this race is really hard to win, and that means you're not always going to win it. It takes a remarkable amount of things to go right for three riders in three races, and for the USA, the only country where anything but first is looked at as a failure, it didn't happen this year.
And I'll repeat a stat I mentioned in Observations: American riders have won only one moto in the last nine at the MXoN. It's a tough race with some very fast riders! Hey, it could be worse—you could be Canada, who blew a spot in the A main on the last lap of the B main!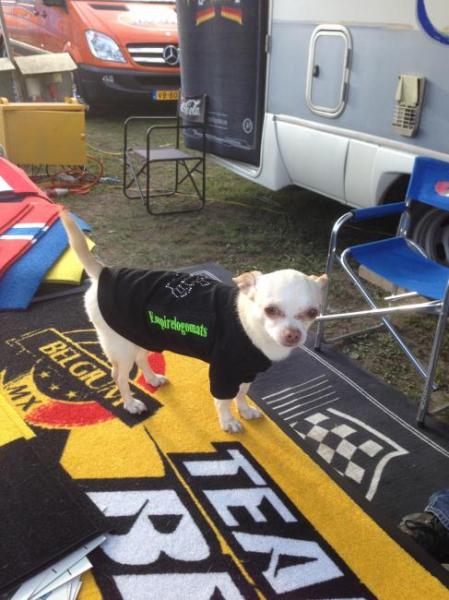 Factory dog!
DC photo
We had Eli Tomac on the Pulpmx Show this past week and he was diplomatic on what happened and took the loss as the team. As he said on the show, he knows that if he didn't crash while running down Ken Roczen in that first moto, Team USA wins; if Barcia doesn't fall in the first turn of the third moto, Team USA wins. What are you going to do?
We asked him about Stefan Everts' tweet after the race about Team USA not showing respect for what we think was not taking their hats off for the Belgian national anthem, and Tomac stated that you couldn't really hear anything—the fans were going nuts and Eli himself wasn't really sure what was happening. And if you haven't heard the Belgian national anthem much, or speak German like the primary announcer did, it's not easy to follow! It wasn't an intentional move by the Americans by any means.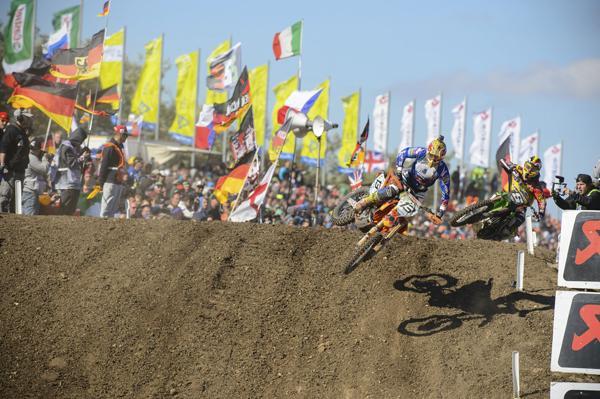 Hats off to Tony Cairoli, now the winner of four straight MXoN MX1 motos.
Simon Cudby photo
No Reed for Wilson (Weigandt)
Last week, Steve Matthes posted an exclusive interview with Chad Reed here on Racer X Online, and Reed explained that the dream of having a second rider on team TwoTwo Motorsports is still very much alive. Reed also said he'll have help from Mitch Payton and Pro Circuit for 2014, and there have been rumors that Chad will end up racing Kawasakis next year (although there are seriously rumors of Chad on every brand—just check the revolving door of front fenders on his Instagram). With all that, everyone did the simple math of TwoTwo + PC + KX = teammate X and Pro Circuit-450 team and figured Dean Wilson is in line for that spot. (The Pro Circuit 450 team that was supposed to race full time indoors and out in 2014 is no longer happening).
I checked with sources who would know and have confirmation that Dean is absolutely locked in with Monster Energy/Pro Circuit Kawasaki—he's definitely not going to Reed's team. Dean represents one of PC's best chances to win races and titles next season, so they're not going to farm that out. But that doesn't mean Reed isn't searching for someone else. There are crazy rumors out there over who could potentially ride for TwoTwo Motorsports next year. We'll just have to stay tuned.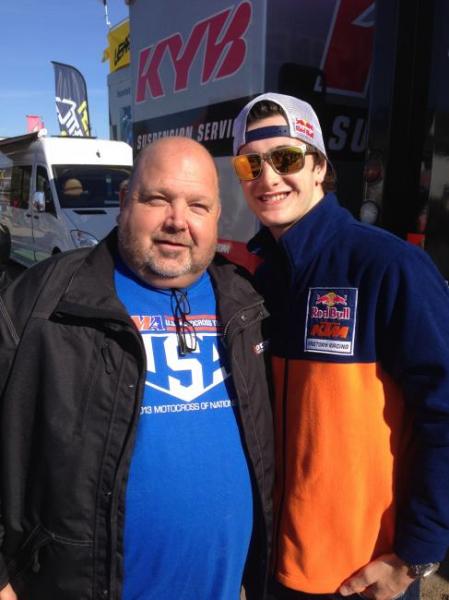 Jeff Cernic and the fastest spectator in the world, the injured Jeffrey Herlings.
DC photo
BREAKTHROUGH RACE? (Matthes)
One of the real surprises last weekend was Australia's Dean Ferris, who, after a couple of years in Europe, had his best year in MX2 this year and for 2014 will be moving to the MX1 class on the Dixon Yamaha team.
"It's awesome to top off the year like this," Ferris said after the race. "Probably my best finishes ever, and it's great because we got fourth overall on the day. Our goal was to get a top-five. Awesome day for me, second overall in the MX2 class, which may be a surprise to some people but not for myself. I put heaps of expectations on myself and I made it happen. This year has been getting better and better."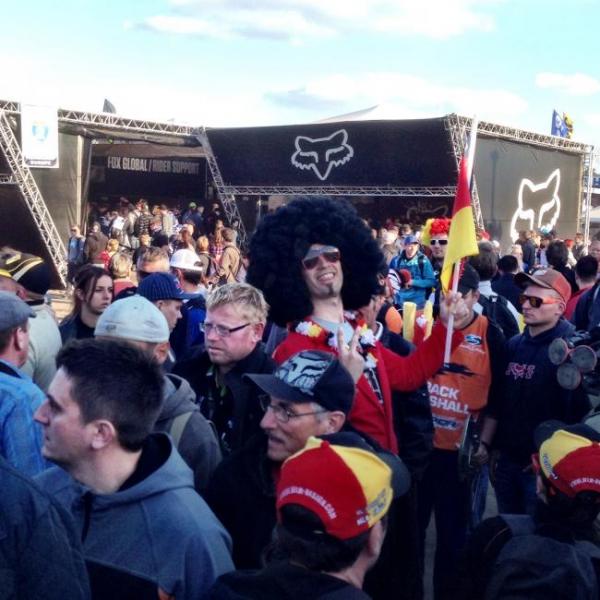 He is either a Team Belgium supporter or a huge Jeff Emig fan.
DC photo
Ferris explained more in
these Pro Circuit Pulpcasts
that he does indeed hope to try and follow in so many other Aussies' footsteps and try out America.
There's no doubt he opened some eyes this weekend, and I predict we'll see him over here in 2015 or so if he does what so many think he'll do next year in MX1. Very impressive MXoN for Ferris.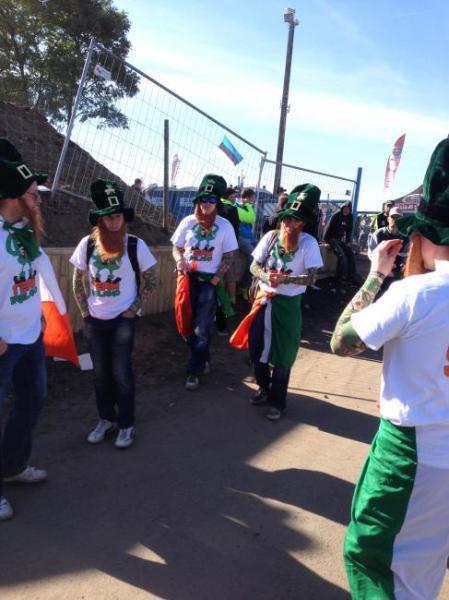 Irish fans?
DC photo
Feet Down (Weigandt)
The word is now out that Davi Millsaps busted up his foot and ankle a few weeks back—he's about two weeks into what should be a four-week recovery process. He broke his fifth metatarsal and tore some ligaments in his ankle, and Davi texted me some pics that were gruesome. Although the healing process is pretty quick, the injury may knock him out of the Monster Energy Cup.
Justin Brayton just underwent surgery for a lingering leg issue—this one wasn't even related to an injury from the season, but rather an ankle problem first suffered when he was 12 years old! He'll be back on a bike soon but also might not be ready for the Cup. That race is coming up pretty quickly.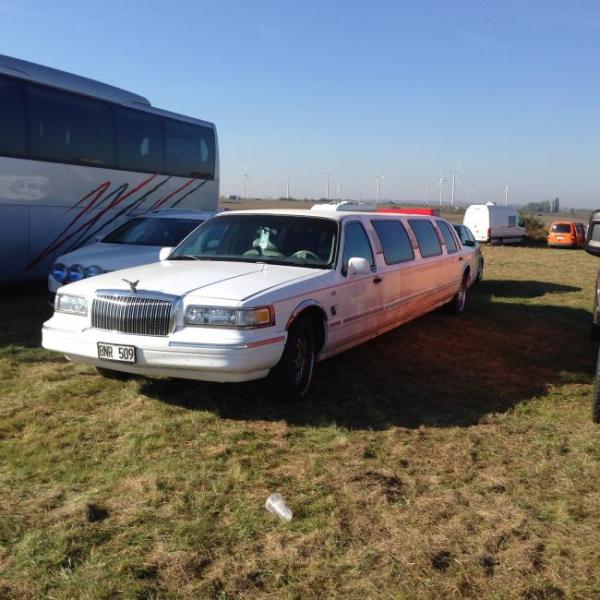 These people must have got lost on the way to the Monster Cup.
DC photo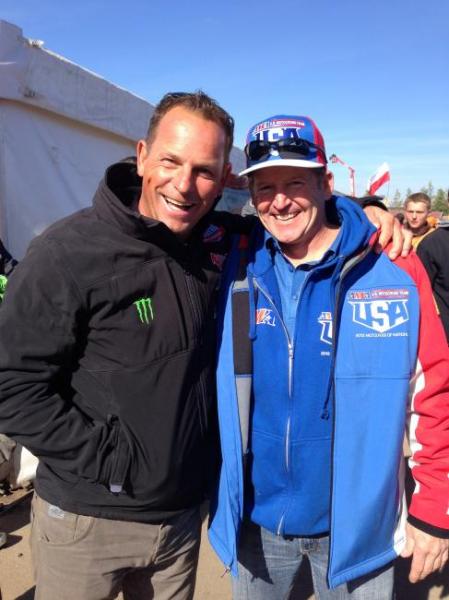 Former world champ John Van den Berk (left) and multi-time German Hardcross Champion Tom Carson.
DC photo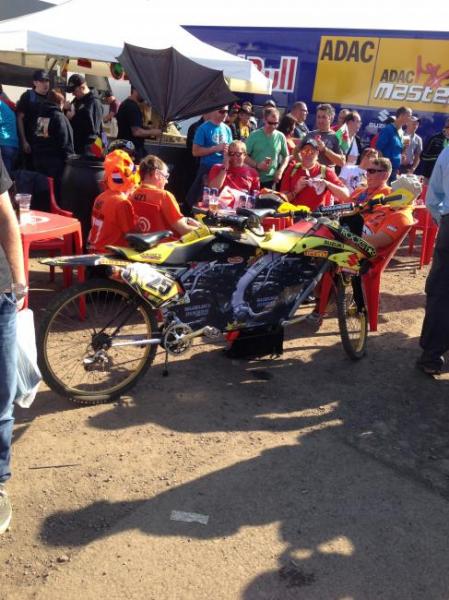 Clement Desalle fans rode this sweet bike around all day.
DC photo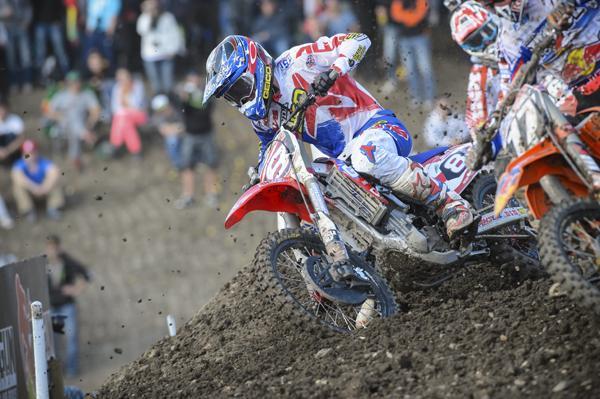 Eli Tomac laid down the fastest laps in both his motos and was very impressive in his Team USA debut.
Simon Cudby photo
HEY, WATCH IT!
Rich Fowler sent us this cool documentary about a life in moto, check it out: Motorsport Retro Films: VMX - A lifelong passion
GoPro: James Stewart SX Testing
Introducing Wildcat
Racer X Films:
Brett Cue
Canard Ride Day
Tagger Designs
Tested: 2014 KTM 350 SX-F
RANDOM NOTES
Dave "Photocrosser" Shelton wrote this note after spotting an interesting online ad from Bridgestone Golf: "I about laughed out my lunch here at my desk.. Look at the names on the golf balls! Funny… wonder who was behind this!?"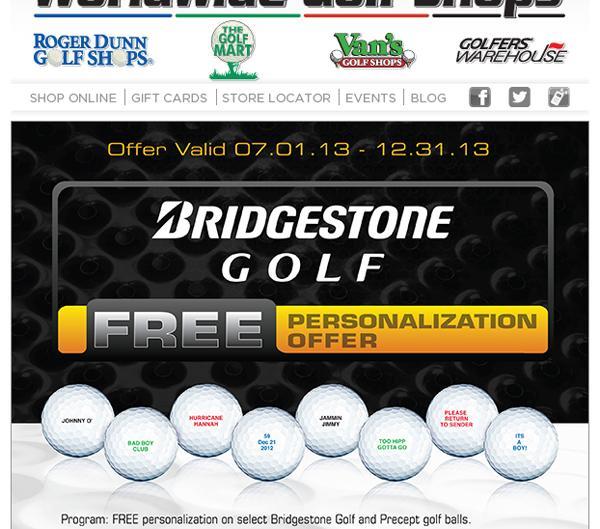 This weekend is the running of the 37th Annual Kawasaki Race of Champions at Raceway Park in Englishtown, New Jersey. Which of course means to expect the prerequisite J-Law sightings! Here are couple of old photos from some past KROC events, which are always a great time and a fun event.
There's another version of Team USA in action this weekend at the International Six Days Enduro in Italy. GEICO Honda's Zach Osborne is participating, along with former 125 National MX Champ Mike Brown, and Zach is penning a feature a coming issue of the magazine, but he's literally been too busy actually racing to update us online! Tomorrow is the last day of the event, and Team USA is currently second in the World Trophy standings and fourth in the Junior Trophy standings. You can also follow along with Shan Moore's reports from Cycle News right here.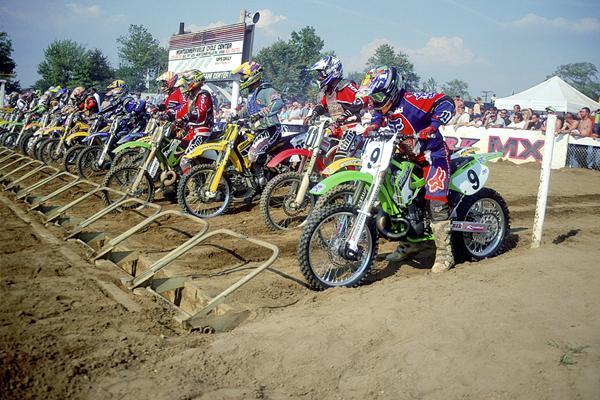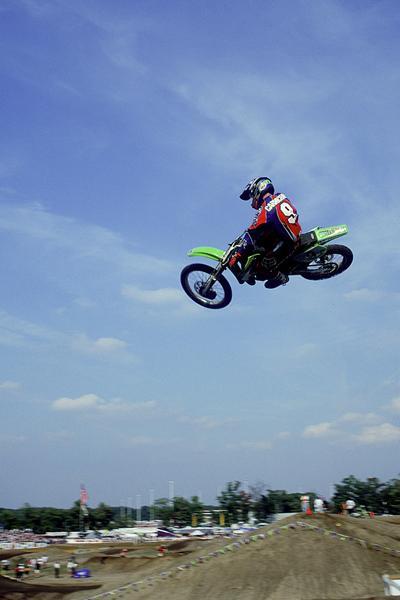 Ricky Carmichael at Englishtown back in the day.
DC photos
We received this letter from Charles Halcomb:
DC, good friend and fellow competitor was involved in a car accident resulting in paralysis. We have this fundraiser started which you helped at Hangtown by signing a tshirt. We have many top riders signature on this tshirt which has a beautiful portfolio (Photos enclosed) authenticating all that signed in this beautiful book which is included along with the t-shirt. It is listed on ebay and am asking you help us promote in any way you can. Best Regards, -chas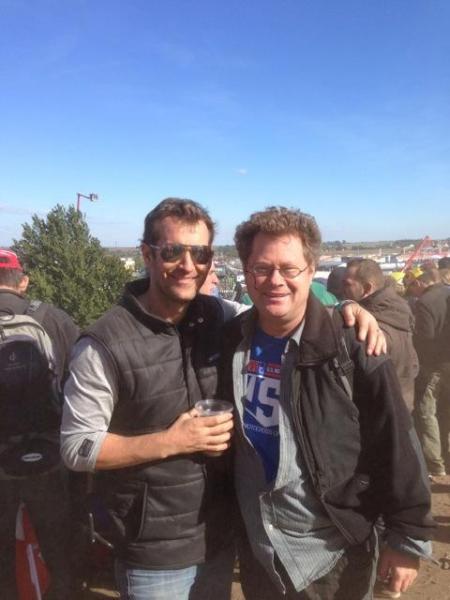 That's Scott "Ich Ein Berliner" Dixon. Thanks again!
Thanks for reading Racerhead. See you at the races!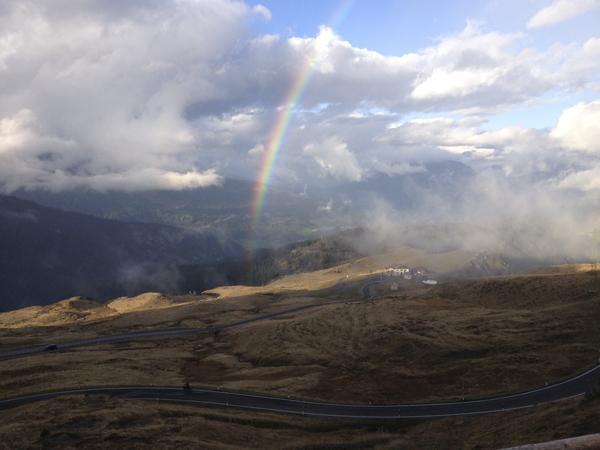 Jeff Cernic photo