Teutschenthal
Saxony-Anhalt

,

Germany
Motocross of Nations
Motocross of Nations
Tony Cairoli continues to stride a few extra paces at the very peak of the international motocross summit. The Sicilian was immense at Teutschenthal over the weekend and is now undefeated in two years in Motocross of Nations competition. The seven time world champion's 1-1 was the key component in the Italians breaking into the top three for the first time in over ten years. We talked to him after the race.
Racer X: Seven world titles and MX1 class dominance in the sand last year and now Germany. Also pushing the Italians onto the box. It couldn't be better could it?
Tony Cairoli: It is dream. I have been racing with the Italian team for almost ten years and have never been on the podium. Our goal was to finish in the top three and I know we couldn't really get first or second because the others have a more "complete" team than us; David [Philippearts] has been out with injury and Alessandro [Lupino] this year finally had a good bike and has improved for sure. I hope we can be ready to fight for the big trophy next year.
How was the weekend for you?
The weekend was perfect. I just tried push the guys around me and said, "Come on, we can make it." They did a good job. In the first moto I slipped out of the start and was around the middle of the pack, fifteenth or something on the first lap. I made some good passes and got up to the front. I could see Ken in the lead so I went for some fast laps. He then made a mistake in the corner after the finish line and I could pass on the outside. I wanted the least points possible for Italy!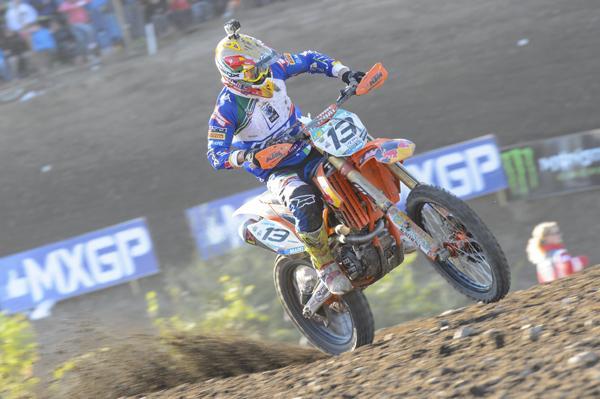 Tony Cairoli went 1-1 in Germany to capture the MX1 overall.
Simon Cudby photo
The second moto saw you taking your time to pass [Max] Nagl, but after that it was a pretty easy victory.
The track was pretty sketchy in some places and the sun was also disturbing me sometimes so I didn't want to risk too much. I was just waiting for Max to tire because I knew he was coming back from injury. I watched him up close until I knew what I had to do. I was then looking behind me a lot because I was keen to see what my teammate was doing [KTM rider, Ken de Dycker]. I was also cheering a little bit for Belgium. Then he [Belgium's de Dycker] got into second … he said afterwards that he needed just one more lap to pass me. That's good! I enjoy a bit of fun in the races.
So a second MX1 success at the Nations. Ryan Villopoto wasn't here but you beat everyone out there. How does that feel?
For me this doesn't feel like anything super-special in terms of performance but the overall result feels like a victory. If you look at us then realistically David didn't have the best season, didn't make the top ten in GPs and knows he can do better and Alessandro is getting better-and-better but always has bad starts ... I kept telling them the podium was possible but I knew it would not be so easy. They rode fantastically today. I did the best I could but they really made the difference. Winning the MX1 Class to me isn't so important but in another way it is because it helped put us here [on the team podium].
You said after winning the FIM MX1 World Championship this year that the Italian fans like their "numbers". Do you think this result will carry some significance back home for motocross and off-road?
The fans never get enough! I'm sure they want first place next; that's the mentality of the Italian fans and also myself. I always want to be on top. I think they understand that this is a pretty big deal for us.
Teutschenthal had been ripped quite deep and seemed to have longer and deep ruts than I can remember. Some good lines choices in places.
The track was good and you were able to make the difference on other riders, which is what we like. I liked it a lot and the crowd were amazing. It was funny to see some strange things like chickens and blow-up dolls. It was crazy!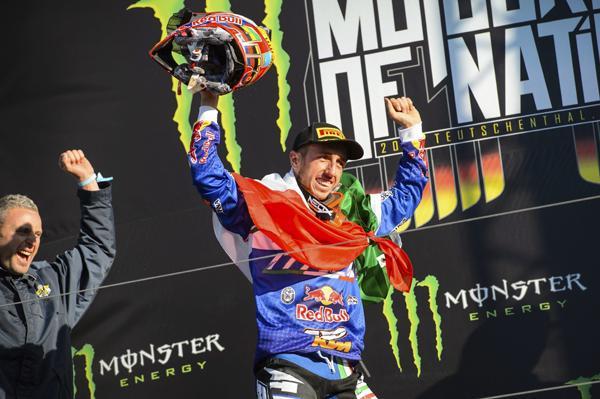 Cairoli led Team Italy to a third place overall finish.
Simon Cudby photo
So no time for rest, the Red Bull Give Me Five event in Spain sees all the KTM crew heading south this week.
We will go to Madrid now but I will really not treat this as a race. We have done enough this season and I want to just enjoy some time with all the other Red Bull guys. The season has gone perfectly.
Holiday time now or work on the new house [almost built and on the outskirts of Rome]?
The house! When I'm there I feel like I am on holiday because it is next to the beach. It is a dream house because of that, actually, and I can't wait to get there and do some work on it.
Lastly, you rode the 450SX-F at the final Grand Prix and went back to the usual 350 here. What are your views on changing for 2014?
I don't think I will switch. We have some good parts to try for the bike and we will see. My preference is towards the 350 and I would say it is 70-30 in favor of it for 2014.