Teutschenthal
Saxony-Anhalt

,

Germany
Motocross of Nations
Motocross of Nations
Well, Team USA lost. At the post race press conference, Ryan Dungey said: "To lose once again is tough. You haven't seen the real me for a couple of years. We need to get that figured out. All three of us put out there what we had and we came up short. We are hungry for another chance and just have to add this to experience."
Our Steve Matthes caught up to Justin Barcia and Eli Tomac for their thoughts.
Racer X: Eli Tomac, not the team result you wanted. Spectacular crash, spectacular speed. A very eventful day for you.

Eli Tomac:
You got it right. Eventful day to say the least. First moto, I got a terrible start, I just spun. It was just dry and I spun. I should have been two gates over; I was looking at gate four, too.
Did they give you the number-one gate pick?
They did, and I wanted to play it safe by going to the inside, and it bit me in the butt. I was pretty buried. I just made my way up. I was just riding like I was at home, just feeling the flow, hitting my marks, finding my lines. I actually got up to [Ken] Roczen and had a huge crash.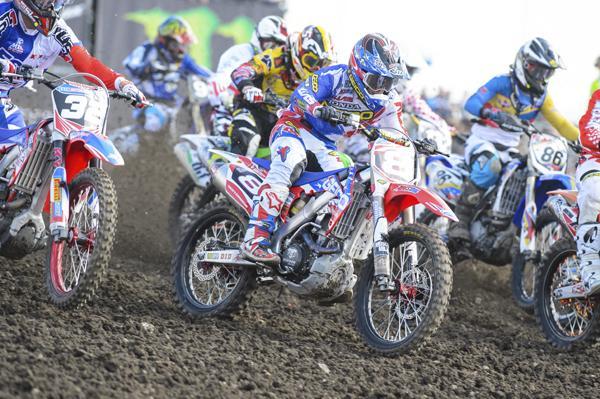 Eli Tomac rebounded from a huge first race crash to finish second in Race 2.
Simon Cudby photo
Scrubbing and it caught.
Yeah scrubbing, a little too hot, and that jump is kind of shadowy, and there were ruts, it was soft, it ripped the bars out of my hands something crazy. I did like a Carmichael Washougal crash, rolling up the windows…
I was thinking Chad Reed at Millville.
[Laughs] Probably somewhere in the middle of those two!
Did you see any photos?
I haven't seen any yet.
They're good! That's a bummer—we were thinking you might be hurt. But you were okay.
Yeah so second moto comes around, I kinda hit my head a little bit, but it could be a lot worse. Right now, I don't have a specific spot on my body that hurts. I must have just planked it perfect, distributed my weight perfectly. I picked the fourth gate and got a much better start. I think [Dean] Ferris got it again, then Kenny and I. And we just yo-yoed each other. Then in the middle of the race, I went way too slow up the same jump I crashed on. There was a red cross flag out, and I gave it way too much respect. You have to respect it, but Kenny hit it a lot faster, and he got like two seconds there. So that was a dead zone part way through the moto. I had to catch back up. I only had one spot where I could make a pass, right by the finish line. I was catching up big time right there, and I thought I was going to do it last lap, hero kind of thing, but he took the line away and that was it.
So, how do you feel? You were fast, but more disappointment than satisfaction?
I'm kind of in the middle right now of being satisfied and not. But I did throw that first score away, maybe if I had gotten third it would have been fine, but you can always say that stuff now. I don't think any of us guys on our team had a perfect day. No one did.
The track? Did you like it?
The track, I'm just going to tell the truth, and that's a big no. It was kind of technical, bump wise, they kept it rough, and there were a few lines. But getting around lappers was a huge pain, and making up time was really tough. You could do it, but it wasn't easy, and the roost was really nasty, too.
Why were the 250s so good today?
It's pretty tight. I think the 250s are a nimble bike. And I think you have to give us credit, too, we were just fast riders today. I think it shows the 250s aren't that far behind the 450s.
"We're working our asses off, we're the top racers in the U.S., and we just got beat by some better riders today." - Justin Barcia
Justin Barcia
Racer X: Justin Barcia, thanks for doing this. You won the MX3 class, that's the good. Crappy last moto for you, when you were on the ground you were probably like "Oh s$&%"
Justin Barcia: Yeah "Oh s$&%" I've got to ride really hard and pass all of these guys. I passed a lot of guys, but not enough. That was definitely the best I rode all weekend.
Better than your first moto?
Much better. First moto was garbage. Track was brutal; I've never ridden a track like that before. But it's like every des Nations I say, "Never ridden a track like this!" Every one! Euros are gnarly!
I heard you say that in the press conference. So, like rougher than RedBud and places like that?
Yeah, but different rough. Just choppy and the ruts were deep, dragging your elbows and fenders and shrouds. So different, you can't find anything like that in the U.S. to simulate that. We did make some bike changes and luckily we made the right choices.
Was the month long break one of the reasons you didn't do as well as you wanted to?
I don't think so because I was just testing the month long. There really are no excuses, we got beat straight up. We had some mistakes, too, that cost us a lot. We did testing, I did a mountain bike race, I did a 5k. I'm not stopping. No excuses. We just didn't have the best race.
I was talking to Roczen and Cairoli about this, seemed like the 250s were really good.
I mean, I never really say, "Oh a 250 is better on this and a 450 is better on this…."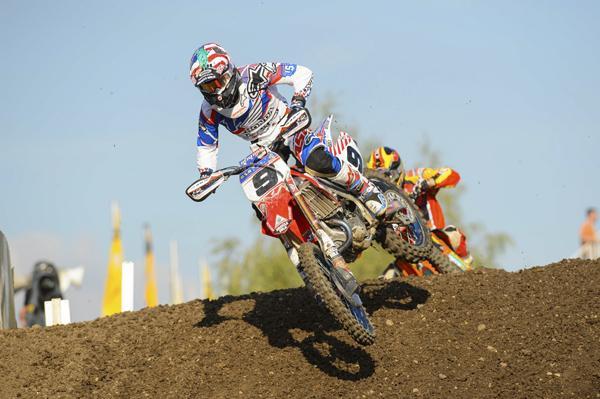 Justin Barcia won the MX3 overall in Germany.
Simon Cudby photo
But it's obvious. Kenny won a moto, the lap times were fast….
Yeah it was definitely a 250 track because it was just so tight and choppy. You can't really use the 450s power to its potential here. Like, I watched Tony [Cairoli] and he's just sick on this stuff. Shifts good, really smooth. The last moto, I tried to ride like him and rode way better. Shift up, cross lines, that crazy Euro stuff.
Last moto, who got the number-one gate pick?
Yeah in my two years here I've never gotten the number-one gate pick. And that's a tough situation because I feel like I'm a good starter. Kind of a bummer. It is what it is, Ryan [Dungey] is our guy so that's what we do. First moto wasn't that bad because I had a good gate and no one took it. I had it prepped nice. Second moto, someone took my gate, and there was a bunch of rocks [in the gate I ended up getting]. There were a bunch of dudes next to me talking a different language, and I was like, "I'm going to be kicking rocks out of the way while the 15 second card is up." Kind of a different situation and I ended up in that pileup.
You won MX3. Is it at all happy, or pure disappointment?
Pure disappointment. Sure I got the [class] overall but that's not what we came here for. I did my job, but I would have liked to have done it a lot better.
Yeah, you're 0-for-two, and you're going to be on Team USA for a long time. You'll have more chances. But you've got to be pissed.
Yeah everyone is like, "What are you going to do to get better?" And I'm like, "All we can do is move to Europe and ride these gnarly tracks." We're working our asses off, we're the top racers in the U.S., and we just got beat by some better riders today.