Fredrik Noren came to America from the Swedish countryside on a shoestring budget and fistful of hope. Three years later he's carved out a place as one of the top "true" privateers on the circuit. Noren recently underwent wrist surgery following the season, but has big plans for 2014 on the docket. We spoke with him earlier today before he heads back to Sweden on Monday.
For more on Noren's journey, check out the October 2013 Issue of Racer X Illustrated.
Racer X: You just underwent wrist surgery a few weeks back. How long are you expecting to be off the bike?
Fredrik Noren: It was just a simple surgery, so I will probably only be out a month. They cleaned the joint out from the cartilage, or something like that. I think I can start riding in about a month, but it won't hurt my off the bike training.
You typically head back home to Sweden during the off-season. Are you planning on heading back this year and do you plan on riding?
Yeah, I'm going back on Monday. But I'm only planning on staying during my rehab time. I hope to be back in October and then start riding here. So it will be basically just going home to spend time with family and friends.

Noren finished 27th in 450MX points while missing four rounds with a wrist injury.
Andrew Fredrickson photo
You were on the cusp of being the top privateer every week this season. How much more difficult was it with everyone being healthy again?
It has been a hard year because I was really late with everything and getting my sponsors and stuff. In the beginning of April I still didn't have bikes and I wasn't sure where I was going to get them. So that was kind of stressful. I didn't get to ride enough before the season as much as I wanted. At Hangtown I had two solid motos and started out pretty good, then I had some other good races before I broke my wrist. It's been a tough year, but a decent one.
You were basically your own mechanic this season, with various people, including your girlfriend, pitting for you. How difficult, with time restraints due to TV, to not only recover from the previous moto, but also to get your bike ready?
You just have to hope nothing happens to the bike [laughs]. You have to hope it doesn't get too dirty to where you have to wash it. If it's too dirty you have to run over and wash it real quick and then get dressed and eat something and go out real quick. So it's not much recovery time, it's more get stuff going and go out again. At some races I had some help with washing my bike and stuff so I was able to relax between the motos. It was tough, but it was a big learning experience.
This was your third season in the States. Do you feel your making the progress that you've expected from yourself?
The first year I didn't expect anything, and I did pretty well. From the first year untill this year I feel I've progressed a lot. This year, especially, was so much tougher than years past. I wasn't able to do any testing before this year. For next season I'm planning on doing everything perfect with testing and riding. I will be riding all winter this year and training so I won't get out of riding shape.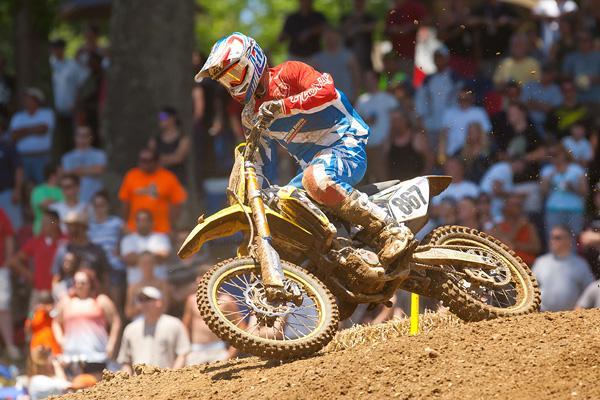 Noren will not race for Team Sweden at the Motocross of Nations due to a wrist injury.
Andrew Fredrickson photo
This was the first year you were on your own after spending two years with MX Heaven. Was that a big change for you?
Yeah, it was a big change. I had to do everything myself this year. But on the other hand, it got a lot cheaper. I would say I got to know a lot more people, so it was a good year in that way also. I had to make it as cheap as possible this year, which is why I didn't have a mechanic. It was a change, but it was a fun change and a learning year.
Something new for 2014 is that you will be racing supercross for the first time.
Yeah. I've wanted to race [supercross] for a couple of years, but I didn't have the money because I had to go back home [to Sweden] and work. Last year I did a couple of arenacross races, and then I decided that I would go all in and try supercross and see how long the money will last—although I don't have much money right now [laughs]. So we will see how it goes, but I'm hoping to race the Lites East Region.
How do you think racing arenacross last year will help in making the adjustment?
I don't know if arenacross last year will help me much in supercross. It's really different, I would say. But it did give me the thought that maybe I should go and do supercross. Arenacross was fun, but I would rather do supercross.
The wrist injury took you out of contention for a spot on Team Sweden for the Motocross of Nations. Are you disappointed that you weren't able to race?
Yeah, Teutschenthal is a nice dirt track and it would have been fun riding that. But now that I have a wrist injury I can just go back home and spend time with family and focus on getting ready for supercross instead of focusing on going to Germany and getting stuff figured out for that also. It's a little disappointing but I think they have a good team this year and I'm pumped for them.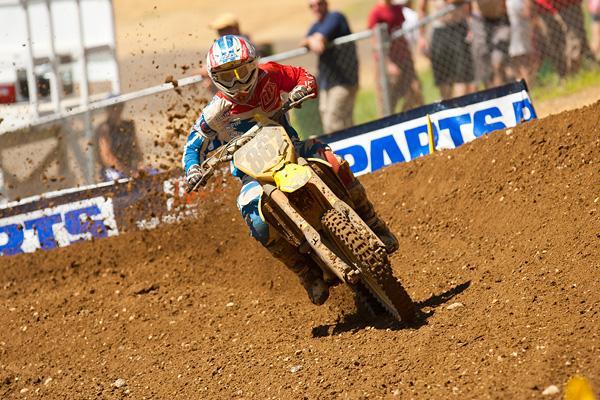 In 2014, Noren is expecting to contest his first full Monster Energy Supercross season in the 250SX East Region.
Andrew Fredrickson photo
Will we see a brand change for next year?
I don't know yet. It depends on if I can get some kind of help and where and if I'm buying bikes. I would like to stay with Suzuki because it's a bike I like, but if a better opportunity comes up I would probably take that.
Thanks, Fredrik. Who would you like to thank for helping you this season?
I would like to thank Malcolm Smith Motorsports, Silkolene, Ohlins, Troy Lee Designs, Pro Circuit, Ride Engineering, Novik Gloves, EKS Brand, Sunstar, Rekluse, Excel, Ridestore.com, Absolent and all my Swedish sponsors and all the fans.