Although he clinched his second 450 Class title a week earlier at the inaugural Utah National, Monster Energy Kawasaki's Ryan Villopoto showed up to the season finale at Lake Elsinore and dominated the field for another 1-1 performance to cap off the season. He talked about his day in the post-race press conference.
Racer X: You finished on an absolutely awesome note, and with the championship. Take us through the day.
Ryan Villopoto: It was good. Me and Josh [Grant] were going at it in practice, started early. He was able to get me on the ball there. We got to ride the track and kind of see what it was going to be like. I went into the first moto and had a really good start, just went a little bit wide. My main goal was to try to get two holeshots today. I felt like I was really close, especially the second moto. But just got edged out both times.
And what did you think of the track conditions? Obviously everyone has their own opinion. Everyone said it was kind of dusty, kind of tricky. What did you think?
It's so-so. Maybe this is the way the sport's going, the sport's moving, is kind of these stage style outdoor tracks, kind of like a little supercross with all the jumps. It's good for the fans. It's sometimes hard to get some really good dirt, and that's the problem with the way this place is right here.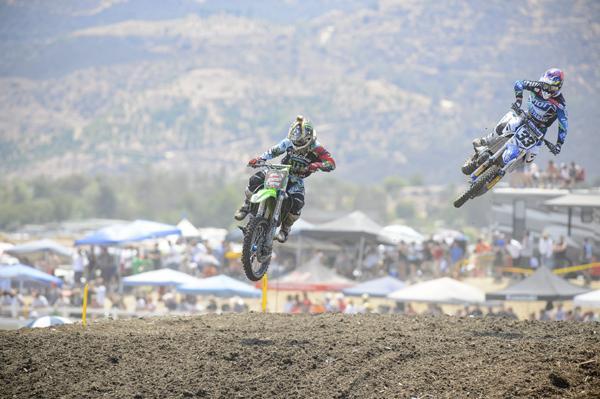 Ryan Villopoto capped off a dominant summer with a 1-1 performance at Lake Elsinore.
Simon Cudby photo
Your season as a whole has been absolutely amazing. Like we were saying, eight overalls, eighteen race wins. Take me through how you got to where you are? Obviously you had the great supercross season, but you took this season out of your hands.
Everybody's in the same boat that we don't have a lot of testing coming into outdoors. Really it's one weekend off so we have a total of four actual test days that you're not concentrating or trying to do testing in supercross. So we have about four days to do it and try to find the best setting you can. I was a little unsure on where we were going to come in at Hangtown and how we were going to be, but once we showed up at Hangtown and I had the two motos there, I was really excited to see where I was going to go because I've always kind of struggled there. When we left there I was like, 'Man, my bike worked awesome.' I felt really good. And there were races that it didn't. Budds Creek we had to re-evaluate what we were running and change it and make it better. Same with Millville. We had to re-evaluate what we had, what we were running and change it to be better. With the great team that I have behind me, we were actually able to do that both times and turn the ship and go in the right direction.
What were the main things that you were changing? Was it suspension changes or changing engines?
Just suspension, really. Those two races, there's a lot of big hills and kind of steep stuff. Millville was odd for us this year. It was a lot more hard-packed than anybody's ever ridden it. So we struggled there. We struggled at Budds Creek. In both places what we were struggling with kind of was the same thing. We needed the same change, the same thing. We needed to make our bike a little stiffer, do things a little bit different. We were able to do that and it improved us.
Going into the mind of Ryan Villopoto, when you're leading a race and you are edging seven seconds away from people, how do you manage to keep that momentum going and the focus going knowing you've got such a great lead?
All the preparation and everything get's done during the week. If you put the time in during the week, the weekend should be fairly easy. But if you don't put the time in during the week then the weekends are going to be a struggle.
Talking about testing, the small amount that you do during supercross, because as a rider you're sort of in supercross mode, is it even really valuable as far as evaluating what the bike can do? Are you up to speed outdoors at that point or anything like that?
I wouldn't say we're up to speed right away, but the reason why I was surprised was just like we rode and showed up at Monster Cup with our new suspension, and even Anaheim 1, we were way, way off. We were just so soft. That's probably why I struggled the first six races in supercross. Same with outdoors. I kind of didn't know where we were going to come in at, what the suspension was going to do. We had to learn very quickly and we had to make changes very quickly. Sometimes you get it done early or get it done sooner. If you want to win you have to do those things. We all have one goal, and that goal is to win. And if we end up winning, everybody's happy.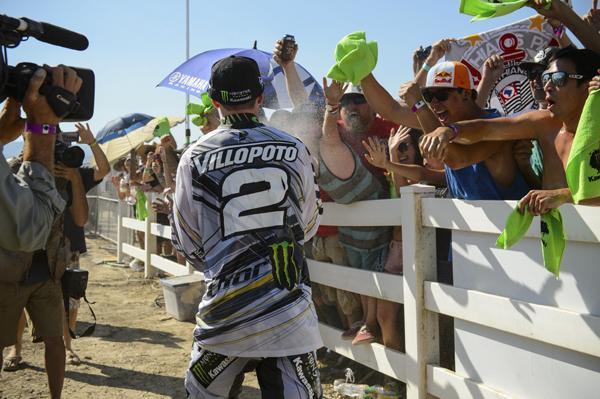 RV celebrates his eighth overall win on the season.
Simon Cudby photo
Do you get to do something crazy now? Does Aldon [Baker, trainer] let you go nuts and go to some buffet or eat ice cream for once or something?
No. It's very short. We'll be back on the bike before you know it and be focused on preparation for supercross. We'll go to Monster Cup with hopefully some new settings, some good things to kind of see where we're at, what we need to work on and things like that. And then after that Anaheim 1 will be right around the corner.
Not even just a week off the bike or a week off training?
Yeah, I'm pretty sure I'll be off the bike a little bit. That will be good for me, good for everybody. We'll kind of get to recharge.