Lake Elsinore
Lake Elsinore

,

CA
Lake Elsinore
Lucas Oil AMA Pro Motocross Championship
MyPlash/Star Racing rookie phenom Cooper Webb ended his season on a high note: capturing his first overall podium of the season. The North Carolina native talked about his day at the post-race press conference.
Racer X: How does it feel to be sitting up here with an overall podium today? You must be so happy.
Cooper Webb: I'm pretty pumped. Just to come get two good starts and put two motos together and to get third at the last round. It's pretty cool.
And the races, obviously conditions are hard. The end of both of the races you didn't seem to look that tired and you weren't really sweating that much. Is that because you're young?
It was definitely gnarly today, just the way the track was. It was pretty brutal for sure. The heat didn't seem to bother me too bad. I've been pretty good in the heat in the past. So that wasn't really too much of a problem for me. But just trying to put consistent lap on a pretty brutal track is hard for sure.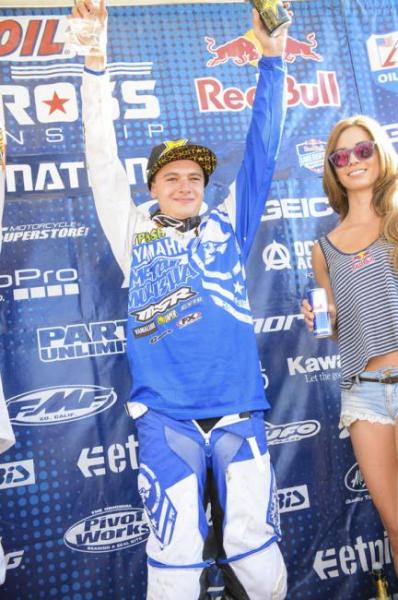 Cooper Webb finished off his rookie season with an overall podium performance.
Simon Cudby photo
Obviously you came in pretty fresh into the season, but what's the one thing riding these professional races that you've learned this year that you're going to take with you into next year?
Really just the mental side. I think that's what I kind of struggled with, was just drowning on the past too much and not being able to look forward and just kind of recharge myself every weekend. But the past two weekends I kind of recharged my batteries and I just went in with a totally new mindset. Even at Unadilla I did pretty good. I felt like I rode good; just my starts were terrible. That was the main thing I was pumped on, was two good starts today. That was probably the toughest part.
Have you been really happy the way your bike's been working? Have you had to do much testing?
Not too much. I think we have a while to get a baseline. Testing it was very good for me. The bike is awesome. We switched minimal things on the race days. It's mainly just for comfort. Obviously the suspension we're always changing this and changing that, just little stuff. But overall I think the bikes been awesome and I'm actually really excited to get on the new bike and see what it's all about.
Have you done anything with that? Rode it, seen it, anything like that?
I rode it one day and it was bone stock, but it was awesome.
Surfercross champ. Take us through that. I know you have a background in both, right?
Yeah, my dad was actually a professional surfer so I was brought up in surfing and stuff. So I got partnered with Sunny Garcia and it was cool. We pretty much just went out and did really good. I think I won by quite a bit.
Where was that diversion of "do I do motocross or do I do surfing?" What made you decide on the motocross route?
I loved surfing when I was really young but my dad actually rode a little too. He surfed all the time and he actually owns a surf shop and builds surfboards. It was kind of like yeah, I should have been a professional surfer, at least somewhat of a beach bum or whatever. Kind of crazy that we got into motocross instead of surfing.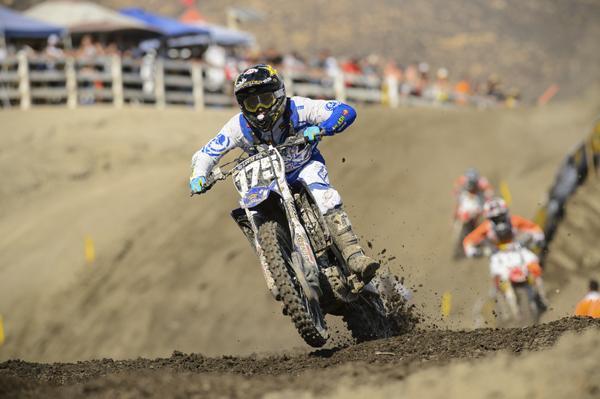 Webb will make his supercross debut in 2014.
Simon Cudby photo
When I talked to you this morning I said are you glad your first season's finally over, and you said, "I don't know; ask me at the end of the day." So do you wish we had more races now that you just got a podium?
No. I'm satisfied with the last race for sure. For me I couldn't have ended it any better way. It's cool to kind of know that Eli and Ken are moving up next year, it kind of makes the 250 Class next year wide open. To be able to end this season on a good note will be good for the off-season I think.
You had a pretty good battle with Zach Osborne in the second moto. Can you talk about that?
Me and Zach had a pretty sick battle, actually. He ended up getting me and I didn't want anybody passing me back. He couldn't pass me for third overall or whatever. I was trying to just sneak in and get it back. I think we passed each other three or four times each. It was cool because I was coming up in the Carolinas and I kind of know him and stuff. We raced hard so it was a pretty good battle.
You started with the outdoor season this year. You haven't done a supercross yet. Are you looking forward to supercross next year?
I'm actually really looking forward to it. I've always loved going to supercross and actually enjoy riding it. I spent a lot of time riding it before the Mini Olympics just because. I seemed to adapt to it pretty good. I'm actually really excited for the new bike and supercross. I think that with the team I'm on and everything pushing forward it should be a good year.