Well, Shane McElrath and Matt Bisceglia have already learned one part of the pro game. When we chatted with them Friday to get some background for Saturday's TV show, they diffused the pressure just like the pros do. They both pretty much said the race didn't matter! They have their pro contracts signed and they're really just focused on Unadilla.
It was a chilling reality to know that the top amateurs no longer need to prove themselves at their final amateur race because the ultimate goal—a factory ride as a pro—is already locked in. And it's commonplace. Sure, we've seen riders in this situation plenty of times, but they're usually nervous anyway. I remember the year Broc Hepler and Davi Millsaps were already loaded for Suzuki, and it pushed their competition to another level. "Beat them in a moto and I can prove myself," seemed to be the collective opinion of everyone else on that gate. Same thing when Josh Hill was the star of the week for Yamaha. And that motivation pays off for some, like Brian Johnson, who bested Hepler for a title, and Wil Hahn, who held off Hill under pressure for a moto win.
But you could see that Hepler, Millsaps and Hill were afraid of getting beat by those guys. They knew the world was watching to see if they could live up to the hype. They knew other riders and parents and sponsors were jealous of their position, and at the amateur level, jealousy is a powerful potion. Yeah, they had their pro rides dialed in, but they felt the need to defend what they had earned.
For good measure, Kawasaki Team Green's Thomas Covington threw in a "doesn't matter I have my pro deal signed" along with McElrath and Bisceglia. I was honestly worried we'd have a live TV show promoting how much the race matters, with a bunch of riders saying it doesn't matter.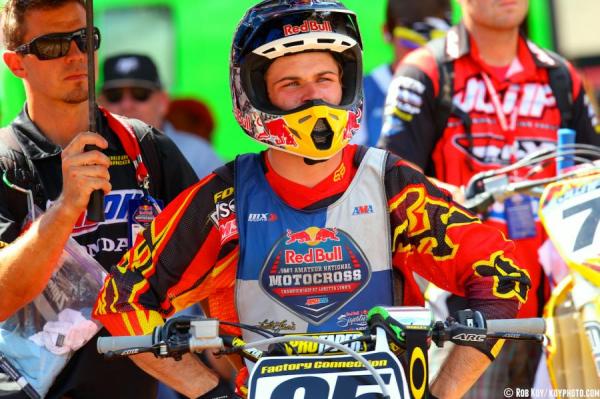 Matt Bisceglia had a pro deal locked up with GEICO Honda before Loretta's, and will make his debut this weekend at Unadilla.
Roby Koy photo
Luckily, some of it was just window dressing. When McElrath and Bisceglia were actually interviewed live on Saturday a few minutes before the gate drop, they weren't nearly as relaxed. And when Bisceglia won, he was as overjoyed as any other Loretta's winner—it indeed meant a whole lot to him.
Maybe the young guys knew they'd perform better if they downplayed things before the race. That's a veteran move. Back in 2006, Ricky Carmichael, James Stewart and Chad Reed were going at each other's throat weekly in the midst of the tightest, tensest Supercross titles battle ever. Reps and egos were hanging in the balance here, much more so than this season, where the Ryans seem to leave it on the track, and the likes of Stewart and Reed have already secured their legacy. In '06, it was Reed trying to prove he could do it straight up. RC trying to hold off Stewart one last time, and Stewart trying to get RC before RC was gone. It was tense. That season mattered. One weekend, the SX promoters set up a meeting with the announcers and the riders (Ralph Sheheen, Jeff Emig and Erin Bates from TV, me and Jim Holley from the webcast). No cameras, no recorders, just a chat.
So Sheheen started it with the most basic question ever. "How much would it mean for you to win this title." And the answer? All three agreed that it didn't matter! RC said he'd won plenty so one more wasn't a big deal. Stewart said he was only 20 years old, and was still learning. Reed said he was dealing with a shoulder injury, so he was just happy to still be in it. Somehow, the largest prize in their sport didn't matter. Or, well, they said it didn't. They tried to take the pressure off. Just read between the lines. It mattered.
And when RC took the AMA SX title in Vegas a few weeks later, and Stewart claimed the World SX GP crown (remember that?) they sure acted like it mattered. It's a freaking supercross championship. It will always matter.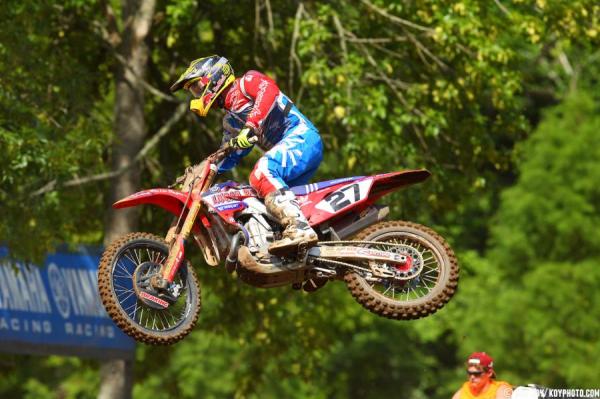 Shane McElrath also had a deal in place with TLD Honda.
Roby Koy photo
I think Loretta's still mattered to Matt Bisceglia, but how much it will matter going forward is hard to understand. The Factory Connection (GEICO) Honda team has changed the face of the amateur ranks with their innovative signings, and the talent and titles that have come from it. With the likes of Trey Canard, Justin Barcia, Eli Tomac, Justin Bogle, Zach Bell, Bisceglia and the next guy in line, Jordon Smith, this team has basically collected first round draft picks every single year. And, what's key is that of that entire group, only Barcia was a Honda rider before he joined the Factory Connection effort. That's six riders pulled into the fold from other programs. Right now, the factory Muscle Milk Honda team is stocked with Barcia and Canard, and Tomac is leading the 250 points for the pros. The success is just undeniable, and even the mighty Monster Energy/Pro Circuit Kawasaki team has been sent reeling.
So now everyone has to follow. KTM's FMF Orange Brigade team has become a training ground, first for Joey Savatgy but soon for Dakota Alix, who would have been an A class contender at Loretta's if he hadn't crashed when he chain came off on the first lap of his first moto. Look for him in the pros next year. Star Racing Yamaha is already bearing the fruits of Cooper Webb and Jeremy Martin, and they have Anthony Rodriguez (who missed Loretta's with a torn ACL) coming up next. B class hero Aaron Plessinger is now sporting their graphics, too. Troy Lee has McElrath and Justin Hoeft. The scouting goes earlier and deeper, so the real moment to peak is in the earliest days when the riders get on big bikes. That's when these teams come calling. And unlike the old days when there would be maybe one or two outstanding grads each year, now every team is handing out multiple spots every year.
That amateur to pro link is now the rule rather than the exception.
This has changed the landscape. Webb and Cianciarulo could have been the top grads from Loretta's this year, but they had their deals in place and moved up early. Next year's star could have been, say, Covington, but he plans to race Hangtown in 2014. And while his week at Loretta's was mixed, Factory Connection's Jordan Smith (he dominated one B class but had troubles in the mud in another) is so darned fast that he might be on the gate at Hangtown next year, too.
The top hoops players don't play four years in college anymore either. LeBron and Kobe came straight out of high school. Major League Baseball has made moves to sign players earlier and get them through the minors more quickly, and there's a gang of young talent proving that system works.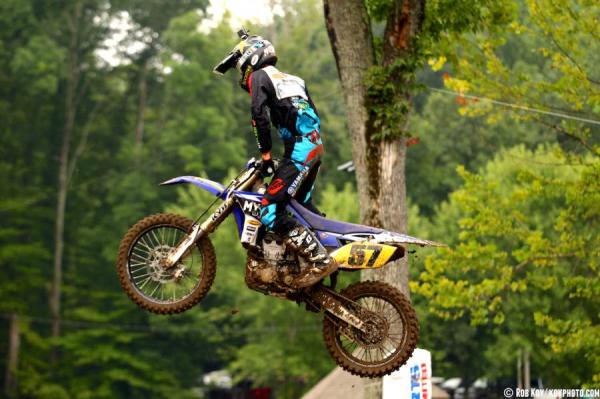 Aaron Plessinger is now part of Star Racing Yamaha and had a breakout performance at Loretta's.
Rob Koy photo
But the risk is higher when you have to pick so early. Mitch Payton has always held to the idea of waiting as long as you can, so you can really know who has what it takes. He puts it in Team Green's hands, and even hot prospects, from Austin Stroupe to Dean Wilson and Blake Baggett, had to prove themselves down to the very final moto of the amateur career to earn a spot on Mitch's team (Baggett actually didn't, and he ended up on Rockstar Suzuki for a year). But now, if you wait that long, the talent has gone elsewhere. It's going to be even harder for Suzuki, which doesn't even have a real factory 250 pro team, let alone a factory 250 team moonlighting with an amateur effort. Today's top young kids are looking for someone to lay the whole road map right in front of them.
The pressure point comes on the teams who have to sign these kids early. It was hard enough to figure out who had "it" when you watched them race the pros every weekend. Now the pro teams need to scout amateurs two years early, and not just at Loretta's, but the ever-increasing array of big amateur races throughout the year. That's not easy. But a team can't afford not to do it. If you don't offer the full road to the pros, someone else will.
Of course, scouting isn't going to be any easier when more riders go to the line sitting on guaranteed deals, and can then claim the amateur races don't matter as much anymore. They somehow matter more than ever, and a little less, too.