There's never a bad time to get recently-retired GEICO Honda rider Kevin Windham talking. The man's done it all in the sport and right now, after 19 years of racing, he's waiting and choosing what he wants to do next. Windham's always an engaging person to talk to and we thought this off week would be a perfect time to check in with KW to see what he thinks of Lucas Oil Pro Motocross and also, what's next for him.
Racer X: KW, thanks for this and what are you doing?
Kevin Windham: Well I'm tuned in to the Nationals and now I'm watching the Tour de France dreaming of when I was fast and in shape. I Tweeted that all this watching of the Tour should be enough to get me into shape. I'm just watching everything, having fun with my kids this summer, growing a gnarly beard and getting ready to get into the mix again. I've missed the races and I'm figuring out which ones I'm going to be hitting.
Have you been doing any riding?
Yeah I have. I rode with Brett Cue who's trying to get into the X Games, I had a little thing with him. I've got a charity ride lined up with Wounded Warriors in Louisiana as well as something with Craig (Morgan). A couple of things around my house and mostly, just some fun riding with my kids.  My son said to me, and this was weird, that he's been cheering for me for years and now when it's time for him to go pro, I have to be sure to cheer for him. I assured him I would and he's already got his whole professional career mapped out.
Before you know it, you're going to be like Deegan or Ferry with your son riding the KJSC and you cheering him on.
Yeah, it's funny because I feel like my son is the same way as those guys' kids. He's not just watching the races, he's picking up technique and he's got some fundamentals from just watching the races. It's cool to see him out there and having fun with it.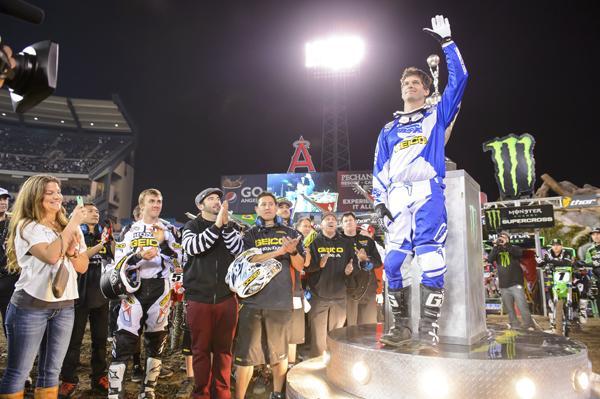 Windham announced his retirement from professional racing earlier this season.
Simon Cudby photo
Really soon it's going to sink in for you that you don't have a season to get ready for?
Yeah, actually I saw something yesterday that reminded me of that. Usually I go on a holiday and then prepare for the supercross season. Just yesterday it hit me that I'm not going to have to do anything. I'm keeping my blood pressure low which is good. It's no longer how many miles I can run, how many laps I can do or anything like that. Now it's worrying if I'm going to have a heart attack, what my cholesterol level is and things like that. It's a whole different level.
I am also paying a lot more attention to the serving sizes, if I don't pay attention to those then I can get fat overnight!
Yeah, I've given that up. I wanted to get your feedback on the Nationals right now. James Stewart and Chad Reed are, right now, having the worst results of their career to different degrees. It's a little weird to see and you're someone that decided at some point that you couldn't ride at a particular level and packed it in. What are your thoughts on these two guys as someone that's recently retired?
Well I hope that they can get back to their old levels and strike up some results for the old guys (laughs). You watch someone like James Stewart who's one of the most gifted riders ever and elevated the sport pretty dramatically when he came in. He used to never get passed and if he did, it was going to be a dogfight. He may not win but he was going to go down swinging. That kind of goes away, it went away with me and it's gone away from Chad and James right now.
Right now, (Ryan) Dungey and (Ryan) Villopoto have that fight to the end. It's not my goal to talk crap on these guys, like I said I hope they can come back to their old levels but I've been there. As far as Chad, I took over from Mike Larocco and there's always that old guy. He's taken over from me. There's always a reason, and not to take away from those two guys who are great guys and incredible talents, there's a reason why someone hasn't been able to do more than nineteen years as a full-time pro. Larocco's got 220 mains and I have just over 200. There's a reason why. In my head I want to be out there right now, I think I'm a bad-ass. But reality comes calling and it proves me wrong.
I think most of those guys still have some good years in front of them and I think they'll rebound after a good off-season and for Reed anyways, I bet he has one last hurrah before his golden years.
You've been where Dungey and Villopoto are, where they're just beating guys like Canard and Barcia pretty badly—and those guys are working hard and are fantastic riders. What is it with the two Ryan's, what's the key to them being so good?
I think it's a combination of mental and physical things that add up and make you feel like you're unbeatable. RC made a comment about RV firing on all cylinders and he's right, there's nothing that Villopoto can't do right now out there. He's so confident in his bike, in his training and all the things that make you go. It's going to be hard to steal some of that confidence right now, eventually it will happen and he'll fall off. Everyone always does.
I think with the way he works, and the way Ricky worked, they don't have a career where you can stretch it out. I don't think there's much joy in the Villopoto camp right now. A victory isn't much fun, it's been ten years of busting his ass every day to get that. Those guys are gnarly and I'd be surprised if his career went that long with the amount of effort he puts in.
And Dungey, man that guy is just a diesel engine. He's so strong and consistent and he keeps his eye on the ball. It's hard to get him down, and even when you do, he keeps plugging along and doesn't stay there for long. Watching him push that bike up the hill at Redbud so he can bump-start it, man that was pretty amazing. I promise you that if I have a bike that has electric start and I push the button so many times that it doesn't start, I'm done and taking it back to the pits!
Do you like the fact that perhaps in your career you took the time to smell the flowers a bit? You skipped some outdoors, you worked hard but perhaps not to the level that those guys did where they ground themselves down?
I'm regretful that I didn't race outdoors longer. A part of me wishes that I would have. I have never been clinically diagnosed with heat stroke disease or whatever but there have been plenty of times where I've had trouble recouping, driving myself back to the hotel or whatever. When you start doing IV's and stuff after the race, that's not fun. I got to the point where I wanted to focus on supercross which is a game of inches and things like that. It's an incredible environment and controlled, a good show and all that. But motocross, it's completely different, that's where the roots of the sport are and I regret that I had to turn my back on that. But the heatstroke stuff and the internal bleeding, after 15 years of that you're like, "That's enough."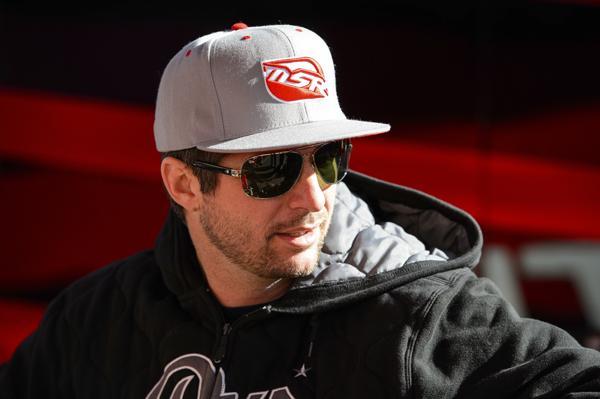 Windham is still deciding what the future holds for him.
Simon Cudby photo
Are you going to get into the booth at some races, I think you're great at that. What do we have to do to get you in there with Weege and Emig?
Well, good question. I talked to Davey Coombs before the season started and there seemed to be some potential for some. That stalled out and I'm not sure why. I'm waiting it out but at some point I have to find some way to make a living. I want to be involved and have to find my place. I'd like to be involved with the Factory Connection team in some way but at the same time, I want to have some value in whatever I'm doing. I don't think I can just park myself under the tent, I have to be of some use to the team or the riders or whatever. If I go the announcing route I don't want to be biased, I want to be able to say something the way I want to say it. Sometimes it's hard when you know what's going on under the GEICO tent and can't say, that's not a good situation for anyone really. I don't want to be the one to break any stories so there's a fine line there.
Your old team, GEICO Honda, has signed Eli Tomac and Wil Hahn, they're getting a new truck and they will have a full-on 450 team.
Yeah, I'm excited for those guys. It was always nice to have Mike [LaRocco, when he was racing] on the team and having two guys on the team in 450 class is a good thing. Their 250 effort got to the point where they just had room for one 450 guy. But now they're growing into it and I'm happy for them. Eli is going to be a great challenger as he moves on. Wil also, he's got a lot of heart and he's going to need to bump his game up to get to that next level but he and the team will work on it with him.
I left them pretty high and dry. We had a long talk before I retired…well however long between practice one and practice two is anyways! They said they would be fine. I got tired of saying the same things over and over to them, that I didn't want to jump this, didn't want to do that. They have done a great job over the last two years and they have some major shares in the 250 class, they've taken away some wins from the PC guys and they have a well rounded team now with the 450 guys.