Moto-X 338
Southwick

,

MA
Southwick
Lucas Oil AMA Pro Motocross Championship
BTO Sports is your number one source for all of your motocross parts, gear, accessories and apparel. BTOSports.com is a motocross company who is truly dedicated to the sport and to the customer. Proud sponsor of your Racer X Podcasts and the BTO Sports race team.
And that's a wrap on Southwick/Moto-X 338's legendary run as an AMA National. It's a shame that it's got to come down to money and people wanting more of it, but then again, doesn't just about everything in this world work that way? It's too bad, we need a sand track on the circuit and I hope we get one or Southwick does indeed come back after the involved parties work everything out (right now the local promoters who run the event have decided to retire instead of paying the much-increased rent the land owners have asked them to pay). The MX338 facility is pretty cool. It's right in the middle of a town that could be in a Stephen King book; it's old school and quaint. That, of course means, if it IS based on a King novel, there must be a man-eating clown somewhere in the sand.
That would liven up the motos wouldn't it? Have a rider disappear in the back and then just not come out, then have Rocket Rob Buydos announce to everyone that the man-eating clown has gotten another one and we have a new leader now! Anyway, it's a cool track one that you can see really stresses the body and bike. But, for the record, I complain about this every year and I'm not going to stop now just because it's the last one. The worst thing they ever did was turn the track the opposite direction. Why? [Editor's note: Matthes, I heard they did it because they wanted the first turn to be a left hander. And as you'll note very few first-turn crashes here. Oh, wait. Let's just move on].
All of the Southwick elements added up this weekend. The track is just crazy. In the first 450 moto it was complete chaos out there with riders crashing, charging and pulling off everywhere you looked. Southwick is just madness, ask Mitch Payton, he'll tell you.
Ryan Dungey has always struck me as being pretty damn fast at Southwick for some reason. And just to reconfirm my thinking, I went into the Racer X Vault and pulled his sandbox stats.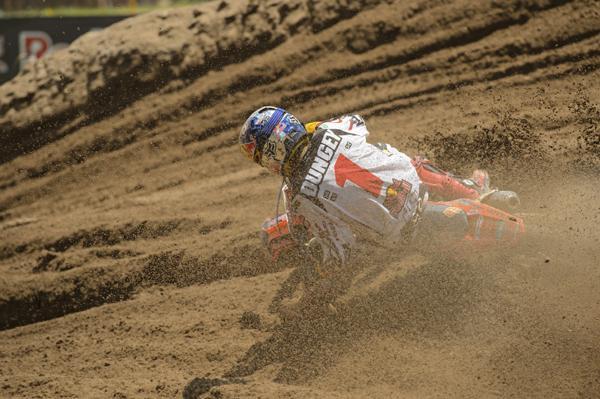 Research shows Dungey is always fast at Southwick. You knew that. But did you know there's a rough sand track in Wisconsin? Keep reading.
Cudby photo
2007, 3-3 (3rd OA)
He made his pro debut in the last four races the year before (I still can't get anyone to give me a ruling on when a dude is a rookie and when he isn't) and he finished behind Ben Townley and Ryan Villopoto, which bears no shame because EVERYONE finished behind BT and RV that summer. This Southwick performance matched the best he had all season in 2007, so clearly he had taken a liking to this place.
2008, 3-2 (2nd OA)
He got beat by, wait for it, Ryan Villopoto for the OA and by Brett Metcalfe (who we've seen is pretty fast at Southwick, more on him later) in one moto. Nothing to be ashamed of here, either. Good race, champ (patting Dungey on the butt).
2009, 2-4 (4th OA)
Gasp! Dungey's off the box here with a poor (for him) second moto after crashing on the first lap and coming from twentieth or so to get fourth. Yeah, just terrible. By the way, Justin Barcia wins the OA and Tyla Rattray wins a moto. Both are sand specialists.
2010, 1-1 (1st OA)
Uh yeah, Dungey's rookie season in the 450s and with no Ryan Villopoto or Chad Reed he wipes the floor with everyone.
2011, 1-7 (3rd OA)
Maybe you heard about this race? Dungey's bike refuses to start for the drop of the second gate and he enters the race two turns from being lapped by the leader (which would have DQ'd him, by the way) and flies all the way around the track to get to seventh. It was an awesome ride, and tears of disappointment were transformed into tears of joy for Ryan and his crew. Great ride!
2012, 1-2 (1st OA)
Yet even more drama for Dunge as he crashes while leading the second moto, has his gas cap pop off, is forced to pull in for a fuel stop (seriously) and then charges up to Rattray's rear fender to almost win the moto! It was another great ride in the sand for the Dungenator.
So to recap, he's only finished off the podium at Southwick one time in his career and in that race he came from outside the top twenty to fourth. He's also A, missed the gate drop and was over three-quarters of a lap down to start and B, pitted to get more fuel and still almost won. Southwick has definitely presented the best of days and the worst of days for Dungey. I'm guessing his skill in the sand comes from a few things. One is that Millville, his home track, has sand. Two is that when he was a kid and it was cold in Minnesota, he had to ride sand a lot. In fact, Dungey says most of his riding as a kid took place on his grandfather's farm, which had a little sand track carved in it. Three is that there's a track in Grantsburg, Wisconsin, that I've raced a bunch that's as sandy as they come. All possible reasons why Dungey is good in the soft stuff.
So this year the KTM kid won the overall with a 1-2 score, but once again, it was eventful. A bad start and hang-up in the first turn of the first moto forced the defending champion to work through the pack. Eventually, with a lap and a half remaining he passed Andrew Short (?!?) for the win. It was a tough, hard-fought race for Dungey, one that I'm sure required that he clean sand out of every orifice afterward. Pimping ain't easy, and neither is Southwick.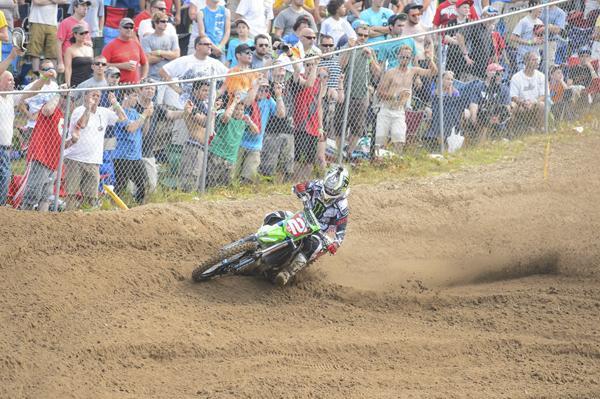 When Villopoto was passing riders in moto one, he made the other riders look like they were moving about as quickly as the fans behind this fence.
Cudby photo
In the second moto he took a safe second behind Villopoto (although he did put some pressure on RV early on) to make up four points in the chase for the 450MX title. If the Moto Gods (or man-eating clown, for that matter) were nice to Dungey then they would have had something go wrong for RV in the second moto. Dungey's owed a few by Southwick, no doubt about it, and he won't get another chance to exact his revenge on the 338.
The shifty sands of Southwick latched onto Villopoto this year as he fell in the first turn in the first moto, and then ran into a second pile up later in the lap and went down again! This caused him to have to really do some work as he came from dead last (lap chart has him thirtieth after lap one) and he was flying out there. Like, seriously, FLYING. Watching the replay on some of his passes, it's like the other guys are in slow motion as the #2 comes by them like he was shot out of a cannon. By the end of the moto first, second and third were right there in front of him. If he'd had another couple of laps, he might have won the whole thing. Villopoto backed up that speed in the first moto by winning the second moto with a nice margin.
RV lost his second race in a row, and his third out of the last four, meaning there's no doubt that Dungey has caught up to him in terms of speed since Muddy Creek, where SOME people wrote that Barcia was the guy who could beat Villopoto, not Dungey. Hmmm, in fact, you probably read that prediction right here in this column. Maybe that guy should be fed to the Southwick man-eating clown?
I know this is like beating on a dead horse (I've been known to do that a time or two), but I didn't like Villopoto's gate choice for his first moto. It was too far to the inside, which means you to have to get a great jump or you'll be pinched off and screwed. You should, in my opinion, give yourself an out if shit happens off the start. You're Ryan Villopoto-if you start ANYWHERE in the top ten the worst you're going to get is second. I've been going off on this all the way back since Anaheim 1. At Southwick, his gate pick and subsequent first-turn crash led to this exchange after the race:
Me: You know what the problem with those inside gates is, right? Sometimes you boom or bust. One of these things happens. Sometimes those gate picks don't always work out on the inside.
RV: You kind of would know about those gate picks, all the races you've won with inside gate picks, or outside gate picks - whatever you like.
So yeah, there's that.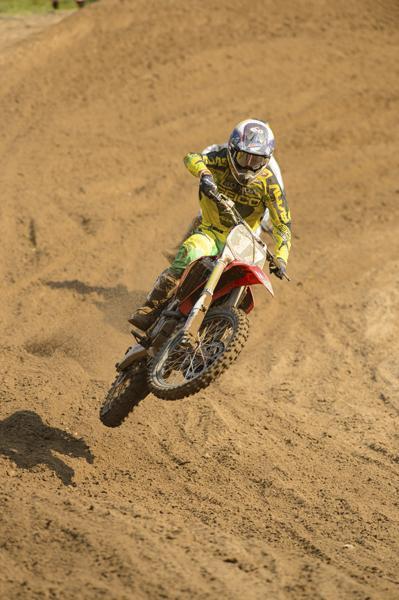 Tomac: One good start, one moto win. One bad start, one second place.
Cudby photo
In the 250s, the race boiled down to, wait for it, whether or not GEICO Honda's Eli Tomac can get a start or not! Yeah, I know it's a weird deal but when he does get one, he can flat out dominate the races. When he doesn't, well he has to really work for it. In the first moto he took off for a massive win. Tomac dominated the moto with the same speed we saw last week at Budds; no one was going to touch him out there. In the second moto he was around fifteenth or so and had to really grind it out to get second for the overall win. Tomac was blazing fast at the 'Wick. Can he get good starts so that we can see just what he's got, moto-in and moto-out?
Props to Kenny Roczen though for doing in the second moto exactly what Tomac did in the first. Roczen just left everyone else sucking on sand as he opened up over a 20-second lead at one point. His third in the first moto (with a crash) cost him the overall but he looked good, no doubt. I know it's dangerous to draw conclusions when we're only halfway through the series (hence the Barcia-can-beat-Villopoto-thing, which, um, someone was a little off on), but doesn't it seem like it's boiling down to Roczen and Tomac for the 250s? Blake Baggett has been inconsistent, Marvin Musquin has had three bad motos in a row and Zach Osborne is just a tick off right now. Seems to be to be coming down to #94 and #17.
I was talking to RG3 Suspension's Rob Hendrickson after the race (he does all the Red Bull KTM boingers) and he was saying that in his time on the circuit he's never been on a team that's more dedicated to winning than the KTM guys are this year. He says it's remarkable, and that the whole team is getting along, they're all pushing toward the goal of winning and whatever needs to be done, is done. Rob's been around and has worked with a lot of teams over the years and it's impressive for him to say this. And it's obviously showing as Musquin, Roczen and Dungey have all won races this year. Don't underestimate teams and the cohesion it takes to win. There's a lot of pressure in this racing world and it's a ton of work for, relatively speaking, not that much pay. You need to have everyone on board pitching in, and sometimes doing other people's work is necessary. I've been on teams where at six o'clock p.m. everyone's out and no one cares if you need help or not and I've been on teams that get it and hang out with each other until everyone is done..
Let's take a look at the results shall we?
250MX Results
1 17 Eli Tomac Cortez, CO Honda CRF250R 1 2- Tomac's close to picking his 450 team for next year, real close. Can you smell what the Tomac is cooking? Stay tuned…
2 94 Ken Roczen Germany KTM 250 SX-F 3 1- Something I forgot to mention way back in the High Point OBS column was how cool it is that Roczen's mechanic (Kelly Lumgair) and Rattray's mechanic (Wayne Lumgair) had their riders make the podium at that race. Great job to both of the South African lads. I'm at a loss to think if it's ever happened before. Has it?
3 338 Zach Osborne Chesterfield, SC Honda CRF250R 5 3- Osborne was solid at Southwick but he does have to figure out those first motos at some point. He was caught and passed by Bogle, which perhaps is more of a "Yeah Bogle!" thing than a "Zach sucks" type of thing, but still, the bottom line is that he's weirdly a lot better in the second motos.
4 1 Blake Baggett Grand Terrace, CA Kawasaki KX 250F 2 8- A tale of two Chupacabra's this week. One that sucked the blood out of 38 guys in the first moto and one that couldn't get it going in the second moto. After an amazing Budds Creek, Baggett was inconsistent at Southwick. This just in, we're at the halfway point and if he's ever going to do this thing, now's the time.
5 21 Jason Anderson Edgewood, NM Suzuki RMZ 250 6 4- Anderson had a nice ride considering his travel plans got all jacked up getting to the race. I always thought the New Mexico Mafia guys struggled in the sand but Anderson was awesome. 2014 is the year of the Anderson. Stamp that.
6 43 Cole Seely Newbury Park, CA Honda CRF250R 8 7- I was impressed and surprised by Seely's ride, which tied his best ever overall National finish. The SoCal kid can indeed ride the sand. He was very fast and unlike Budds Creek, he stayed strong to the end.
7 38 Kyle Cunningham Aledo, TX Yamaha YZ 250F 13 5- Nice second moto from Cunningham who, for the second week in a row, beat his two hyped-up rookie teammates for the overall.
8 25 Marvin Musquin France KTM 250 SX-F 10 9- Marvin was down in the first turn in the first moto and so his tenth was a good ride. Second moto he just didn't have it out there. I imagine he was a bit spent from the first moto. Weird deal with Moving Marvin; he's won at Lommel before in the GP's but last year at the MXoN he wasn't very good.
9 292 Adam Cianciarulo Port Orange, FL Kawasaki KX 250F 9 12- I'm okay with this. I know he's not, but I am. Keep calm and carry on is the order of the day in the AC292 camp.
10 37 Alex Martin Millville, MN Yamaha YZ 250 12 11- Martin's good in the sand and good for him; he had a nice day in the sandbox. One thing that people don't understand is how stressful it was for Martin to be on his old team, where things were chaotic and falling apart. Alex mentioned to me after the race that it was taking a toll on him. People from the outside (including me sometimes) don't understand how everything has to be right off the track in order to do well on the track.
11 317 Justin Hill Yoncalla, OR Kawasaki KX 250F 14 10- Another so-so day for Hill. Mitch Payton was saying that he just wants to see some speed from Justin. At this point I bet Mitch would take a run-top-five-and-cartwheel kind of day from Hill just to see that he does indeed have the ability to go fast.
12 34 Justin Bogle Cushing, OK Honda CRF250R 4 33- Great day for Bogle! A solid fourth in the first moto and he came from around thirtieth to thirteenth in the second moto before his bike let go. Combined with Wil Hahn's DNF-DNF (two blown motors), that was three DNF's for GEICO/Factory Connection at its home track. #ouch
13 44 Darryn Durham Butler, PA Kawasaki KX 250F 11 14- Durham passed thirty-three riders on the day as he fell in the first turn in both motos. You won't hear or read much about DD's ride anywhere but he showed a lot of speed and heart at Southwick.
14 77 Jeremy Martin Millville, MN Yamaha YZ 250F 35 6- Nice second moto from Martin on a day where big brother Alex had a better day than his more hyped-up younger brother.
15 175 Cooper Webb Newport, NC Yamaha YZ 250F 7 34- Weird that Cooper has had his two worst races since Cianciarulo debuted right? Can we look into this? Webb was ninth when he crashed late in the second moto. Is there another rider out there that has thrown away more points late in the races than Webb? It's a bit strange for sure, but again, he's a rookie and this stuff is allowed to happen, for now.
16 194 Jackson Richardson Australia Honda CRF250R 16 16- I was talking about the Aussie MXoN team with Michael Byrne after the race and I mentioned that maybe this guy could go on as the MX2 rider but Byrner mentioned Dean Ferris, who's already over in Europe and is doing well, as being an obvious choice. After that it's Metcalfe, Byrne or probably a Moss brother for the other MX1 spot next to Chad Reed. Or, gulp, does Reed not get selected?
17 556 Brady Kiesel Fort Worth, TX Yamaha YZ 250F 15 17- Hey look at this, Kiesel had his best day of the season in the sand.
18 613 James Decotis Peabody, MA Honda CRF250R 29 13- Back from exile (otherwise known as Europe), Decotis grabbed two awesome starts and proceeded to show us why he didn't do much in Europe. I like him but he's got to do better with those starts if he wants to get back on a team over here. Southwick is his local track, and his speed was great. But his endurance? Not so much.
19 266 Jesse Wentland Elk River, MN KTM 250 SX-F 17 18- All those races at Grantsburg must have paid off for Wentland.
20 13 Blake Wharton Pilot Point, TX Suzuki RMZ 250 39 15- Not a good couple of weeks for Purple Rain. Not sure what's going on here. He's better than he's been showing, no doubt about that.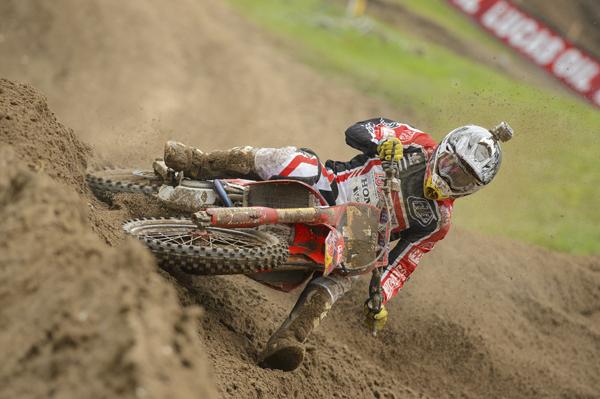 Seely is fast on sand. Who knew?
Cudby photo
450 MX Results
1 1 Ryan Dungey Waconia, MN KTM 450 SX-F FE 1 2
2 2 Ryan Villopoto Poulsbo, WA Kawasaki KX 450F 4 1- Uh, hey Ryan. Yeah, the points gap has closed to just twelve right now. Just thought you should know this.
3 51 Justin Barcia Monroe, NY Honda CRF450R 3 3- Lost in the Ryan Villopoto/Ryan Dungey come-from-the-back rides was Barcia's ride in the first moto. He came from outside the top twenty to third in a nice ride. A former winner here in the 250s and 450s, I thought Justin would be closer to the front in both motos, but he was still very fast and a 3-3 day is great.
4 24 Brett Metcalfe Australia Kawasaki KX 450F 5 6- Yeah! It's really tiring driving these bandwagons each and every week but in the case of Metcalfe, it's all been worth it. I've long been a fan of this guy. Is he going to win you a title? No, but what he will do is be a potential top-five/for sure top-ten guy, work hard, have zero drama, be great to fans and represent your company well. Metcalfe came back from Canada for his first Lucas Oil Pro Motocross race of the year and ran up front all day long. I hope there are some managers paying attention to this ride (he'll also be at Unadilla and Lake Elsinore) and realize that he's still there and fast as ever. Oh and by the way, he missed his gate pick in the second moto and was forced to the outside gates and still managed this finish. What's going on over there at Aussie Dave Racing? This never would have happened had it been Canadian Dave Racing.
5 29 Andrew Short Colorado Springs, CO KTM 450 SX-F FE 2 16- Shorty was a lap and a half away from winning the first moto. Now that would have been amazing! What a first moto for him. He fell in the first turn in the second moto but no matter, his 2-16 day was still great and it has to give Short some confidence moving forward.
6 28 Tyla Rattray South Africa Kawasaki KX 450F 10 8- Rattray passed 41 riders on the day to get these results. And that's only after lap one, as I'm sure he passed some more on the very first lap (stats only show the position of a rider at the conclusion of the first lap, not the start of it). Rattray is REALLY fast at Southwick and two first-turn crashes ruined his day. I would've liked to have seen Tyla stay up and see what he could have done. 10-8 for sixth OA though? Wow, the Moto Gods were on his side.
7 49 Phil Nicoletti Cohocton, NY Yamaha YZ 450F 6 13- Yet another good weekend for the N-Fab TiLUBE Yamaha rider. Filthy Phil was very fast all day long but he was definitely winded in the second moto and gave away another top-five or top-six spot. It still was a great day for the #49 and as I said before, he just needs to get some tattoos, party with the energy drink people and wear a flat bill hat off to the side and perhaps he'll get a ride with a team controlled by one of the drinks.
8 800 Mike Alessi Hilliard, FL Suzuki RMZ 450 8 12- Alessi's crash last week robbed him of some of his speed. He's still hurting from that and had to just do the best he could this week.
9 20 Broc Tickle Holly, MI Suzuki RMZ 450 11 10- Broc Tickle is the cheese pizza of the 450 class. He's not great, he's not bad, he's just there. I'm not walking past the cheese pizza if that's all there is, but I'm also not specifically ordering the cheese pizza either.
10 33 Josh Grant Riverside, CA Yamaha YZ 450F 13 11- I imagine for a guy battling some shoulder soreness Southwick wasn't very good for him.
11 7 James Stewart Jr. Haines City, FL Suzuki RMZ 450 34 4- Oh what could have been for the #7. Stewart had a ten-second plus lead in the first moto and went down hard with about ten minutes left. It was right there for James, who holeshot and was putting in a great ride with RV and Dungey stuck in the back. And he went down. If he was ever going to win, it was this first moto and he couldn't get it done. Props to him for getting a safe and steady fourth in the second moto because after that first moto swap and bang, I didn't think he would come back out for the second moto.
12 22 Chad Reed Australia Honda CRF450R 7 18- Reed's best ride of the year in the first moto, but he was down in the first turn of the second moto. Again.
13 54 Les Smith York, SC KTM 450 SX-F FE 12 14- Best ride of the year for the Witt Racing/BTOSports KTM rider, which was made more impressive by catching and passing both of his quasi-teammates in Byrne and Short in the second moto.
14 12 Jake Weimer Twin Falls, ID Kawasaki KX 450F 9 17- Weimer was down in the first turn (yet another guy I've typed that sentence out for), so it was basically another day that was up and down for Weimer.
15 41 Trey Canard Oklahoma City, OK Honda CRF450R 35 5- Canard was on the move in the first moto when he crashed hard. His second-moto fifth was fine, there's nothing wrong with it, and Canard was just another rider who had weirdo bizarre scores at the 'Wick. 35-5 for Trey, 2-16 for Short, 32-7 for Brayton, 34-4 for JS7, etc.
16 10 Justin Brayton Fort Dodge, IA Yamaha YZ 450F 32 7- Brayton went down in the first turn in the first moto and went down again. I heard he took a handlebar to the groin/wiener region and was forced to DNF. Second moto he nabbed a strong seventh and remember, he had a crappy gate pick, so a seventh is good.
17 32 Malcolm Stewart Haines City, FL Honda CRF450R 20 9- Last year we saw Mookie put in one of his best Nationals of his career here on a 250, so I figured he'd do pretty well on a bike that suits him better. Crashes held him back on the day though.
18 26 Michael Byrne Australia KTM 450 SX-F FE 15 15- I ate dinner with Byrne after the race (Thanks BTOSports KTM team for picking up the tab!) and he wasn't stoked on his ride, but he also wasn't depressed either. He said "Rome wasn't built in a day" and I agree, WE CAN BUILD ON THIS!
19 63 Derek Anderson Arvada, CO Kawasaki KX 450F 14 26- Anderson's best moto of the year the first time out.
20 82 Robby Marshall Stow, MA KTM 450 SX-F 16 20- Marshall, a 'Wick local, isn't far removed from a serious injury suffered at Muddy Creek, so predictably, he faded at Southwick while up front. Still, I'm surprised he even rode, so these finishes are pretty good.
Some other news and notes from The 'Wick:
-The WMX series came to a conclusion at Southwick and a massive choke job by Team Honda Muscle Milk's Sayaka Kaneshiro allowed Jessica Patterson to win her seventh WMX title with a 1-1 ride. All Kaneshiro had to do was go 4-5 (or 5-4) and the title was her's. I'm not sure how aware you guys are of this, but the field in the WMX class ain't exactly deep, bro. In the first moto Kaneshiro was second and went down in the sand and struggled to get back up and going. Her seventh did her in. In the second moto it was down to a winner-take-all scenario and Patterson dominated for the win and title. High drama folks!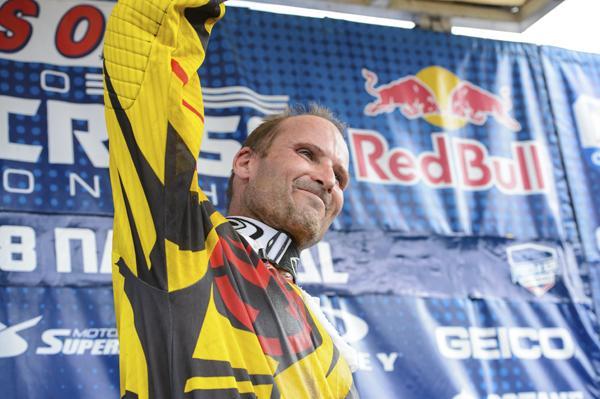 All-time hero, on and off the track.
Cudby photo
-The Junkyard Dog John Dowd decided that if that was it for Southwick then that was it for The Dog, also. And really, he's 47 years old people. You can't blame him! Dowd's a legend, plain and simple and a hell of a nice guy. He scored some points in the second moto (bike problems forced him out in the first) and all was right with the world when that happened. John Dowd, I salute you, you're an American hero.
Thanks for reading, I enjoy typing this thing out each and every week. Email me at matthes@racerxonline.com if you want to chat.