Budds Creek Motocross
Mechanicsville

,

MD
Budds Creek
Lucas Oil AMA Pro Motocross Championship
The off-weekend was well-timed, it seems, for everyone to recharge their batteries after a fast four-week sprint to start the 2013 Lucas Oil Pro Motocross Championship. Now everyone is getting ready for tomorrow's Red Bull Budds Creek National, which will be held in warm and sunny Maryland. As you recall, Monster Energy Kawasaki's Ryan Villopoto is out front in the 450 Class by virtue of his seven moto wins in eight races, while Red Bull KTM's Ken Roczen leads the way in the 250 Class—though his teammate Marvin Musquin has a two-race winning streak going on right now.
Tomorrow's race will air live from start to finish, beginning on FUEL TV at 1 p.m. ET, then switching over to the NBC network at 3 p.m. for the first of three 450 races that will be live there. The racing concludes at 4 p.m. on NBC Sports with the final 250 moto of the day from Budds Creek.
The race will also finally bring up the curtain on Adam Cianciarulo's professional career, not to mention the outdoor season debut for GEICO Honda's Wil Hahn, who has been out since winning the Monster Energy 250 East Region Supercross title with a broken hand. Wil will be running #19 in the 250 Class while the Monster Energy/Pro Circuit Kawasaki of Cianciarulo will sport #292. Your guess is as good as mine as to how the kid might do—he might be the fastest minicycle rider ever, but he has yet to race outdoors on a full-sized motorcycle (he suffered from salmonella poisoning before the Hangtown opener).
As for the 450 Class, Villopoto has always been impressive here at Budds Creek, going back to his world-beating efforts at the 2007 Motocross of Nations here, where he introduced himself on the global stage with a 1-1 ass-kicking aboard his 250. It will take an excellent effort by Dungey—which means great starts and a frantic pace from start to finish—to beat RV here. Or maybe James Stewart can break out like he did when he came out in 2003 after missing the first four rounds of outdoors and showed the world what a "scrub" meant in motocross. Hard to believe it's been ten years since that game-changing day.
I also hope the time off helped TwoTwo Motorsports' Chad Reed. His ailment has wrecked the first four rounds of this series for him, but now he's had a little time off to get himself sorted, and he will have some added incentive: His parents are coming up from Australia to attend the race. Here's hoping it all adds up to a rise toward the front again for the former champion.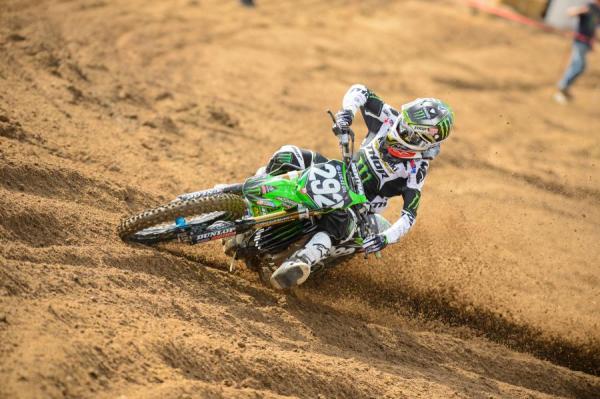 Adam Cianciarulo will make his highly anticipated debut at Budds Creek.
Simon Cudby photo
HOW TO WATCH
Round 5 of Lucas Oil Pro Motocross from Budds Creek will have all four motos broadcast live on FUEL TV, NBC and NBC Sports. The first 450 and 250 motos will air live on FUEL TV beginning at 1 p.m. Eastern. The second 450 moto will air live on NBC (not NBC Sports) at 3:00 p.m. Eastern. The second 250 moto will air live on NBC Sports at 4:00 p.m. Eastern. For complete details on the TV and online schedule click HERE.
ROOKIE WATCH (Aaron Hansel)
Earlier this week we ran a poll asking our readers who they thought would benefit most from the break. As of Thursday afternoon, Justin Barcia had only received roughly 5 percent of the votes, which makes sense. After all, there isn't much room to benefit when you're a rookie leading laps here and there, battling with the Ryans and sitting third in points ahead of guys like Trey Canard, Mike Alessi, James Stewart, and more. Looking at the poll numbers, I couldn't help but wonder if Barcia's coach, Jeff Stanton, agreed with the majority of our readers, so I gave him a call to find out.
"I think he's doing good," Stanton said. "I've told him that obviously Dungey and Villopoto were going to be tough, those guys have been out there doing it for years. But Justin has proved that he can go out there and run their pace, although he's kind of fallen apart in the last five or ten minutes in a few of those motos that he had the opportunity to win. And that's the difference between boy strength and man strength, which is what I keep saying."
Despite watching a few close motos slip through Justin's fingers, Stanton sounded pleased about Barcia's performance through the first four rounds.
"I'd love to see him win, but I'm happy with the third-places," he said. "Third place is right where he needs to be. If he gets holeshots, he should be third place every weekend and battle with Villopoto and Dungey every week. If you battle with them for seven laps one week, battle for nine next week. No matter how bad it hurts, it hurts them just as much too. For the outdoors you just have to suck it up and be a man.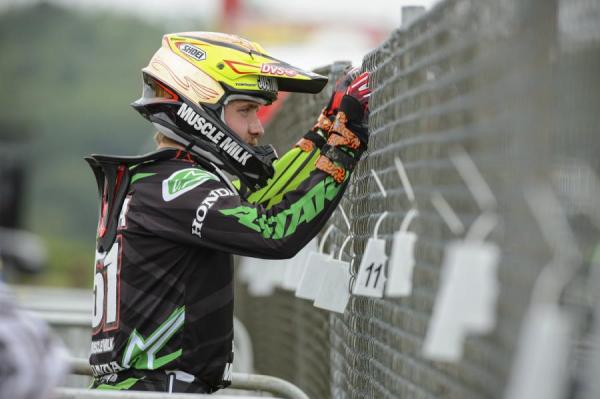 Jeff Stanton is happy with Justin Barcia's performance outdoors thus far.
Simon Cudby photo
"That said, I'm happy with the way things are going. I'd love to see him win, but as in life, there's a ladder and you just have to keep stepping up the ladder."
Asked what he expected from Barcia in the second half of the season, Stanton said, "Right now he's building for next year. He just has to keep training and stay consistent and build from here. Right now he's right where I thought he would be. I told him at the beginning of the year that he'd get better as the year goes on. He'll get more race strength, and in the second half of the season, he loves those tracks. RedBud, Southwick, Unadilla, he loves those places. I expect him to be up there winning a couple of those motos at some point. I knew he had the speed to battle with those guys, and with time will come more endurance, and with more endurance will come race wins for him. When he gets more endurance and physical conditioning, he'll battle with those guys and he'll beat them. That's just the truth. He's got the speed and he's got a great bike underneath him."
So what did Stanton have Barcia working on during the break?
"He enjoyed himself and spent some time at the beach during the break and is back on the grind this week. It's good to have a little reprieve away from riding and training to do some fishing or play in the boat. Being away from it sometimes charges the batteries as much as anything."
ELEVEN10 CLOSES DOORS (Jason Weigandt)
There was writing on the wall (or even on the flat black box van) for months regarding this move, but it now appears the ever-determined Eleven10 Mods Yamaha racing team is off the road for good. The current team riders, Alex Martin and Brady Kiesel, will now move over to the Rock River Yamaha team. Eleven10 Mods will continue on as a performance modification company based in Uniontown, Pennsylvania, but the pro race team is no more.
It's not shocking news, considering that after the Eleven10 box van didn't make it to the Minneapolis SX (leaving 250 East SX rider PJ Larsen without a bike to race), Rock River began housing some of the team's bikes and parts, and there seemed to be some collaboration between the teams to make sure Martin and Kiesel had bikes to race on the weekend.
We contacted Chad Sanner and he said Kiesel and Martin will be under the Rock River awning for the remainder of the season. It was getting too hard to run the race team the way he wanted. Yamaha wanted Rock River and Eleven10 to partner up, but Sanner didn't think it would make it any easier for Eleven10 to keep racing. Alex Martin's mechanic, Billy, will remain his mechanic under the Rock River tent.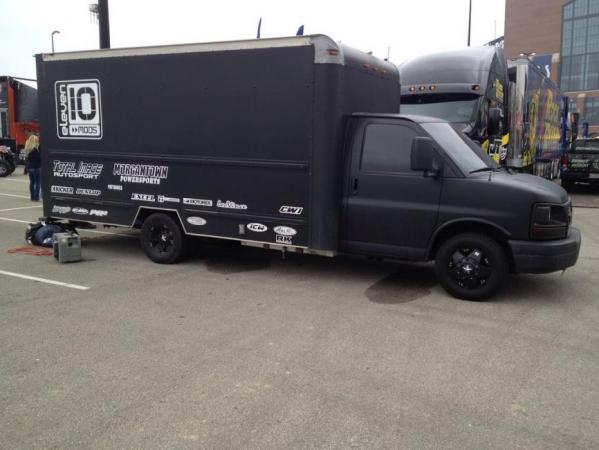 It was announced earlier this week that Eleven10 Mods would no longer be running a race team. Eleven10 Mods will continue on as a performance modification company.
JIMMY's TAKE (Chase Stallo)
We had a chance to catch up with Jimmy Albertson this week and talk about his and fellow Oklahoman Trey Canard's help in the region following the devastating tornados and flooding there in recent weeks. Albertson and Canard are giving away 360 Fly Racing T-shirts and forty-five sets of gear to those affected. You can read the interview in its entirety here.
Albertson is still on the mend following a wrist injury in supercross that has required a second surgery. It's always enjoyable to get the perspective of a current racer on the state of the series, so we asked Albertson what he thought about the 2013 Lucas Oil Pro Motocross Championship so far.
On the racing:
"It's been a good season. I like watching the [250 Class] a lot because Tomac … and even Baggett, Roczen, and Musquin—all those guys are so competitive, and they all go through their ups and downs. It's hard for them to stay consistent.
"Watching Villopoto, it reminds me of when I was younger and watching Carmichael. He's become this dominant force. He rides a little bit different than everybody and carries that little more intensity. It's fun to watch the guy ride, but it sure does make the class boring sometimes. Dungey is riding good, but he has had his opportunities when he was out front. We've also seen a lot of standout riders in the 450 Class that you didn't expect to see up front. Nicoletti has been doing awesome. He's one of those guys that has the speed to be top ten every moto but has run into trouble. Ryan Sipes is another guy knocking at the door of the top five. It's been an exciting season behind the top two guys.
"Seeing the European guys come over was good. I was watching the Italian GP this weekend and Desalle winning the first moto of the GPs and seeing how our guys kind of handed it to him over here it makes you feel good that our series is competitive right now."
Difference in RV:
"I think that he has a few outdoor seasons under his belt now. You have to think that the last time he won an outdoor championship it was basically his first year [in the 450 Class]. He looks a lot more prepared this year. I think in 2011, the last year he won the title, those last few rounds he was on a different level. When they went from the 2011 Kawasaki to the 2012 Kawasaki it really helped him out a lot. It really pushed him to a whole new level. I grew up racing and riding with him and watching him, I believe he is such a good rider because he corrects his mistakes so quickly. He is able to ride that ragged edge that everybody pushes to and then seems to have an injury. He is able to ride that edge and make those mistakes and pull out of them. He has such quick reaction to what the bike is doing. As a racer watching him ride is pretty incredible.
"I think once the season gets towards the end and maybe Villopoto is thinking more conservative and some of the other riders get feed up with it and push it a little bit extra the season will get better. You can tell right now he is going for a push to make it known he is the best right now."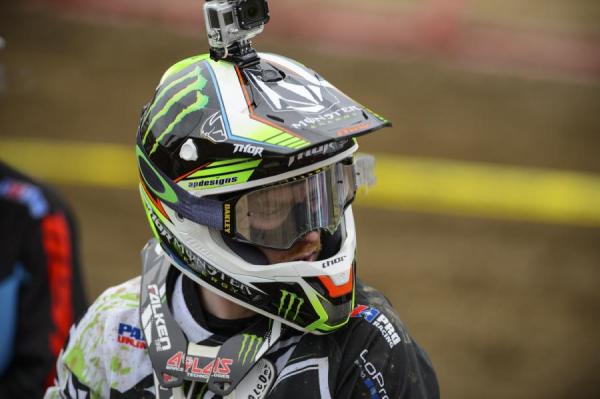 "Watching Villopoto, it reminds me of when I was younger and watching Carmichael." - Jimmy Albertson on Ryan Villopoto.
Simon Cudby photo
PRO PERSPECTIVE - SILLY SEASON (David Pingree and Jason Thomas)
Ping: The "silly season" isn't silly so much as it is brutal. I've gotten to experience this from both sides: as a rider competing for a job and as a team manager looking over every possible rider as a potential new hire.
From a rider's perspective, this time of year can be really stressful. If you've posted some solid results in supercross or thus far in the nationals, you typically don't have much to worry about; you're likely to get something. But if you've been stinking up the joint, every moto counts from here on in. And sometimes it only takes an inspired ride or two to get a team to have a look at you. Agents are in a frenzy this time of year too. Goggles, gear, boots, helmets, energy drinks, shoe companies, and anyone with a checkbook really is fair game when you're working on a percentage. All is fair in love and war and contract negotiations with a motocross agent.
As a manager, this is the time of year where you pull up the overall results from supercross and every national moto finish of every rider for the entire season. Typically you look for riders who won a race or a moto. Guys who are capable of winning, and have proven it, are worth more. If those riders are already taken, you work back and look at every rider who earned a podium finish. Then you look at top-fives, top-tens, etc. A rider's attitude and demeanor can definitely seal the deal one way or the other. There were several times where two riders looked the same on paper and we went with the guy we liked better. The message here? Don't be a dick.
The good part about silly season is that for the casual fan there really is no pressure. We get to enjoy the drama and change that happens through the summer all from the comfort of our own couch. And if our favorite guy doesn't get the ride he wants or he gets dropped altogether and ends up homeless and penniless we can say, "Meh, whaddyagonnado?" By the time you go to bed that night you have a new favorite rider and that "other guy" is a faint memory. Let the gossip and wild rumors fly, folks. It's silly season!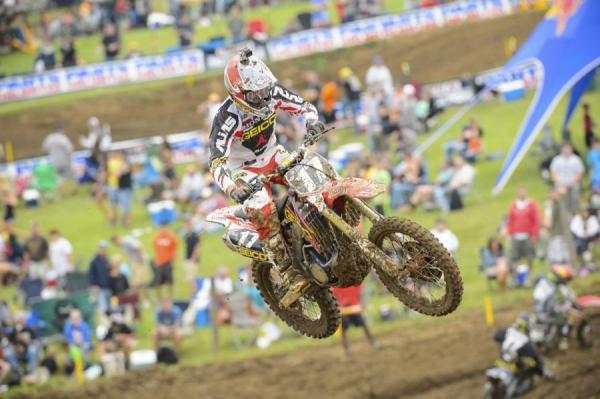 There have been a lot of rumors surrouding Eli Tomac.
Simon Cudby photo
JASON THOMAS: The dog days of summer are upon us. For most riders, it is a grind of training of riding that goes on for months. For those in a contract year, every day grows a bit more stressful. Not knowing where or what your income will be next year is not that comforting, believe it or not. There are a lot of factors that go into this, but certainly results are numero uno. Whether it be injury, bike failures, or just a poor current bike/team situation, prospective teams don't really seem to care. When it comes down to it, every rider is expected to persevere and succeed. Some riders are famous for doing better in their contract years—Millsaps and Josh Grant are names I think of when this topic comes up. I don't necessarily think this is on purpose, more out of fear and desperation. Unemployment has a way of inspiring people. It's always a fun game to find out who is in their contract year and then track their results compared to a non-contract year. Sometimes there is no change, but other times it's an obvious difference. Just another one of those "race within a race" type situations.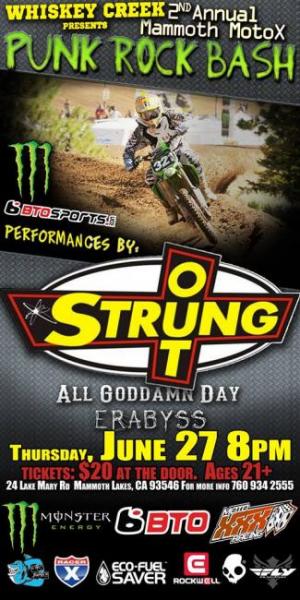 SERIES OF CHANGES (DC)
If you've been watching the FIM World Championships the past couple of seasons, you know they're in a very fluid situation now. Races farther away from the base in Europe have made for lower rider turnouts and some far-reaching rule changes. The "SuperFinal" was a new format meant to add the top talent together for one last big moto so as not to have half-empty starting gates as a result of the "108%" rule, which was meant to keep really slow local racers off the track in distant locales like Qatar and Thailand and Brazil. There was also a "23 Maximum" rule stating that no rider could race MX2 (250) after his 23rd birthday. And a champion younger than 23 could only his MX2 title once before being moved up.
It was that last rule that caused some real grief last week when Jeffrey Herlings, the 19-year-old MX2 World Champion and Red Bull KTM's Grand Prix heir apparent to Tony Cairoli, tweeted that if the rule wasn't changed to allow him back into the class in 2014 for a third straight title try, he would consider following recent MX2 Champions Ben Townley, Christophe Pourcel, Tyla Rattray, Marvin Musquin, and Ken Roczen to America. That sent the GP folks into something of a panic as they realized that they could not afford to lose yet another champion to the States. But the other changes won mixed reviews.
So yesterday the FIM and Youthstream hit the reset button on several items. The SuperFinals are gone, as is the MX3 class (something of an Open class European championship for Pro-Ams). The motos have been cut down to the AMA-like 30 minutes plus 2 laps, and the MX1 class is now being referred to exclusively as "MXGP."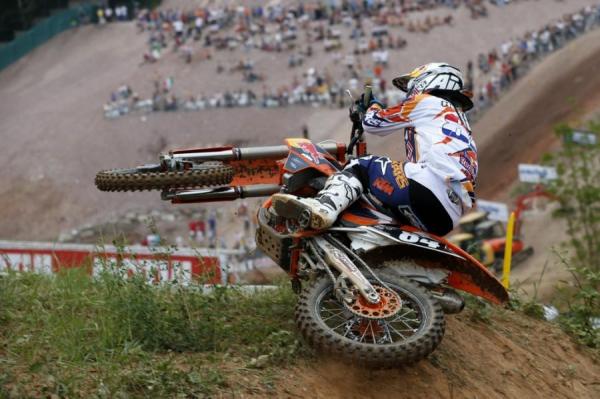 It looks like Herlings will be staying in Europe.
Ray Archer photo
But the Herlings fix raised some eyebrows. It was decided that while the age limit will in place at 23, any champion younger can defend his title as many times as he wants before being forced into the MX1/MXGP class (which is limited to thirty riders per event). That means Herlings, who has won twenty-five GP races already in his career, should shatter the late Gaston Rahier's mark of twenty-nine GP wins in the class. It also means that Herlings, the first MX2 champion since Tony Cairoli to stay in Europe, is locked in to replace him in a couple of years.
The news led to a pair of funny headlines today online. The GP-cheering MXLarge gave it a record four exclamation points.
While the more cynical MXA.com wrote, "THIS WEEK'S LIST OF LUONGO'S GRAND PRIX RULE CHANGES: 10 THINGS YOU REALLY NEED TO KNOW IF YOU LIVE EAST OF NOVA SCOTIA: Jeffrey Herlings now runs the Grand Prix system and may be adopted by Giuseppe Luongo as part of the 2014 GP plan..."
One thing the FIM added in their announcement was the fact that they would continue discussing CC displacement with the Japanese and European manufacturers, which follows discussion that Luongo wanted to urge the OEMs to lower the CC displacement on 450s because he felt that it was discouraging participation in the MX1 class.
HEY, WATCH IT!
Budds Creek Press Day Highlights
Budds Creek Press Day Interviews
(VitalMX) One Lap: Josh Grant at Budds Creek
Kawasaki 2014 KX450F and KX250F Intro
Jerry Robin Makes Loretta's on a 1985 Honda CR 250
That's it from around the motocross world. Thanks for reading Racerhead. See you at the races!