Budds Creek Motocross
Mechanicsville

,

MD
Budds Creek
Lucas Oil AMA Pro Motocross Championship
Indiana native Chris Bach is doing his own thing in the Amsoil Grand National Cross Country Series for 2013, and doing quite well with it. He's moved himself to the off-road mecca of North Carolina, and on his CarolinaKTM/RidePG.com backed machine, he's delivered six top fives in eight races, as well as two podiums, and sits fourth in XC1 pro points. This weekend, he'll try his hand at the Lucas Oil Pro Motocross Championship in the 450 Class at Budds Creek. Here's Chris on the off-road privateer life.
Racer X: Explain your situation this year.
Chris Bach: Last year, I had a factory Beta deal, and that was all cool. Then after round four, they decided to pull the plug on my deal, which left me without a ride. I ended up getting some Yamahas and riding them through the end of the year. I had some decent results, top five, six, just stabilized things, but we didn't get any offers for 2013. I didn't get any really good offers, just some smaller stuff but not enough for me to support my racing. So I wasn't sure if I was going to race at all, but then Carolina KTM came to me with an offer, along with RidePG.com and we put something together.
Is it KTM proper helping or just the dealership?
As far as the factory, no, but the dealership put something together with the regional KTM sales rep. I buy my bikes and they give me help with parts and stuff. Other than that, nothing crazy, just a bunch of people helping a guy out.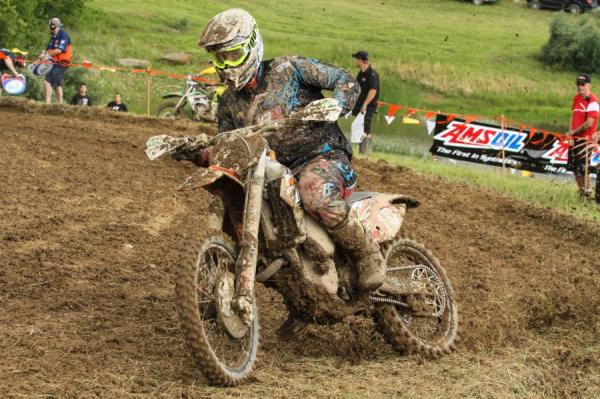 Bach, who races in the GNCC series, will race Budds Creek this weekend.
Krista Hooper photo
And you have RidePG.com, which is known as a graphics company, but I know they do much more than that.
Yeah, RidePG's WP USA suspension stuff, they do everything in house. The RidePG WPS USA headquarters there is great. It's a massive shop, big work area. They keep my bike there, I work out of there and that's pretty much where I base myself. We have a lot of good riding here in North Carolina, and we have a great test track right there at the shop, so we don't even have to load up to go test.
Sounds like the KTM 350 has become the weapon of choice in the woods. Kailub Russell has won a bunch on it, and you picked it, too.
I think for off-road it's a really good motorcycle to beat. The 450 is obviously a great bike, and Charlie [Mullins] has obviously had a lot of success on his, but once you get into the technical things, rocks, hill climbs, tree roots, the 450 is basically built for one thing, and that's to go extremely fast. Sometimes that's not the best answer for off-road. The 350 is quite a bit faster than the 250F, but it doesn't scare you at times like the 450. I did a local woods race the other weekend on the 450, and I'm glad I picked the 350 for GNCC.
How would you rate your year so far? You've had some podiums, you're strong in points, what do you think?
I'm kind of happy with it. Happy with the way I'm riding, but not particularly the results on paper. At the end of the day, people only see the results that are posted on the internet, they don't see the story behind it or whatever. There have been some struggles here and there, things that come along with being a privateer. In Kentucky, it was a bad mud race and I got on the podium, but the mud just took over that bike and I blew my motor. Since the Kentucky round, I've been racing on a borrowed 350 that I got from the shop, and I have to race that until I save up enough money to get my engine fixed on my 350. Then other stuff, like getting a good parking spot, sometimes I get there and I don't have a place to pit, things like that. But all in all, we've been solid, we've been consistent, and [fighting for] third in points. It's kind of hard to not be happy with that.
Are you able to make a living at this?
I made quite a bit of money before until the Beta deal went south. I was able to put some good money in the bank there. Once that happened I had to pay for my own deal, so my bank account was just drained. This year, as long as I'm racing every weekend I have enough money where I can get to the races, I can eat good, I can get hotels, things are pretty good. But if I'm not racing, I'm not getting any income. In one way it's kind of good—it keeps you focused and it makes you push. That third hour comes along, it doesn't matter how much you're hurting or how tired you are, you have to block that out because a good finish could make the difference between a thousand bucks or two-hundred bucks. We get a little bit of purse money from the promoter, then posted contingency from companies like Maxxis, and KTM has a good contingency program for anyone that rides a KTM. So I'm just chasing that money at the GNCCs and chasing purse money at local races in the off weekends.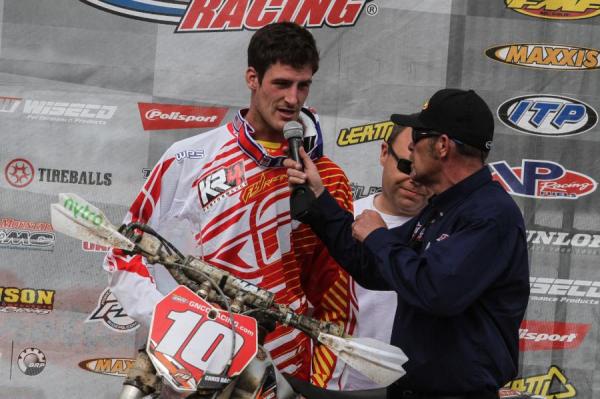 Bach is currently fourth in XC1 points.
Krista Hooper photo
On the outside people would think living week to week sucks, but at the same time, you're living a dream lifestyle for some people, as a dirt bike racer. So is it fun, or is it tough?
It's 50/50. It is fun. The things that are stressful is what you put on yourself. It's different than when someone has a bunch of money invested in you, and you have to perform for them. That's different. I don't know if one is better or worse than the other. It is fun to not have a boss. I kind of do my own deal, and if I like a product, I run it. I don't have someone forcing me to go to races or anything like that. This weekend, I'll do Budds Creek because I want to do that.
I had heard the rumor that you're racing Budds. You're going to try to make the National?
Yeah, I have a 450 and I have two solid days of motocross testing. That should be….not nearly enough, but we're going to go racing. We'll see if we can make it into some motos.
Do you have a motocross background?
I started racing motocross but that didn't last that long, my parents weren't super into it. So I switched to off-road. I've done less than a handful of motocross races since I've become a decent rider, but, almost all of my practice is on the motocross track. I hardly every practice in the woods, I do moto three days a week.
What's your number?
984, going back to my amateur GNCC number.
You mention the amateurs. Years ago, I remember you having these great battles with Jordan Ashburn in the Open A class as amateurs, and this year, I've seen you two hook up with some battles in the pro class. It's kind of funny how that works sometimes.
It is. I was thinking about that the other day. In 2009 in the Open A class, Jordan and I were not only battling for our Open A class win, but also for top amateur overall. We pushed each other really hard, and we were both in the top ten overall at some point. Then this year, two or three times, you'll be all alone on the track, and, there you go, there he is, and we're battling again. It's kind of cool to see we've both made it this far.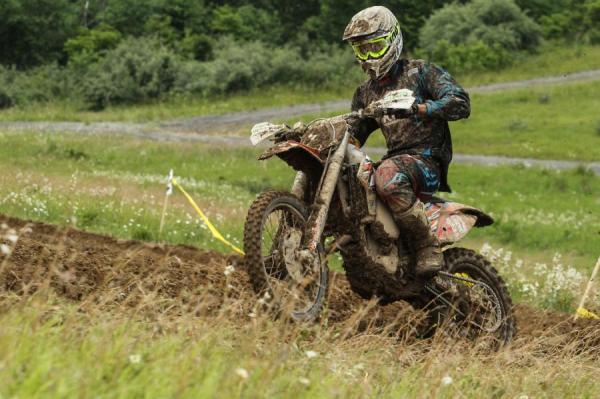 Bach will return to GNCC racing next weekend at Snowshoe.
Krista Hooper photo
Are you nervous about this Budds Creek thing? Is it serious or just for fun?
I'm not saying I'm going to win or anything, but, I mean, I'm taking it seriously. I'm not just going to ride around. RidePG.com has done a great job getting the bike tuned up, and I want to do good, make it in and give it my best shot. I'm doing RedBud for sure, also. So we'll see what happens. This is a lifelong go, and no matter if I do good or bad, it's one off the bucket list.
The next GNCC for you is Snowshoe next weekend. How's that been for you?
Snowshoe has been good. I got my best overall finish as an amateur there with eighth overall from Open A, then I got on the podium and almost won it in my rookie year in 2010. I like it when it gets technical and nasty, and that's what that course does. The race last weekend was technical and nasty and I had a pretty good run until I ran into some issues on the last lap. But hopefully I can ride that way and carry that momentum to Snowshoe. If I'm in position to win it, I'm going to go for it.