Every summer Racer X staff hosts a trophy contest for the Lucas Oil Pro Motocross Championship: the track that comes up with the coolest trophy gets a free full page ad in the magazine. The idea is to challenge each of the 12 events to come up with cool prizes for the winners, and we've seen a big improvement in the overall quality and creativity of the awards.
With that in mind, we thought we would offer a wide-ranging look at trophies over the years, including a few favorites from yesteryear. We know that there are some truly great ones out there that we missed, as well as some woeful ones, so any suggestions for a follow-up list, send them our way! Letters@racerxonline.com.
WASHOUGAL NEON.  The first year for the Racer X Trophy Contest was 2011, and Washougal MX Park's Tavi Huffman came up with a cool neon logo everyone on the podium in each class. The beer-sign look was an obvious favorite with everyone here and Washougal scored first place.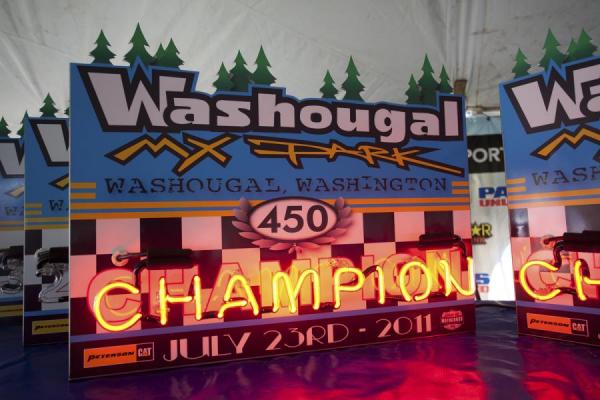 BROOME-TIOGA JEANS. An oldie but a goodie: Bob "Hurricane" Hannah seems amazed as he checks out the winner's trophy for the 1983 Broome-Tioga 250 National, sponsored by Wrangler and Pepsi. As Roy Janson of MX Sports guessed, "It's as if the night before the race someone said, 'Okay, what are we doing for trophies?'"  In Broome-Tioga's defense, they went from this piece to hand-carved wooden trophies that were among the best we've ever seen.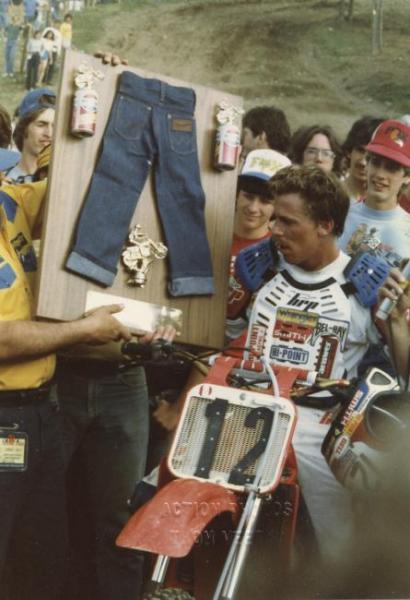 MONSTER CUP. At the other end of the spectrum from the simplicity of a a pair of blue jeans stapled to some driftwood is the magnificent Monster Energy Cup. It must be the biggest trophy in all of motorcycle racing, and this one has Monster Energy Kawasaki's Ryan Villopoto's name on it.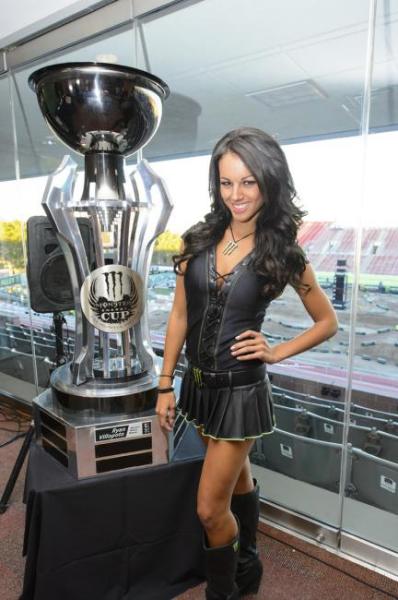 SPRING CREEK VIKINGS. The winner of the 2012 Racer X Trophy Contest for the outdoor nationals went to Spring Creek MX Park, which fed a little off the Minnesota Vikings and also the whole viking spirit of the state with 10,000 lakes... And like the previous year's Washougal trophies, they light up too!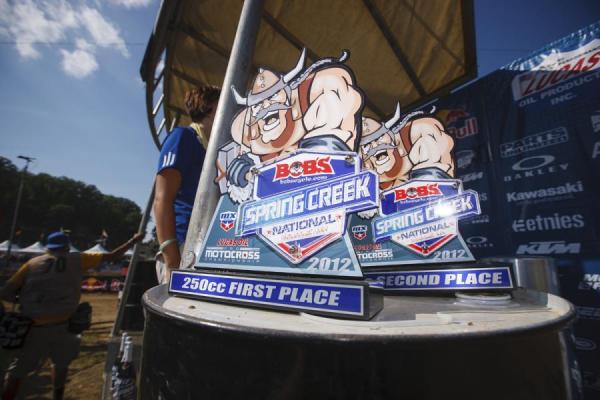 MINT 400: How about this gem? It came from the Mint 400 desert race, and we spotted it in a pawn shop in Las Vegas. We don't know if these decanters went to the winners or just to participants as souvenirs, but one of them is now proudly on display in the Racer X office.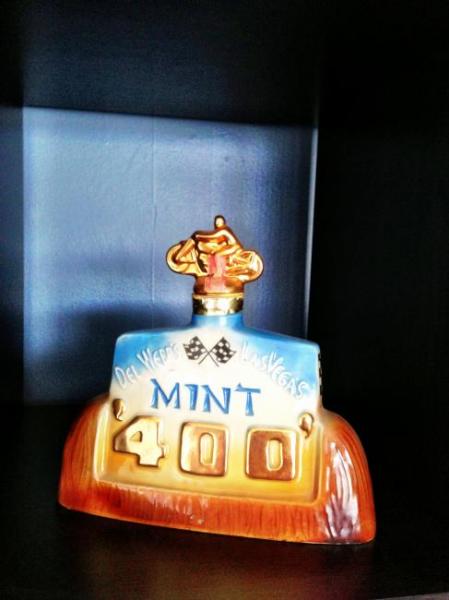 LL WAKEBOARDS: Back when Loretta Lynn's tidal sponsor was Air Nautique, every winner of each of the 33 classes received a big trophy as well as a custom wakeboard, which Zach Osborne displays here from back in 2004. Now Osborne is winning Lucas Oil Pro Motocross and Monster Energy Supercross trophies!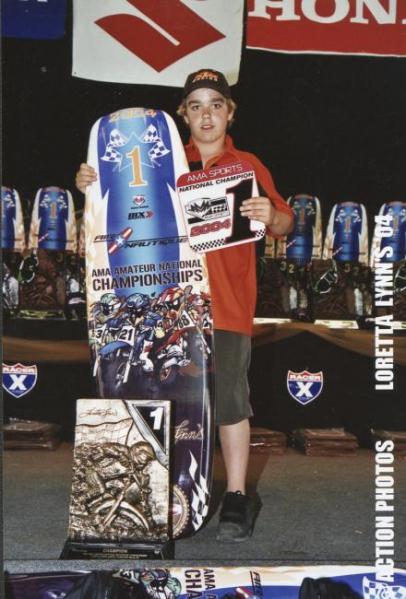 GLEN HELEN GUITARS: That's Ben Townley hoisting up a custom-painted guitar for finishing on the podium at the 2007 Glen Helen National. The idea has been revisited by Budds Creek, where a local guitar maker hands out beautiful axes for the rocker in every rider.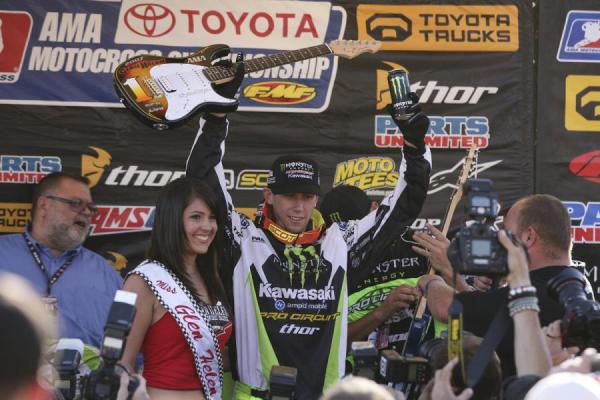 PETER CHAMBERLAIN CUP: Two years from now, Glen Helen will be handing out this gem to the winners of the 2015 Motocross of Nations. Peter Chamberlain was an important figure in the FIM several generations ago, and his name graces this cup (though we think it would be cool to see Roger DeCoster's name on it as well!)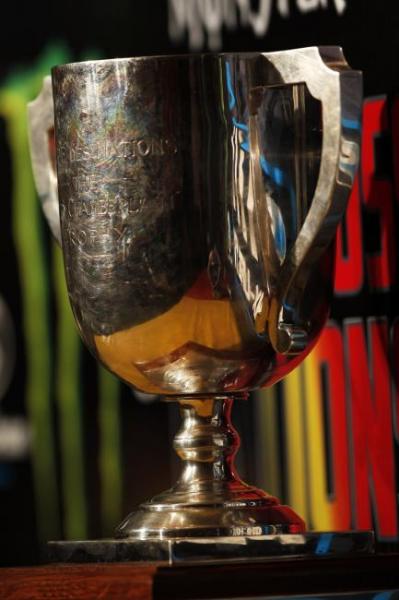 BROC GLOVER'S USGP TROPHY: This is the 1984 U.S. Grand Prix at Carlsbad trophy that went to the winner of the 500cc race, and for years that win eluded multi-time champ Broc Glover. He finally closed the deal in 1984, and he still has the trophy.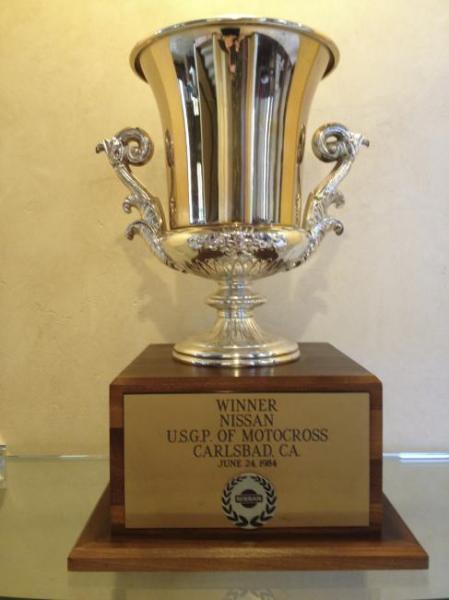 BROC GLOVER'S KEYSTONE LAMP:  Broc also wanted to show us this trophy he won at High Point some years ago, back when Keystone Racing (the forerunner to Pro-Action) was the main sponsor. It's a hand-painted lamp from 1981.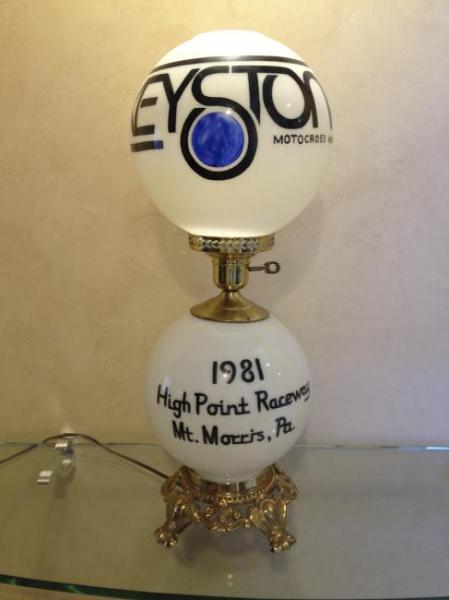 JEREMY McGRATH'S FIRST SX CHAMPIONSHIP: In 1993 Jeremy McGrath was just at the beginning of something extraordinary, a long run as the King of Supercross. Riding for Team Honda, McGrath and his mechanic Skip Norfolk were the surprise champions in their first year in the 250 class, and this was his first of seven championship trophies for AMA Supercross.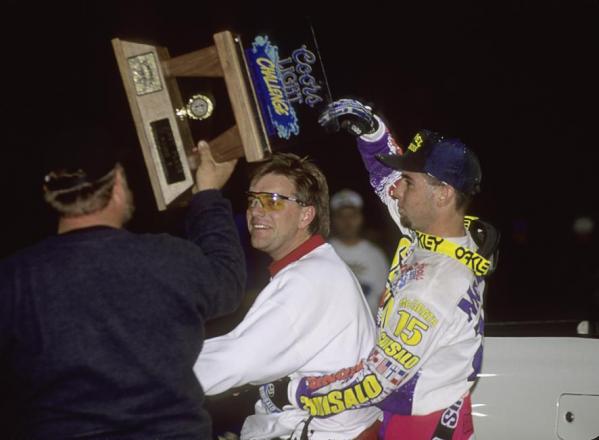 MAMMOTH MOUNTAIN BEARS: Who doesn't want to take a bear home from Mammoth Mountain? The annual summer festival up on the California mountain slopes has long offered some interest prizes, including wooden bears, one of which has a place of honor on the desk of Racer X's own Pete Martini!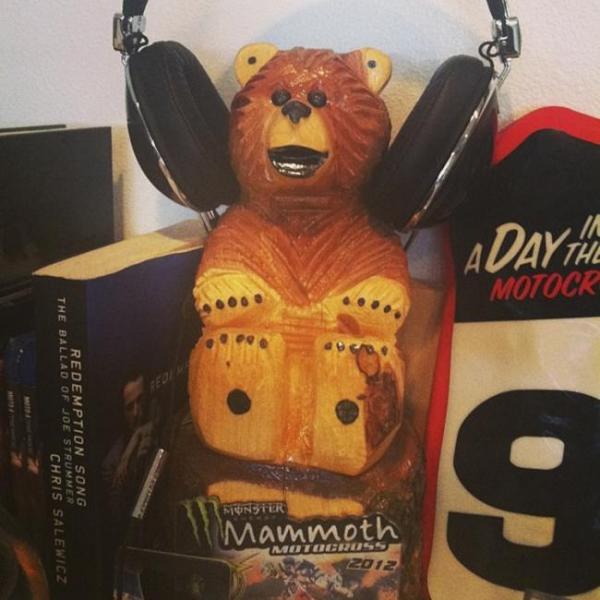 LORETTA LYNN'S SWORD: Okay, we didn't really want to show another Loretta Lynn's piece, but the swords that Red Bull now offers winners like Matt Bisceglia are really cool. What we were going to put in this space was Jason Thomas' favorite trophy, but he could only offer this: "Some airport security a-hole has a Munich Supercross Champion's trophy I won, maybe we can get hold of him maybe? He said my trophy could be used as a weapon mid-flight and refused to allow it on the plane. I relayed the fact that he was a worthless pile of trash and he should keep this trophy so that the lies he tells his grandchildren will have some substance."
So maybe it really was a sword that they gave JT$ in Germany?!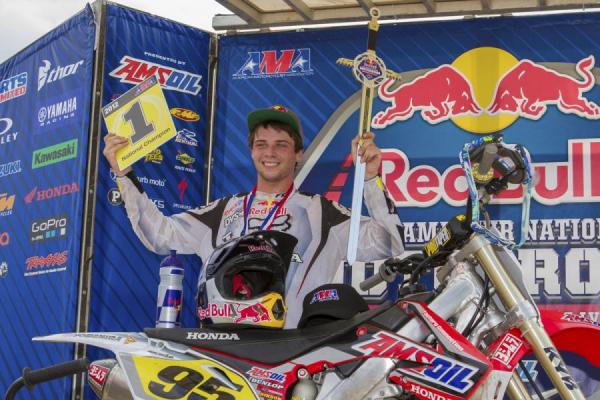 MUDDY CREEK MUSKETS.  And speaking of weapons, we have to give it up to Muddy Creek and Victory Sports for their efforts in awarding these gems for their first-ever national, genuine 1700s-era muskets and pistols, symbolizing the Volunteer State of Tennessee's courage and independence. They are the early pick for 2013's Racer X Best Trophies, and we can only imagine how hard it would have been to get one of these on the airplane back home for Marvin Musquin! We can also imagine how bummed hunting enthusiast Ryan Villopoto was that Muddy Creek was the one race of the series so far that he failed to win...