Finally, an off-weekend for the athletes and the race teams in Lucas Oil Pro Motocross. The season is only a month old, but it's been something of a whirlwind, racing east across the country from Hangtown to Thunder Valley, then Muddy Creek to High Point. We've seen excellent race-day weather at all four rounds and very big crowds of spectators. The TV viewing numbers and the online streams are all up, which bodes well for motocross moving ahead (the gang at Alli Sports is already working with the NBC programming bosses to get better coverage for Hangtown '14, which is also a problem due to their commitments to hockey).
Now, with Father's Day weekend thankfully off for everyone, the riders and mechanics and industry personnel can catch up at home with their families, heal up some, and then come back reinvigorated for the Red Bull Budds Creek National. We will also have a new storyline in the arrival (finally) of Adam Cianciarulo, the most successful minicycle racer in Loretta Lynn's history, who will turn pro at Budds Creek after a monthlong battle with salmonella poisoning. With no title pressure, he could hit the track running like James Stewart did back in 2003 when he made his summer debut after missing four races with a broken collarbone. Then again, there must be a lot of pressure on AC292 simply because the world has been waiting to see him race the big boys for some time now. In that regard, he's in danger of having a "believe the hype" meltdown like Mike Alessi at Millville '04. (My own guess is that he will be right around the top five, with at least one holeshot.)
As you will see farther down, we're going to do something different with this week's Racerhead column. In closing here, let me remind you that if you're looking for something to watch during the off-weekend, you can catch up on every moto so far in the 2013 Lucas Oil Pro Motocross Championship, over at the Allisports.com archives page.
And happy Father's Day to all of my fellow dads out there in the motocross world.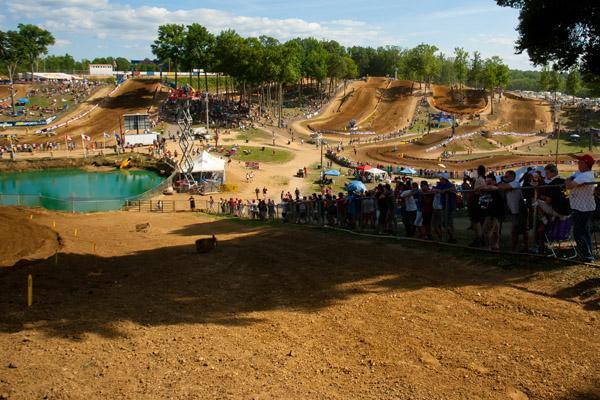 Lucas Oil Pro Motocross returns next weekend at Budds Creek.
Andrew Fredrickson photo
SURPRISES SO FAR
With a weekend off in Lucas Oil Pro Motocross, we'll get a reset here from three of our staffers who have watched every moto in person. What has impressed them so far? What has been disappointing? Here we go.
Jason Weigandt
The Good:
RV's dominance: We all know how good Ryan Villopoto is, but at the same time I didn't expect him to be quite this good. His last outdoor campaign (in 2011) did result in a title, but it was a season-long dogfight with Ryan Dungey and Chad Reed. But so far this year, he's been nearly unbeatable. He's better than ever and better than I thought he'd be.
KTM's 250 1-2 punch: The orange boys have three wins in four 250 rounds, and Ken Roczen is 99 percent of the total package for a title right now. Kenny has the points lead, he's fast, he makes quick passes when he doesn't get starts, and has proven crazy consistent. Think about it—Ken hasn't ever had a horrible moto outdoors yet in the U.S., and he was solid in every SX main event this year as well (just needed to stay out of those LCQs, dang it). It doesn't seem like he's going to give this one away, so others will have to go get it from him.
Nicoletti Is Top-Ten in a Loaded Field: When a 450 Class features names like Villopoto, Dungey, Stewart, Reed, Barcia, Wilson, Canard, Rattray, Weimer, Tickle, Short, and Alessi, there's not much room for breakthrough performances. And yet Phil has put himself in that mix more often than not. That's legit.
The Bad:
PC Woes: Dean Wilson is out again, Adam Cianciarulo still hasn't started, Darryn Durham looked set for a rebound until another injury, and Blake Baggett's wrist is clearly not right. That's one heck of a load on Mitch Payton and company right now.
James Stewart: It reminds me of a quote Dave Despain once used to describe Damon Bradshaw during the ESPN broadcast of the famous 1992 Los Angeles Supercross: "Of all the scenarios people expected coming into this race—no one would have been surprised if Bradshaw came out and blew everyone away. And no one would have been surprised if he crashed it away. But no one, no one, expected Damon Bradshaw to just come out here and be mediocre." We are just not used to seeing this type of season from James Stewart!
The Racing: Both of classes are loaded, but they're barely producing good races. RV's dominance has just shut down most of the 450 drama moto to moto (it's not like any of his seven moto wins have been close down the stretch). In the 250s it's still close, but we've only seen one down-to-the-last-lap duel so far, with Eli Tomac and Ken Roczen squaring off in the first moto at Thunder Valley. There have been great battles behind the top spots, but for the Ws, they're mostly been runaways so far.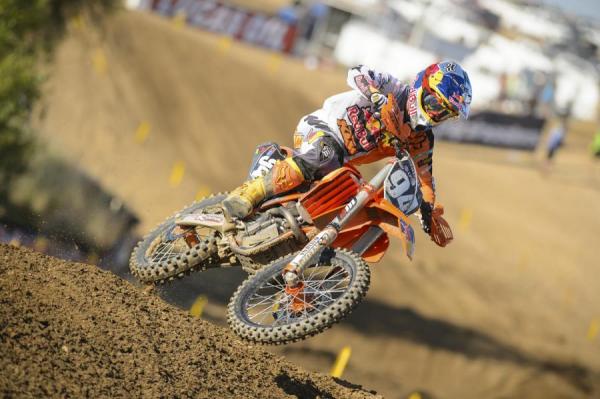 Ken Roczen leads the KTM 1-2 punch.
Simon Cudby photo
Steve Matthes:
There's a weekend off for the series but that doesn't mean I'm off. Nope, because I clearly have some sort of disease, I'm heading up to Calgary, Alberta, for round three of the Canadian Nationals up there. I'm looking forward to seeing some friends and watching some great racing although it's a bummer that KTM's Colton Facciotti is out for the year after suffering a serious crash last week. Anyways, like Weege says, the good and the bad from this summer's nationals so far. And although I agree with all of Weege's picks, I'm going to go my own way and pick on things that he hasn't so far.
The Good:
GEICO: GEICO Honda's been very good with Eli Tomac and Zach Osoborne so far, and you might ask why I'm not picking KTM, because their two riders are doing better than the GEICO two guys I just named. Well, that's because GEICO's also got Justin Bogle, who's been very good the last couple of weeks and appears to be coming into his own, and back at the next race is Wil Hahn, who I would think will be making plenty of appearances inside the top five. GEICO Honda doesn't need insurance on their riders tearing it up this summer, it's already a done deal!
Depth: The field is very deep in the 450 Class for the first time in a while, and this is good. I know a certain Frenchman who wears #934 and slithers around is going to be angry, but he's mistaking a deep field for "anyone can win." Two different thoughts there. Want proof of how deep this field is? Does anyone think Broc Tickle from last year is worse this year on a factory Suzuki? I don't, and he's struggling to be up as high as he was last year. Justin Barcia's been a podium guy for the most part, but in the second moto at High Point he didn't get the start and that was it. Seventh was the best he could do. Everyone's going fast, everyone's in shape, and unless you're Villopoto or Dungey, you're going to find it tough to come through.
GP Warriors: It's great seeing Ken Roczen, Marvin Musquin, and Zach Osborne run up front in the 250 Class. It wasn't that long ago that those three guys were battling in Bulgaria, Latvia, or who knows where else. Adding those guys to the riders we have here truly ensures that we're seeing the very best talent in the world on a given Saturday in the USA. And this also means that I think we'll see Jeffrey Herlings here one day to just add further depth.
It was also interesting to see Clement Desalle and Kevin Strijbos—top-five GP guys in MX1—show up for Thunder Valley and Muddy Creek. Both were impressive, and both asked about the possibility of a full-time ride here someday, maybe even an MX-only deal with a team like Bobby Hewitt's Rockstar Energy Racing squad.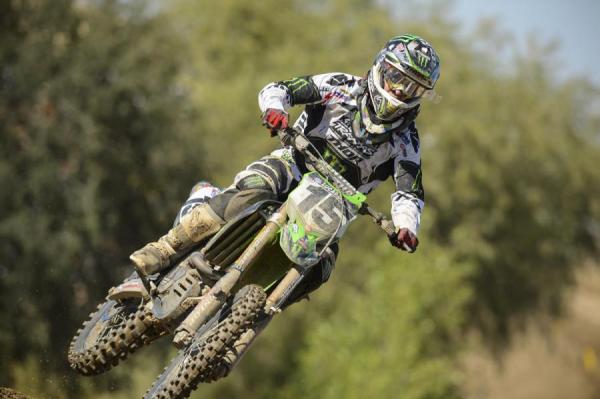 Pro Circuit took a hit when Wilson went down for the summer.
Simon Cudby photo
The Bad:
JGR Yamaha: What's happening over there? I hate to pick on the guys there—they're all friends of mine and were great hosts for me a week ago or so—but this motocross season hasn't been very solid for the guys in blue. Incredibly, they've had one or more riders pull into the pits for various reasons at each round this year, and this just in: Motocross does not have pit stops. It hasn't been all bad, with some speed from Josh Grant here and there, but there hasn't been much to smile about for Coach and Coy this summer.
Blose: Chris Blose isn't an outdoor warrior by any means, especially after missing the last few seasons due to a SX-only deal, but the N-Fab TiLUBE Yamaha rider is better than what he's been showing, which is, so far, nothing. That's right, Blose, who once pulled top-tens in 450 MX, has no points through eight motos. As I said, I don't expect him to kill it, but no points and having raced all eight motos? Blose needs to be better.
The Vets: The comebacks from Michael Byrne and Nick Wey aren't necessarily bad, as they both have very serious injuries they're fighting back from, but it's a struggle for both guys to stay inside the top twenty each race. They'll be better after the break, no doubt about it, but I bet neither vet is too happy with the start of his season. I guess their struggles must mean the field is deep, right?
Jason Thomas
The Good:
MyPlash/Star Racing Yamaha: It has been a rough-and-tumble past few years for the Yamaha 250 program, and many have felt the current model had long run its course. With the hiring of Ryan Morais as new team manager, things seem to be turning around. Jeremy Martin is starting to fulfill some of the potential many expected at the end of last season. He has been in the top ten consistently and is starting to creep into that top-five conversation. Rookie sensation Cooper Webb certainly has to be the most exciting prospect in the Yamaha camp. He has been running near the front the entire season and earned a podium in a moto in only his second national. After years of frustration for Yamaha, signs of progress are popping up with their younger generation.
Ryan Sipes: Moving up to the 450 for the summer was a move that many think was overdue. Being a bit taller than most of his 250 competitors was obviously not a benefit, and he has seemed to show promise in his limited previous stints. Filling in for Davi Millsaps leaves big shoes to fill (literally), but he has been up to the challenge thus far. Minus a rough day in Tennessee, Sipes has easily shown the ability to be inside the top ten week in and week out. At High Point, he was dangerously close to nailing down that coveted top-five spot as well. If Ryan can stay off the ground and start toward the front, I only see him improving as he gets more accustomed to racing the bigger bike.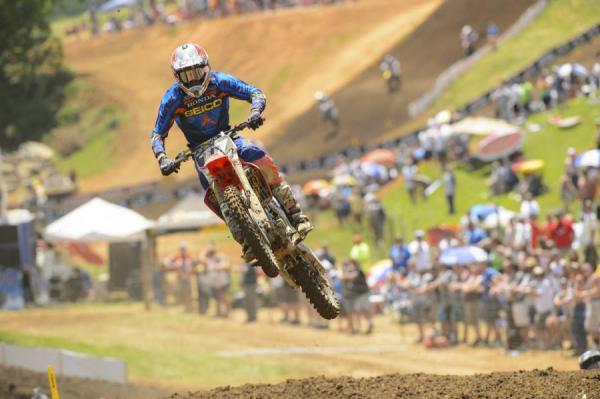 Eli Tomac has led the GEICO Honda charge.
Simon Cudby photo
The Bad:
Adam Cianciarulo: As much as I hate to put AC292 here, it has been a letdown to not see him on the track yet. Certainly not his fault, as Adam suffered salmonella poisoning just before the first race and has spent the past few weeks recovering and getting back to 100 percent. The showdown everyone was waiting on between AC and Cooper Webb hasn't happened just yet, and honestly, Webb has the upper hand almost by default at this point. I am a big Cianciarulo fan and am hoping he comes out swinging next weekend at Budds Creek, both for my own enjoyment but also for the betterment of the sport. We need more kids like Adam out there.
Troy Lee Honda: I hesitate to put them here because aside from fill-in Malcolm Stewart's surprising rides, it has been a tough summer for TLD. Malcolm has shown great speed and, minus a few crashes, could be having a breakout year. The rest of the team has been less stellar, however. After holeshotting many races last year, Troy Lee Honda has been struggling so far. With last year's pleasant surprise Jessy Nelson and Christian Craig on the injured list, and with Cole Seely having a rough go, things just haven't been working out. Case in point: Cole was having his best ride of the year in the first moto and then bam, he's on the ground twice and banged up to boot. When Nelson comes back, hopefully he brings his holeshots with him and the mojo returns to the team with it.
DC
The Good:
Villopoto/Williamson: Are RV and his mechanic Mike Williamson the new RC and Mike Gosselaar? They have become a formidable duo under the Monster Energy Kawasaki tent, and I honestly think RV's bike looks faster and better handling than anyone else's out there. Much of that is down to the rider, but Williamson deserves a lot of credit too. Like Weege said above, it's surprising to see just how fast RV is and how aggressive he races that bike.
WMX: The girls are all mad at me, and I can understand why, but there's just not enough time in the program right now to give them the series they want. But at Hangtown, watching Courtney Duncan blitz that track on a Rock River Yamaha YZ125 was downright impressive, and when she had to miss the second race at High Point, the legendary Jessica Patterson stepped up and battled to a solid 1-1 win. Now it appears that she has a (long) shot at still winning the title—she's 14 points behind Muscle Milk Honda's Sayaka Kaneshiro going into the final round of the Triple Crown at Southwick in two weeks. With Duncan hopefully back, that should be an excellent final round!
GoPro: GoPro is actually having an incredible year, and as a fan I have been stoked to see how well their cameras capture out sport, especially that incredible first race at Hangtown by Ryan Villopoto. Whether it's supercross or outdoors—or even some very cool GNCC footage by Kailub Russell—the GoPro footage has been a huge boost to our sport, and they give fans a better feel for what it means to ride a dirt bike at great speed.
The rookies: Cianciarulo is the one most were talking about, but everyone must now be impressed with the other rookies like Cooper Webb, Joey Savatgy, and Jeremy Martin. Those kids all have bright futures.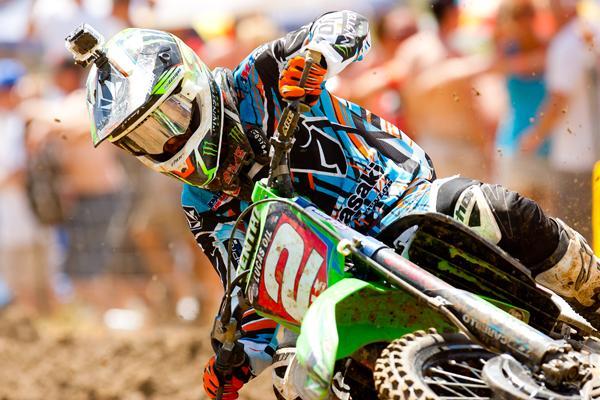 RV and crew have been nearly unstoppable through four rounds.
Andrew Fredrickson photo
Down:
Southwick: It hasn't even happened yet but this year's Moto-X 338 National is likely to be the last, unless the landowners (American Legion 338) and the motocross promoters (Ralph and Diane Pitello) can work out a deal. I am a huge fan of Southwick, and I would hate to see it fall off the schedule after all these years.
J-Law's comeback: I kind of knew this wasn't going to happen, so I'm not surprised that he's not out there, but I always liked seeing Jason Lawrence ride a motorcycle. His natural talent is ridiculous, and he would add yet another great storyline to the series, for better or worse.
Zach Bell: The fastest starter since Mike Alessi. I hated to see Zach forced to the sidelines, but at the same time, what he probably needed was more time off after his brutal introduction to supercross. I hope this kid can get healthy and stay healthy, because he has incredible speed. But when he crashes big again, I am worried that he might actually shatter.
WELL DONE, AGAIN (DC)
Coming up next month is the MN Major River to River Ride, featuring Red Bull KTM's Ryan Dungey. The July 28 bicycle ride, supported by Dungey's personal sponsor Target, benefits St. Jude's Children's Hospital and takes place the day after the Red Bull Spring Creek National at Millville, Minnesota—Ryan's hometown race. Also, the three-time AMA Motocross Champion will match every donation up to $50,000 out of his own pocket:
"I'm personally committed to doing everything I can to make the event a success and hope you can join us at the event," said Dungey on the event's website. "For those of you who can't participate, I ask you to make a donation here on my fundraising page. I will match, dollar for dollar, the first $50,000 of contributions made. Your generosity allows St. Jude to further their mission and help families struggling with cancer get the treatment they need."
Making the event even cooler, as soon as Dungey went to his Twitter account to announce this year's event, 2013 250SX East Champion Wil Hahn hit Dungey back to say he'd like to participate and help raise funds as well. So now you'll get to ride with two champions! if you live anywhere near the area, be sure to set up your road bike and get out there.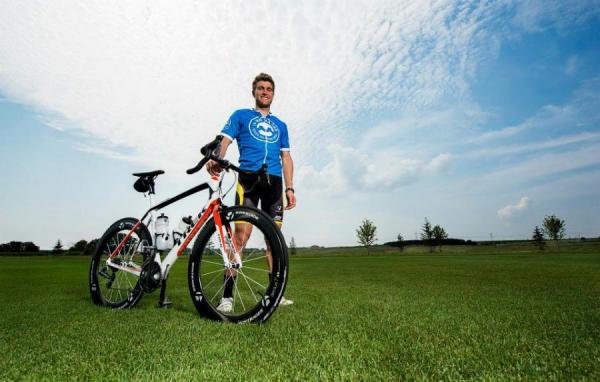 Ryan Dungey set up his charitable foundation for St. Jude's Children's Hospital in honor of his grandmother.
IN THE MAG - THE DARK KNIGHT
Tyler Bowers has become a star on the Amsoil Arenacross circuit, but the often-controversial racer hit another peak--a surprise win at the 2013 Las Vegas Supercross. Read more about Tyler, his win, plans and more starting on page 148 of the August issue of Racer X Illustrated.
HEY, WATCH IT!
Durham Rides the Hills
Herlings' Big Crash at the French GP
Racer X Films: Comp Edge Practice
Racer X Films: High Point Remastered
Racer X Motocross Show: High Point
The people of Moore, Oklahoma, had their lives turned upside down by a tornado on May 20. Families in this city and surrounding counties have been working together over the last few weeks, putting their community back together. Inspired by the Canard family, natives of the Oklahoma City area, an impromptu live auction took place after the first motos at the Tennessee National. Honda riders Trey Canard and Justin Barcia donated gear and raised almost $5,000 for the American Red Cross.
Our friends at Fox wanted to help the cause, so we received a pretty amazing box here at Racer X and MX Sports HQ today. Inside we found jerseys and pants that Dungey, Roczen, Reed, and Tickle wore at the Thunder Valley National, just days after the disaster. All four riders rocked the #OKLAHOMA STRONG butt patch in support of those affected. This means there will be another live auction taking place at next weekend's Red Bull Budds Creek National. The good folks at GoPro have offered their space in Sponsor Village to help host the fundraiser again. So make your way to the GoPro rig at Budds Creek Saturday, June 22 at 3 p.m. to bid on gear from some of the biggest stars in the sport. General donations will be accepted as well.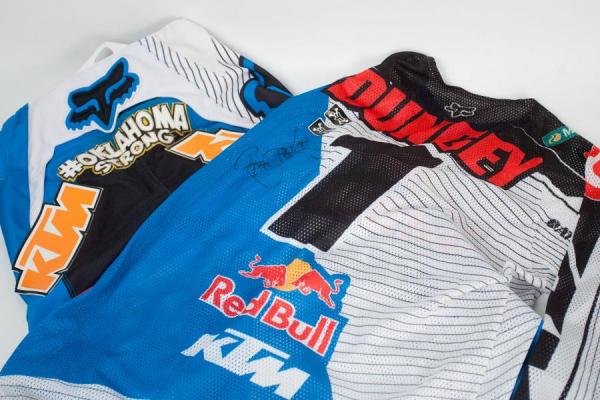 Andrew Fredrickson photo
We are excited to see athletes, teams, and sponsors all come together and help out the cause. If you aren't able to make it to Budds Creek, visit www.redcross.org to learn how to help the American Red Cross respond to about 70,000 natural and manmade disasters in the U.S. each year.
Strung Out is putting on another big show during the Mammoth Mountain Motocross event. On Thursday, June 27, the legendary band will get together at Whiskey Creek at 8 p.m. Tickets are $20 at the door, and the show is being sponsored by Monster Energy, BTOSports, Eco Fuel Saver, Racer X, Moto XXX, and the Dirt Shark—and that probably means lots of Monster Girls too!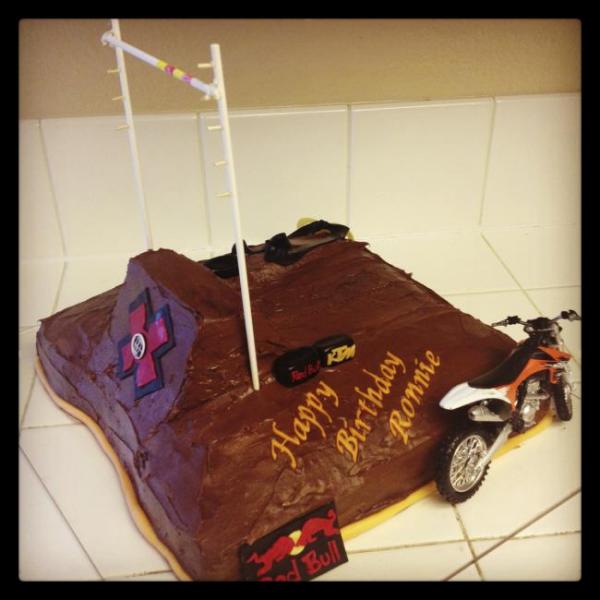 Ronnie Renner's sweet moto cake by A Spoonful of Sugar.
An old friend Dayna (Trask) Derry has an online specialty cake business, and she just custom designed this cake for Ronnie Renner's birthday/X Games gold medal victory party, which was held at The Edge in Temecula, California. Check out Dayna's business here if you ever have a need for something cool and unique—and tasty!
The U.S. Open of Golf got underway in soggy Pennsylvania yesterday, and there's a motocross storyline in rising star Rickie Fowler, the longtime motocross enthusiast and star of the coolest golf commercial ever. There's also this old advertisement that our advertising manager/Monark factory rider Scott Wallenberg pulled out of the archives, featuring Yamaha's then-revolutionary Monoshock: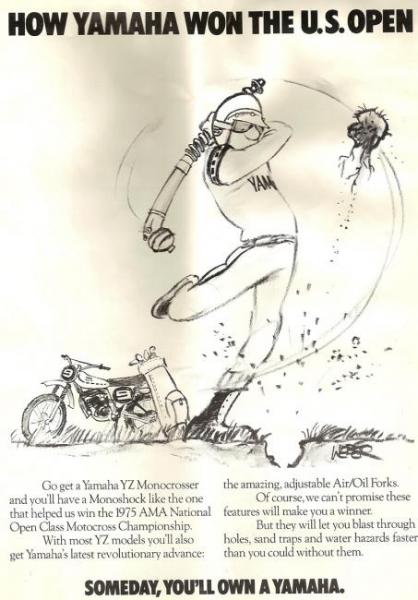 Finally, there is a Grand Prix this weekend at one of the most storied tracks in all of motocross, Italy's Maggiora. The track was the site of the 1986 Motocross des Nations, swept by Team USA's David Bailey, Rick Johnson, and Johnny O'Mara. It continued to host GP races for many years after that, and while I missed that epic MXdN of '86, I did attend the 1999 250cc Grand Prix with Ryan Hughes when he was riding for Pamo Honda, and the track was remarkable. It fell into disarray soon after and appeared to be lost forever, but now it's back and looking downright fantastic. Maggiora will host the Motocross of Nations in a few years, so if you want to catch a glimpse of what our boys might be up against, watch the Italian GP qualifying for free on www.mx-life.tv tomorrow, likely starting at 10 a.m. Eastern time. You can also watch Sunday's GP races for a fee.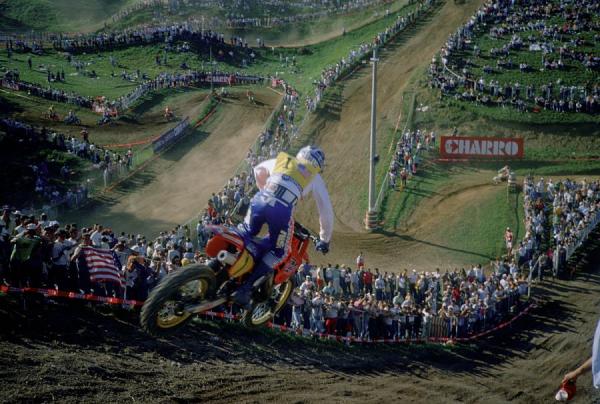 David Bailey blitzes Maggiora, Italy, back in 1986.
That's it for Racerhead. Happy Father's Day Weekend to all of the dads out there. See you at the races!