High Point Raceway
Mt. Morris

,

PA
High Point
Lucas Oil AMA Pro Motocross Championship
BTO Sports is your number one source for all of your motocross parts, gear, accessories and apparel. BTOSports.com is a motocross company who is truly dedicated to the sport and to the customer. Proud sponsor of your Racer X Podcasts and the BTO Sports race team.
Round four of the Lucas Oil Pro Motocross Championship went off in pretty much perfect weather this past weekend at the famed Mt Morris High Point Raceway. I've asked this before, but what's the deal with some tracks being known by their location, and others by the track name? We all call Hangtown "Hangtown" but Millville is "Millville" instead of Spring Creek. And in my time on this circuit, most people just call High Point Mt. Morris. And most people just call the Colorado round "Colorado." They don't even get the town or the track name in there? Why is this?
Onto the racing. We're seeing some of the same things we saw at round 1, where there are definite groups of riders in different packs. And, incredibly enough, the same five riders have finished in the top five in the 250 Class at all four races. Only five riders in the top five overall in four rounds! Weird, right? For High Point's 450 Class, we saw a new face on the moto podium (Mike Alessi) as the Ryan's (Dungey and Villopoto), James Stewart, Trey Canard and Justin Barcia have hogged it for the most part this year. We're seeing groups of riders find their slots and stay there. It's tough sledding, but if you're not in one of those groups but you can always try to finish at the top of "your" group, wherever that may be.
The area had gotten a ton of rain coming into the race, and the track was soupy for the first set of practices and not much better for the second. In fact, the first set or practice really didn't help anyone out because the track changed a ton after that. In typing this, my mind goes back to the epically horrific mudders of '97 and '00 (which my rider Kelly Smith actually won!) and the fact that High Point can get really, really bad. Luckily, after all that rain on Thursday and Friday, the clouds and rain didn't come on Saturday, and the sun did, and we had perhaps the most perfect weather ever for race day. Nice and warm with a cool breeze, I was looking to fire up the Bar-B-Que while the motos were going.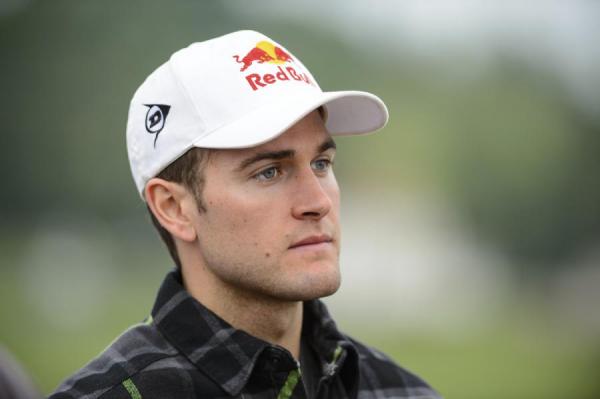 Ryan Dungey left High Point with a deeper points hole to dig out of.
Simon Cudby photo
Only problem was, once the track dried out, the slop was pushed off to the side and it left the track with what the riders were saying was really only a few lines. The insides were hard and slick and the outsides were still goopy and crappy. So quite a few riders wondered why the track wasn't disked up or prepped better for the motos but to me, it looked like a nice challenge for the guys. I've heard some of the track crew said that had they disked before the motos, they would have been left with giant mud chunks because of all the goop. Anyway, as usual, the condition of the track and riders comments about the track are proportioned to how the rider actually did in the race. I spoke to Ryan Villopoto about the track and he liked it. Shocking, right?
Speaking of Villopoto, he won his sixth and seventh motos (out of eight) of the year in a perfect day at High Point. His mechanic Mike Williamson thought that this was the best ride of Villopoto's season and it's hard to argue with that. Ryan took the lead right away in the first moto from Justin Barcia and checked out big time. But in the second moto, he worked up from about sixth or so to catch and pass Ryan Dungey and James Stewart for a soul-crushing (for his competitors) win. I know I said this before, but he just looks like Ricky Carmichael out there:, he's aggressive, he's got a few moments where he's out of control but he doesn't crash, he pours it on all moto long and he's fit beyond belief.
It never usually works out that the two top dog riders stay respectful and clean with each other week in and week out, but Villopoto and Dungey have always straddled that line very closely and I think they generally respect each other. But Villopoto came pretty close to Dungey with his second-moto pass, and Dungey admitted in the press conference that he's going to remember that. Maybe things are going to turn nasty between these two. To me, the pass by RV looked gnarly on the track but upon reviewing the tape, it seemed ok and not that bad. Still, Dungey felt like while it may not have crossed that line, it definitely snugged up to it. Stay tuned folks, Dungey can't keep getting passed and left behind without doing something about it.
There's no doubt that Dungey is riding very well and is clearly the second best rider in the series. As I wrote last week, I think Justin Barcia's got the ability to go faster than Dungey but he's not as strong late in the moto. If you're Dungey, you've got to try and hang it out more to try and beat Villopoto, but with these spots and on this leopard, I just don't think it's going to happen. Dungey is consistently consistent in his riding going back to when he entered the class. He's going to play this one way and that's by trying to minimize the damage each weekend and hope that Villopoto eats it. It worked last year with James Stewart (although he was closer to Stewart last year than he is to RV this year) and who knows, maybe it works this year.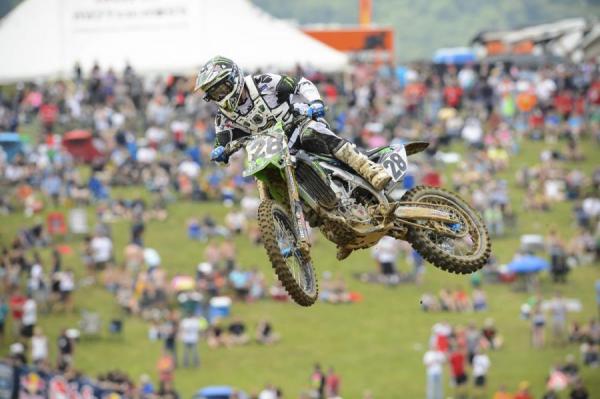 Tyla Rattray was back in form at High Point.
Simon Cudby photo
I Tweeted in intermission that the entire 250MX series is coming down to whether or not Eli Tomac can get a start. I got a bunch of replies that I'm an idiot, Kenny Roczen is faster and has won more, etc, etc. But what I meant by that was, sure Roczen may be better than Tomac straight up, but we'll never know if Tomac can't get out of the gate. I spoke with Mike LaRocco (Tomac's team manager) and he said that they're trying to work with Eli to get him to take gate spots that aren't so reliant on a good jump. I'm thinking he means by the doghouse or perhaps by some slower riders that he knows he'll be able to out-jump. At High Point Eli put in some nice charges from the back but still could only go 3-4 on the day for third overall.
So far this season, when he's gotten the start and gotten out front he's gone. When he can't do that, he is the opposite of gone. This is what this summer's 250MX season is boiling down to: can he get a start?
You know who can get a start? Marvin Musquin, that's who. If I had told you that after round four it would be "Moving" Marvin "The Marv Attack" Musquin who would have the most race wins in the 250MX series you would have slapped me silly and called me Shirley. But yet he does after his 2-1 ride at High Point for the overall. But like color commentator Jeff Emig, I was most impressed with Marvin in the first moto when a charging-like-a-bull Tomac was pushing hard and catching Musquin big-time. And the Frenchman just picked up his pace and matched Tomac and held onto second. It was something to see indeed, because I didn't know if Marvin had that kind of stuff in him or not. But he did.
The High Point track just suited Marvin perfectly, as well. In the second moto, with Kenny Roczen all over him, Marvin rode just a perfect race. With the ruts, off-cambers and sloppiness of the track, Musquin's throttle control and precision really shone through, in my opinion. He looked like he was out there for a Sunday cruise as he artfully cut through the ruts, inside and outside the turns and looked pretty much fantastic. I was talking to his mechanic Frankie at Muddy Creek and we both agreed that Marvin needs to hang it out and push the edge more. And he's going to need to do that as the tracks get rougher, the temperatures get hotter and the speed picks up but for now, he was really, really good at High Point.
Some of us were starting to worry about Tyla Rattray. The former World Champion was a consistent podium threat on the 250F but ever since his crash at last year's Oakland SX, he's not been the same guy. He jumped to fill RV's spot on the factory Kawi 450 team last year and broke his hand in the first moto of the year. When he got back from that, he definitely underperformed from what most of us thought he was capable of. This season in 250SX was rough, he seemed like a different guy out there compared to 2012. But hey, he DID break his neck at Oakland, which is no joke. I tore my rotator cuff 20 years ago and still use that as an excuse so it's not like I'm thinking Tyla is a wimp. It was a serious injury but the facts are, he's not been the same guy since.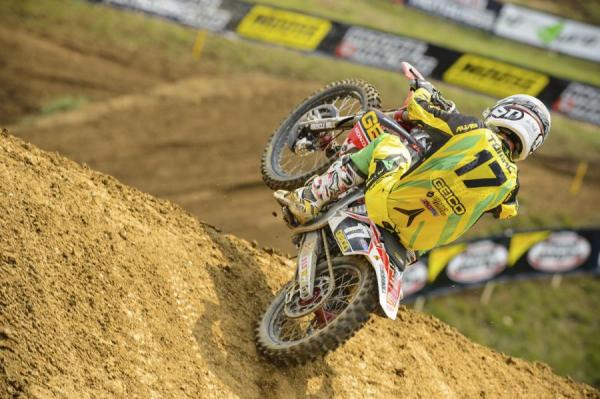 Eli Tomac is still looking for a start.
Simon Cudby photo
But this weekend at High Point, he went 4-4 for third overall and was very good. Yeah, he didn't have anything for the top two guys, but he got good starts and showed good speed and endurance. It was the type of Tyla Rattray ride that we haven't seen for a while. After the race, Tyla told me that de-tuning the bike and working with PC's Jim "Bones" Bacon on suspension was the key. He told me that last season, he just couldn't get the bike to where he liked it. He wasn't making excuses, but he was saying that with a lack of testing time and he and the team choosing a "Ryan Villopoto" package on the KX450F last summer, it wasn't working. Let's hope that this set-up helps him get back to being a top five (or better) guy from here on out.
Rattray knows Villopoto inside and out, he rides with RV down in Florida and even he is impressed with what he's seeing this year. Tyla and I spent ten minutes talking about RV's aggression, steer-with-the-rear style and his general balls-out attitude out on the track (thankfully he doesn't believe in balls-out when he's not on the track). Tyla was saying that at home on the practice track RV will just jump right next to him, or blow by him on the outside by the narrowest of margins which makes Tyla and Jake Weimer just shake their heads.
Let's take a look at the results shall we?
250 Class Results
1 25 Marvin Musquin France KTM 250 SX-F 2 1 - Nice to see Marvin enjoy some success here in America. Not that long ago, he blew out his knee at Bercy, missed supercross and then got a rear tire in the head that knocked him out of the Nationals. Remember that? People were wondering if the two-time World Champion had indeed made a smart decision to come to the USA.
2 94 Ken Roczen Germany KTM 250 SX-F 1 2 - Roczen's whole bike/helmet/gear get-up is sharp. Gotta love the Red Bull chrome and blue paint jobs, the Fox gear is always sharp and the orange frame on the bike is awesome. And oh yeah, he's pretty fast, also.
3 17 Eli Tomac Cortez, CO Honda CRF250R 3 4
4 338 Zach Osborne Chesterfield, SC Honda CRF250R 10 3 - In the first moto, Osborne went from first to tenth. His only crash was a small bump when Blake Baggett crashed in front of him, and he didn't even lose any positions there. Zach's first moto finishes this year are 9-6-6-10 and his second moto rides are 5-2-5-3 so clearly he can see what he needs to work on going forward. He's also doing the Six Days ISDE this year which proves that he's definitely hit his head a few too many times. Riding all day in the mud and rocks, changing mousses in the jungles of Italy? Yeah, no thanks.
5 1 Blake Baggett Grand Terrace, CA Kawasaki KX 250F 4 8 - The same five riders have filled the top five overall spots at all four Nationals so far and the defending champ Baggett finds himself more often than not outside the top three. Baggett's not making excuses but he's not the same guy we've seen the last two years and I've got to believe it's the injured wrist.
6 34 Justin Bogle Cushing, OK Honda CRF250R 5 9 - The last two races, Bogle has been quietly very fast. He's gotten good starts and has good style. This is a big year for Justin and LaRocco mentioned that they're working on keeping Justin emotionally on the same level all day and not let things bother him. And I have to say, Mike LaRocco might know a thing or two about being unemotional.
7 77 Jeremy Martin Millville, MN Yamaha YZ 250F 9 6 - Years ago the NHL (that's a sport called hockey, by the way) instituted a 25-game rule to be called a rookie as in, if you played more than 25 games in the NHL over however many years it took you, you weren't a rookie. So what does this have to do with Martin? Well he turned pro last year and rode the last three nationals so does this mean he's a rookie in 2013? What's the cut-off if it's not three races? We need some sort of clarification on this so we can all keep it straight.
8 175 Cooper Webb Newport, NC Yamaha YZ 250F 6 11 - Nice to have an off day as a rookie and get eighth overall, right?
9 176 Joseph Savatgy Thomasville, GA KTM 250 SX-F 13 5 - Great second moto for the Savage Savatgy. Now this was something to build on. With Roczen moving to the big bike next year, one would have to think that this season's Nationals are an audition for Joey to be Musquin's 250F teammate next year?
10 21 Jason Anderson Edgewood, NM Suzuki RMZ 250 12 7 - If I were Jason Anderson, I would definitely remember what Osborne did to me in the first moto and payback, thy name is Jason Anderson. Anderson had his usual strong race and would've been much better if Osborne hadn't just ridden straight up and caused him to crash. But the flip side to that is that Anderson appeared to cut over on Zach which many people think is the reason Osborne did that, I however, do not think Anderson's swerve was worth a take-down and this is coming from someone that likes Zach Osborne but I have to calls it like I sees it.
11 38 Kyle Cunningham Aledo, TX Yamaha YZ 250F 7 16 - Cunningham's getting outshined by Martin and Webb on the Star Yamaha team but he's been decent this outdoor season. With Kyle, it's all about keeping it on two wheels.
12 40 Martin Davalos Ecuador Kawasaki KX 250F 14 10
13 317 Justin Hill Yoncalla, OR Kawasaki KX 250F 11 13 - Mitch Payton is not pleased with the rookie Hill's rides so far. It's been a tough year for the PC guys and not that it's comical or anything like that but each week when I talk to Payton, he's sliding deeper and deeper into the old angry Mitch that I hear stories about. Whatever you do as a rider, don't tell Mitch that you had fun out there if you're out of the top ten. Just a warning.
14 44 Darryn Durham Butler, PA Kawasaki KX 250F 8 34 - Durham was pretty good considering his Hangtown injuries are still bothering him. He got a hole in the radiator in the second moto and had to pull off while he was in 12th. I like Durham's attitude every time I've ever spoken to him, he's such a positive nice guy and besides, he put a picture of his bruised balls on Twitter a few years back, how could you not laugh at that?
15 13 Blake Wharton Pilot Point, TX Suzuki RMZ 250 35 12 - Not a good day for Wharton at all.
16 50 Kyle Peters Greensboro, NC Honda CRF250R 16 18
17 194 Jackson Richardson Australia Honda CRF250R 18 17 - Two top twenty finishes for the Aussie in the highly competitive 250 Class on a bike that's not as good as many in the class? That's alright indeed.
18 43 Cole Seely Newbury Park, CA Honda CRF250R 34 14 - Oh man, Seely's entire day just went to poop when he washed out while he was in sixth in the first moto. It was the first time he'd run up front this year and it was probably going to help out his confidence and get him up to speed and perhaps turn his season around. Instead he washed out, then crashed hard and DNF'd later which resulted in a bad gate position and a ho-hum 14th spot. But it was all looking so good for a bit.
19 396 Dillan Epstein Thousand Oaks, CA Kawasaki KX 250F 23 15 - Dillan had two straight motos where he didn't score any points, and it's tough to not fall down the well of despair when you're just starting out. So pulling out a 15th in the second moto was huge.
20 37 Alex Martin Millville, MN Yamaha YZ 250 15 36 - Alex's bike blew up yet again in the second moto after a decent first moto. Team Eleven10 Mods has been promoted time and time again in this space as a really cool program and owner Chad Sanner is a friend of mine but I gots to calls it like I sees it and I'm seeing 2013 as being a complete train wreck for the team.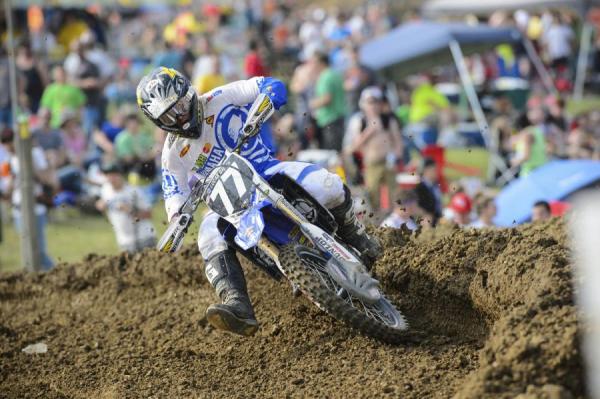 J-Mart had another solid day at High Point.
Simon Cudby photo
450MX Results
1 2 Ryan Villopoto Poulsbo, WA Kawasaki KX 450F 1 1
2 1 Ryan Dungey Waconia, MN KTM 450 SX-F FE 2 2
3 28 Tyla Rattray South Africa Kawasaki KX 450F 4 4
4 51 Justin Barcia Monroe, NY Honda CRF450R 3 7 - Last week in this very column, I wrote that I thought Barcia, and not Dungey, had the speed to challenge Villopoto (although he doesn't have the total package that Dungey has quite yet). This week, Barcia proved that my column suffered from pre-mature spraying of the pump (it's a podcast reference people) as he was caught by Dungey from a ways back in the first moto and in the second never really got going after a bad start. Oh well, just another theory of mine proven wrong.
5 800 Mike Alessi Hilliard, FL Suzuki RMZ 450 10 3 - Mike got a poor jump in the first moto and had to fight like heck to come through the pack. In the second moto he started well and rode great to a third, his best finish of the year. Don't look now but Alessi's starting to heat up after a poor opening round. It was interesting to watch Rattray hammer down to catch him in the second moto and Mike respond on his own to match the #28. It was a battle within a battle.
6 41 Trey Canard Oklahoma City, OK Honda CRF450R 7 5 - Trey was steady eddie at High Point and he's perhaps the perfect example of what a start can mean to any of the top guys not named Villopoto or Dungey. Canard's a podium guy if the starts there. He was 16th after lap one in the first moto and 11th after lap one in moto two so this is a good day for The Duck.
7 35 Ryan Sipes Vine Grove, KY Suzuki RMZ 450 6 6 - Sipes has speed, this we know and have all written about and witnessed over the years but at High Point he added a new trick to his repertoire called "consistency" and whadda ya know, it worked pretty well. Nice ride for Sipes who was my sleeper pick for the 450 Class.
8 33 Josh Grant Riverside, CA Yamaha YZ 450F 5 8- Grant had a very eventful day at High Point as he was once again pretty fast but a bit erratic. A fifth in the first moto was great and he holeshot the second moto to set himself up for a good day. Then he twisted his ankle, pulled into the mechanic's area for a second (thereby keeping the JGR Yamaha pit stop streak alive at four races) then pulled out and fought back to an eigth from 13th or so. He's fast! He's hurt! He's out! He's back in! He's eighth overall…whew.
9 12 Jake Weimer Twin Falls, ID Kawasaki KX 450F 8 9 - Weimer's best race of the year, he came from the back to get both of these positions also so that's something he can build on. He's down at Matt Walker's place in Georgia riding this week to try something different.
10 20 Broc Tickle Holly, MI Suzuki RMZ 450 11 11 - With sloppy conditions in practice helping him out, Broc was very fast in both practices and qualified with a season high third-best time. It was thought that this would help Broc out (or maybe the fact that his mechanic Tony Berluti missed his first scheduled race ever because of his daughter's high school grad would inspire Broc to "Do it for Berloot") but nope, he was his usual steady, not-flashy self.
11 49 Phil Nicoletti Cohocton, NY Yamaha YZ 450F 9 14 - For sure, so far after four rounds, Filthy has caused more fans and industry people to wonder "Who in the hell is that #49?" than at any other time in history. Nicoletti is really starting to come into his own lately but once again he couldn't put two motos together. That's ok though, there was a time in 250's when Phil couldn't put one moto together. He's got speed, I'll say that.
12 32 Malcolm Stewart Haines City, FL Honda CRF450R 12 12 - 12-12 for 12th. Good job on the consistency!
13 10 Justin Brayton Fort Dodge, IA Yamaha YZ 450F 15 10- Brayton needs to wear the old-school Oakley strap every time he rides because whenever I notice him going fast or doing well (and keep in mind this is a very unscientific study) he's got the old Oakley lettering strap on. Just leave this on Brayton, your life will be better!
14 22 Chad Reed Australia Honda CRF450R 14 13 - As he said in our post-race interview from Muddy Creek, Reed seems very confident that he'll be better after the break. Let's hope so.
15 42 Vince Friese Cape Girardeon, MO KTM 450 SX-F 17 15 - Two motos in the points for the first time this year for Friese. Too bad there's a break and he can't use the momentum from it.
16 29 Andrew Short Colorado Springs, CO KTM 450 SX-F FE 13 39 - Terrible day for Andrew Short (not as terrible as his Lakewood day, but still) as he just went backwards in the first moto from a good start. I swore he must have fell but in speaking to a few people, no one saw him fall and all thought it was simply a slide back to 13th. Which is weird for Short, no doubt about it. Second moto his bike quit three turns into the race and took out a bunch of dudes.
17 27 Nicholas Wey DeWitt, MI Kawasaki KX 450F 19 17 - It's a wayyyy slower process than Wey would like but he's starting to get better but it's inch by inch.
18 57 Ben LaMay Wasilla, AK Yamaha YZ 450F 25 16 - LaMay's second MX race this year went a lot like his first with one good moto and one crappy moto.
19 7 James Stewart Jr. Haines City, FL Suzuki RMZ 450 16 36- Terrible High Point for Stewie- no tear offs in the first moto, thrown goggles and then a rock in the eye. Second moto he jetted out front and poured it on to try and get a moto win. But alas, it was not to be, Stewart was in the clutches of Villopoto and Dungey when his front brake rotor broke and it was a DNF. This just in, the 2013 MX season is somehow worse than his 2013 SX season.
20 73 AJ Catanzaro Portland, CT Kawasaki KX 450F 28 18- Who knew AJ was riding 450's outdoors? I didn't, that's for sure.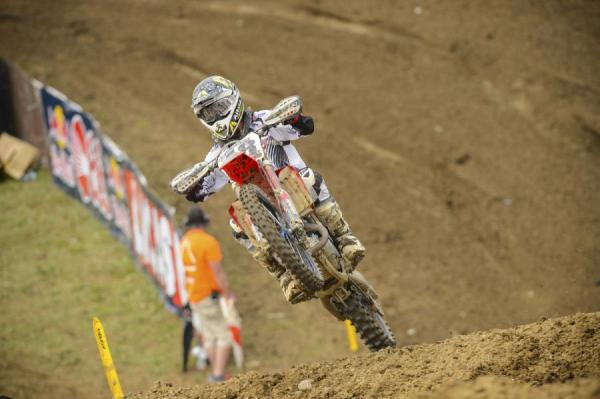 Cole Thompson made his debut at High Point.
Simon Cudby photo
Some other news and notes:
Canada's own Cole Thompson made his season debut in the 450 Class and let's hope he gets better from here because his debut wasn't very spectacular. Remember, he was top ten a couple of times last summer. Thompson wasn't able to make it to the first three races due to finances and a switch from the 250's to the 450's. He suffered some mechanical problems in the first moto and in the second he faded badly due to an illness. Before he had problems, he was inside the top twenty and that's where I expect him to be going forward from here.
The WMX series was chopped down to just three races this year due to, well a lot of different issues and because of that, it's going to be tough for multi-time WMX champion Jessica Patterson to win another title. Y'see, JP$ DNF'd round one this year with a motor problem and despite a 1-1 sweep at High Point she sits some 16-points down with just one race to go. And in case you're not aware, there's not much parity in the WMX class. Going to be tough for Jessica to make that up but in a few weeks at Southwick, it should make for some good racing.
Thanks for reading, we all appreciate it and you can email me at matthes@racerxonline.com if you just want to talk.