There's an interesting development going on as a start up moto company tries to get going in the state of Nevada. A couple of entrepreneurs have they've developed and researched and developed a device that could change the way you ride and race a dirt bike. Surviving a vetting process, the guys are now in a contest where the winner (by popular vote) gets a 100K grant from the state of Nevada to get the small business up and running.
We thought we would catch up with one of the founders, Jonathan Lee, and try to help a couple of moto brothers out.
Racer X: In a nutshell, what is your startup all about?
Jonathan Lee: Hotlap.co is an app and web-service that uses GPS to track your performance as you recreate, train or race. You're then able to analyze your and your equipment's performance in as much detail as you wish on Hotlap.co, where you can compete in global events for cash, prizes and awards, and get discounts on the products you need to maintain your equipment.
What led you to create Hotlap.co?
My co-founder Nic and I grew up spending all of our time, money, strength, blood, sweat, and tears, you name it, preparing ourselves to win on the weekend, but we never knew if our preparation was enough to win until the race was over, and for all but one of us, that was too little too late. So we decided to change that and get people back out there competing or just simply enjoying what they love.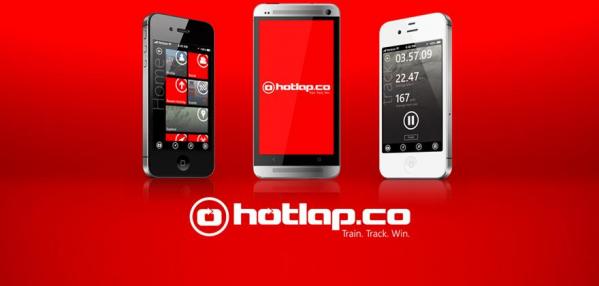 Visit Hotlap.co for more information.
Who do you think would benefit most from Hotlap.co?
Hotlap.co benefits the casual weekend warrior by giving him the ability to share his experiences like never before and track his equipment maintenance in a hassle-free way. It is revolutionary for competitive individuals because it gives them the ability to know how to improve their performance, and gives them more competitive opportunities.
Tell me more about the competitive aspect of this. How can you compete against other users, and what can you gain for your success?
You can compete however you want and whenever you want in various ways. Firstly, by tracking your performance on your favorite track or trail, you can see exactly how you compare to everybody else who has ridden there previously. For example, if you are tired of losing time to your buddy on the trail or your competitor on the track, you can break down your performance into customized segments to see if you are losing time by going too wide in a certain turn, or taking the slower line through the whoops.
Where things get more exciting are the challenges and events. You will be able to invite a friend or group of friends to participate in a challenge such as a 2:20 lap time challenge at your local track, and you will be able to compete in global events sponsored by your favorite brands. For example, a company like Racer X could sponsor a venue like Hangtown, our local track, for a month-long competition in which riders could show up at any practice or race scheduled within that month and compete for prizes in various categories like fastest 20 laps, fastest 10 laps, fastest lap, highest heart rate, max percentage maintained and more.
Browsing around your site, I notice that everything is shown on smartphones. Will Hotlap.co only be available on smartphones?
Hotlap.co is a web-service as well as an app, so you will be able to access your profile from your computer, laptop, tablet, and any other internet-connected device. This opens the door for all of us to use our GPS of choice, whether that be a Garmin or Polar watch, your smartphone or any other GPS device that tracks activity for that matter.
With other companies out there providing tracking services, how will Hotlap.co be different or better?
Great question. We are the first to bring this type of service to the motorcycle industry, but definitely not the first to use GPS to track athletes. We often are compared to Strava due to the fact that we allow our users to track and compare their performance to everybody else who has previously ridden in the same spot, but we go far beyond that.
Our users will not only be able to analyze their riding down to line choice and corner speed, but they will also be able to create challenges for their groups of friends and enter global events regardless of location or schedule where they can compete for prizes and awards.
To top all of this off, the virtual garage system will take the guess work and hassle out of bike work by keeping track of scheduled maintenance and give them deals on the parts they need to maintain their equipment when it is needed.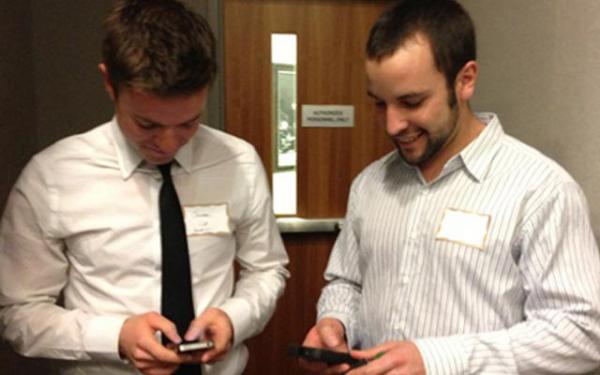 Jonathan (left) and his partner Nic (right) getting their votes in!
You are involved in a business competition, can you explain that and how the readers can help you win?
Absolutely. The business competition is called Project Vesto, and after passing through a "Shark Tank" phase with 232 other entrants where we pitched our idea to a panel of investors, we were the top ranking startup out of the 12 finalists. We are now at a point in the competition where the winner of the $100k grant will be decided by popular vote and we need your votes!
It is a two horse race between us and one other competitor, and we are just behind in second place, so we need all the help we can get. All you have to do to vote is go to hotlap.co, click on the 'Go & Vote' button and then click on 'Hotlap.co' in the blue rectangle on the right side of your screen. You can only vote once per device, so it is VERY important that you vote from as many devices as you have, like your smartphone, tablet, laptop, work computer, etc., and get everybody you know to vote as well. We need all the votes we can possibly get to get this service into your hands. It's pretty cool to have a motocross start up competing for the grant.
Here's a video presentation of what this is all about- go on- vote now!