High Point Raceway
Mt. Morris

,

PA
High Point
Lucas Oil AMA Pro Motocross Championship
Ever looked at the lids of Blake Wharton, Jason Anderson or Marvin Musquin and wished you could get your filthy, moto-loving hands on one? If so, you were out of luck because the Italian helmet manufacturer Airoh, (pronounced i-roh), did not sell their product in the United States. But that's all changing now because Airoh has inked a deal to bring their product to the U.S. market through Leo Vince USA. We gave LeoVince USA executive vice president Tim Calhoun a call to learn more.
Racer X: Airoh Helmets have never been available in the United States before. Educate us on the product.
Tim Calhoun: When we decided to start looking for helmet brands the main thing we were looking for was quality. We kept coming back to the Airoh brand, and they were ready to make some moves toward the United States. We had some great conversations with them in the beginning, and the main reason we went with them is because they're very safe and very lightweight. Typically the helmets come in around 1000 to 1200 grams, [1000 grams is roughly 2.2 lbs.] depending on the model. Comparing that to the U.S. Market, most of the products you see right now are ranging between about 3.2 and 3.5 pounds. But more important than the lightweight is how balanced the helmets are. They're ECE certified instead of SNELL. The problem with SNELL is that they are still rating helmets primarily on an automotive safety testing method. If you crash on a motorcycle it's not very often that you're going to impact the exact same point on a helmet twice [in the same crash]. What people have found in recent years is that the SNELL rating is simply too stiff, or hard, to protect you properly off-road. So we're excited to bring in an ECE helmet. We feel that ECE, which is motorcycle specific, is the crowning standard in the world right now.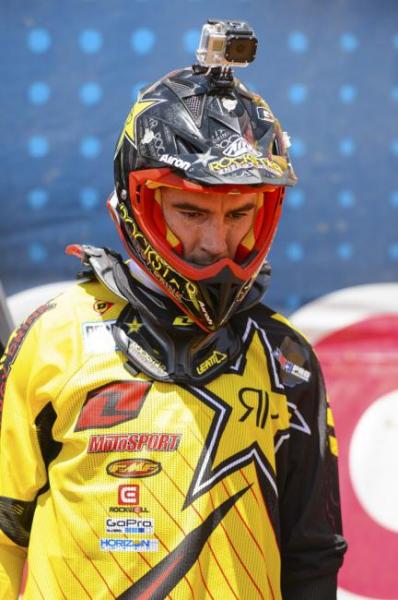 Ryan Sipes and members of Rockstar Energy Racing wear Airoh helmets.
Simon Cudby photo
Talk a little bit more about the SNELL process.
SNELL was born out the fact that people were making impacts with roll cages, roll bars and hard points inside of an automobile. So the helmet shell needs to be a little heavy, and they tend to be a little top-heavy especially. In order to pass the SNELL test a helmet has to take multiple impacts at the same point with very little variance. I don't believe that's the standard that most motorcyclists see. It's not very often you're going to fly off the bike, hit the ground and not rotate your body and hit the ground in multiple locations. Especially side strikes. If anyone has watched racing for the last twenty years, the blows we see that are the most damaging to a rider is when they come in on the side of the head. Front and back hits aren't as brutal, but when they snap to the left or to the right they usually get knocked out or get a concussion. Overall, I think ECE addresses those side blows better than a SNELL helmet does.
Despite not selling the product in the U.S. market in the past, Airoh has still sponsored riders over here, such as Marvin Musquin, Blake Wharton and Jason Anderson. Why?
They were just paving the way and getting people more familiar with the brand name, knowing that they were eventually going to bring it into this country. Their forte has always been off-road, although the brand does have quite a few world-level riders, including Andrea Dovizioso in MotoGP.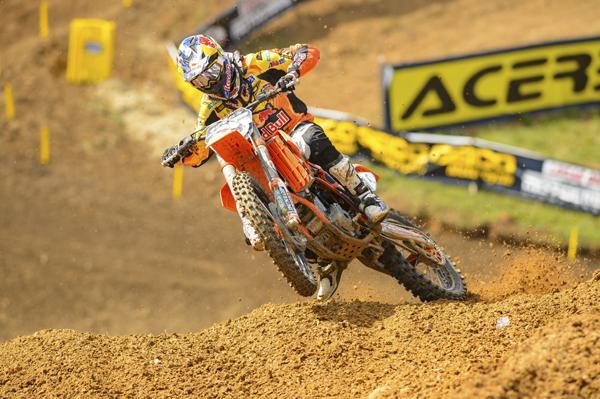 Marvin Musquin is also an Airoh rider.
Simon Cudby photo
Where can customers check out the product in person?
We're about a month out from having product in the warehouse and ready to go, so it will be here very shortly. We'll start pre-orders in about two weeks with all of our dealers and we expect to probably sell out of the first order completely.
What's the price point?
Top of the spectrum is going to be close to $600 for an Aviator, which is our top of the line helmet. As far as entry point for the Aviator, it'll be about $490 [for a single color] which we're verifying this week. The Aviator is a little more of a long, oval fit. Skinny around the sides and long in the front and back. The second helmet is the Terminator. It's about two ounces heavier and is a traditional American round fit. With those two helmet shapes we should cover about 90 percent of the market. The price point on the Terminator will be somewhere between $390 and $500. The technology in both is very similar. Once you put an Airoh on your head and turn left and right, or accelerate and brake, you'll absolutely feel the difference and know why you should wear an Airoh. We're excited to bring it to the U.S. market.