High Point Raceway
Mt. Morris

,

PA
High Point
Lucas Oil AMA Pro Motocross Championship
Hello, everyone, and welcome to the Rev Up. No rest for the wicked as it is already time for round four of the 2013 Lucas Oil Pro Motocross Championship! The GEICO High Point National will mark the end of the first quarter of the series, and so far so good in the great outdoors. The opening three events delivered on expectation with huge crowds, rough tracks and great racing, but the best may be yet to come. High Point has long been a rider and fan favorite and carries a pulse of its own. One of the more dynamic courses on the tour—with several off-camber corners and hyper elevation changes—this race annually produces memorable motos. As far as the fans go, you'll see everything from most of AMA District 5, to Southeast travelers, to tons of nearby WVU students who have hung around after graduation. The crowd isn't as wild as it used to be, but when a battle breaks out in a moto you will hear it.
Weather is another constant associated with this event, and rain is coming down on the track as you read these words. In a sense, it always rains at some point during High Point weekend and it is not uncommon to see a wet moto or two on the day. Honda Muscle Milk rider Justin Barcia won his first outdoor moto in a rain soaked effort in 2010 with GEICO Honda and seemed unbeatable. Then, the sun came out and he struggled and lost the O/A to Tyla Rattray. You never really know what to expect here, and the hills of High Point have a penchant for producing surprises.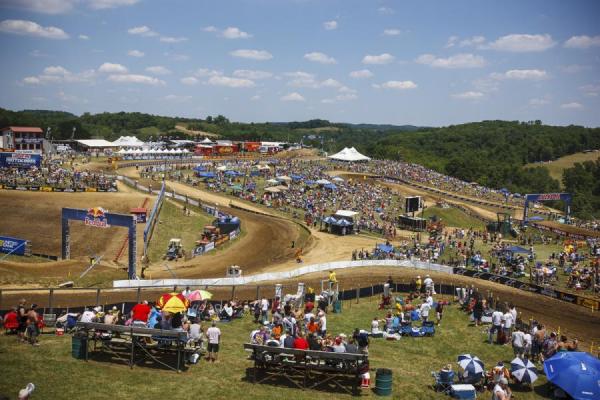 High Point has a pulse of its own.
Simon Cudby photo
Kevin Windham had his legendary first moto holeshot and break away in 1994. Then there have been surprise wins by Scott Sheak in 1997 and Kelly Smith in 2000. There was a lot of pre race hype surrounding the debut of Monster Energy/Pro Circuit's Adam Cianciarulo, but it looks like we're going to have to wait a couple more weeks to see the #292. We'll see Adam in good time when he is ready, but MyPlash/Star Racing Yamaha's Cooper Webb is poised to blow the roof off the house this Saturday afternoon. Webb has put in a top five ride in each of his three first professional motos, and if he can gate cleanly two times he has the stuff to win. He leads my list of surprises in this division, followed closely by local Darryn Durham, Zach Osborne, and Marvin Musquin. It's hard to call Musquin a surprise as he is fresh off a win, but he's one of those guys that you never see coming. The Frenchman has bumped defending champion Blake Baggett down to the #4 guy and he could insert himself firmly in the title hunt with a repeat win.
That said, Eli Tomac and Ken Rozcen have won all of the motos so far and are a year removed from a furious battle to the last lap at this venue. Either one can cement their command of the division heading into the break by earning their second win.
The premiere division is set for their first donnybrook of the series. The perfect season has been dashed by Red Bull KTM's Ryan Dungey. As the defending champion, he is riding outstanding and needs to kick Ryan Villopoto while he is down. The holeshot is all-important with these two and the start at High Point is tricky. The fairly steep uphill start shoot bends sharply to the left then sweeps downhill into a tight right. Gating in the top five is fine, but if you get caught in the middle of the pack the leaders can put up a huge gap by the end of lap one. Justin Barcia falls right into this scenario because if he can get a little bit of a breakaway he can finish these guys off. In fact, I think Barcia will click off a moto win this time around. Surprises here center on JGR/Toyota Yamaha's Josh Grant. The embattled speedster has won High Point on 250's and 450's and while frustratingly inconsistent and unlucky, the #33 could holeshot and win a moto of his own. Meanwhile, Mike Alessi rode stellar last weekend and he knows his way around High Point very well. Who knows which James Stewart will show up this weekend, but as long as he is on the starting line he is a threat. Stewart is still blowing minds with his scrubs, and if he feels good in practice and wants to hang it out, he can roll.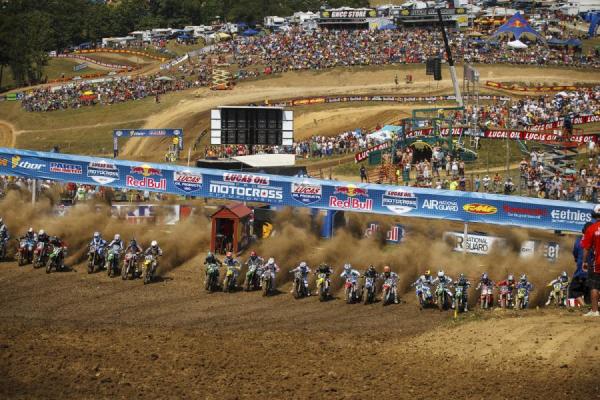 The start is always a key at High Point.
Simon Cudby photo
Ah, but be careful falling off the point leader's bandwagon. Villopoto is still the man, and his rampage through the pack last weekend was just...well, that is the second time I've said to myself, "I've never seen anyone charge that hard." The first being at the Budds Creek Motocross of Nations in 2007.
Time for round four! The nationals have been awesome so far and everyone I talked to at Muddy Creek (which was almost everyone) left me with five words: "See you at High Point." It's raining right now, but Saturday's forecast is calling for partly sunny and 80 degrees. It's going to be another great day at the races and I have a feeling High Point has something big in store for us. She always does!
Thanks for reading, see you at the races.