Back in the days when hair was big and florescent pink was the only color to wear, Jeromy Buehl was slowly making a name for himself as a professional motocross racer. In fact, Buehl showed such promise at the end of the 1990 season that a guy named Mitch Payton called him up and asked him to ride for a new team that he was forming with factory Honda support. Payton told Buehl that he had an outside sponsor from the auto business. It was called Peak Antifreeze, and Payton was looking for a few up and coming 125 guys who could win races for his new team. Buehl signed a deal, along with three others, who happened to be named Lamson, Swink and McGrath. The team was a hit, and today is known as Monster Energy/Pro Circuit Kawasaki.
All three of those riders went on to achieve top-level AMA Supercross and Motocross championships. Buehl was fast, too, finishing second behind Swink in the 1991 125 East standings. He was a favorite for the '92 125 East title, but an injury ended his chances, and the quirky AMA pointing out rule forced him into the 250 Class for 1993. But Buehl was a hard working guy, and he went onto achieve strong success in the rough and tumble world of arenacross, finishing second in the points on two occasions.
Jeromy Buehl retired from professional racing in 2000 and settled near his hometown of London, Ohio, which is just outside of Columbus. Today, the retired racer is running his own business and raising a family.
Racer X: Jeromy Buehl, what's going on? Man, you were one of the original Peak/Pro Circuit team members. It's cool to be talking with you! How did all of that go down back then?
Jeromy Buehl: Thanks! I thought everyone forgot about me. But before I rode for Mitch, I rode my first year in supercross for Suzuki, along with Denny Stephenson. In 1991, when Team Peak was born, I was super excited. It was more factory support than what I had from Suzuki, where I was kind of on my own. But we [Buehl, Lamson, Swink and McGrath] were just a bunch of kids who wanted to go fast, and we really had no idea at the time what was behind it. Also, for me, I had never really ridden out west prior to that. But the first thing I did was head to California, and it was trial by fire, because Mitch was really big on the testing, even back then. But it was good—we won a lot of races and that first year was something special for all of us, I think.
How long did you ride for Mitch, and I seem to recall some issues with the AMA and a bad rule that they had back then?
I rode two seasons for Mitch—and was fully contracted for both seasons. The 1991 season was great, but in 1992, Mitch had Mike Brown and I on the East Coast. I was planning to, and fully felt, that I could win the championship. But, at Atlanta, I broke my wrist and I was out for six months, I lost the whole season. I took time off to let it heal. I didn't ride a lot that year. But back then the AMA had a really tight advancement point system for the 125 Class, and I pointed out after the first race. So, I was forced to move up in 1993 to the 250 [now 450] Class. I had really wanted, and needed, a stellar year in 1992 so I could both get the confidence and a ride for when I moved up. But that didn't happen once I got hurt. There were only 8, maybe 9 rides in the 250 Class back then, and no one wanted me, since I wasn't able to fully prove myself on the 125s.  I would like to forget that entire 1992 season actually [laughs]!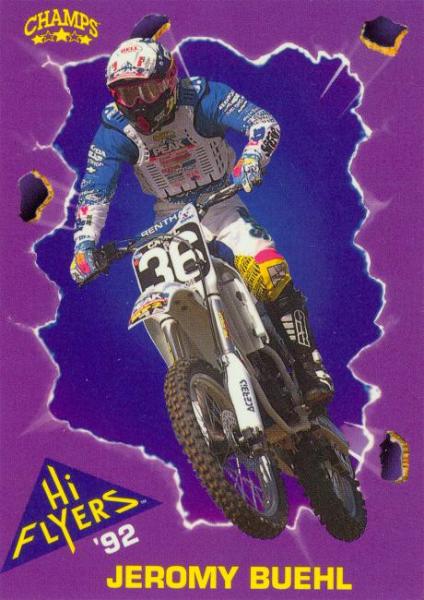 The sport seemed so much smaller back then, and opportunities were much more limited. What did you do?
Well, I really needed some support to get more support. I had a lot of great sponsors, that was really cool, but it was just different back then. It was tough. In 1993, I moved up as required, and had a really good year. I was on the edge in the 250 Class and was just inside the top ten, top twelve. But I was not making any money, and was just barely making it to the races on my own dime. Nothing really changed coming into 1994, there were no new teams and no new rides. I felt like I had a pretty good year though, and that I did it on my own program that I put together made it satisfying.
So what about 1994?
Well, it was the same thing pretty much. I came into it with the same program, and had some real limited help from Yamaha with parts. But then I hurt my knee at Daytona and I was kind of over it. I got my knee fixed and started working locally in town. I was working as a plumber by the summer of 1994. But then I quickly realized that I liked riding motorcycles more than I liked doing plumbing work!  Also, at that time, my family had a farm, but we were in the process of selling it, so I didn't have that to fall back on. I worked for six months as a plumber, and then I realized I wanted to come back to racing. I knew I was still competitive and had talent. And back then—late 1994 and 1995, that's when arenacross was at the beginning of a big period of growth. So I came back to race arenacross in 1995 and did that for several seasons. It was a lot of fun actually, and I did well.
It sounds like arenacross was able to give you some redemption.
For sure. As a kid growing up in Ohio, I did a lot of those small town type arenacross races in the winter. Arenacross was easy for me, and I was comfortable on a smaller type track. That first year, I got second in the series and made some money. For once, I felt like I actually did well and the sport rewarded me. In 1996, I got on the Tuf team and did really well. I lost the title that year by two points, and it was really close. After the Tuf deal, I put together my own program with F&S Suzuki as well, and finally retired in 2000. But the thing about the arenacross deal, the travel was not so crazy and it was easy for me. So arencross was basically where I finished my career.
I have heard some of the arenacross guys make really good money, especially back then. Was it rewarding for you?
I made a lot more than I did in 1993 and 1994 when I was finishing tenth at the supercross races and running my own program! So yeah, I was making good money, maybe $70,000 or $80,000 for what worked out to be three months worth of work. It was pretty good because then I could just race all summer local or whatever and keep it tight. I would hit some local stuff and make a few extra bucks in the summer as well. But even back in 1995, after I came back to arenacross, I was always thinking about slowly trying to transition myself into something else. I knew I didn't want to be a plumber, and I knew what it was like to work a regular job after what I did in 1994. So it was always in the back of my head, and I made sure to save as much as I could. All in all, I had fun racing, and arenacross was a good deal for me. Looking back on my career, it certainly did not go the direction I thought it would go, but when it was all done, I am happy with what I achieved.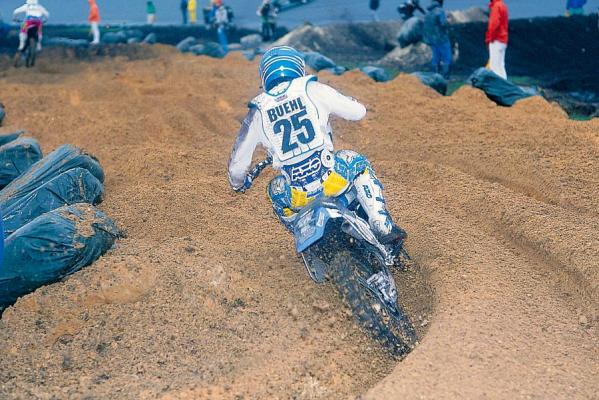 Buehl moved to Yamaha after his deal with Pro Circuit.
Moto Verte photo
Tell me about your post racing life and family? I hear your sons are quite the gymnasts?
Well, I got married in 1994 to my wife Anna. Then in 2000, I started a little landscaping company. I had saved some money from arenacross and used it to buy some equipment. We had our first [of three] sons, Garrett, in 1999, while I wrapping up the racing deal. Garrett is now 15. My middle son is Grant, and he is 12, and in the sixth grade, and the youngest, Gavin, is 9 and in third grade. Today, we live in Hilliard, Ohio, which is not too far from where I grew up in London. But all three of my sons are really into gymnastics, which is something totally new for me!
What about motocross? Do you have any involvement with the sport today?
Well, my boys and I, we ride for fun, but that's it. With all three of them into competitive gymnastics, it takes a lot of time. But back at our house, we have five acres, and of course we have a little play track for fun. But their thing is gymnastics. And that's okay—I am good with that. As for racing, I am really out of it, or so it seems. I worked with Jeff Gibson a little bit a few years ago, just trying to help him out. But I still stay in touch with a lot of my old friend—guys like Dean Baker and Wyatt Seals and Pat Thrall.
If one of your boys came to you and said he wanted to make a go at being a racer, what would you say?
Oh wow. (long pause) I would have to really think about it. I thought I would be all in, but the first time I watched them ride, I was really scared! I guess if they wanted to, I would support it. It is not something I would be against. But you know, I feel like I escaped death a number of times during my career. So as a father, I know I would be scared. Today, the jumps are bigger and the bikes are faster. But as far as the sport as a whole, there are so many memories that I have that make it amazing for me. I would just have to really consider it, that's all. All sports have a dark side, and motocross is no different than any of the others. It is a long ride to top, and it is just easy to get knocked off along the way (another long pause).
You know, there are a lot of guys who I raced with both as a kid and as a top pro, who now are lost—they didn't know what to do with themselves, or they have landed in trouble. I wouldn't trade my racing days for anything. I had tons of goals, some I made and some I did not. I did feel ripped off by the AMA—I really needed that strong transition year to earn a good 250 ride. But I am okay with it, it all ended well.
But today, my kids are in the gym 20 hours a week, which is quite a commitment for a sixth grader. For them, I just want them to have fun, and to make sure they give it their all, and then move onto their future with whatever it holds.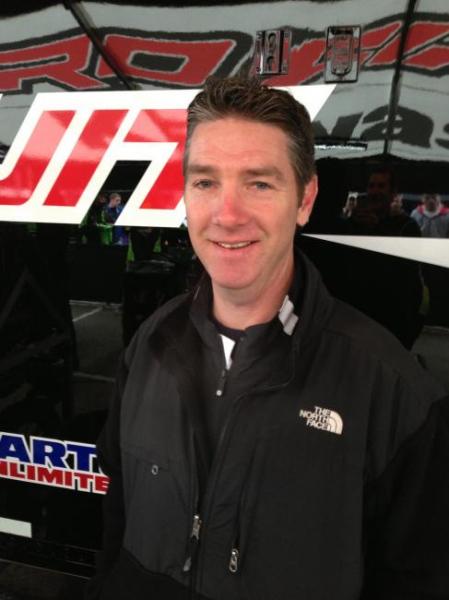 Buehl retired in the year 2000.
DC photo
About that AMA deal, did you have any recourse after the 1992 season, and after you missed all those races?
Not really. I did petition the AMA to let me race the 125 in 1993, but they did not give me any slack.  It just worked out the way it did and I moved up.
Understood. Lets move on. What about your landscaping business?
Well, my business is called Oak Leaf Landscaping and we do both residential and commercial accounts. I have five employees, and our services include maintenance, trimming, pruning and clean up. We also do hardscape installs, things like brick pavers, lighting and retaining walls.  We also do maintenance and snow removal in the winter. It is a family affair, my wife does the books and tax work. But my wife is also a RN, so she works at Ohio State University hospital full time, as well. I actually went back to school in 2000 when I first started my business, but I was just so freaking busy, I decided to stop school, and instead my wife went back since she was raising the boys while I was working. She got her undergrad and is now working on her masters. That has been a real blessing and has helped in the lean times!
One last question: how about a few personal highlights from your career?
Well, for one, the 1990 Atlanta Supercross was my first supercross, and I got a third. That was a big deal for me. I scored a podium in my very first round. I remember Larry Maiers with his beard, standing there with that microphone stuck in my face. I just remember the delay and the echo and could barely talk!
Another one was when Payton first called me, he asked me to fly out to California for testing. Wyatt [Seals] was the one who got me a ride with him, but he called me, and said they were testing in Simi Valley at Hondaland and I had to get my butt out there. So, I got a ticket to LAX and flew out. This was in the days before cell phones. I had no idea where we were supposed to go or at what time, so I just went to Simi Valley and got a hotel the night I got in. I thought that surely someone was going to call me—but no one did. I was just sitting in my hotel room waiting around and a little confused. At noon, I called Pro Circuit, and Mitch picked up the phone. He said, "Oh, our testing was put off, come on down to the shop." So I took a cab from Simi Valley to Anaheim. That was my first day with the team, and it was a $100 cab fare. I didn't know anyone out there and didn't know where Anaheim was in relation to Simi Valley! And the worst part was, Mitch had to pay the $100. He was pissed!
Well, Jeremy, thanks for the time and good best of luck to you and your family.
Thanks. I just want to thank all the people along the way who opened up doors for me and help me along the way. Regardless of the tough breaks, motocross was good to me.