Muddy Creek Raceway
Blountville

,

TN
Tennessee National (Muddy Creek)
Lucas Oil AMA Pro Motocross Championship
It's pretty cool that Rockstar Suzuki GP riders Clement Desalle and Kevin Strijbos have come to America to race rounds two and three of the Lucas Oil Pro Motocross Championship. The team manager for the riders is the great Eric Geboers, one of the very best GP racers ever. After practice at Thunder Valley I caught up to Eric to ask him about the riders being here, the GP season and the recent changes in the GPs.
Racer X: Cool of you guys to be here, can you talk about how it all happened?
Eric Geboers: Initially we had Mexico [GP, which was cancelled] planned on this weekend, so we were overseas, anyway. Riders are always in the beginning of the season trying and planning to sneak in one race in the U.S. They make it really easy to do so. But now, because this race is here and the next race is already going back to Europe time scale, it's like, hey, let's do this, we can do two races for one shipment and cost and all that. And we could have great help here from Rockstar Energy team. They have really nice bikes. We have great support and the bikes, [everything works] really good together. Of course we brought some suspension. We brought our suspension and exhaust system.
So motors are stock?
Yes, most of it is stock. And also rider controls, we brought those also. But it looks good. I'm pleased with the result, how it went because Clement got second in qualifying [in the first session] and Strijbos was sixth, but don't forget Strijbos never ridden this track before. So we have to give him a little bit of credit for that. But he did pretty good. I'm really happy.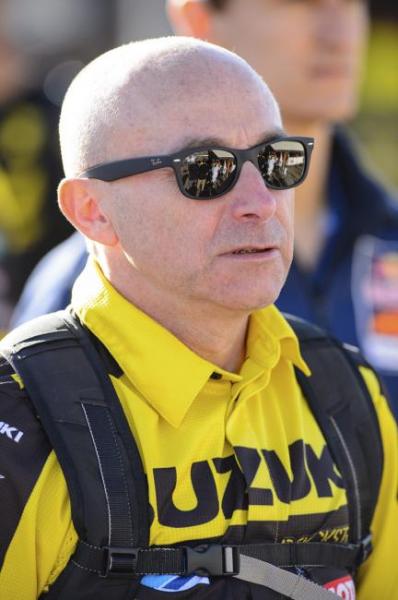 Eric Geboers is the Rockstar Suzuki GP team manager.
Simon Cudby photo
How much different are these bikes than your own factory bikes?
What is much and what is not much? This is very subjective.
Well you don't have a cool carbon sub-frame and air box.
Yeah, but that's not really...that doesn't make a difference. It obviously will not be a problem, Desalle doesn't go one tenth of a second faster than [Ryan] Villopoto because of this. So it's not all that bad. Actually all the things that we got here are really nice -- real nice parts, really nice thinking from the mechanics here, the local mechanics with the Rockstar Team. They're smart people and we learned a lot from them to get adapted to the U.S. based format. So it's really good.
So the riders really wanted to do this more than you and Sylvain [Geboers, Eric's brother who also runs the team], more than Rockstar Energy Drink. It was the riders who pushed for it?
Yeah. If you look from the perspective of Sylvain and myself, we have to look at it in a little bit diplomatic way for the Suzuki company, because we do all the championships in Europe, and they have their racing team here. But on the other hand, we in Europe would not be able to run on the level we run now without the support of Rockstar. They give us great support, already for four years in a row now. So it has to be in all our interests to match all the synergies we have between us to make the best for all of us. We will be able to help them out with some issues they have, even though I noticed they don't have many!
Clement's season, it's not, I think anyway, hasn't been on the pace as he has been in the past. What do you think?
Very unfortunate. He had a crash in Portugal where he was really attacking for the GP win. But okay, that's racing. Maybe, I would say, he has been in the first half of the season just a little bit too careful. That makes immediately a big gap because there is two very strong riders, [Antonio] Cairoli, and [Gautier] Paulin, is really strong this year. I think that he is a little bit surprised about that. I thought he would be thinking to be closer, to be with them. It's all going about two or three tenths of a seconds a lap, but that makes the point difference.
And it's Cairoli again. He's very strong.
Yeah, but listen, Cairoli is a really good rider. He's a smart rider. He's in really good condition. Very technical. He has a good team. We have nothing to say about the team. The setup is really nice. He has a good bike. So, okay, he's there. We have just to go an extra mile to go after him.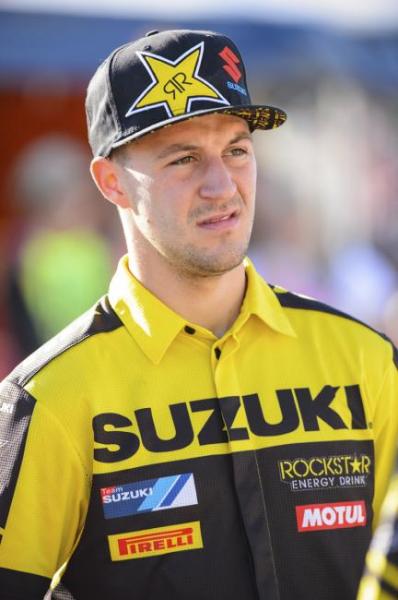 Clement Desalle finished sixth overall at Thunder Valley and will also compete in the Tennessee National this weekend at Muddy Creek.
Simon Cudby photo
Obviously, you've raced GPs for a long time, seen the series come from where it is to what it's doing now. Myself, I'm a little confused by what's going on. Superfinals, lack of entries….
Well, it's very clear that there is a little search now on the ideal format, especially for overseas, because the FIM World Championship needs to go more overseas in order to give color to the world.
You're okay with the changes?
We still have to do it. But what I'm trying to say is not every amateur can afford to go there. So we really have to find the good format, how to match with the local riders over there. If the speed difference is really too much, that's kind of dangerous. So Youthstream came up with that Superfinal. Which is of course, it is in a development phase at the time being. Already many changes, improvements have been done, but we hope that we can get it sorted out and fine-tune it enough by the time it comes.
But you're okay with it?
Well, listen, it's very simple. I have been racing so long and I've been hearing about bumpy tracks, fast tracks, slow tracks, cannot pass. I have only one major thing to keep saying to them: it's the same for everyone. That makes it so simple.
Yeah the gate drops for everyone at the same time, right?
Yes, and it drops at the same time. And the rules are the same for everybody. That's for me. My major issue to say, don't stay awake worrying about all the other things. Focus on racing.