by
Davey Coombs
30 Greatest AMA Motocrossers: #30 Johnny O'Mara
Friday, April 19, 2013 | 5:00 PM
Tweet
The 2013 Lucas Oil Pro Motocross Championship, sanctioned by AMA Pro Racing, is now just 30 days away from taking off the starting gate with the Hangtown Classic. And that means it's once again time for some outdoor motocross bench-racing! For the next 30 days, the editors and contributors of Racer X Online will count down the Monster Energy 30 Greatest AMA Motocrossers list, ranking the greatest athletes ever to compete on the AMA Motocross circuit.
We will base the rankings first statistically to develop a baseline, and then through subjective analysis to settle the closer debates. Statistics include a mix of championships, race wins, and podiums, backed by a rider's efficiency and longevity. Subjective analysis includes the competition they raced against, as well as pure talent and speed. Also, these rankings are based entirely around the AMA Motocross Nationals; international events like the Motocross of Nations and Grand Prix events here and abroad are not factored into this ranking.
Of course it's not easy to do this, and surely there will be controversy, bar-banging, and elbowing along the way, but that's the beauty of a good bench race with friends and fellow motocross enthusiasts!
So let's get right to the first drop of the starting gate by announcing #30 on our list: Johnny O'Mara.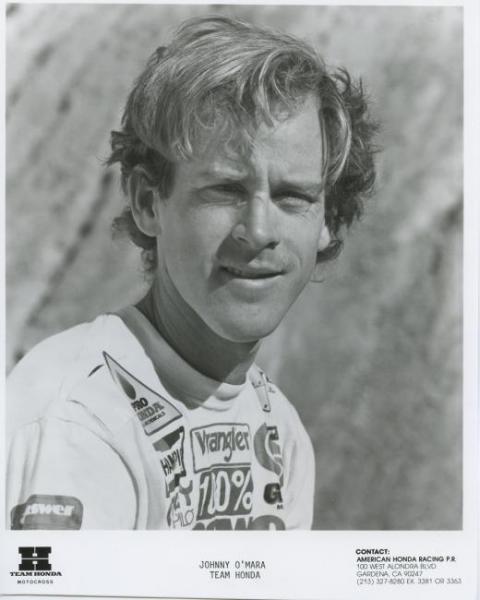 The Southern California native breakthrough moment came in 1980, at the U.S. Grand Prix of Motocross in Lexington, Ohio,
Raised on the extremely competitive Southern California circuits of the late 1970s, Johnny O'Mara's career breakthrough came not through his early days on the AMA Motocross tour, but rather with his stunning win at the 1980 U.S. Grand Prix of Motocross in Lexington, Ohio. O'Mara was riding a rare Mugen Honda in the muddy race, and his success was a shock to many. But after Honda hired him as a factory rider in 1981, he became one of the fastest 125cc riders on the planet. Over the next two years, the O'Show finished second to defending champion Mark Barnett in the 125 Nationals, scoring his first three wins of the series.
In 1983 O'Mara entered what many consider to be the most competitive 125 National Championship of all time. Besides three-time champ Barnett, O'Mara would be joined on the gate by Team Kawasaki's Jeff Ward, Yamaha's rookie sensation Ron Lechien, plus Brian Myerscough, A.J. Whiting, Rodney Smith, and more. When the dramatic eleven-race series concluded, it was Team Honda's O'Mara who grabbed the #1 plate, with nine points to spare over Ward.
The next year Ward would turn the tables and take the tiddler-class crown away from O'Mara, who was by then champing at the bit to move up to bigger bikes, especially after winning the 1984 AMA Supercross Championship.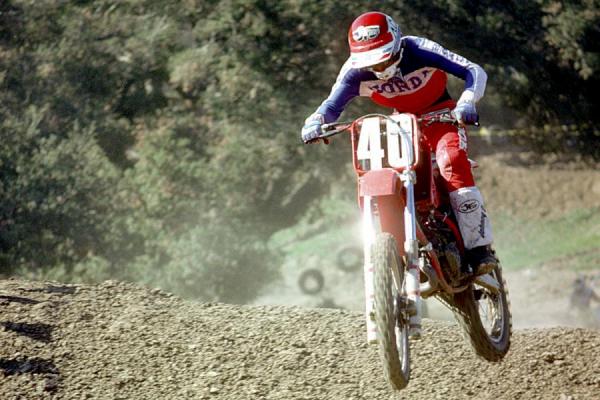 O'Mara won the 1983 125 National Championship while with Team Honda.
Racer X Archives photo
Honda finally let O'Mara get off the 125 in 1985, though he would again narrowly lose the outdoor crown to Ward, who had also moved up. The following season, his last year as a Red Rider, O'Mara finished third in 250 Nationals and fourth in the old 500 class. It wasn't enough for Honda to keep him, though O'Mara gave the brand one of the all-time blistering performances in motocross history when he beat the rest of the world's best 250cc and 500cc riders on his 125 at the Motocross of Nations. (Hey, this is a list based on the Nationals, but no bio on Johnny's career can be written without mentioning that ride.)
O'Mara would move on to Suzuki and then later Kawasaki, but his best days were already behind him as he struggled to get the same results he did with Honda. Still, he scored numerous podiums in the years before he retired in 1990, giving him more than fifty over the course of his ten-year career.
Here are the career results for Johnny O'Mara, courtesy of the Racer X Vault.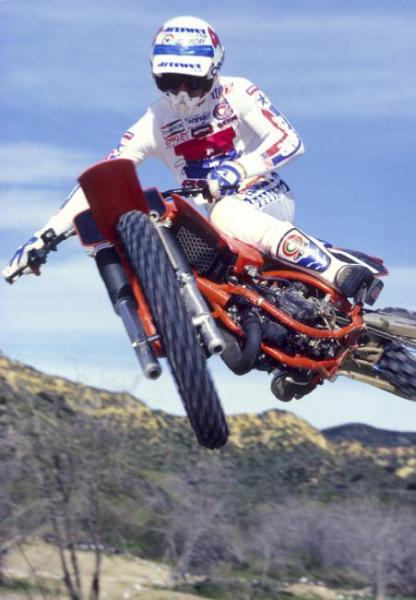 O'Mara won nine nationals and one title during his career.
Racer X Archives photo
O'Show won nine nationals and one title, but it's his podium haul that shows his longevity and competitiveness in a variety of classes. Add it all up, and the super-stylish Johnny O'Mara gets our vote as the 30th greatest rider in the forty-two-year history of the Lucas Oil Pro Motocross Championship.
Coming up tomorrow: #29
Contributors to this list: Davey Coombs, Jason Weigandt, Eric Johnson, Steve Matthes, Jason Thomas, Andrew Fredrickson, Chase Stallo, and David Pingree
Share this article:
Did you like this article?
Check out THE MOTOCROSS OF 40 NATIONS
in our Latest issue of Racer X available now.

The 2013 FIM Motocross of Nations at Teutschenthal, Germany, hosted teams from a record forty countries. Here's how it played out for each of them. Page 90.
Look for the verified symbol
The Conversation