Centurylink Field
Seattle

,

WA
Race Center: Seattle
Monster Energy AMA Supercross Championship
What a week. Wow. Unless you were literally tuned out and disconnected all week long, then you know all about the Boston Marathon bombing, the subsequent investigation, the manhunt crowd-sourcing, and the militant brothers-turned-terrorists-turned-fugitives (well, one is still a fugitive). It was a real-time manhunt, complete with car chases, carjackings, gunfights, suicide vests, social media leads (the second brother was apparently updating his friends and followers early this morning via his cell phone), and, as I type this at exactly 4:30 p.m. ET, the second brother is either holed up and possibly being talked out by the police. We've all had a front row seat to it, via live news coverage, online updates, links to the Boston police scanners (before the plug got pulled), and I still can't figure out what the hell the good it did these idiots to kill four people so far—including an 8-year-old and two women watching the race on Monday, plus an MIT policeman named Sean Collier—and injure and maim so many others....
But I find comfort in the fact that we must have the absolutely best police force and FBI and counter-terrorism folks in the world. I am blown away by how fast Boston's finest went into action, first aiding and transporting the victims on Monday, then running these terrorist brothers to ground. Because unlike 9/11, which was much worse in scope, when we didn't have a clue who did it for some time, this hasn't taken ten years to sort it out. This has taken about four days and appears to be in its endgame.
And since I mentioned 9/11, that most terrible of days for us Americans, let me recycle the first funny thing I read about the whole terrorist attack. It came from The Onion, of course, and it was the headline "Confused Hijackers Surprised to Find Selves in Hell."
Well, when it's all done, and Dzhokhar Tsarnaev meets up with his already-dead brother Tamerlan at the gates of hell, I imagine they will come to the same conclusion.
Boston, we're impressed, and very honored to be your neighbors. Our thoughts and prayers go out to those who suffered in this senseless tragedy.
That same sentiment goes for those touched by the unfolding tragedy in the town of West, Texas, where a fertilizer-plant explosion leveled much of the town and has killed a much larger number of people than the attack in Boston. What a tough week.
Okay, let's talk about supercross.
HOW TO WATCH (Chase Stallo)
Monster Energy Supercross returns to the Pacific Northwest for round 15 of 17 on Saturday. CBS will provide next-day coverage of 450SX beginning at 1 p.m. Eastern on Sunday. Speed will broadcast coverage of 250SX starting at 5:30 p.m. Eastern Sunday. Live qualifying from Seattle can be seen on Supercrossonline.com from 5 p.m. to 8 p.m. Eastern on Saturday. With no live coverage, be sure to stay tuned to Racer X's Twitter and Instragram (@racerxonline) for all the action from the pits and play-by-play race coverage. Make sure to check out RacerXonline.com throughout the day and night for galleries, practice, and race reports.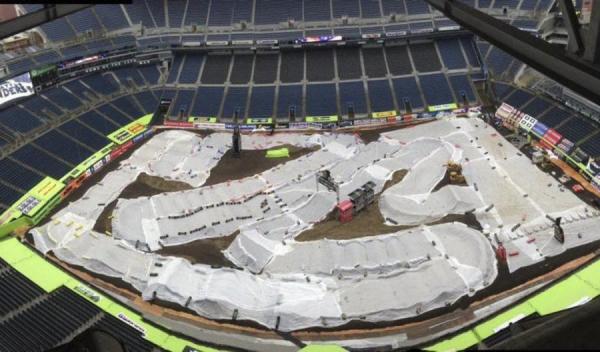 The track is covered at the moment, but should be in good condition come tomorrow night.
Remember, two-time champion Ryan Villopoto of the Monster Energy Kawasaki team is hoping to rebound after last week's dramatic race with Red Bull KTM's Ryan Dungey, who edged RV out for the win. We know James Stewart has parked his Yoshimura Suzuki after two straight tough weeks so he can get his knee ready for the nationals, now 30 days away. And tomorrow night marks the return of the West Region 250SX class, which has Ken Roczen ahead of Eli Tomac, with Cole Seely third. And don't count Martin Davalos out either—we still think he's got a win in him yet.
THIRTY GREATEST? HERE WE GO.... (DC)
Time for another extended bench-racing session! Who had a better outdoor career, Grant Langston or Ron Lechien? Who was the fastest man of the eighties? How does Ryan Dungey stack up against Ricky Johnson based on motocross speed and success?
With the Hangtown Classic and the opening of the Lucas Oil Pro Motocross Championship now just 30 days away, the editors and contributors of Racer X Online got together with Monster Energy to come up with our 30 Greatest AMA Motocrossers in outdoor national history. And just like our supercross list of last winter, we know there's going to be some roost-filled debate about whether we get these rankings right or wrong compared to your opinions. But that's what's cool about bench racing—everyone wins!
We will roll out one great rider a day, counting down from 30th on the list and finishing up with the greatest on the day they drop the starting gate on Hangtown.
Who do we rate as #30 on our list? How about the O'Show himself, 1983 AMA 125cc National Motocross Champion Johnny O'Mara!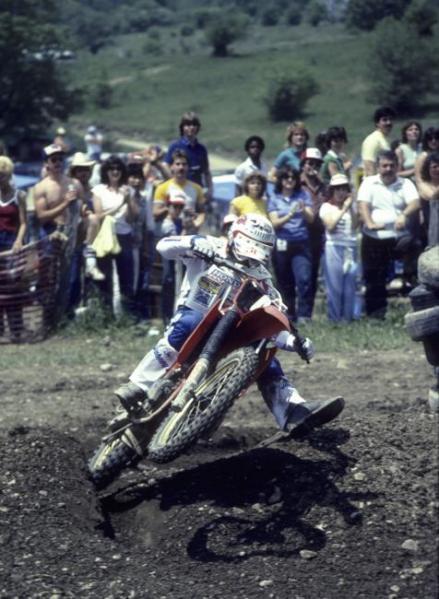 Johnny O'Mara came in at #30 on our countdown.
Racer X Archives photo
THE COLOR ORANGE (DC)
Sometimes you have a good weekend, and sometimes you have a great weekend. But I don't think I can ever remember a weekend as good as this one was for KTM. Racer X reader Chris "Kong" Friend noticed it first and suggested we count up the trophies won by KTM this weekend. First of course was the Minneapolis SX, where Dungey (450) and Marvin Musquin (250) swept the proceedings. Next was the Italian Grand Prix in Europe, where KTM went 1-2 in both classes: Tony Cairoli and Ken De Dycker in MX1, Jeffrey Herlings and Jordi Tixier in MX2. KTM also saw Pauls Jonass win the EMX125 race as well. And down in Australia it was Todd Waters winning the 450 MX class and Jack Simpson taking the Under 19s. KTM was even dominant in Dubai, where Dany Torres topped the Red Bull X-Fighters!
Late Sunday afternoon, GNCC points leader Charlie Mullins added yet another win to his impressive showing so far in 2013, taking the Rekluse AMA National Enduro win. And then Kurt Caselli took himself a win out in the desert! That's quite a weekend for the whole KTM crew.
Of course this weekend Dungey and now Roczen will get a chance at another win, and so will Mullins, who leads the Amsoil Grand National Cross Country Series. This Sunday's race is the Big Buck GNCC in South Carolina, and you can watch it stream live on www.racertv.com beginning at 1 p.m. Eastern Time.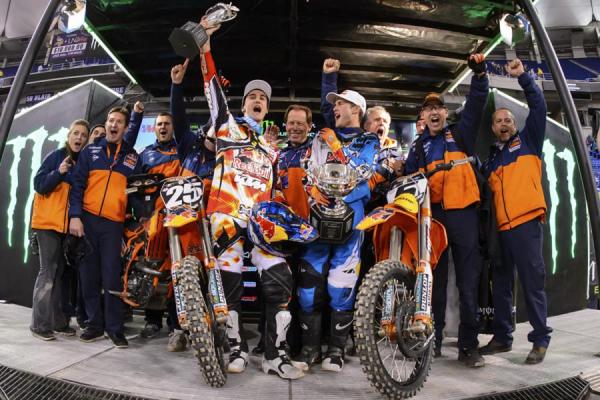 KTM won all over the world last weekend, including in Minneapolis where Ryan Dungey and Marvin Musquin made it a clean sweep for KTM.
Simon Cudby photo
PRO PERSPECTIVE – WHICH COAST IS BETTER FOR A RACER? (Ping and Jason Thomas)
Which is a better schedule for the 250 SX riders, the West Region with it's six-weeks-on-eight-weeks-off-three-weeks-on setup, or the East Region's start-late-race-eight-straight-finish-up-in-Vegas?
Ping: As the 250SX West Region riders get ready to line up again, it almost seems like a brand new season, only you are assigned a certain number of points to start with and the series is only three rounds. For guys who had a rough start to the season, it can be a great opportunity to finish strong. For a guy like Ken Roczen, the points leader, this break has been torture. For two months he's had to sit and think about all the possible scenarios that could go down in the final three rounds. Ken has a pretty good lead but anything can happen. Just ask Eli Tomac.
So, which coast is better from a rider's perspective? I guess that depends on your focus. If you want to run right through the supercross series with few breaks and go into the outdoor nationals with very little prep time, the East is for you. If you don't mind the break on the West, it does offer a chance to test and train for the Hangtown opener.
Typically, the West guys show up at Hangtown just a little bit more prepared than their East Coast counterparts. I liked the West because it did give me a chance to prepare, and also it broke up the monotony of riding supercross every day. For the guys on the West, they have been grinding laps at the SX test track since October. The switch to outdoors is refreshing and can mix some fun back into your training.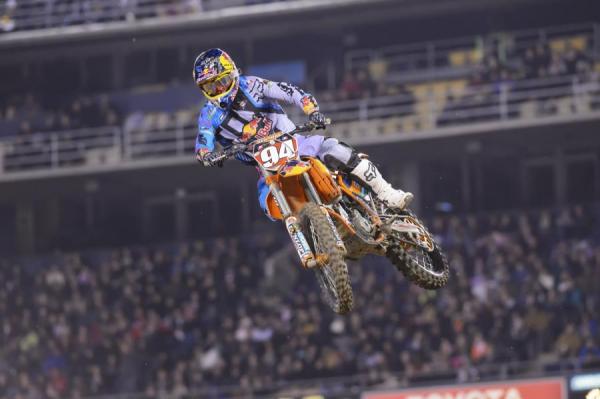 Ken Roczen leads the way as the 250SX West Region returns.
Simon Cudby photo
JT: Coming off a two-month break, I am sure all of the West Coast 250 riders have had time to reflect on how their season has gone thus far. For some, it was easy to be satisfied and work on improving. For others, they have been tormented with the uneasiness or poor results and the anxiousness to get back out there. In both cases, they have had plenty of time to reassess what has gone right or wrong and fix issues in their game. I would think it's a nice hiatus in which to address things that can be better. It might be less welcome for Ken Roczen and Eli Tomac, however. Like Ping said, Ken probably just wants to get this thing done. Waiting two months with the weight of the red plate can't be that comforting, and everyday riding is an opportunity for a gremlin to sneak up and sideline him. For Eli, the two months had to be agonizing, and I am sure he is looking for 250cc of redemption and a chance to erase his big mistake at Oakland that got him in a hole in the first place.
Another bonus for the West Coast riders is that they have had time to get outdoor testing almost finished by this point. It always took me a long time to get back up to speed outdoors after eight months of supercross riding, so this has to be a big advantage for the West guys come Hangtown. While the East guys got a late start, they only get these two weeks of a break to test outdoor setup and then still have to be sharp for Vegas. Musquin and Hahn probably will be more focused on SX regardless as there is a title up for grabs in Sin City.
I always like to watch Hangtown with this in mind and see who struggles and who excels according to supercross region. I usually can draw some parallels in this aspect, but it only takes a week or two of racing and everyone is back at 100 percent. One thing is for sure: It will be cool to watch the whole ordeal unfold, and then we get to watch them all get together to hash it out in Vegas for the shootout.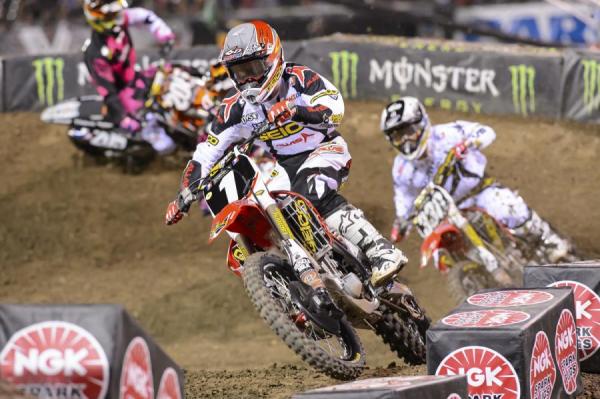 Eli Tomac hopes to cut into Roczen's points lead in Seattle.
Simon Cudby photo
WHAT'S NEXT FOR JOSH HILL (Jason Weigandt)
When Carey Hart announced the revamp of his Hart & Huntington team back at the Monster Energy Cup (where it morphed into RCH with Ricky Carmichael coming on board), he announced the team would finally begin racing Lucas Oil Pro Motocross, but they only had the budget to do it with one rider—Broc Tickle. Considering that the other rider, Josh Hill, had barely been able to race at all for the last three seasons, that didn't seem like a big deal at the time. Now Hill is surging but will also find himself at the end of the road in three weeks.
"No plans yet," said Hill of what comes after supercross. "My contract expires in May with these guys and I would love an opportunity to continue to race for them, but I just don't know what's going on. I'm talking maybe to some people in Australia. I just want to keep racing. That's the only thing. Everything's been going so well and it's because I'm on the bike racing. And if I don't get something I'm going to be on a Suzuki at the local races just having fun and trying to get better. It is what it is."
Hill thinks he's getting faster simply because he's getting to race every weekend, so he doesn't want to stop. He'll entertain any and all offers in order to keep racing for the next few months. When I asked him if we could pump that up for him and tell him he's listening if other teams want to talk, he said, "Absolutely." We'll see what happens next.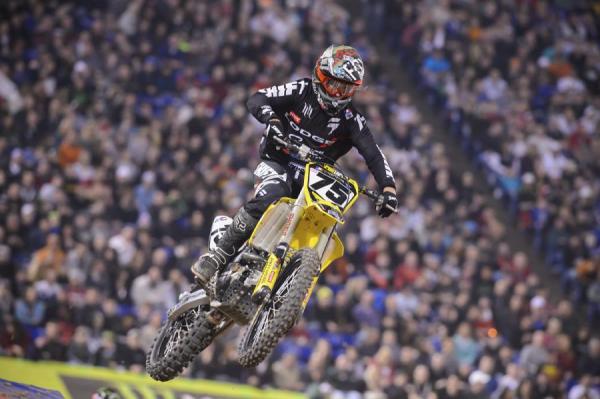 Josh Hill is returning to form, at the right time.
Simon Cudby photo
THE BROTHERS GOERKE (DC)
It's been a bad week in Florida for the Goerke boys. While putting in his best season ever in supercross, BTOSports.com's Matt Goerke snapped his wrist and will have to sit out the rest of the 2013 Monster Energy Supercross tour. He will hopefully be ready to go for the Hangtown National opener on May 18.
His younger brother Kyle is not so lucky. After severely injuring his leg with a crash at the Atlanta SX back in February, the younger Goerke underwent two surgeries on what was described as an "imploded" lower leg, which he's now at risk of losing altogether. Here's more on what's going on with his injury and a way for you to help him and his parents out with their mounting hospital bills.
THE NUMBER: 0 (DC)
As you probably saw in Monday's Wake-Up Call, the gone-for-racing Jimmy Decotis had a difficult start to his Grand Prix adventure, scoring zero points at the Italian GP at the scenic Trentino circuit. Decotis, a midseason replacement for Arnaud Tonus on the CLS Kawasaki team, qualified thirteenth but then struggled in the actual motos, finishing twenty-first in the first one and pulling out of the second. The quick adjustment was certainly brutal, but the writing on the first wall was not good: Decotis' fastest lap in the second moto was more than five seconds slower than race winner Jeffrey Herlings'. But then again, Herlings was nearly three seconds a lap faster than runner-up Jose Butron in the same moto, and it wasn't even a sand track! With another week on the team, we're expecting JD613 to do better in Sevlievo, Bulgaria, this coming weekend. But here's hoping he's ready for some culture shock, because Bulgaria is deep in the center of Europe and very different than, say, Holland, where Decotis is living.
"I knew that it wouldn't be easy, coming here last week and racing for the first time on a European track," said Decotis after pulling out of the second moto. "I had a good start in the first moto but crashed in the first lap when someone ran into me from behind. It was a tough race after that. In the second race I was in the top fifteen but got cramps and struggled. I hate to retire, but that could be dangerous on this track. I know that the Bulgarian track will be different, and we'll have one more week to work and prepare it with the team."
You can watch the Bulgarian GP early Sunday morning on www.mx-life.tv for a fee.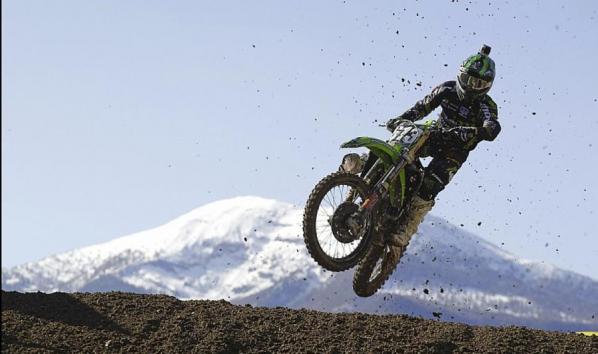 Jimmy D struggled in his GP debut in Italy.
CLS Kawasaki photo
FROM THE VAULT (DC)
Every day over on the Pro Motocross Facebook page we have a post called "On This Day in Motocross" and then we list something historical or meaningful that happened on that day over the years. Yesterday, April 18, we talked about the 1982 Lake Whitney 125/250 National, where Jeff Ward won the 125 class and Donnie Hansen took the 250 National win. But what I saw in the results that really jumped out at me as the fact that in the 125 class twelve of the top fifteen riders were from the state of California! In order, Wardy, Jim Gibson, Bob Hannah, George Holland, Gary Denton, Erik Kehoe, Ron Turner, Johnny O'Mara, Mike Beier, Chris Heisser, Mike Preston and Dean Cates were all from the Golden State. The three guys who weren't were runner-up Mark Barnett (Illinois), ninth-place Doug Jackson (Kentucky), and fourteenth place Gary Dircks (Arizona). Times certainly have changed!
HIGHLIGHTS OF THE WEEK (Chase Stallo)
THE WEST RESUMES: With the 250SX East Region on a two-week hiatus, picking back up at the season finale in Vegas, the 250SX West Region resumes this weekend in Seattle. Jason Weigandt brings us a refresher in this week's 250 Words.
HOMETOWN HEROES: With Ryan Dungey's come-from-behind last weekend in Minneapolis, and the series traveling to points leaders Ryan Villopoto's home race this weekend, we have a unique opportunity to have back-to-back hometown winners. DC took a look back at some other hometown winners in The List.
THE CHICKEN: Racer X contributor Nick McCabe had the opportunity to catch up with Jeff "Chicken" Matiasevich to see what the legend is up to. Check out Between the Motos for the full interview.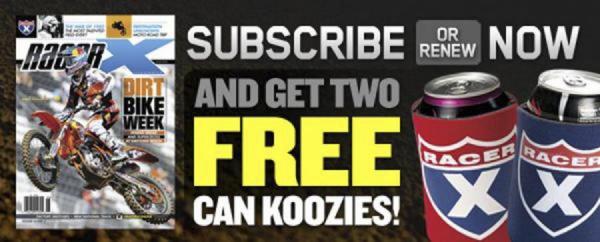 HEY, WATCH IT!
Seattle Animated Track Map
Ryan Villopoto GoPro Footage from Minneapolis
Racer X Films: Outdoor Prep
Beyond the Finish Line: Deuces Wild
1988 Seattle Supercross
RANDOM NOTES (Staff)

Look for at least one Gosselaar to be back on the track this summer, as Drew Gosselaar will be getting back in the game, wearing the new Shot/Freegun motocross gear, which will launch as a collection will be in 2014.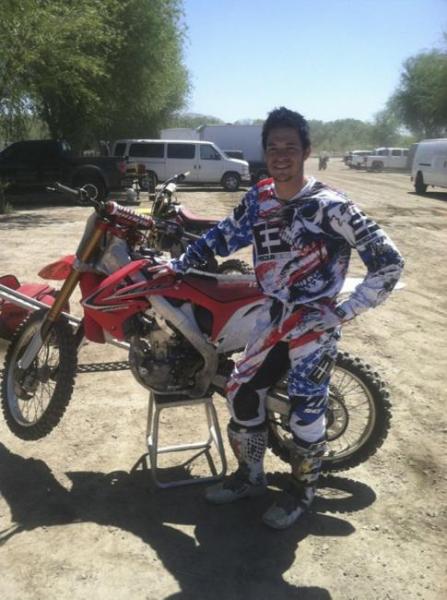 Drew Gosselaar will be back in action this summer, wearing some cool new Shot/Freegun gear.
Scott Burnworth's big race at Barona Oaks is coming up....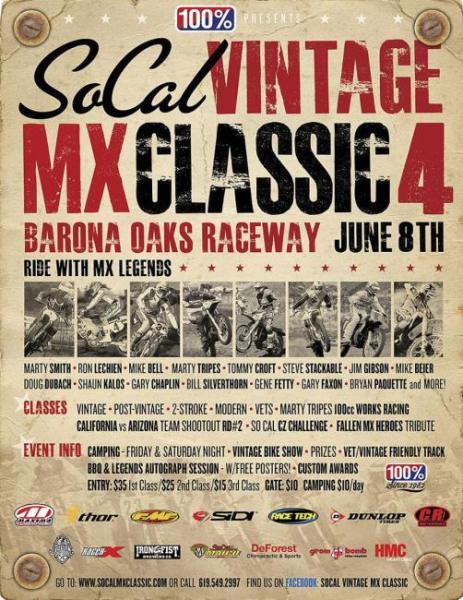 My longtime friend and mentor Dennis "Ketchup" Cox is in Texas for the big MotoGP this weekend, and he saw this photo that he thought would make a great addition to my ongoing "Signs (Cont'd)" project on Facebook....
"Blacks is in Lockhart, Texas, where they used to run the legendary Lockhart or 'Rockhart' MX race track. That's where Stack, Howerton and Wise cut their moto teeth!" Good stuff!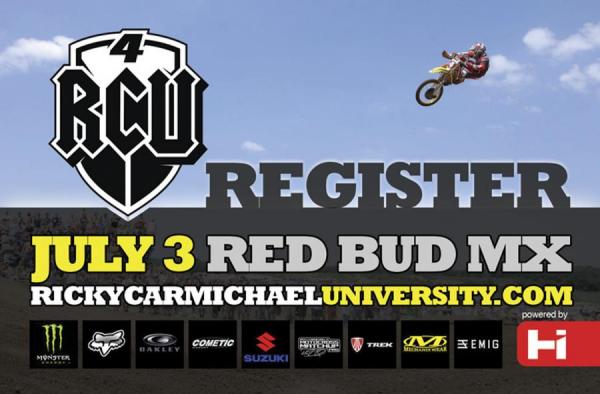 Earlier this week on The List, we looked back on some famous "hometown heroes" and how they did over the years at their hometown races, and our friends weighed in with a couple that we skipped. Nick McCabe pointed out the big win for Tacoma, Washington's Eric Eaton at the 1985 Washougal 500cc National, which was a huge upset. And then we got this note from Blake Steffy:
"Hey guys, two notable misses! How about 'The Beast from the East' Damon Bradshaw (from Charlotte NC) winning the Charlotte Supercross 250 class on May 12th, 1990 at Memorial Stadium? Also, let's not forget about Davi Millsaps getting his first career premier class win in Atlanta in 2008!"
Another reader wrote: "You left out Josh Grant's first 450 win in Anaheim! That one is HUGE!"
Finally, on our list of "Lone Stars" from last week, we left off our neighbors in Kentucky. Ryan Sipes has two 250 SX main-event wins to his credit, the 2011 Indianapolis SX and the '11 East-West Shootout in Las Vegas. The embarrassing part is that Ryan himself noticed the oversight and inquired if there was another winner from Kentucky back in the day that he didn't know about. Nope, just a mental endo by our crack staff of bench racers, myself included. Sorry, Sipes—see you outdoors!
Here's to better weeks for everyone. Thanks for reading Racerhead. See you at the races.